New 2021 Marketing Trends in a Post-COVID-19 World: Part 1
Direct To Consumer (D2C) Sales From Social Media
Covid-19 continues to rule the economic landscape forcing many companies to rethink and reinvent their marketing strategy. Research shows that since the crisis, consumers have become more mindful of their spending, which means opting for less expensive products and researching before buying.
No one could have predicted how 2021 could change the epitome of marketing. But new 2021 marketing trends suggest that the future of business and marketing needs to be inclusive, diverse, and connected to your customer's needs. While technology continues to grow, the focus of new marketing trends in 2021 will be on people, not only technology.
Direct To Consumer (D2C) Sales From Social Media
Social media can support D2C sales by allowing your brand to forge a relationship with customers, collect more user data and cut down on costs. The D2C process will enable you to create authentic personalized experiences for a customer which in turn puts you in charge of the buyer journey.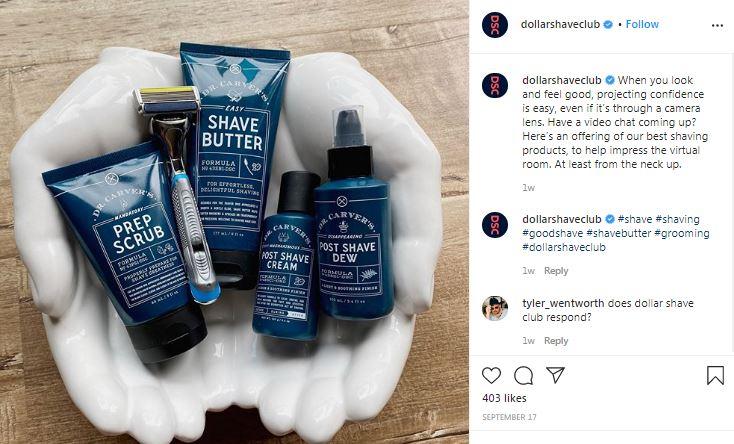 Dollar Shave Club has demonstrated that there's a right way to communicate with customers through social media during an ongoing pandemic. Their social media posts strike the right balance between the hardships that men go through an economic crisis as well as focus on the positives.
While this brand has a few posts that promote products that are relevant during working from home, its authenticity stems from the passion for making men feel and look good, no matter their environment or situation.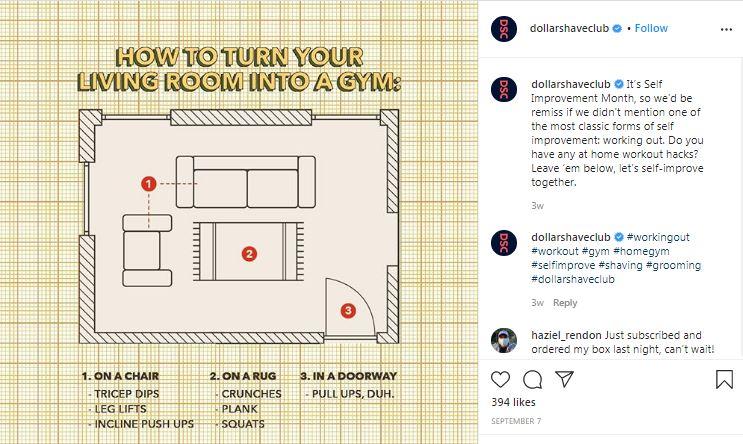 Its post called 'How to turn your living room into a gym' shows that the brand cares more about creating an engaging community rather than simply selling a product. These personalized types of posts allow its followers to establish a routine for other parts of their lives, even if Covid-19 made it difficult.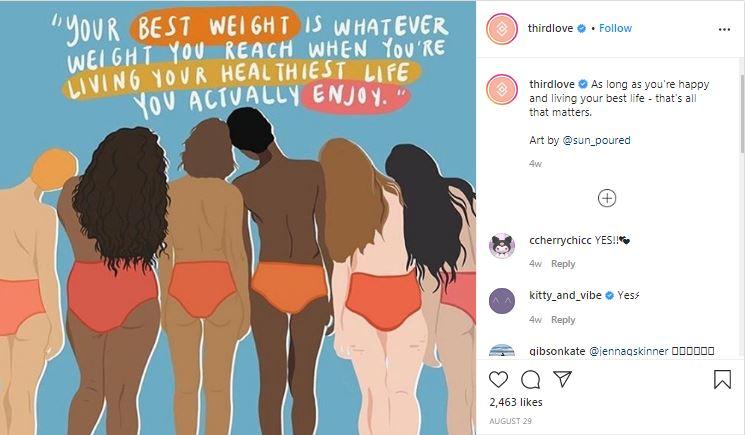 In the same way, lingerie start-up Third Love uses social media to appeal to women who are tired of the overuse of brand models to highlight lingerie on social media. Its posts appeal to women who hate feeling that their bodies aren't good enough and are looking for a supportive community where healthy matters more than skinny.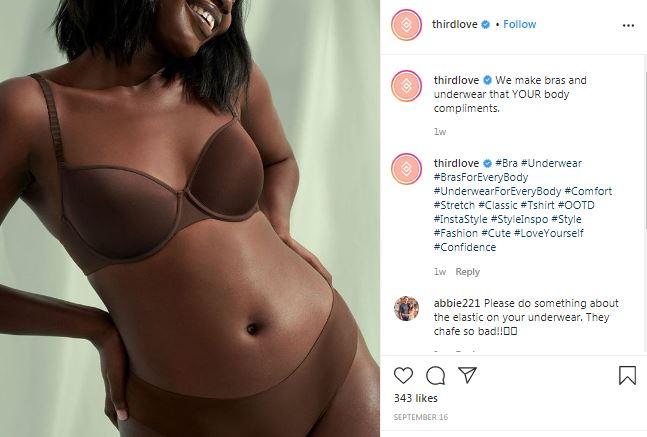 It uses real product visuals to fight against established brands like Victoria Secret to grow its loyal following of women who want to be put first before the product.
Voice Search Optimization
Your brand can also listen to the voice of the customer (VOC) or utilize customer sentiment by sourcing and listening to customer feedback and analyzing customer reviews online.
The VOC allows you to put the customer first by determining whether your focus should be more on customer service, a product area or to be more active within their online communities. Not paying attention to the VOC during an economic crisis could mean a loss of business for your business.
Analyzing the VOC can also provide you with real-time insights into your customers' behavior and how they use voice search to meet their needs. Research demonstrates that 80% of customers who used voice search spent more with a brand and trusted the brand more. In the same way with this new marketing trend in 2021, you need to optimize your brand for voice search by:
Using Local SEO
As COVID-19 continues, more individuals will turn to voice search as it enables searches to be hands-free. Research shows that 32% of consumers are interested in hands-free technology that limits contamination and touching. Findings also show that 56% of individuals have used their voice to search for a local business in the last year. This statistic indicates that voice searches have 'local intent,' i.e. people are using their voice to search for local businesses.
When your business optimizes for local SEO for voice search, Google can see that you cater to the needs of local users. When it notices this, Google pushes you up in the search engine rank, which in turn improves your visibility. Being optimized for local SEO also allows you to rank higher for keywords that captivate audiences depending on where they are based. Optimize your business for voice search through local SEO by: –
Creating Business Listings On Online Directories
Get your Name, Address and Phone (NAP) number details across as many online directories as possible. You can try directories like Yellow Pages.com, Yelp.com, Foursquare and TomTom. As not everyone uses Google to search, listing your business on these sites will give you more authority in the search engines.
You need to make sure that you enter the same information for all directories. If Google detects conflicting information on different directions, it could worsen your rankings in the SERP results. NAP data is also essential as when a customer searches with their voice, they can search for a phone number, opening times and the address of a business to see whether it is nearby.
Collecting reviews for your business
The better your review score, the better your business brand, which means a higher rank in the SERPs. Your business should attempt to encourage as many customers as possible to give you a favourable review.
Google then uses the number of reviews and the average number of stars received to determine the quality of your business. Having good reviews on Google can also encourage other customers to leave positive reviews which in turn betters your local SEO reach. A better review rating will also mean that you can rank higher in Google Maps.
Building local listings on Google, Bing and Apple
Google My Business (GMB) is a free tool that allows businesses to create local listings that appear on maps and search results on a mobile and desktop device. Filling in your NAP details is essential, but you should also fill in the optional information like choosing a location for your business as well as a category that fits your business the best.
Once this information is on Google My Business, you also have the option to import this information to Bing Places. Once you import the data, it is displayed in the results in Bing Maps. Lastly, get your business on Apple Maps Connect, create/fill in your Apple ID and then claim your business space.
Remember to add your social links and state whether Apple Pay is accepted. To rank higher in Google, Bing and Apple Maps, you need to fill in as many business details as you can, add high-quality photos of your business regularly and optimize your website for local SEO.
Optimize Your Website for Local SEO
As well as building a website that is straightforward and easy to use, you need to make sure that your keyword and meta description must account for the product or service within a specific location.
For example, if you are a cake shop owner in Atlanta, your keyword and meta description should include the keyword 'Atlanta' in conjunction with the product (cakes) you offer.
In this way, if a customer in Atlanta is searching for a cake shop near them, they can find your business. You can also optimize your 'Contact Us' page with NAP information as well as a Google Map showing your location. If customers do click on the Google Map on your website, it will also improve your ranking in the SERP results.
Develop FAQ Pages Which Are Voice Search Friendly
An easy way to incorporate question keywords and phrases into your content is through a FAQ page. FAQ pages can also rank for voice queries even if a customer asks the same question differently.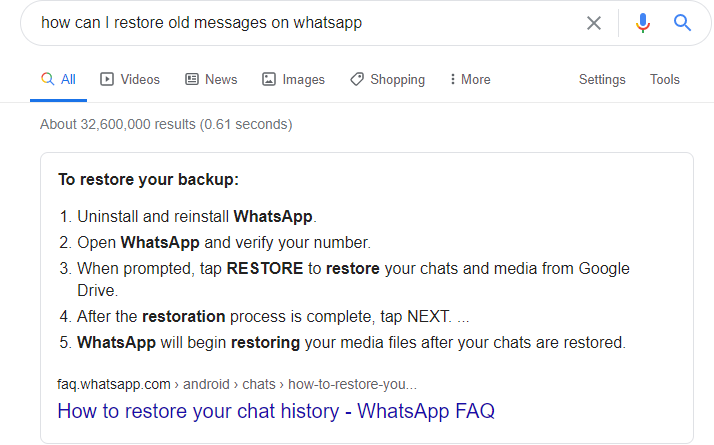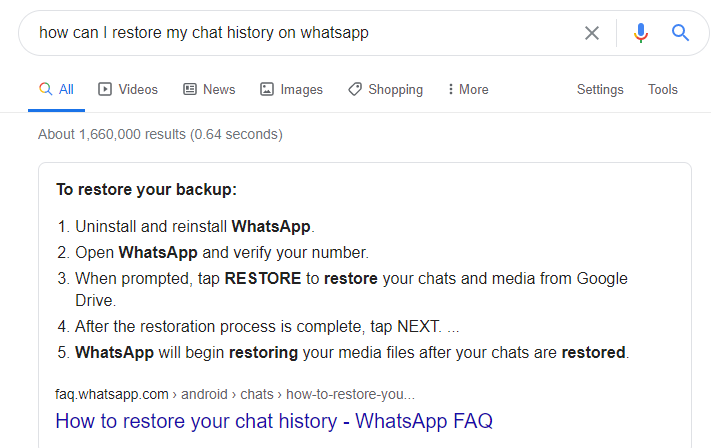 For instance, asking 'How can I restore old messages on WhatsApp' and 'How can I restore my chat history?' gets me the same result. The answer to a question keyword should be no longer than 29 words. So, when creating responses FAQ pages makes sure your response is 30 words or less.
More Content Means Better Voice Search Traffic
While the response to your FAQ page needs to be short and sweet, a page with more than 2000 words is more likely to rank better for voice search. Long-form content should also contain long-tail keywords that allow your content to appear as Featured Snippets, especially if your content covers every question that could come up on the topic.
Playing With Augmented Reality For An Engaged Audience
During the current ongoing pandemic, social distancing makes it harder for a customer to try something in a store. Augmented reality (AR) technology allows a customer to experience a product by adding digital elements like visual overlays, icons or projections into real-world environments with the help of a smartphone camera.
This type of technology enhances a user experience online by improving the perceived value of a product or service. After all, if you could test or try a product before you bought it, wouldn't you have a better idea of its value?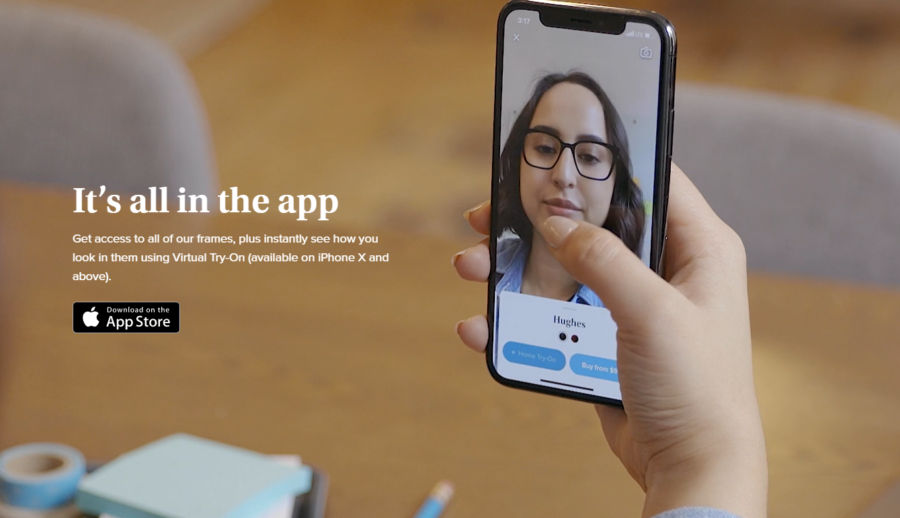 Various brands capitalize on AR technology to improve their ROI. For instance, using face-mapping technology available on an iPhone X and above, Warby Parker can recommend the style of frames that suits you virtually. This virtual try-on service gives customers access to all its frames and makes it easier to pay through Apple Pay.
In addition, its 'Buy A Pair, Give A Pair' scheme also links your purchase to a meaningful purchase as Warby Parker has promised to give a free pair of glasses to those in need for every pair you purchase. During Covid-19, Warby Parker opted to give free protective equipment and health supplies to those in need instead of free glasses.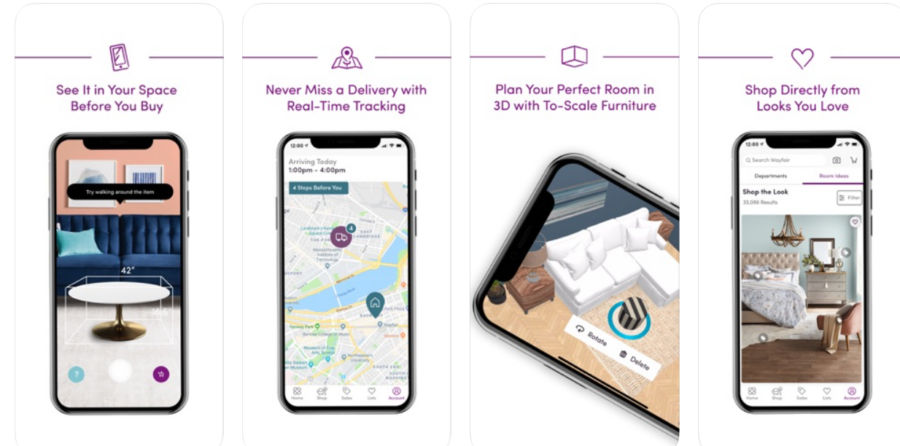 Wouldn't you love to see how furniture and accessories would look in your home? Wayfair makes this possible through its 'View in Room 3D' AR feature. This feature means that a customer can visualize life-size versions of products in a space at home in real-time.
Its 'Interactive Photo' feature on its iOS app also allows customers to take a photo of their room and then see how their products look within that space even when physically not in that space.
Wrap-Up
As the marketing landscape continues to evolve during COVID-19, your brand will need to continue to raise awareness of your products and service in order to boost sales. D2C through social media can help you do this through personalized, authentic messaging that puts the customer in charge of their own journey.
Listening to the VOC will also give you data-driven insights required to optimize your content for voice search. You can also add further value to a customer's online shopping experience through AR which allows individuals to experience a product before buying it.
---
Alon is a Tel Aviv-based Cheif Marketing Officer who supports b2b tech startups in capturing customers' (and VCs') attention through marketing based on data-driven storytelling.
--- ---
Related Articles