Overcoming Imposter Syndrome in a shiny new job
Let's get something clear before we go any further — this ain't my first rodeo.
Your first few months in any new job can be a whirlwind. Here's my experience of hitting the ground running at product studio 383
Let's get something clear before we go any further — this ain't my first rodeo.
I'm no fresh-faced millennial, hot out of uni, I've already got a couple of decades of national insurance contributions under my belt and I'm old enough to remember when the internet came on a free CD on the front of a magazine. In short, I like to think I'm experienced enough to know what I'm doing.
That said, I'd be lying if I said I wasn't bricking it at my job interview for Birmingham-based product studio 383. The agency had been on my radar for a while and I knew they came with a pretty stellar client list and a well-earned reputation for innovation.
Taking the moonshot
If I'm being really honest, I only applied for the role to get job interview practice. After 15+ years of working on the digital side of broadcasting it was time for a change so, when I saw the position on the 383 website I thought I'd shoot for the moon. Maybe I'd learn something from the interview process I could use for more realistic opportunities down the line?
To my surprise, I got a phone interview which went well enough to get me a proper face-to-face interview. Which is when I REALLY started to panic.
I was suddenly facing the prospect of giving an hour-long presentation in response to a dummy brief, undergoing a grilling on my CV and, most terrifyingly of all, doing a one-minute 'elevate your skills' demo where I had to talk about a passion that I'd taken to the next level. Cloth was being well and truly touched.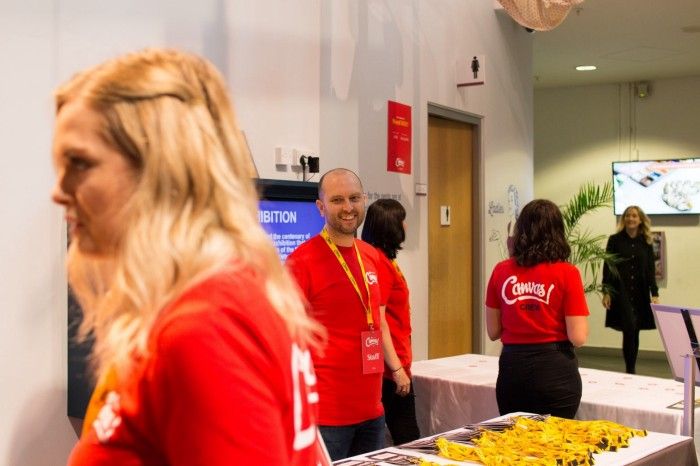 The day of the interview came and my brain and mouth somehow seemed to work in unison. I survived the presentation, had a surprisingly cathartic chat about my CV and I didn't even put them off with my 60-second waffle about a terrible sci-fi novel I once attempted to write. What's more, everyone seemed lovely. Seriously smart and intimidating, but lovely nonetheless. I hadn't embarrassed myself and I'd learned a ton that I could apply for the next job opportunity once I'd received the inevitable 383 rejection letter.
And then I got a phone call. I got the gig. Cue bemusement, elation and then, with a champagne hangover, The Fear. Now I was going to have to do this for real.
Facing 'the fear'
My first fortnight on the job was a blur. I found myself thrown straight into their 'cadet camp' training process designed to get you up to speed with the 383 way of doing things. And it was seriously impressive.
Along with my fellow inductees, I got a step-by-step introduction to all of the processes and platforms that the agency uses on a daily basis. I sat through in-depth presentations from staff from across the business about what each department did and how they worked together and, most impressive of all, I got introduced to the 383OS: the in-house bible of all things 383.
What struck me was that this was a company that actually had a plan for how to get things done. Sure, I read loads of books about agile processes, design sprints and business strategy and I'd even worked for a few places that put bits and pieces into practice, but this was definitely the closest I'd come to seeing all the parts of the puzzle come together.
What's more, the people were amazing. From day one I felt like part of a team that genuinely wanted me to succeed and it was clear that 383 had really worked hard on the culture fit. By the end of the fortnight, I'd made some firm friends and I could honestly say there wasn't a single person in the building I wouldn't be happy to go for a beer with.
Dirty rotten impostor
It probably wasn't until a few weeks after I'd started that I realised just how high the recruitment bar had been set.
I was surrounded by a bunch of people bringing their A-game to the office on a daily basis and making things look totally effortless. The intense induction process had left my head spinning and I was seriously wondering how the hell I was going to wrap my brain around it all.
I began to doubt both myself and the 383 recruitment process. Surely there'd been some sort of mistake, right? I mean, I wasn't exactly clueless but this was all on a whole new level. I'd got myself a full-blown case of imposter syndrome.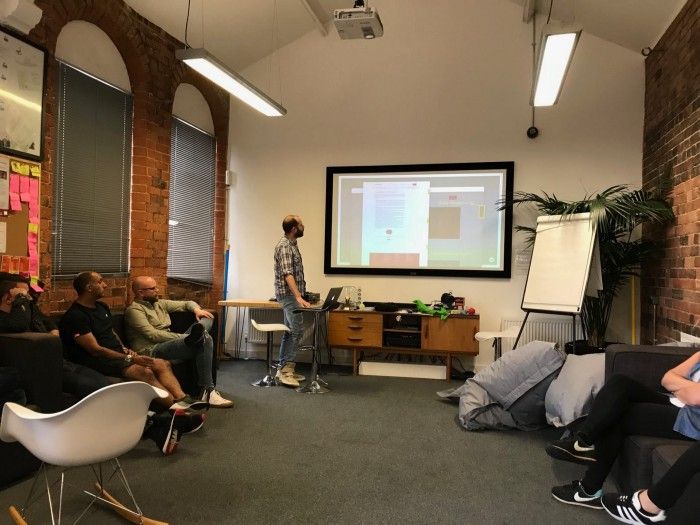 And breathe. It's fine.
But I needn't have worried. It became clear that I'd been hired on my potential to do the job and the 'soft skills' I brought to the table, as much as what I'd demonstrated through my previous experience.
I was given some amazing in-house training as well as support to build my skills outside of the office. I had regular check-ins with my managers and teammates to make sure I stayed happy and on-track and was credited with enough intelligence to figure things out for myself (and even challenge some of their established processes along the way).
All of this played out alongside a truly awesome social scene at 383. There have been book groups, movie nights and drinking sessions aplenty. I've experienced the mind-expanding epicness of the annual 383 Canvas conference and the waistline-expanding glory of our fortnightly 'fat Fridays' fry-ups. Best of all, I got to go on my first ' 383 Weekender ' where the entire office got whisked off to Barcelona for two nights of hard partying and tapas munching.
Jumping in feet first.
And soon enough I was thrown into the deep-end on full-blown client work and actually surprised myself with what I was capable of. And do you know what clicked for me? Applying the principles of my job to my wider approach to it.
After all, my role as Strategist is all about experimentation and iteration. It's about figuring out how to turn unknowns into knowns, trying new things, breaking a few things, questioning how and why things get done.
It's about trusting my hunches, putting them through the wringer and gathering up all the bits of resulting evidence to see what went wrong and what went right. And, crucially, it's about learning from everything I do and making the next attempt better.
This holds true at every level of the job at 383. It's not just about developing new and improved products for our clients, but it's about learning how to play off my colleagues' strengths and weaknesses and how to adapt the agency's processes to my ideas. It's also about getting more confident, more organised and more fearless in what I do.
It's also about realising that, to a certain extent, everyone is bluffing it and figuring things out on the fly.
We're not in the business of certainties and often there's no right or wrong way to do things. Our clients hire us because we're smart and adaptable. They need us to tackle the sorts thorny business challenges or complex design problems that they can't handle alone.
And if we can figure out the right solutions for them, we end up with happy clients, happy customers, a happy 383 and, ultimately a happy (and highly relieved) strategist. Everybody wins.
Time moves quickly.
I've been here ten months now and 383 really feels like home. Every day I'm working on fantastic projects for big-name clients with an awesome team around me.
Sure, there have been ups and downs and I still feel occasionally out of my depth and beyond my comfort zone. But that's brilliant too as it means I'm still stretching myself, learning new skills and finding new ways to make my mark.
The biggest trick I've learned is not to try and tackle it all in one go. Pick your battles, learn the things you need to learn for the project in hand and don't be afraid of missteps.
And definitely shoot for the moon — you might be surprised where the journey will take you.
---
--- ---
Related Articles