What is PBX, Its types, and why do businesses need one?
A PBX server is the backbone of any VoIP infrastructure. Learn about the role of a PBX server, its types, and why businesses should invest in one.
---
Vindaloo Softtech
5 months ago
|
2 min read
---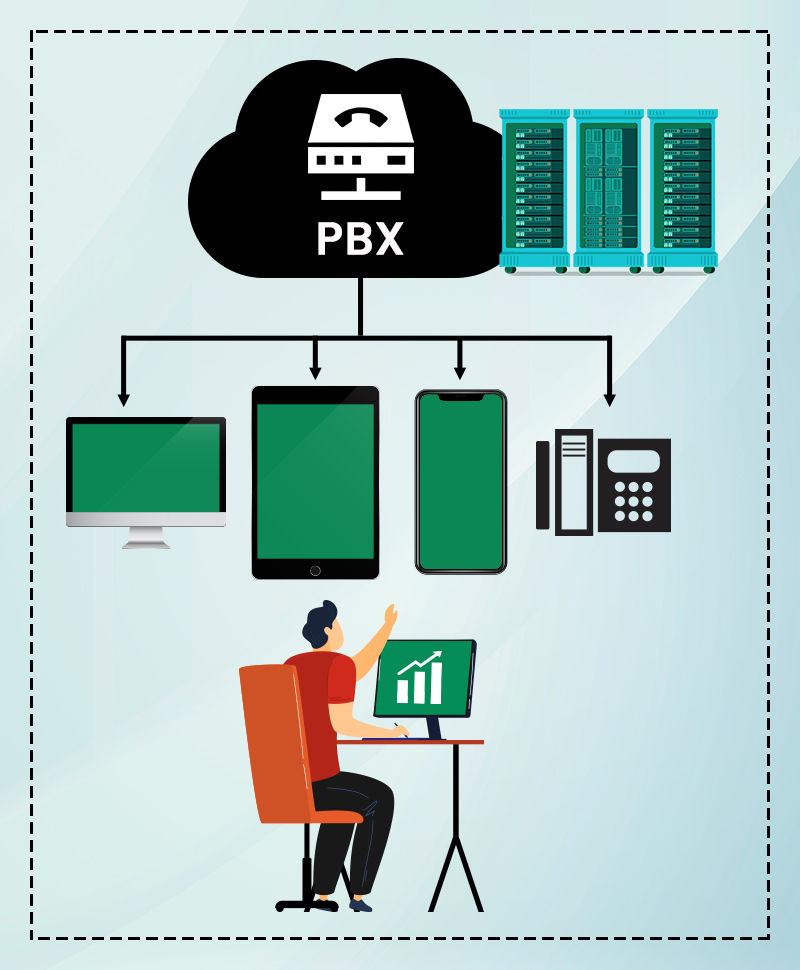 Business communication is an integral part of businesses irrespective of their scale or size. However, in the past decade, the tools to achieve business communication have evolved from physical telephone lines to digital calling solutions called Voice Over Internet Protocol.
What is a PBX server?
In addition to being a digital telephone exchange, a PBX system is also a cost-effective solution that grants exceptional portability and additional advanced VoIP features such as Time Condition, IVR, Ring Group, Call Forwarding, Auto-attending, IVR, Video Conferencing, etc. In fact, these advanced features make PBX the most sought-after business phone solution that businesses favor.
How does PBX work?
The data packets are transformed before being sent to the VoIP service provider, which manages call initiation and termination. Users can connect desktops, specialized VoIP phone hardware, or softphones to the network using SIP trunking. Both internal and external corporate communication may be conducted with the IP PBX business phone system. Whether your PBX phone system needs to transmit data through the Public Switched Telephone Network or not depends on the nature of the communication.
Capabilities of a PBX system
Here is a breakdown of the different features capable of an IP PBX phone system.
Auto-attendant
The capacity to redirect calls to locations outside the firm, such as mobile phones, VoIP virtual phones, and other IVR systems, is a feature of advanced auto-attendants.
3rd Party Business Integrations
Thankfully, a reliable PBX from a trusted VoIP development company will support business tool integration or custom integration capabilities.
Voicemail
This allows businesses to catch business opportunities that may have been lost. Taking voicemails to the next level, an IP PBX can send an email notification whenever a voicemail is left on the server, along with the recording as an audio file.
Call Encryption
You will need sophisticated virtual PBX features like call encryption because of this. Both of these protocols will guarantee that every call you make is completely secure and that hackers cannot intercept your calls or compromise the network. In addition, it is advisable to have Firewall for PBX servers as an additional security layer.
Call Management Features
A quality PBX server offers additional call management services such as call barging, whispering, coaching, and transfer, to mention a few.
Flexibility
Every business needs to adapt to changing demands. Today, a business that can manage the blows of the market and adjust accordingly is the one that paves the way to the top. A PBX server is flexible enough to handle every business communication scenario. A PBX phone system's comprehensive and clever feature set may completely change a company's communication infrastructure.
Cost-efficient
Because of this, every company, regardless of size, employs a plan to make its procedures more affordable. Additionally, switching between plans as your company's needs change is simple.
Centralized communication
You may measure staff efficiency, see missed and continuing calls, and ultimately enhance your company operations with real-time call monitoring and analysis. Above all, you can give fabulous communication because you always have a single point of contact, your virtual number, regardless of what goes on in your business behind the scenes.
Wrapping Up
Switching to the PBX server bridges the communication gaps within your organization and keeps your business ahead of the competition while keeping the cost down. If you want a custom PBX server or VoIP system to streamline communication and enhance collaboration, contact Vindaloo Softtech today.
---
Created by
Vindaloo Softtech
Vindaloo Softtech Pvt Ltd: A Cross-Platform Mobile App Development, and Web App Development Company offering VoIP Applications, VoIP Software, & VoIP Consulting Services. Vindaloo Softtech Pvt. Ltd., is a leading multi-technology software & solution provider company based in Ahmedabad, India. Seeded in 2016 with a core focus on VoIP Applications, Software, and VoIP Solutions development services, Vindaloo Softtech has catered to hundreds of clients worldwide with our client-centric approach and innovative solutions. We are a trusted software development partner for businesses of different sizes and scales. Within no time we have been recognized as one of the leading VoIP Development companies in India. Analyzing the current demand for custom software development by medium and enterprise-level businesses, we have also ventured into cross-platform mobile app development, web app development using MEAN and MERN stack, and CRM development. We endeavor to provide world-class customized s
--- ---
Related Articles