What is A Pergola ?
Installing a pergola is a great way to add value to your home, as well as additional living space. Coupled with a beautiful garden, they can also be amazing focal points. There are many more ideas out there, so do some research.
Pergola
A pergola is a garden structure that provides an area for resting and relaxing. It can be used to shade a patio or deck, or it can be used as an architectural feature in and of itself. There are many styles of pergolas that you can build yourself, including the Half-Timber Pergola, which uses wood to create a Tudor style look.
The most common type of pergola is the post-and-beam style, which uses posts connected by cross beams at regular intervals. This type of framing allows light into the area underneath the roof, making it perfect for growing plants like climbing vines or creating a shady spot for sitting outside during hot summer days when there's no rain in sight.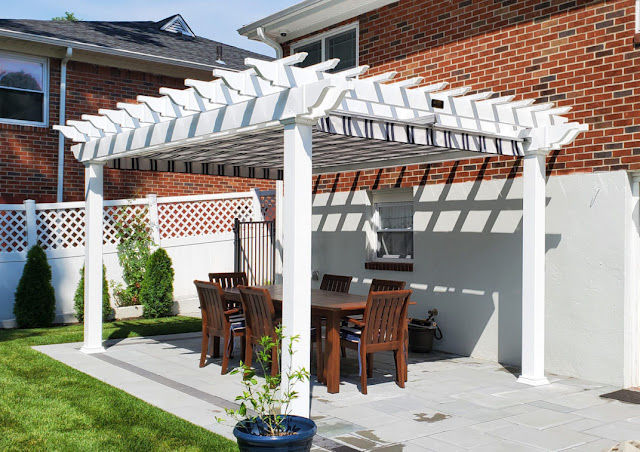 Pergola Design Ideas For Your Patio
If you want to create a place in your garden where you can have some privacy, then a pergola is the best option for you. You can use it for relaxing or even eating food. This is why many people choose this idea when they want to create an outdoor area at home. The good thing about using this kind of design is that it gives your home an elegant look while also making it seem more spacious than before.
The first thing that you should do when designing your patio with this kind of structure would be choosing the right material for it. There are many types of materials out there that you can choose from but one of the most popular ones is wood because it looks very nice and natural when used outside in gardens or patios. However, if wood isn t your thing, then there are also other materials that you can use such as stone or concrete. These two materials look very nice and can complement any type of design that you have in mind for your patio.
The most common types of pergolas include:
Free-standing -

A

free-standing pergola

is built on posts that rest on concrete footings or piers. The posts are usually made from wood or metal, but can also be made from PVC pipe or other materials. The roof structure is typically made from wood or composite material.

Retractable -

A retractable pergola has a roof that rolls back like an accordion door. This type of pergola provides protection from the sun when needed but allows for open air when desired.

Aluminum -

Aluminum pergolas

are made from aluminum framing and come in many different shapes and sizes. The aluminum frame provides strength without adding weight to the structure which makes it easy to install in any area of your yard whether it's flat or hilly terrain.
Advantage of Pergola
Pergolas have two advantages, including:
A Pergola Can Make Your Patio More Attractive
Pergolas are attractive structures that can enhance any patio. If you want to create an inviting space for your family and friends to enjoy, consider having a pergola built over your patio. Not only will it provide shade and shelter from rain or even snow, but it also gives you another place to sit outside with friends and family members during warm weather months. You can also grow plants in containers underneath the pergola so that they can hang down from above, giving more privacy when sitting underneath it during the day or evening hours.
A Pergola Can Provide Additional Space
If you have limited space on your property where you want to sit outside with friends and family members at night or during the day, consider having a pergola built over part of your property so that there is additional room for everyone to enjoy. A pergola can be constructed in any size or shape that you want, and it will give you a place to sit outside with friends and family members even if you don't have much space for them.
Pergola Installation Costs
While you can save money by building your own pergola, most homeowners choose to have professional installers do the job for them because they want their new pergola installed correctly and safely. The cost for professional installation will vary depending on where you live, but it typically averages between $1,000-$2,000 for 8'x8'x8' structures (the size we used in our example). This does not include the cost of materials though; you'll need to factor those in yourself based on what type of pergola you purchase (above).
Conclusion
A pergola in UAE is a great choice for many villas. Pergola kits are generally affordable, and you can find plenty of options that are complete and easy to install. When buying one of these kits, remember to read through the installation instructions carefully so you won't have any problems with your finished product.
---
--- ---
Related Articles