What Are Personas And Why Your Business Needs Them
Your ability to understand customers' struggles and desires is what makes a business successful.
What's the simple truth about business?
No customers = no profit.
But if everyone knows this, then why do some businesses struggle to retain and capture the attention of their audiences?
Your ability to put yourself in your customer's shoes — understand their struggles, needs, desires, aspirations and surrounding social environments is what can make your business successful. After all, all people want is to be understood.
First conceptualised in the 1980s by software designer Alan Cooper, business personas (also called marketing personas) are data-driven profiles that represent core sections of your ideal customers.
To break that down, personas are fictional characters; an embodiment of your potential and real customers to help you understand their behaviours, needs, and motivations.
Personas act as guidelines on how to behave with each type of customer. They help everyone — from sales to marketing to product development visualise the kind of customer they want to attract.
Personas help you see your demographic as real people, with real experiences and lives.
Who are you designing for? Does it meet their needs? Would Kwame (a persona) fill out this form? Can Alyssa be effectively convinced by this marketing campaign?
Personas are of two types: "user" and "buyer" personas. While similar, they help to differentiate the kind of persona you're trying to create.
Buyers make spending decisions, while users actually use your product/service. For a lot of businesses, buyers and users are the same person, but for some the entity with purchasing power is not the same as the product/service user.
But why do you need personas for your business?
These databases streamline and make it easier for you to tailor your content and services to the exact needs and concerns of your target audience.
A lot of our entrepreneurs are inspired to build businesses to solve problems that they themselves had, which makes it easier to design and develop a product/service when you know exactly who the client is and how they'll go through a particular buying process.
But what about the people and businesses who market to people and issues that they don't directly relate to?
Research.
To build your personas, you need to dig through all the information your clients have given you, through:
Social Media
Social media pages now collate data for business pages into things such as Insights (Instagram). They help answer questions like: what are your followers talking about? How are they using your content?
Google Analytics
This can help you check where your customers mostly come from, what questions they ask, keywords they use, the amount of time they spend on your website and the kinds of devices they use.
Surveys
Ask your audience. Surveys and interviews give you insights and feedback that can be crucial to add to your personas, such as goals and values people hold that you can incorporate into your marketing strategies.
We recommend that you make three to five of these "human beings" to represent your demographic, it's a number wide enough to cover the majority of your audience while still maintaining the advantage of specificity.
Econsultancy's Stefan Tomquist in a 2015 study discovered that four out of five businesses claimed to have a holistic understanding of the core sections of their clients, yet only 22 percent of customers felt understood by brands. This means that there is a gap between how well businesses think they understand their audience versus how well they actually do.
Without this understanding, businesses are unable to design a unique brand voice and create relevant content that their audience can relate to. This is where marketing personas become extremely helpful.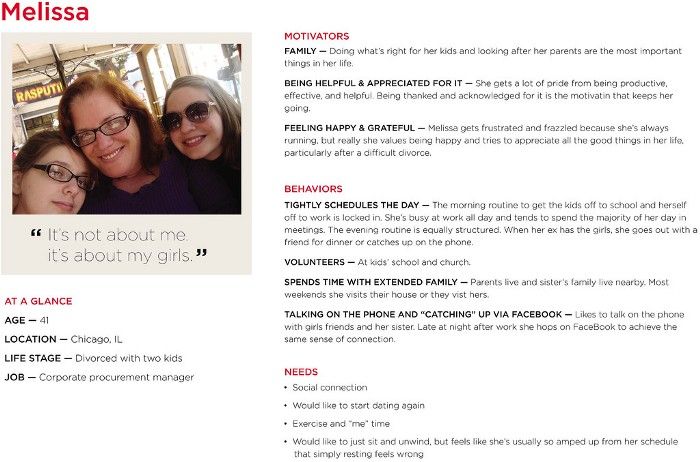 In addition to this, you can also consider adding the following information to your personas:
Recreational activities
Internet and overall computer/mobile literacy
Major news sources
Blogs/articles/news they read
Testimonials from clients
In contrast, we also have negative personas.
While buyer and user personas are embodiments of an ideal customer, negative (or exclusionary) personas are representations of who you don't want as a customer. This includes students only engaging with your brand and content for research, and professionals too advanced for your product/service.
It's important to keep in mind that while using demographic data, your team can fall back on subconscious beliefs. We tend to put our biases over personas' characteristics such as their ethnicity, technological knowledge, gender, etc.
Demographics can cause assumptions and subconscious stereotypes by team members, and to constantly remember to self-reflect and put the personas' characteristics through screening by multiple people to avoid biases.
---
A caffeine-dependent being, A studies sociology and is in search of sleep, sanity, and the Fortress of Solitude. You'll find them trying to recruit people for marathons, DC Comics discussions, and trying out new cafes and restaurants in the city.
--- ---
Related Articles