Pink Pedals: Here's a cycling startup that's pedalling out pollution.
Pink Pedals is an initiative to promote cycling as a way to combat pollution. The goal is also to battle laziness.
Did you know that you're smoking up to 5 cigarettes a day just by breathing urban air? Do we want our children and grandchildren to come into this world, only to be riddled with lung diseases and respiratory disorders? Here's the story of Pink Pedals that decided to address these questions so that our coming generations don't question us.
How often we come across the technologists and the environmentalists debating over the advantages and the repercussions of the advancement in transportation technology? How often those debates end without any proper conclusion?
Cut to the chase. Technology is inevitable. And so are the pollution problems that come with it. Adopting alternative methods wherever possible is the last hope to ensure healthy survival.
Pink Pedals is an initiative to promote cycling as a way to combat pollution. The goal is also to battle laziness, something that has become a norm for our couch potato generation. The team:
Provides good quality cycles on rent to walkers at very nominal charges at the major Gardens and parks of Jaipur.
Partnered with Rajasthan Tourism for an ecotourism initiative, called 'Heritage on Pedals'.
Organized "Junior Cyclothon" for kids aged between 2.5-16 years.
Has organized cycling and road safety events in association with Manipal Hospital and WPP Stream Asian Summit.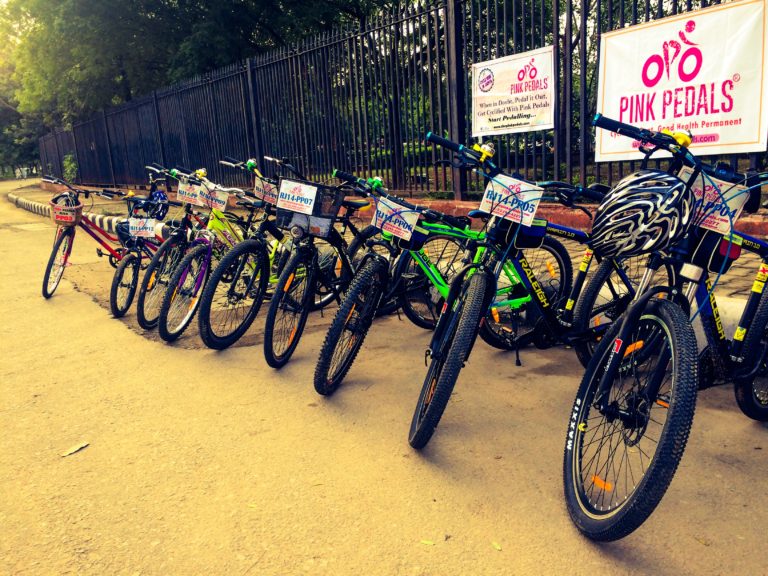 When did it all start?
Pink Pedals started as a one-woman army in 2017 with just 9 cycles at Jawahar Circle in Jaipur.
By 2018, they have built a team of 6 core members and many volunteers who work day and night to transform Jaipur into the Amsterdam of India.
When in doubt, pedal it out."
Ms. Pooja Vijay, the woman behind Pink Pedals was shocked and shattered after hearing the news about Delhi becoming the most polluted city in the world in 2016, so much so that she decided to take matters into her own hands and started her own bicycle-renting service.
A mother and a housewife-turned-entrepreneur, Pooja got candid about how her love for the pink city made her choose the name Pink Pedals thereby, paying a fitting tribute to the city that made her what she is.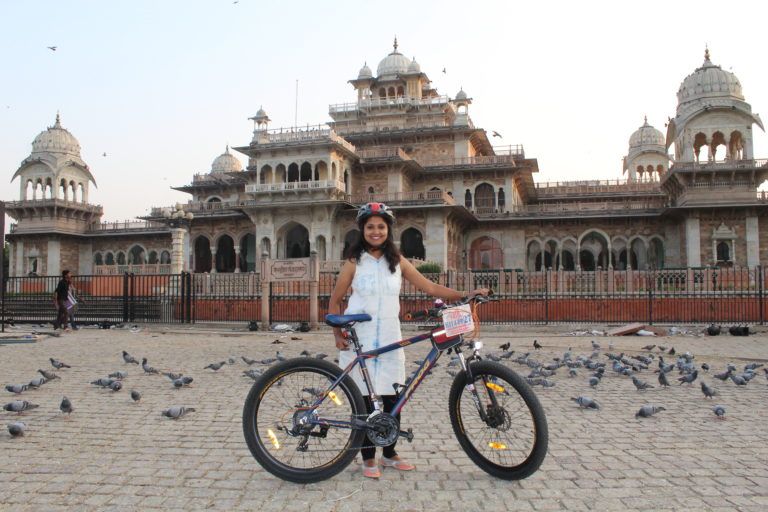 Why cycling?
If the existing pollution problems haven't convinced you enough to opt for a bicycle ride instead of your pollution-emitting, high maintenance vehicle, the following interesting facts about cycling surely would.
The average adult who exercises for one hour by cycling at a moderate pace burns 563 calories, more than double what the average person burns by walking briskly for one hour.
Cycling three hours or 30 kilometers per week halves your risk of heart disease and strokes.
Women who cycle 30 minutes a day have a lower risk of breast cancer.
Countries with the highest levels of cycling and walking generally have the lowest obesity rates.
An adult cyclist generally has a life expectancy two years above the average and a fitness level of someone 10 years younger.
A recent psychological study proves that the person who cycles regularly have a unique mix of intelligence and cool factor in them.
While many people already are aware of the above benefits, only a handful of them actually uses cycles. One of the most primary reason has been the inconvenience that comes with buying a bicycle and maintaining it. The fear of theft just adds on to the already existing reluctance factor.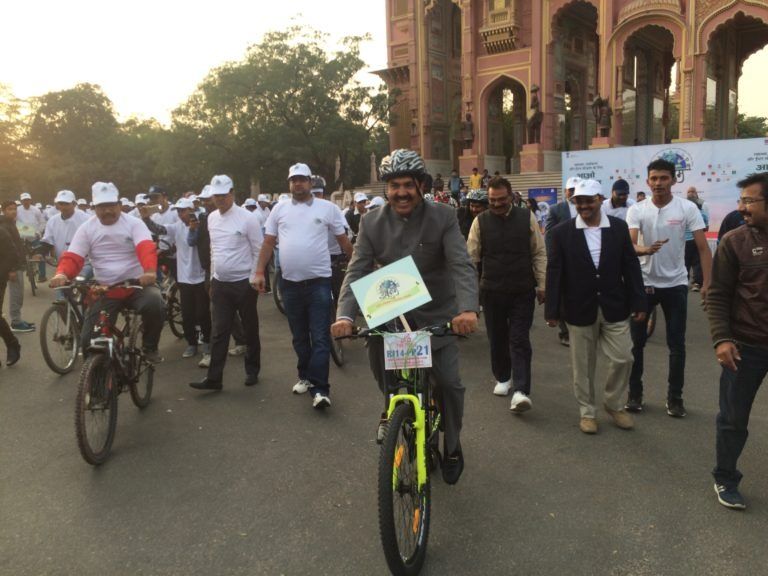 Enters Pink Pedals and the scenario started changing.
So much, that Pink Pedals successfully organized their own event in support of green India Clean India movement, "Junior Cyclothon", for ages 3 to 16. They saw huge participation in the first edition of the event in June, with their tickets selling out to double the people that they expected. They're gearing up for the second edition on 23rd December 2018, on an even bigger level with ticketing partners BookMyShow.
The progress so far
So far they have built an inventory of over 50 kinds of cycles. They have special cycles for kids, hi-end gear cycles, cruiser cycles specially designed cycles for elders and tandem cycles (2 seater cycles or couple cycles). Thousands of people have now traveled approximately 1,00,000 km on their cycles!
One of the major highlights of this rapid progress has been the in-depth market research done through surveys that Mrs. Vijay persistently took thereby giving her a better idea about which locations would react better to the promotion of cycling.
Being someone who always listens to her heart, Pooja is aware that to make her startup prosper, she needs to get people out of their comfort zone and she is still in doubt about how to do it. But, she would find a way.
Because "When in doubt, she pedals it out."
---
Ideas are easy, Implementation is Hard, learn from the ones who knows how to start. A Publication by Tealfeed.
--- ---
Related Articles