How Pinterest can help you grow your business & stay ahead of your competitors
Pinterest in recent years has become the talk of the town. Every website, every blog, every social media portal that you open
Pinterest in recent years has become the talk of the town. Every website, every blog, every social media portal that you open, you will find its logo in the share option. But what exactly is Pinterest? Let's break it down.
Pinterest is "Pin-Interest", a virtual board where you can "pin" down what interests you. It is an image-based social media web and mobile application company which is climbing the success ladder rapidly with 291 million monthly users worldwide with India being its second-largest market with 67 million users. Although it is more than just images and pictures, it is a catalogue of ideas which inspires the users to take action and do that thing. Even though initially, it was famous amongst people with hobbies and DIY creators, it is increasingly becoming a loved platform amongst businesses as well. Why?
This post will focus on WHY the businesses love Pinterest and HOW can your business use it to its advantage?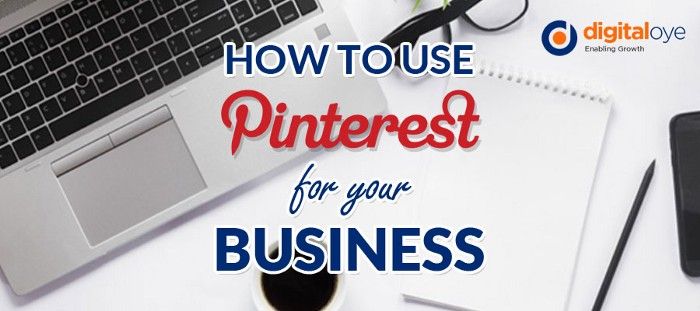 Starting with the "WHY" part of this post, businesses love Pinterest because simply put it, it is loved by the online community.
Before moving forward, it is time to BURST THE CLOUD WITH FACTS:
1. It is an era of Visual Marketing, because we, as humans are visual learners. Therefore, if your business is online but it is not visually appealing, then your business will be unable to enjoy the fruits of social media. This makes Pinterest one of the most prominent platforms to be on.
2. A good percentage of images on Google are from Pinterest — one can never say they have never used Pinterest. This is because, even though one is not on Pinterest, they must have still come across it in the form of Google images.
3. On an average, a pin gets repined 11 times, it takes 3 months for a pin to get its 50% of the engagement.
4. 90% of Pinterest's active users say that they use Pinterest for planning their purchases.
5. 80% of Pinterest searches happen on smartphones and tablets.
6. It is the 2nd largest driver of traffic from social media sites after Facebook.
7. Almost all Fortune 500 companies have their business accounts on Pinterest.
8. Most of the pins come from businesses which post about themselves, their brands and their offerings.
9. In India, it is the 6th most popular social networking platform.
10. About 80% of the users in India are females and the rest 20% are males. Mostly, users fall under the age of 40.
IT IS A PLATFORM WHERE PEOPLE FROM ALL OVER THE WORLD COME TOGETHER IN THE FORM OF COMMUNITIES BASED ON THEIR MUTUAL INTERESTS. THEREFORE, THIS GIVES THE BUSINESSES A CHANCE TO BE A PART OF SUCH COMMUNITIES AND GET ENGAGED IN RELEVANT TOPICS. IT ALSO BECOMES A SOURCE OF ENSURED LOYALTY AMONGST THE USERS. THIS IS BECAUSE-
1. Frequent activities of the business on Pinterest will lead to brand awareness and identity.
2. If the activities are informative and in sync with the targeted users' personality and intellect, they will land on the business' page and follow it religiously.
3. Eventually, when the business makes posts about their products/services, the targeted users on Pinterest will not mind trying them, buying them and further spreading the word.
4. After the business has achieved the 3rd point, the rest of the work is just an easy sail on a smooth sea! The users will themselves spread the word about the offerings in their respective groups which will bring more users to the business' Pinterest leading to more engagement, more sales, more revenue, and eventually, more return on investment.
Now hoping that the "WHY" part of the post has convinced you about Pinterest, let's move on to "HOW" your business can use Pinterest to your advantage:
STEP 1. CREATE YOUR BUSINESS ACCOUNT
If you want your business to be visible on Pinterest, the first thing you need to have is your business account on Pinterest. With this account, you can have access to-
1. Post Analytics: To get the information about the user engagement with your posts, what they liked the most.
2. Rich Pins: They show more detailed information directly on a pin.
3. Promoted Pins: These are the pins for which the businesses pay to promote.
4. And the most important one, the Buyable Pins: The pins which have real prices, availability, the price listed on the pin itself with a "buy now" option.
STEP 2. USE KEYWORDS
By using keywords, the Pinterest search will help the users in finding your business quickly. Learn keyword research, and add keywords in your bio, board names, and board descriptions.
STEP 3. CTA
Add a Call-To-Action in your Pinterest bio. A link to your official website, your contact details, a subscription to your newsletter, etc.
STEP 4. A PINNING STRATEGY
Before starting postings on your Pinterest account, set your clear objectives and goals. What is it that you are trying to accomplish with Pinterest? Is it improving brand awareness? Is it increase in traffic and customer engagement? Is it generating more and more sales? If the goals are not clear enough, then Pinterest can be a bit intimidating. This is because a lot can be done with Pinterest and it can be confusing from where to start.
STEP 5. PIN FRIENDLY
Posts with featured images have a greater engagement percentage. Therefore, make sure that all the pages, blog posts, buyable pins are supported with good quality feature images which a user can pin easily.
STEP 6. PROMOTE OTHER PINNERS
Find other users in your niche area on Pinterest and pin their posts on your pinboards. In return, the pinners will pin your posts on their boards. This will lead you into a community of like-minded people in your niche area.
STEP 7. PINTEREST GROUP BOARDS
A group or a collaborative board is owned by one Pinner who has given access to other Pinners to add Pins to the board.
For example, if you have 1000 followers on your Pinterest and you join a group board which is owned by another Pinner who has 2000 followers. If you pin any of your post on the group board, the pin will appear on the home feed of your followers plus the 2000 followers of the group owner.
STEP 8. LINK OTHER SOCIAL MEDIA
Every post that you make on Pinterest should be shared on other social media platforms like Facebook, Twitter, etc. in the form of post links. This will bring more traffic to your Pinterest post and lead to higher user engagement with the brand.
STEP 9. A VARIETY OF BOARDS
Always remember that Pinterest is about relevant information instead of product/service promotion. This being said, make sure your posts are a mix of motivational posts, informative posts, and relatable posts and not just the posts which are about your product/services itself. Your Pinterest should be about what your users want to see, and not about what you want them to see.
STEP 10. CONTENT STYLE
The suggested image size for Pinterest is 735×1102. Use long and vertical images instead of wide images. Declutter the background to focus on the main subject in the image.
STEP 11. USE PROMOTED VIDEOS
According to research conducted by Pinterest, 67% of Pinners say they are motivated by the videos in taking action on the platform.
Video suggestions-
· A short few seconds-1 minute videos.
· Entertaining format
· DIY and How To's
· Storytelling
STEP 12. ENJOY
Even though it is a business, do not forget to enjoy. Be creative, spontaneous and fun while using Pinterest. Don't stress yourself much and the rest will follow.
The basic idea of social media is entertainment. So make sure you enjoy what you do. Be open to new experiments and you will rule the image-world of Pinterest!
Tip: if your competitor is not yet on Pinterest, this means you have less competition as of now. See it as an opportunity of first mover advantage and break-a-leg! (Not literally)
CONCLUSION
To sum it all up in one statement, On Pinterest, pin what interests you and a good engaging audience will follow.
So what are you waiting for? Get crackin'!
REFERENCES
1. https://blog.hootsuite.com/pinterest-statistics-for-business/ (For Pinterest stats)
2. https://sproutsocial.com/insights/pinterest-statistics/
3. https://www.aandb.xyz/blog/pinterest-and-its-growth-in-india/
4. http://gs.statcounter.com/social-media-stats/all/india
5. http://www.socialsamosa.com/2018/08/infographic-10-pinterest-statistics-every-marketer-needs-to-know/
This article was originally published by me on Medium
---
Created by
Tealfeed Guest Blog
--- ---
Related Articles