Is It Possible To Be A Freelance Engineer? What Are The Pros And Cons Of Being A Freelance Engineer? My Story.
Freelancing will change your approach to life. Where the others see the walls, you see the doors. I will try to cover everything I know about freelancing as an engineer.
My name is Davit Ayvazyan, and I am a mechanical engineer at Alpha Tek Automation. I used to be a freelancer for a long time. In 2019, I became a full-time worker and what I can say is that It was tough, yet fun, so I'd love to tell all of you about my experience.
Freelancing will change your approach to life. Where the others see the walls, you see the doors. I will try to cover everything I know of freelancing as an engineer.
What Does A Freelance Engineer Do?
They do all needed for money-making. A freelancer is the boss of one's own. It only sounds cool. It is only 1% of the fun and 99% of duties.
You are a salesman, an SMM, a brand-manager, and a SERM specialist. And guess who an engineer is? Of course, you are!
You can hire all those people, but it would be robbing you if you are a pool of money, good luck to you! Your start will be easy and smooth. BTW, finding a dream team is work. So you better hire some recruiting agency.
I have done everything myself while freelancing. That's what I love and recommend to all of you. When you are all-in-one, you can guarantee 100% quality of work. You can handle only exciting projects. You see the situation on the market and never miss reasonable offers.
Yet, if you want to have your engineering agency, find a dream team first.
I will tell you everything about the self-made engineer's path. You will find practical experience and useful advice in this article.
How Does A Freelance Engineer Deal With The Vacations?
Well, you can work on Bali, sitting under the palm, drinking coconut juice. Yet, it's not all unicorns and glitter. Ocean noise is distracting. Heat makes all the thoughts and the laptop's battery power vaporize. In a couple of hours working in the hotel seemed much better. As a result, during the whole "work trip" you leave your room three times. For the rest of 30 days, you stay in and hustle.
That's what I was doing during the first couple of years of freelancing. I made a mistake of all the rookies — I was an insane cruncher. I wanted to change the world by contributing to many projects. I didn't count with my body, physical or mental health. I have forgotten to eat, drink, sleep, travel!
I got some professional burnout and quit engineering for some time. I lived on what I saved, thanks to me I had them. After I got back to freelance engineering, and I learned my lessons.
So I started to plan my day. Since this time, I work no more than 8 hours daily and no more than five days weekly. I've designed my weekly, monthly, daily, and yearly schedules.
Office workers get a ready-made schedule, and I made one by myself. A ready-made program makes your life easier and harder at the same time.
What Is The Income Of A Freelance Engineer?
You have no limits when you are a freelancer. Sounds motivating, yet in fact, this means, you don't have the minimum wage you get. The sum you get depends on your salesman skills and your experience. There can be months with zero income. In the other months, you'll get the quarter's salary of your colleague. Most of us don't have money-management skills so that it can cause some troubles.
Before becoming a freelancer:
Get some financial management skills.
Start with optimizing your monthly expenses.
Find out what sum you need for basic living.
Same for the comfortable one and luxurious one.
During the first months, try to earn enough to cover your basic needs.
Try to create a financial cushion. Save 10% of your income so you won't need to loan money if the month is empty. If you plan some major purchases, save 20% of your income or more. I don't recommend using credit cards to avoid The Money Pit.
If you work somewhere, it's best to develop a smart approach. Don't leave your company right after you decide to become a freelancer. Leave after your freelance income equals or surpasses your salary.
It's easy to start freelancing if you are uni or a high-school student. You can ask parents for some cash and can make cheap tasks. Those are here for beginners craving for some rating and reputation.
What Person Should I Be To Become A Freelance Engineer Among The Basic Ones?
There are traits you need to have to become an engineer. To become an excellent freelance engineer, you will need those and others. Below is the list of different qualities that will help you to survive.
● Self-discipline. A project will not get oneself done. Your customer won't push you and control you. And your home is full of distractions. You will discover it once you start freelancing. Beware.
● Money-management. You'll need this one after getting a big bankroll on your bank account. You'll crave to spend this one, but no! Take care of some basic needs first. It's not fun, yet, it's life.
● Time-management. When the deadline is in 6 months, it seems unreal. But boom! The deadline is tomorrow, and you need a sleepless night to finish the project. The quality of such work will be low, and your health will suffer from this approach.
● Project management. You'll need to take care of the talk with the client, see their real needs. Learn to break a big project on the milestones. It would be best if you saw the tasks you won't do. It will help to keep your reputation up.
● Connection skills. There are many types of people, and as a freelancer, you will meet them all. You have to be polite and avoid showing anger or negative emotions. You'll lose your reputation if you'll let the emotions out.
You'll need the ability to estimate the project, its terms, and costs. If you are a beginner, it doesn't mean you have to work for free or dump. There are two rules of a freelancer: don't scrap the prices, don't delay.
What Advice Can I Give To The Rookie?
I've been freelancing for eight years before my client offered me a full-time job. Below is what I missed when I was a rookie.
● Create a home office. Make a workplace at your own home or work from a cafe or coworking. Don't work on your bed or undressed — it will lead to focus loss and sleep problems.
● Save 10% or more from every transfer you get. Don't go HAM on spending your money even if it seems you are rich as hell. Don't go into debt.
● Work 6–8 hours a day without crunches. Take as many projects as you can do in time. Don't try to earn all the money in the world.
● Learn to listen to the client and hear them even if you get pissed off with them. Don't try to change them, but try to listen to what they mean. This skill will bring you more clients than your engineering skill.
● If a client adds details, you need to raise the price and terms. It can seem awkward for the first time, but you will work for free if you don't do it.
● Take an advance payment or work via the trust services on the chosen platform. Not everyone will pay at the end of the work, even if they seem honest.
I started from seeking clients on oDesk (UpWork) and a little bit on Fiverr.com. Also, I got an excellent LinkedIn profile. Take care of your LinkedIn profile so the potential clients could find you. Not everyone is on freelance platforms.
The competition in freelance engineering is not growing fast. There are many rookies, but there are many clients.
Pros And Cons Of The Freelance Engineer Career.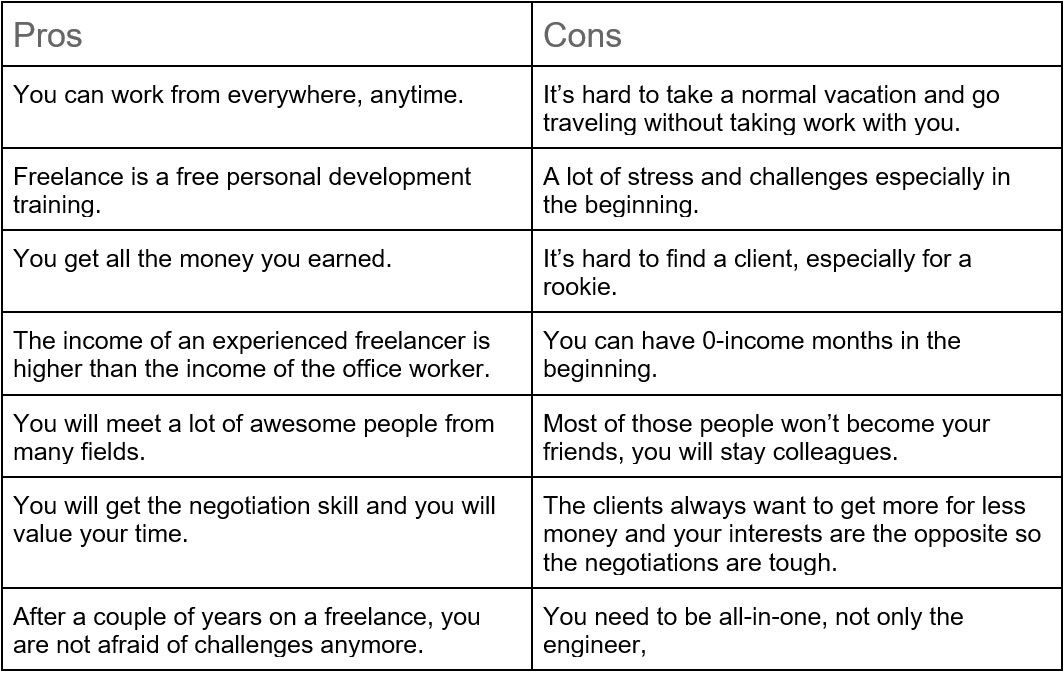 The Outcome
Freelance is an ongoing self-development training. You become all-in-one. After a year, you are not afraid of anything in your profession. You can drop a line to the CEO of a company you like. You can sell your services to everyone and run your agency.
Brave and self-confident people will feel amazing being freelance engineers. A perfect freelance engineer is not afraid of the hard times. They can work with the clients, see what they need, and do it. They manage their finances and have goals. Freelance engineers don't give up even if they hear 300 refusals per day.
If you find yourself below, you better not become a freelance engineer:
● You don't like to be all-in-one.
● You are not brave.
● You get depressed when you get many denials.
---
Mechanical Design Engineer at Alpha Tek Automation, Inc. and Mechanical Design Lead at Robomart, Inc.
--- ---
Related Articles