Post-Purchase Emails: The Brand Email Your Customers Actually Want Right Now
Here's how to send them emails they'll actually click through.
(When you've become a living "When will my husband return from war?" meme)
Your customers don't want impersonal, coronavirus-related emails right now. Here's how to send them emails they'll actually click through.
Let's face it. There's a global pandemic threatening our lives, the world's economy has officially entered a recession, and to top off all the trauma, fear and death, social distancing is boring too.
You're in survival mode right now, I get it. You're not thinking about marketing and customer retention metrics, you're busy flattening the curve.
But customer retention is actually the most important stat right now for your brand. Your customers are in a critical period of habit formation, and if you aren't a part of their transition, you won't be part of their new normal.
According to business experts Emmett and Mark Murphy, a mere 2% increase in customer retention has the same effect as reducing prices by 10%. A little work getting shoppers to come back pays huge returns. It's worth optimizing for retention — even right now.
One easy way to do this? Post-purchase emails.
Post-purchase emails can be as simple as saying "Thank you," sending digital receipts, or reminding customers to restock. They can be as complicated as personalized product recommendations. But even the basic ones convert.
If you can master email marketing, it's the only channel you'll need. Just look at CoffeeForLess, doing millions in business every year through email.
"THANK YOU" EMAILS WORK
That simple "Thank you!" email that feels too extra to send to every customer? Customers like them. They're more genuine than impersonal coronavirus emails claiming that you're there for your customers, or you understand what they're going through.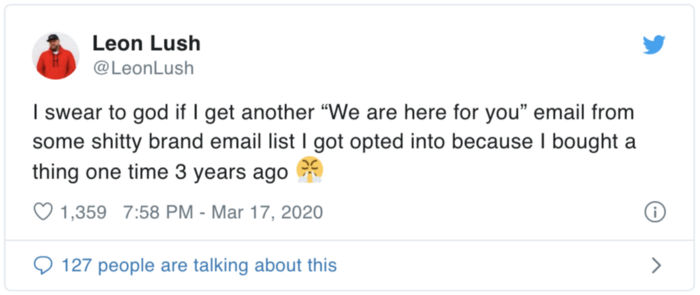 You probably don't understand what all of your customers are going through, but you can express gratitude to your customers for purchasing your products during this difficult time. Better yet? You'll actually mean it.
Post-purchase emails actually have a great open rate. The average marketing campaign email's open rate is roughly 16.75%…The average post-purchase thank you email has an open rate of 42.51%. (Not to mention a conversion rate of 10.34%!)
If we do a little math, that means post-purchase emails have a 2.5x better open rate and a 7.9x better CTR than the average marketing campaign email.
And that's just for the average thank you email — open rates will only improve with more personalization, and customizing post-purchase emails to specific kinds of customers can bring enormous returns. Just ask CoffeeForLess.
COFFEE FOR LESS
CoffeeForLess began as the eCommerce offshoot of couple Jack and Linda Kirschner's home business, Coffee Serv. As the eCommerce side of the company exploded, the Kirschner's changed the name and went all-digital to great success.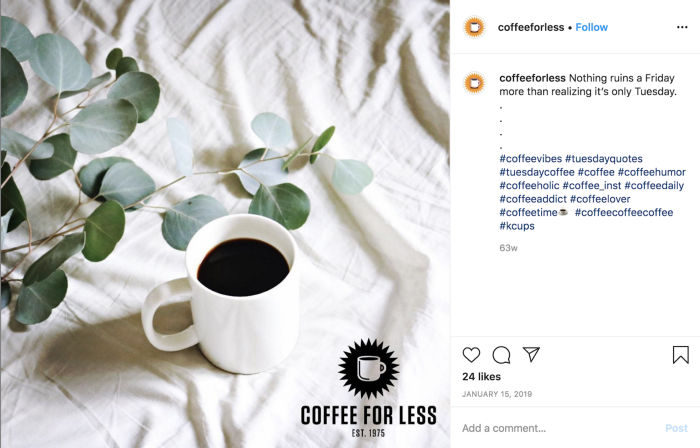 CoffeeForLess has a handful of Instagram followers. They are not a sexy, young startup. But they do roughly $19 million in business a year using email marketing.
They recently launched a tripartite campaign to encourage three different kinds of customers to make their third purchase. They segmented customers by order value first, so as to target the different customer brackets in ways specific to their shopping journey.
While most brands blast discounts to any email they've collected, CoffeeForLess knows to send a particular schedule of messages to segmented clients, triggered by days elapsed since their last purchase.
Their "Win Him Back" campaign nudged customers with low order values to restock, while their "Replenish and Reward" campaign celebrated clients with higher order values by rewarding and pampering them.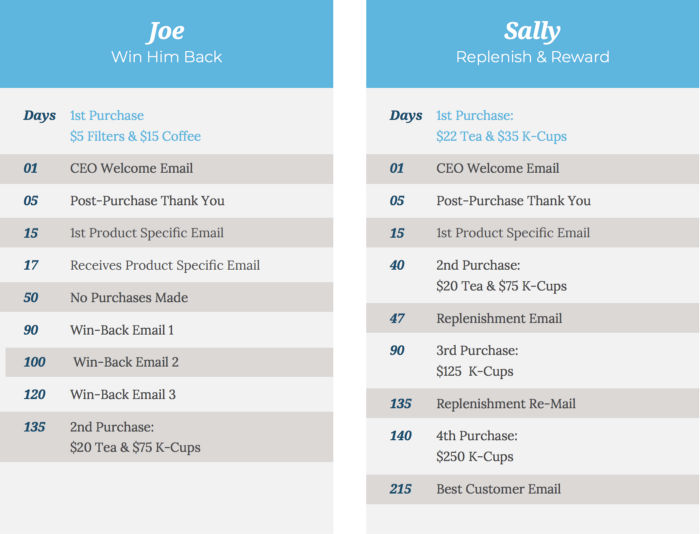 (CoffeeForLess's post-purchase email schedule, Windsor Circle)
These post-purchase emails, personalized for each kind of customer, had a 66% higher open rate and a 125% higher conversion rate than CoffeeForLess's typical marketing emails. All in all, the six-month campaign earned CoffeeForLess over $500k.
Now that's Coffee for More…ha.
(Quarantine is killing me, please send help.)
MAKING THE DIFFERENCE
Post-purchase emails make returning customers out of one-time shoppers. And getting customers back in the door is more lucrative than luring in fresh faces.
According to Adobe Digital, repeat customers are 9x more likely to convert than first-time shoppers, and they generate 3–7x more revenue per purchase than newbies.
Post-purchase emails are a simple way to improve your customer retention, and you need every single one of your customers right now. So let them know that you're grateful for their continued support and send them a thank you email.
It's the finishing touch that might make the difference.
---
--- ---
Related Articles