Preparing for your maiden TEDx speech? Tick these boxes!
TEDx talks are very prestigious and there will be a lot of expectations from the audience. Getting an invite is considered a great achievement.
PREPARING FOR FIRST TIME TEDX SPEECH?
TEDx talks are very prestigious and there will be a lot of expectations from the audience. Getting an invite is considered a great achievement. The speakers often get nervous preparing.
If you are an expert speaker, you need not worry much.
# GETTING INVITE FROM TEDX
There are many TEDx franchises in India. Someone near you may notice your achievements and invite you to share your knowledge and experiences. The talks are not restricted to any specific area. It could range from traffic cop to high tech AI /Blockchain specialists. All they look for is an achiever in his/her field and their contribution.
If you are invited, I am sure you will be excited, as not everyone gets the invite to give a lecture in TEDx.
# DECIDING ON THE TOPIC
You may have done many fantastic things and you may find it difficult to pick one for your topic. The organisers have some exposure to the topics and they will have some idea as to which of your achievement can be well presented that can make an impact on the audience. Sit with them and discuss. Many times the organisers maybe half your age. But, trust them. Discuss with them. If you think they are wrong, try to discuss and arrive at the final presentation.
If the organisers (often 20-21-year-olds) suggest you changes, do not have ego issues. They know it better.
Freeze the narration/script with TEDx organisers.
# WORK ON YOUR PRESENTATION
You may have given many presentations. But, often we give presentations using the Powerpoint and we may be looking at the slides and explain. In TEDx, you will be facing the camera and the Presentation made by you may be running in the background. A video prompting may be made available in front of you ( which is not visible to the audience, though). You can see the slides from where you are standing. But, preferably do not have notes on that prompter, as you may not be able to read them.
Hence make a crisp presentation with fewer slides and build your story. Do not give a corporate presentation with a PPT and start reading.
# DRESS REHEARSAL
Generally, the TEDx organisers make the stage ready one day before the show for you to have a dress rehearsal. They will have the video cameras ready. The lighting ready. And you may go up the stage with the mic fixed on you. And let them start the presentation as you talk.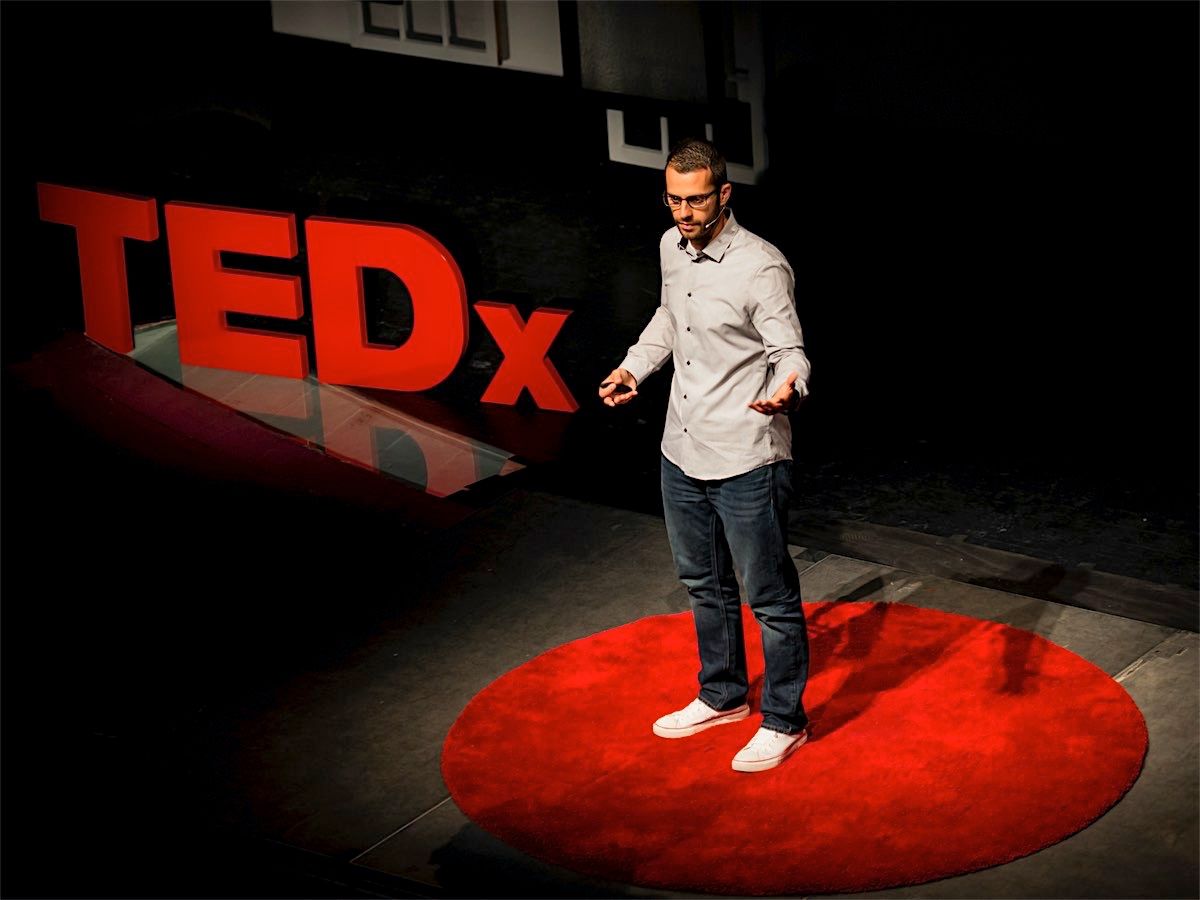 The time given to you is a maximum of 18 Minutes. You try to finish by 16 minutes.
Often, when you give your first rehearsal, it may go to either 12-15 minutes or 22-25 minutes. If you are closing the presentation early, it is OK. If you are crossing 18 minutes, try to cut down the presentation from 25 min to 15-16 minutes. Don't be overconfident that you can reduce it when you go live.
Work on the presentation. Go for second rehearsal and if needed try third. The organisers are always supportive as your best performance is their best performance.
Get yourself familiar with the stage, the setting and the lights. There will be a red dot carpet and you are expected to be on the Dot always. This is basically to capture the talk on the video through 2 different cameras in front. The lighting too is focussed on the red dot. Try to keep your movement limited and stick to the Red dot.
We are generally confident going around the stage and many times going into the viewers and talk. Here it is not allowed.
Don't feel shy to go on stage and rehearse as many times as you want. You must give your best and you can give it only if you practice hard.
# SHOWTIME
Dress appropriately. Your video will be on youtube and on TEDx talk portals.
Reach the place a bit early. It helps to sit and relax. Make friends with other speakers, who are all achievers in their own fields. Talking to them is relaxing.
When it is your time to hit the stage, Be cool. Yes. It is easy to tell. Anyway, try your best. Be on the RED dot on the stage. Be comfortable with the focus on you.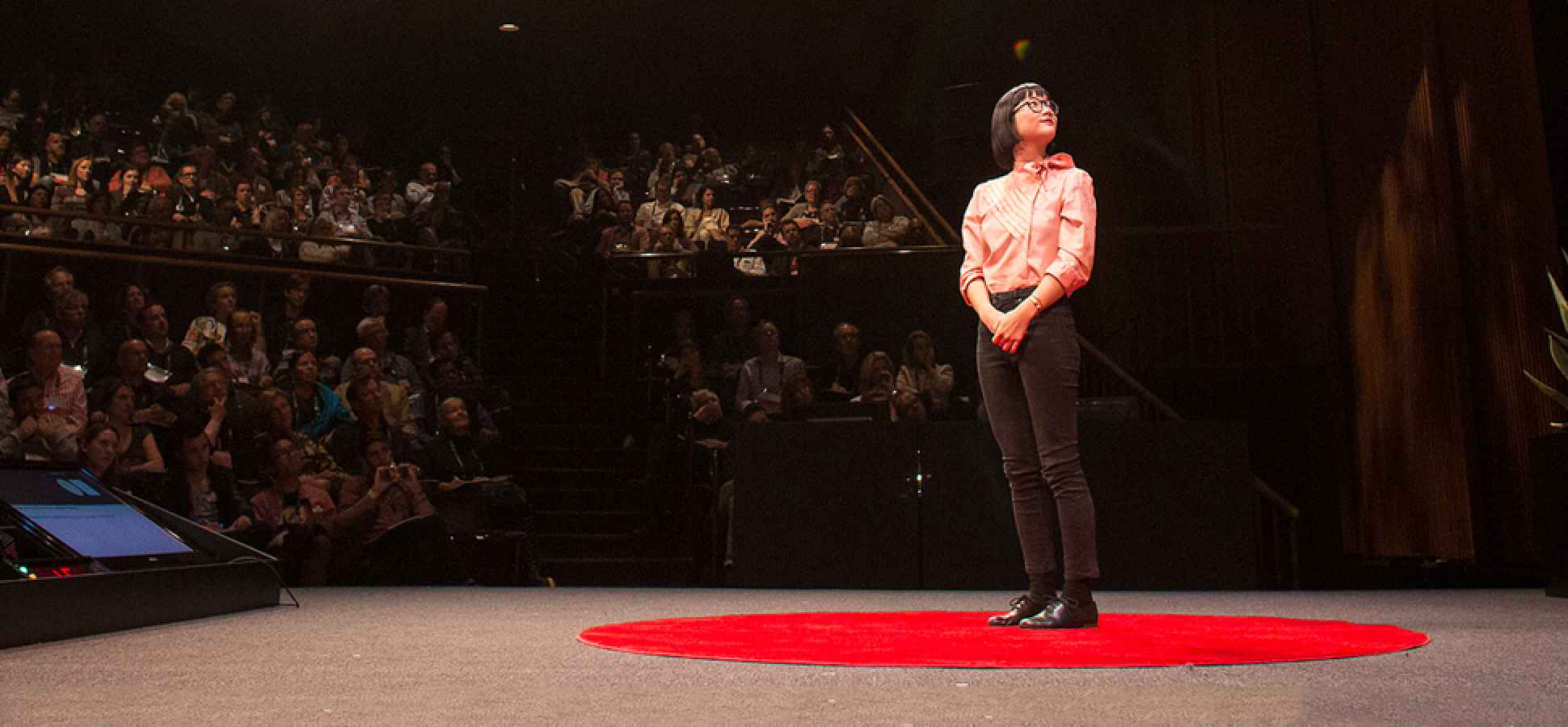 Many times, you will not be able to see the audiences clearly due to the focus lights beaming towards you. Though you can not interact with the audience, you can always pretend to interact with them.
There will be a damn timer that keeps telling how far you reached in that 18 min allotted time. That pressure will be high if you keep looking at the timer. If you have never crossed 15-16 minutes in rehearsals, you may be confident and you may avoid looking at the timer.
Prompt in front may help. But, try to talk without looking at it.
# AVOID
# Boring corporate presentations
# Do not select a topic that is not understood by common people
# Don't be arrogant.
HOW WAS MY FIRST TEDX TALK?
I had an opportunity to give a talk on Nov 2018. The video is at https://www.youtube.com/watch?v=lH6n47DSJ9M
Honestly, I was tensed a bit on the show. I tried to cover it to a large extent. I managed to add some humour in my talk to release pressure off me and to connect to the audience. It helped.
I did not notice that my hand was in my pocket most of the time. I could have avoided it. I am sure I can do much better next time.
---
Created by
Tealfeed Guest Blog
--- ---
Related Articles