Protect These 7 Aspects of Your SaaS Company and Security Will Follow
The responsibilities of hosting, providing security and maintenance are taken over by the SaaS cloud subscription model. However, the organization's role in security maintenance isn't completely erased.
Software as a service (SaaS) is a high delivery cloud-based software model that allows companies to cater applications to customers without storing any data on-premise.
SaaS is preferred among its other alternatives such as IaaS and PaaS. Opting a SaaS frees organizations from the requirement of purchasing servers, infrastructure maintenance, etc. The responsibilities of hosting, providing security and maintenance are taken over by the SaaS cloud subscription model. However, the organization's role in security maintenance isn't completely erased.
With 21% market growth on the horizon, SaaS services on an annual basis are expected to reach $117 billion globally. The attractiveness of SaaS models lies in their quick and effective implementation, lesser maintenance and employee costs, easy upgrades, and scalable resources. Simultaneously, a comprehensive security strategy covering various aspects of a SaaS organization should be set in place to make sure that the vulnerabilities are suitably addressed.
7 Components of SaaS Security
SaaS security strategies may seem a little redundant as the provider handles all the major aspects including networks, applications, operating systems, infrastructure, etc. The line is drawn with the protection and access of customer data - this is where your organization needs to step in. Here are a few aspects that guarantee effective SaaS security if secured properly:
1. Encryption of cloud data
Data at rest and in transit between the end-user and the cloud server or between applications must be encrypted for optimal protection. Beyond this, certain industry-based compliance requirements and government mandates require compulsory data encryption practices.
The kind of data that requires such protection includes personally identifiable information, payment details, medical data, etc. There's a basic level of encryption provided by your chosen SaaS vendor, but you can achieve maximum levels of security with its own encryption standards. This is done through cloud access security brokers (CASBs).
2. Your provider's security guarantee
At least 70% of SaaS companies trust their providers to ensure security for the services provided. Unfortunately, less than 10% of SaaS vendors meet the same level of expectations in terms of necessary data security requirements. While 10% offer encryption for data at rest, 18% offer multi-factor authentication protection standards for data in transit as well.
When conducting a SaaS security audit, always ensure that your SaaS vendor is meeting mandatory compliance requirements and government standards. This will include evaluating the levels of data privacy implemented, data security, encryption processes, overall cybersecurity, employee safety practices, and data segregation procedures. You can check if the SaaS vendor has done security testing by a reputed penetration testing company like Astra Security.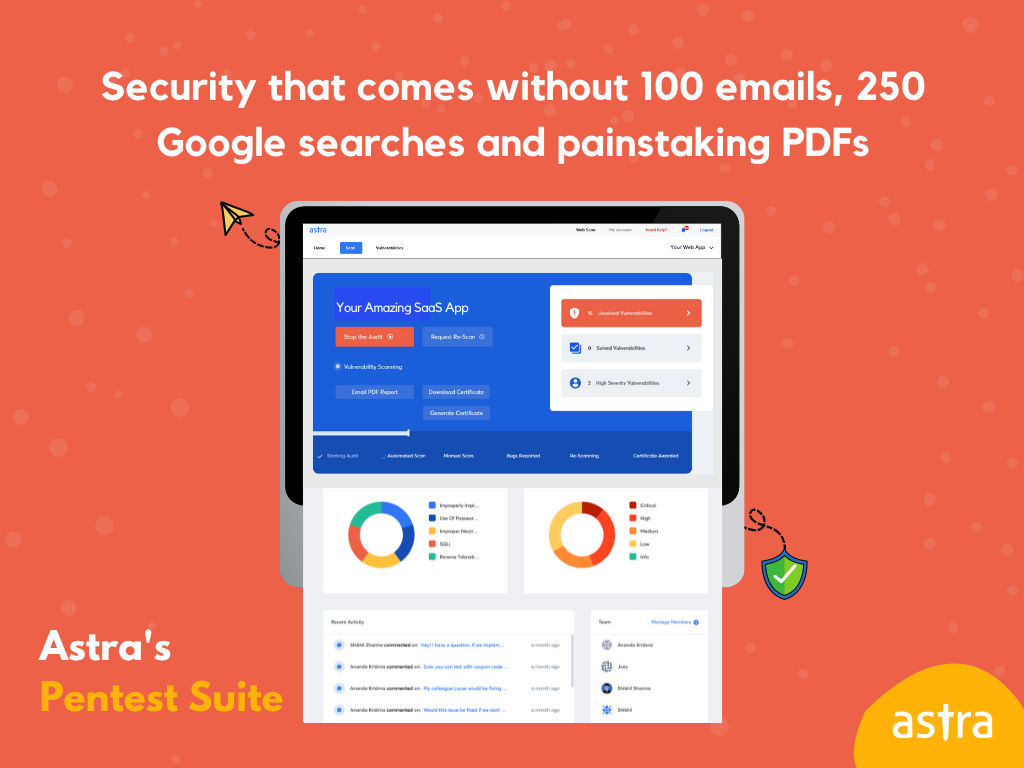 3. Data Loss Prevention (DLP) software
Implementing this software ensures that sensitive data transmitted within the cloud applications are duly protected and any unauthorized outgoing data is blocked. DLP software also supervises the downloading of sensitive data to personal devices. It works at defending the server from malware and hackers' attempt to access or manipulate data.
4. Rogue services and compromised accounts
IT departments of most reputed SaaS organizations believe that the company only uses approximately 30 cloud applications. In reality, the average firm uses close to 2000 unique services provided on the cloud. Therefore, due diligence and protection measures are not being implemented against cloud services that may possess a high risk to these companies.
Tools such as cloud access security brokers (CASBs) are available for proper security audits of these cloud services and their networks. They will also check for unauthorized accounts and unwanted cloud applications.
5. Role-based Identity and Access Management (IAM)
Each user should be entitled to the right amount of information they require to get the job done and nothing more than that. A role-based IAM solution is the best option for ensuring the right access privileges for each user. The user processes and policies under IAM will segregate the files and associated applications for the user's requirements. Thus, authorization privileges are provided accordingly with no space for misuse or accidental manipulation by hackers.
6. Collaborative sharing of data
While this is a useful feature for applications used by a large number of employees within the organization, certain collaboration controls within the system have access to sensitive data. Files are shared both within and outside the firm through web links, opening the possibility of accidental sharing of confidential data. This could be done through emails, team platforms, or cloud storage spaces like OneDrive.
7. Ensure best security practices by end-users
In addition to the features mentioned above, CASBs also provide the protection of sensitive company data across different cloud platforms and applications. They have a greater detection rate for threats and provide an in-depth perspective of customer behavioural analytics for the firm's IT teams to understand the security issues.
Therefore, users can be taught within the applications about the best security standards to be followed.
These are some of the aspects of SaaS security that you can ensure from a long-term security perspective. Some of the strategies have detailed - and unique - steps to deal with particular situations of optimal security.
---
Kanishk Tagade is a B2B Marketer and corporate contributor at many technology magazines and security awareness platforms. Editor-in-Chief at "QuickCyber.news", his work is published in more than 50+ news platforms. He is also a social micro-influencer for the latest cybersecurity defense mechanisms, Digital Transformation, Machine Learning, AI and IoT products.
--- ---
Related Articles