Quitting in the Time of COVID
After 13 years of teaching, I think I'm leaving the classroom for good this time.
---
Gloria Panzera
2 years ago
|
10 min read
---
Photo by Mwesigwa Joel on Unsplash
There is a cruelty in not knowing you're experiencing something for the last time. The last time you'll ever pick up your ever-growing child. The last time you're hugging your mom. The last time you'll be standing in a classroom teaching your heart out.
I grew up in a family of teachers. My dad taught high school French for forty years before retiring. My mother, after selling the bridal shop she owned and ran with my aunt, became a teacher.
My uncle Frank, my dad's brother was a high school teacher for many years in Canada, and several aunts and uncles on both sides of my family who live in Italy were also teachers. I always joke that teaching is in my blood, and honestly, it's hard to say that it's not given the many branches on my family tree that have made teaching their career.
When we lived in Montreal, my father installed a giant (well, it seemed giant to my little kid self) chalkboard in our garage, which he'd also converted into a music studio for himself. There was cushy 80s beige-yellow carpet and the walls were carpeted, too.
My dad's band used to practice there, but more importantly, that space was my make-believe classroom. I'd line my Barbie dolls and stuffed animals in front of it and teach and write on the chalkboard for hours. Even then, teaching brought me so much pleasure.
That chalkboard came with us to Florida where it was installed in our playroom. When my lessons at school became more complex, especially math, I would go into the playroom, and practice my math on the board before putting it down on paper. I would talk out the problems as if teaching them.
I even forced my younger sisters and their friends to sit in my "classroom" while I taught them. Are you imagining how very cool and popular I was with my peers? Yes, I'm sure your version of my coolness is accurate, if not, generous. This was my idea of fun. After a full day of being in school, I'd pretend I was school.
Sometimes I wonder how much more love can I have for school, and as Lindsay Lohan once said in the classic teenage flick Mean Girls, "The limit does not exist."
When I later became a teacher, to the surprise of literally no one, I often spouted the mantra that, "if you can teach it, you know it." Many of the assignments in my class have been some form of having the students "teach" each other the content.
So, on March 13, 2020, on the last day of in-person instruction before the shut-down orders and stay-at-home rules came into place and before masks became a political statement, and Tiger King was yet to take us all by storm, I didn't think to stop and enjoy that feeling of anticipation in my students who were just assigned the first 100 pages of 1984 to read.
Had I known it would be my last day in the classroom, I might have lingered a little longer with each group of students asking questions about how it was possible for North Korea to have such limited internet for its people, and why privacy policies were important to read when signing up for accounts online, and what did something mean if it was dystopian?
I would have spent more time listening to my seniors converse with each other. Listening to them tell each other, "How crazy is this? They only have 28 websites! Can you believe that?"
I would have relished in them saying, "That is crazy, but I just read about how China has cameras everywhere and, in this article…" I mean, these are the moments teachers plan and work for year in and year out. Those conversations and questions are what get us through the days of being called a bitch or worse.
Note: I've definitely been called worse.
That Friday, my last Friday in the classroom, was the last time asking them, "What is the quiz going to be about on Monday?" and hearing them reply as they walk out of the classroom, "Part 1 of 1984!"
Thinking about that last day in school makes me sad for so many reasons. I'm sad my students did not get to take the quiz on Monday because we were home, scared of an invisible virus decimating lives around the country.
I'm sad my seniors didn't get to experience those senior year milestones…major bouts of Senioritis after Spring Break, their final Spring Break in high school with friends they will inevitably lose touch with when college starts, running into my classroom to tell me they got accepted to their first-choice college, prom, and, of course, graduation. Not to mention, my killer Macbeth unit.
Two weeks ago I submitted my resignation. Today would have been my first day back to ready myself for what will likely be an incredibly different (and difficult) fall from all the others.
My decision to resign was partly based on the fact that in the spring having to help my son with his schoolwork and produce high-quality instruction for my 90 plus students was not possible.
I cannot be everything for everyone. Being the best possible mom-teacher to my son this fall, where he will be doing school virtually until my husband and I believe it is safe for him to go to school, and a teacher-teacher to my students was just not going to work.
I made the decision to resign when my county announced that they would be doing a hybrid school week. This means that teachers would be in the building with their students, but students would be broken up into cohorts to reduce their exposure, but teachers would still be exposed to a large number of students.
I am still trying to figure out how this is actually safe. It has that sort of gated-community-illusion-(read: delusion)-of-safety feel to it.
The day I emailed my principal to ask about the many safety concerns that I had, the school board called an emergency meeting, where an all virtual option was narrowly decided, and with the caveat that the school board would be voting every two weeks to determine when to move back to a hybrid option.
Every two weeks. I don't know how any teacher — or parent, for that matter — can function on a two-week-at-a-time anything. Plans cannot be made, routines cannot be established; it's chaotic and stressful.
During the spring, my anxiety, which has marginally improved, was at an all-time high. For the months of March through July, I didn't sleep straight through the night more than maybe 2 or 3 times. I was (and still do) waking around 3:30 a.m. only to eventually just get up 4:30, because why fight the sleeplessness?
I was walking around with pressure building up in my chest, heart palpitations while grading the work my students submitted or sitting in a virtual team meeting, and then when the school year ended, the anxiety didn't go away. The weird COVID-nightmares were just an added bonus and maybe fodder for storytelling and annoying my husband in the morning.
Recently, I dreamt I was at a public pool that was packed with people. I was freaking out because there were people everywhere, and as an added bonus, my son had dropped a bunch of LEGO pieces in the pool.
I was upset about the crowds, but I kept yelling, "This is why we don't bring LEGOS to the pool!" I pushed people out of the way as I grabbed the tiny plastic pieces that being pulled toward the drain.
So, when the pressure for schools to start opening began to mount and teachers, who for a brief few months were actually viewed as heroes, were once again returned to their vilified status by society, the stress of the fall really started to build.
Now it was nightmares, headaches, weepiness, and an elevated heart rate and the inability to focus on anything for longer than two minutes.
My husband, in many ways, has been instrumental in helping me get over my constant state of stress. I'm naturally wound pretty tight, and the pandemic has just heightened and made me much worse and likely more difficult to deal with. He's always been supportive of my dreams.
He convinced me a few years ago to take a year off to finish writing my book — which I did, and then it got published — I mean for crying out loud, this man's faith in me and my dreams, and his unrelenting support are the reasons why my heart doesn't explode from anxiety.
The stress of going back to work was really starting to get to me — emotionally and physically. I was standing in the door of our shared office. He was sitting at his desk.
"Are you okay?"
"I don't know." My hand was reaching for the newel post, getting ready to go back downstairs and end what I knew would be a conversation where tears made an appearance. I've always avoided talking about my issues because of my crushing fear that I'm going to be a burden on those who have to hear it.
"What time did you get out of bed this morning?" After fifteen years together, and almost ten years of marriage, Husband knows when I'm in the thick of my anxiety.
"Well, I was awake around 3:30, but I got out of bed around 4:15."
"I see." He looked at me full of concern. "We went to bed at midnight. That's not much sleep."
I looked down to avoid eye contact.
"What's the deal?" He asked again.
I stood silent in the hallway, staring at the carpet.
"Hello?" His voice maintained hard-earned patience. "You know you can talk to me, right?"
I looked up and started to cry. I explained, through an endless stream of tears, all my fears and questions for the fall.
"It's bullshit," I was getting loud now, "that teachers and their families are expected to sacrifice themselves for the fucking economy."
Sure, I was spending too much on Twitter doomscrolling and seeing the insane comments of trolls and people who thought mask-wearing was an act of tyranny.
I was also seeing other teachers posting about getting their wills in order in case going back to work meant making their children orphans, and posts about how parents would be spending the weekend hugging their children before going back to work, since they would be limiting contact with their children to make sure they could keep them safe.
I read countless posts about ways to make my own PPE for my classroom, and protocols to adopt when returning home after teaching, the same practices with PPE that nurses and doctors working directly with COVID patients to prevent spread.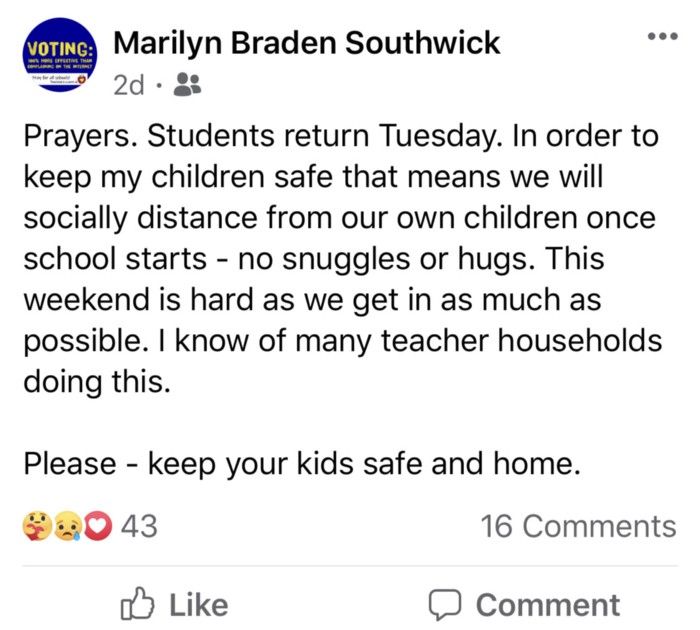 After many minutes of ranting and crying and worrying, my husband said, so quietly, "I don't think you should go back. We can survive if you stay home."
It couldn't be that simple, could it?
"I'll think about it."
I thought a lot about what to do. I've never been one to shy away from over-thinking and sending myself down a thought-spiral. I (stupidly) read the comments on articles about school safety; comments about how teachers were lazy and should just quit if they were too scared to go back to the classroom.
I read the many comments about how people wanted their tax dollars back because they'd been doing teachers' work in the spring. I'll save my comments about how even as an educator, I'm fully aware that I was not doing the work when it came to my son's kindergarten learning this spring.
Of course, there is no perfect solution to this problem of childcare that this pandemic has so brightly shone a spotlight on. I read the op-eds about how the mental wellness of children and how important school is for those children…suddenly society was worried about children they had never worried about when they weren't in school over weekends, winter and summer break (making up more days out of school than in).
So much concern about the welfare of the students, but the teachers? They were noticeably absent from the conversation, as we so often are.
I wrote about my concerns for the teaching profession and then I put my money where my mouth was and resigned.
So, as my former colleagues get their classrooms ready and their online platforms ready and make introduction videos for their students, who they may meet in October or not at all, depending on if this country can get this virus under control (friends, let's stay home when we can and wear our masks, okay?), and plan lessons, some two weeks at a time not knowing what to expect and feeling the crushing anxiety from society's expectations, fears for their spouses, children, elderly parents, and friends, I am lucky, so, so lucky because I'm safe in my home office typing this.
To say that I feel tremendous guilt about leaving makes me feel ungrateful and well, more guilty. I feel guilty because I won't be on the frontlines with my peers. I won't be there to provide instruction to the incredible students who need good instruction.
I wish I could scoop up all the teachers and keep them out of the school buildings that will experience outbreaks. I want, so badly, for all the teachers to be as lucky as me and get to stay home and safe.
And while I feel this heavy guilt, I also think it speaks volumes about this profession that I am made to feel selfish and bratty because I'm resigning to protect my family and self from a virus that as a society, we know so little about.
Students return to school this coming Monday in my county, virtually. My son will sit in front of a computer screen, and that will be how he commences the first grade.
As I sit next to him, I'll be thinking of those eleventh and twelfth graders I was so eager to meet, so eager to introduce novels to and cheer on at football games and hear sing during choral concerts and musicals. Students I was pumped to watch grow as they learned to find their passions.
I'll be thinking about those students I was excited to irritate with my very annoying Macbeth cheer.
"When I say 'Mac', you say 'beth'! — Mac!"
Yes, groans and one kind-hearted student placating me is what always follows.
When I resigned two years ago, I was fairly certain I would not return to the classroom, but after a year, I really missed teaching. I missed laughing with my students and having them share their hearts and art with me.
I missed teaching Shakespeare and having students tell me, "I didn't like you at first, but we cool now." It really is cruel to think that my last sign off in the spring thanking my students for the privilege of teaching them was the last time.
I also wonder how many other teachers as obsessed (maybe more so) with their content as I am are leaving their classrooms, this time for good.
This piece was originally published here.
---
Writer, wife, mother, amateur movie critic, wannabe foodie, lover of coffee, wine, and books. Check out my work at gloriapanzera.com and let's chat via twitter @gloriapanzera.
--- ---
Related Articles