Redesigning the online classroom experience
A case study.
Design Brief📂
Google classroom came out as a solution to schools in the coronavirus pandemic but, with great powers comes great responsibilities 🕷, and google couldn't keep up with the school's and student's needs. It was a personal project and my role was of a product designer, constraints were limited data and metrics I worked on solving problems of overs Millions of students, parents and teachers, let's find out how. 🧐
User Research🔎
The research was done with a total of 10 people which includes 6 students and 4 parents, through one to one interviews and phone calls. I also referred to the internet, twitter and play store to gain insights on the problems faced by students, teacher and parents.

I was able to find some experienced designers like Niteesh and Rahul addressing the same issue which kinda gave validation to my hypothesis and research.
Pain Points Discovered💢
Tech barrier makes logging in experience difficult.
Use of 2–3 different apps to manage online classes.
Online classes lack discipline.
Bad UX copy and poor visual feedback.
So, how big the problem is ? This much ⏬

Unfortunately, students from the government schools could hardly afford a smartphone, so let's discuss about those who have access to smartphones.
Now let's try fixing each of these problems one by one.😁
1. Tech barriers make login difficult😥
Only 2 out of 10 users were able to login to the app without any assistance.
Android was launched in 2008 and ios was launched in 2007 and after that, it took 7 years more in India for smartphones to reach 242 M users which were 18% of the total population (2015), Hence -
Parents are not familiar using apps like Gmail and setting up accounts.
Students of grade 1st to 8th are also not familiar with setting up accounts.

Logging using School ID and Parent's number📲
The new design brings a 2-step process, which uses school id and parent's number to log in, this makes login easy because -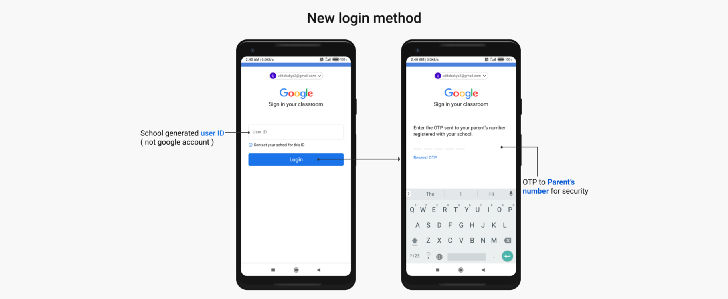 Parents are familiar with receiving text SMS and OTPs.
Gives more control to parents in case of password lost.
2. Use of 2–3 apps to manage online classes📚

Microsoft Team is made for offices and teams.
Each app has its own method to operate and it's difficult to learn them altogether.
Each app requires different accounts to manage.
Making Google Classroom a one-step solution⚡
Schools need 2 basic features video conferencing to conduct classes, chat to send announcements and interact.

The new design integrates google meet with google classroom to conduct video conferencing.
Announcement tab allows interaction with students, send messages and instructions.
The new design has records of previous classes which allows parents to check attended/missed classes.
3. Online classes lack discipline😤
You must have seen memes or videos where students enter the wrong name to bully teachers.
Parents have no idea what's going on in classes, students often are found busy with entertainment apps during their live class.

What makes schools disciplined that our app can incorporate?🤔
To understand this let's look at a typical day of any student.

Strict timings.
Under teachers' surveillance 24×7
Fear getting reported for misbehaving.
Control over students.
Let's see how I improved discipline with these insights.
A. Strict Timings

B. Control over students

C. Teachers' surveillance

4. Bad UX copy and poor visual feedback😵
9 out of 10 users couldn't understand "hand in" meaning.
4 out of 10 users couldn't tell if their work was submitted or not.
According to the first two principles of Heuristics -
The system should always keep users informed about what is going on, through appropriate feedback within a reasonable time.
The system should speak the users' language, with words, phrases and concepts familiar to the user, rather than system-oriented terms.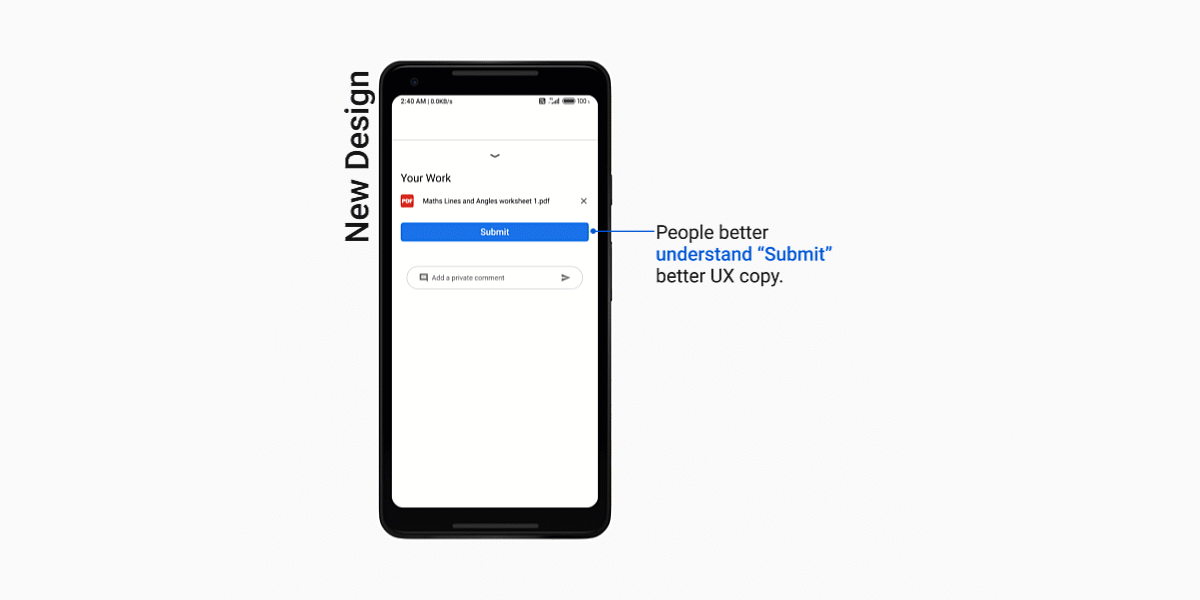 Students can easily understand submit meaning instead of hand in.
Loading animation gives good visual feedback after submission.
Smaller touch target for withdrawing homework prevents accidental click.
Results of redesign😍
I tested the new design with the same 10 users and found out -
60% increase in successful login rates.
Integrations of google meet made it easy to join classes without setting up an account.
All parents felt more trust in online classes after improved discipline measures
80% increase in understanding the UX copy on the first time.
60% increase in users who were sure if their work is submitted or not.
---
--- ---
Related Articles