What are the restaurant feedback apps that boost your customers?
The one criterion that is used by modern restaurants is that they create Restaurant feedback apps
Whenever we see customers guests, and we are the hosts so for our guest this is our job to make the customer experience a little bit better. Our restaurant owners always ask about the feedbacks and reviews for the place or food and other services that are included in the restaurants.
Sometimes the owner organizes various events to get reviews from the customers. But all these efforts are worth it? And all these efforts generated by you are reaching directly to the customers? These questions are necessary to think about unless and until you don't tell your customers how much you care.
The one criterion that is used by modern restaurants is that they create Restaurant feedback apps or you can say customer feedback apps to know the actual reviews of each customer.
Since customer satisfaction is the main objective for the restaurants so the overall restaurant's performance is based on customer reviews. Apart from growing the business the restaurant owners also get the idea of improving the quality of their business.
Which will be beneficial to the business. the best way to improve the quality is to set the periodic timing of the customer's review. All these things are impossible to manage by a single owner so the restaurant business has created a restaurant feedback app development.
This app creates value for customers. On-demand feedback app development captures feedback and measures customer satisfaction.
Also read:-How to build an on-demand Food delivery application
Criteria for Restaurant Feedback Apps
It's not an easy task to handle a restaurant full of customers. That's why this on-demand application becomes an important tool to improve their business quality through feedbacks from the customers.
It just not only collect the feedback of the restaurants but also provide them access to companies to send push notifications directly on the customer's phone Via message.
In the message the company provides a link and offer related feedback so that customer can complete the process in just a few minutes and motivated to give the feedback to get the offers. The resulted feedback will appear on owner screens. The app also allows us to store the feedback automatically in the database and remind us of the improvements.
The Best customer restaurant feedback apps for your business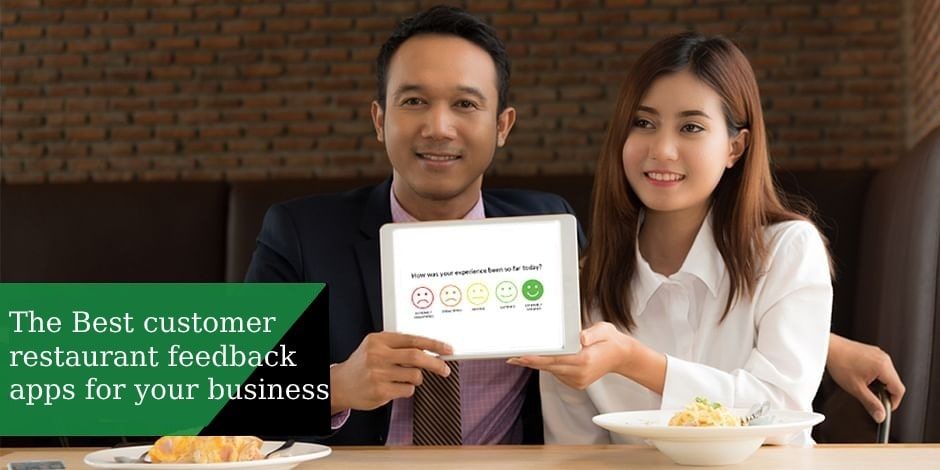 Restaurants have created the habit of positive feedback from the customers after impressive delivery of the services has increased customer retention and brand reputation. We are providing you a list of some popular restaurant feedback apps so that you can take the idea of on-demand feedback app development.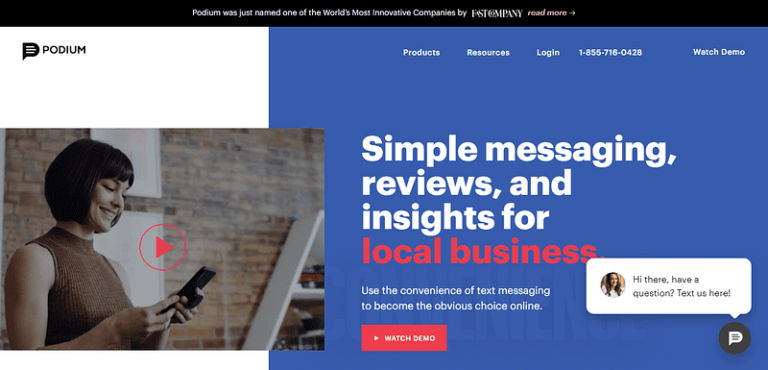 This app is famous for customer feedback software that combines online reviews of customers from almost 20 online sites. Podium provides a mixed view of customers over the internet and helps businesses with consolidated feedback solutions. It also provides a platform to manage interactions with local businesses.
It does not involve any hidden cost and supports all kinds of small and medium businesses. This feedback app uses Facebook, Google, and Yelp to collect reviews to win more leads. This platform processes its business by scheduling appointments, answering questions, and more. The dashboard provided by the app allows businesses to directly respond to the review left by the customer.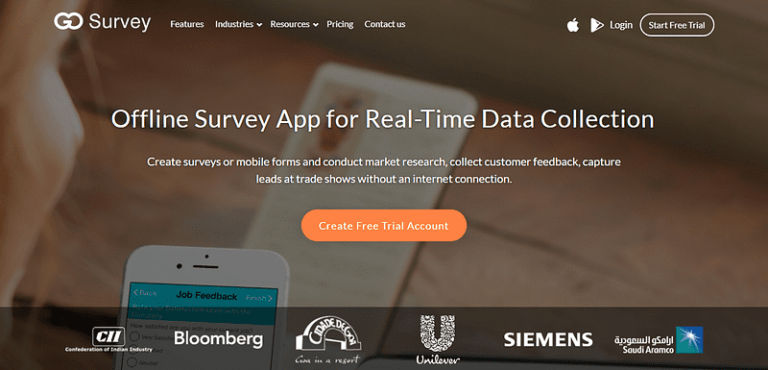 It comprises two modes online and offline. that means the Go survey app allows you to collect restaurants customer feedback from both modes online and offline. This app capture leads collect feedbacks and conducts market research.
It is featured with Autoreply email that allows the app to send acknowledgment E-mail when the customer submits the feedback. Also if there is an unavailability of the internet then this app stores the data until the internet is available again.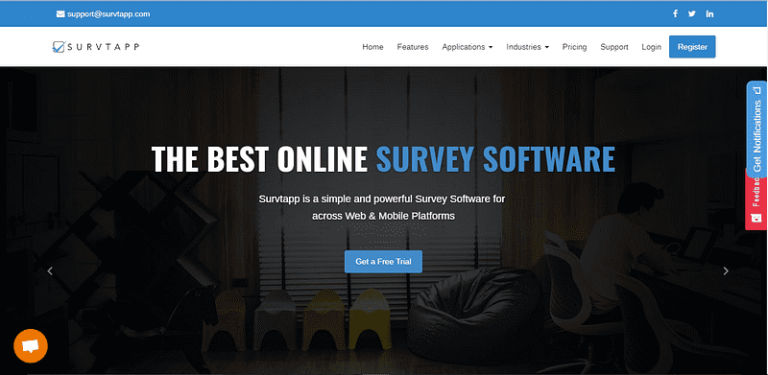 Survtapp app design the feedback forms that motivates the customers to leave feedback. It includes a various range of questions like types that have open text, dates, images, audio, QR code to capture the feedback. It engages the audiences, deploys on multiple channels, and tracks the audience's lifecycle to get effective feedback from the customers.
This app made the activity fun by adding a drag and drop editor. Apart from that this app also provides CRM integration and accounts for transparent transfer of contacts using REST API.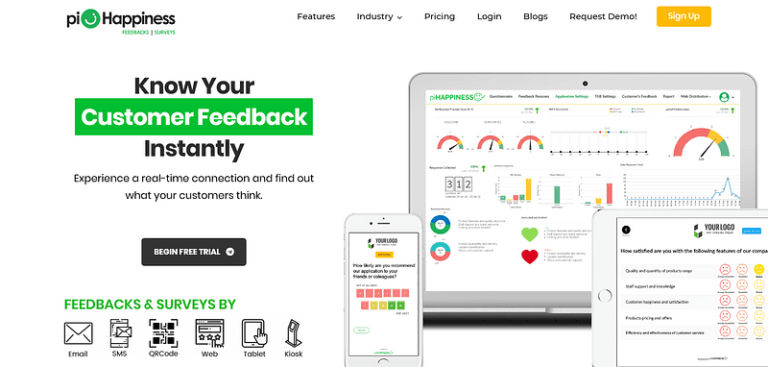 piHappiness provides affordable customer feedback solutions. This app uncovers the space between customer needs and restaurant offerings. This restaurant feedback system offers various modes to get feedback like text, single and multi questionnaire, open-text, emoticons, NPS, etc. this app provides authorized location-based access.
Although, there are some additional features in this app like dynamic and custom questionnaire, real-time notifications, analytics and reports, instant custom feedback in thirty seconds, and more. This app gives the guarantee to safeguard the customer data.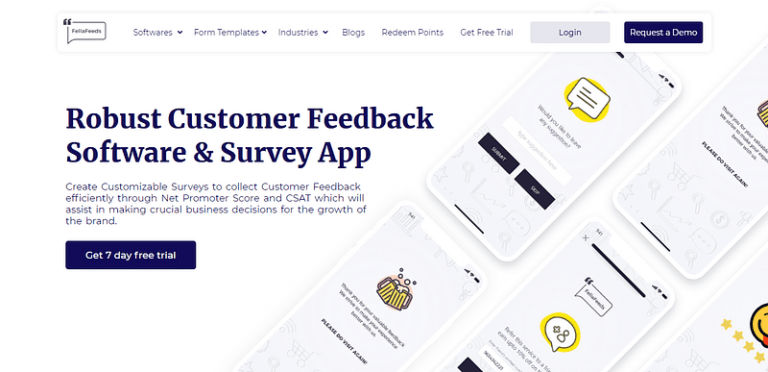 The main objective of this app is to improve the quality of your restaurants by providing customer feedback. There is a various platform from where Fella Feeds gets feedback like Kiosks, iPads and Android tablets and of course mobile phones. Customers can accumulate points with its impressive integrated customer referral and loyalty programs.
This app led to an independent feedback system. Customers also get the opportunity to claim rewards after visiting websites and apps. This restaurant feedback system is combined with the Android app so that it can provide insights about the customer's experience that can assist in real-time decision-making.
Fella Feeds also offers 100 plus customizable templates for social media marketing.
Final Thoughts on the importance of the survey app
There are various advantages of restaurant customer feedback apps that include:
Scope of improvements:- When you get to know about the actual thinking of people about your restaurants. Then you can see the various scope of improvements so that by focusing on that facts you can increase the quality of your restaurants.
Analyze staff conduct:- Through these tools, you can recognize who is best for your company by analysing the work of each staff, you can maintain the quality of your business.
The fusing of referral and loyalty programs:- You need loyalty programs and offers to attract customers so that they can provide you actual feedback to improve more.
These are the basic benefits that we have analysed, there are various other benefits you will get when you actually invest in developing the software for your business. You can ask our experts in case you need help with building these kinds of apps.
Also read:-How Mobile Apps Have Transformed The Restaurant And Food Delivery Industry
Looking for an on-demand customer feedback app development company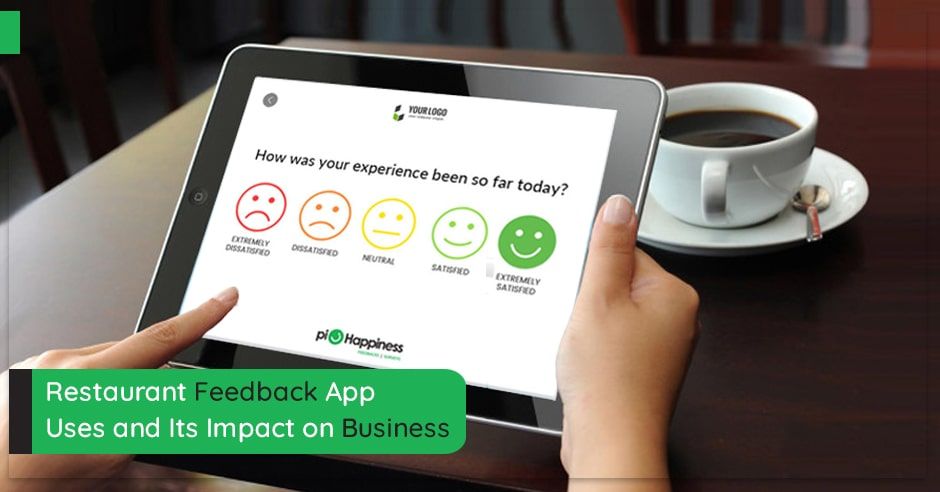 Tech Pathway is the best company if you are looking for all these services for your brand. Because they have experience of how these companies work and what are their business models. Here we have our experienced team of developers and designers who will give you full and final guidance on "restaurant feedback apps for your customers".you will get all your answers and solutions in one place.
Our services include:-
Web Applications
AI Chatbot
Record time delivery
Quality Customer Service
Easy to update and maintain code script
---
Created by
Vineet Changulani
Talking about myself I am a full time blogger as well as Digital Marketing Enthusiast who love to promote businesses of people using SEO, how to maintain the best Google ranking, and increase traffic on your platforms.
--- ---
Related Articles