Retrospective of Retrospectives
The core principle of Agile is continual monitoring and striving for improvement. Retrospective is the final activity in a sprint and a crucial activity in agile frameworks built on the idea of "Inspect and Adapt." It gives the team a chance to examine, think about, and reflect. It aids teams in consistently enhancing their ways of working, which ultimately improves the final product and delivery. Creating opportunities for improved team's success. Retrospective amplifies the prospects of being
---
Yamini Hundare
9 months ago
|
3 min read
---
The core principle of Agile is continual monitoring and striving for improvement. Retrospective is the final activity in a sprint and a crucial activity in agile frameworks built on the idea of "Inspect and Adapt." It gives the team a chance to examine, think about, and reflect. It aids teams in consistently enhancing their ways of working, which ultimately improves the final product and delivery. Creating opportunities for improved team's success.
Purpose of a Retrospective
Team members get to share there feeling

Create action items, initiating change and taking ownership for the change

Identify pitfalls and suggest improvements

Focus on what is helping the team reach greater heights

Discuss what are the things that are slowing down the team

How can the team do better

Motivates the team by giving them the opportunity to contribute, feel valued, heard and take ownership
Retrospective amplifies the prospects of being successful
If Retrospective is such an important event it is good to give an opportunity to the team to reflect on its structure, effectiveness, efficacy and efficiency. Actively collecting feedback on the Retrospective to improve facilitation, participation, accountability, ownership and outcome. So here is a Retrospective of Retrospectives.
Retrospective of Retrospectives
I like to start the team a small fun activity to help them tune out of the outer world and focus on the present.
Energiser: Lets create a story one word at a time — (5min-7min)
We did 2 rounds and everyone shared their takeaways form the first round and enjoyed improvising during the second round. It was fun to hear how the story line was building one word at a time. The team was standing in a circle and we did two rounds, the first few rounds clock wise and the next rounds anti close wise. Every member was suppose to add only one word at a time and build a story. This energiser can be played between two or more people. More the merrier and more messy the story gets which is fun to hear. After a few rounds ask a volunteer to summarise the story. I love playing this game and every team I have facilitated it has enjoyed and created some hilarious stories to laugh along with their teammates.
Lee went cycling with….

Jack went up the hill…
The next activity is Retrospective Radar inspired by Team Radar.
I have tried to use a very basic structure to make it simple and ask those important questions to trigger the conversation and ignite the thought process.
Retrospective Activity: Retrospective Radar — (30min-45min)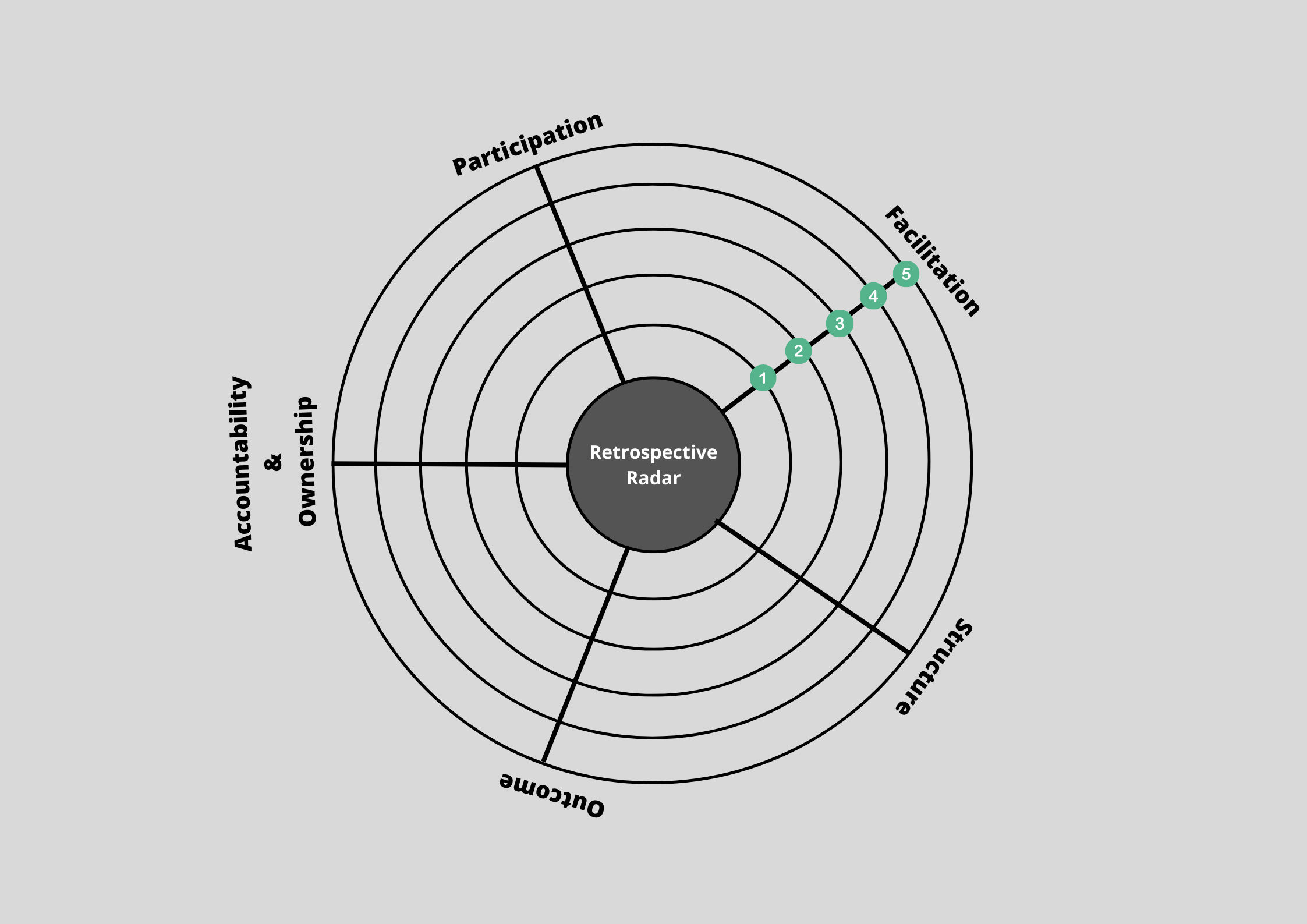 Mark your opinion on the scale of 1 to 5 (1 being the least and 5 being the max). Add a stickie explaining your reasoning, supporting your assessment. 3 is acceptable. Anything below a 3 needs to definitely get better. Anything more than 3 is good, so let's attempt to keep going and, if possible, improve.
The Radar contains five elements, which I considered to be crucial for the group of people for whom this activity was being facilitated. This assignment can be modified to measure the critical factor for your team.
Participation

(How is your involvement? Do you feel engaged?)
Facilitation

(How would you rate the facilitation? Is it helpful?)
Structure

(Are you satisfied with the structure?)
Outcome

(Do you like how things turned out? — The resulting action items)
Accountability and Ownership of decisions

(Do you believe the team owns and accepts responsibility for the decisions we make during the retrospective?)
I don't want to raise any expectations by disclosing the detail discussion. This conversation should be on your team and the difficulties they are experiencing. Each team is unique from the others. I would just like mention the take aways from this discussion to give you some insights on the outcome.
Outcome:
The team was able to acknowledge that it is difficult to establish team habits, but technology can be helpful.
Creating a single confluence page to add a checklist of all sprint improvements

Setting slack notifications for important reminders, on-call schedule

Adding rules in Jira to add ad-hoc label for all the ad-hoc work that was following in. To make it easy to measure its impact

Creating tickets for technical improvements

Following up on sprint improvements during the first few minutes of every Retrospective meeting and holding the owners accountable for it were some of the main take aways.
I hope you enjoyed reading this article and motivated to facilitate this Retrospective of Retrospectives. I will be happy to know how did it go with your team(s).
---
I am professional a Scrum Master, a co-founder and a writer.
--- ---
Related Articles