Celebrating Two Years of Kota Factory- with Revathi Pillai
From almost becoming an automobile engineer to pulling a prank on Kota Factory's DOP, Revathi Pillai gets candid in this interview!
"1 vahi hai jo school ko school life banati hai," Harshu described Vidya (Revathi) in Ye Meri Family.
And, when Revathi returned on Kota Factory for her second show with TVF, Vaibhav felt a similar adrenaline rush in the physics lab.
Be it Vidya in Ye Meri Family or Vartika in Kota Factory, have one look at Revathi and you would know why TVF has asked her to portray the roles that brought back the memories of our school-life crush and high-school love!
While YE MERI FAMILY made us remember that childhood crush Jo school ko school life banati hai, KOTA FACTORY made us feel silly about the things we used to do for that one girl in high school.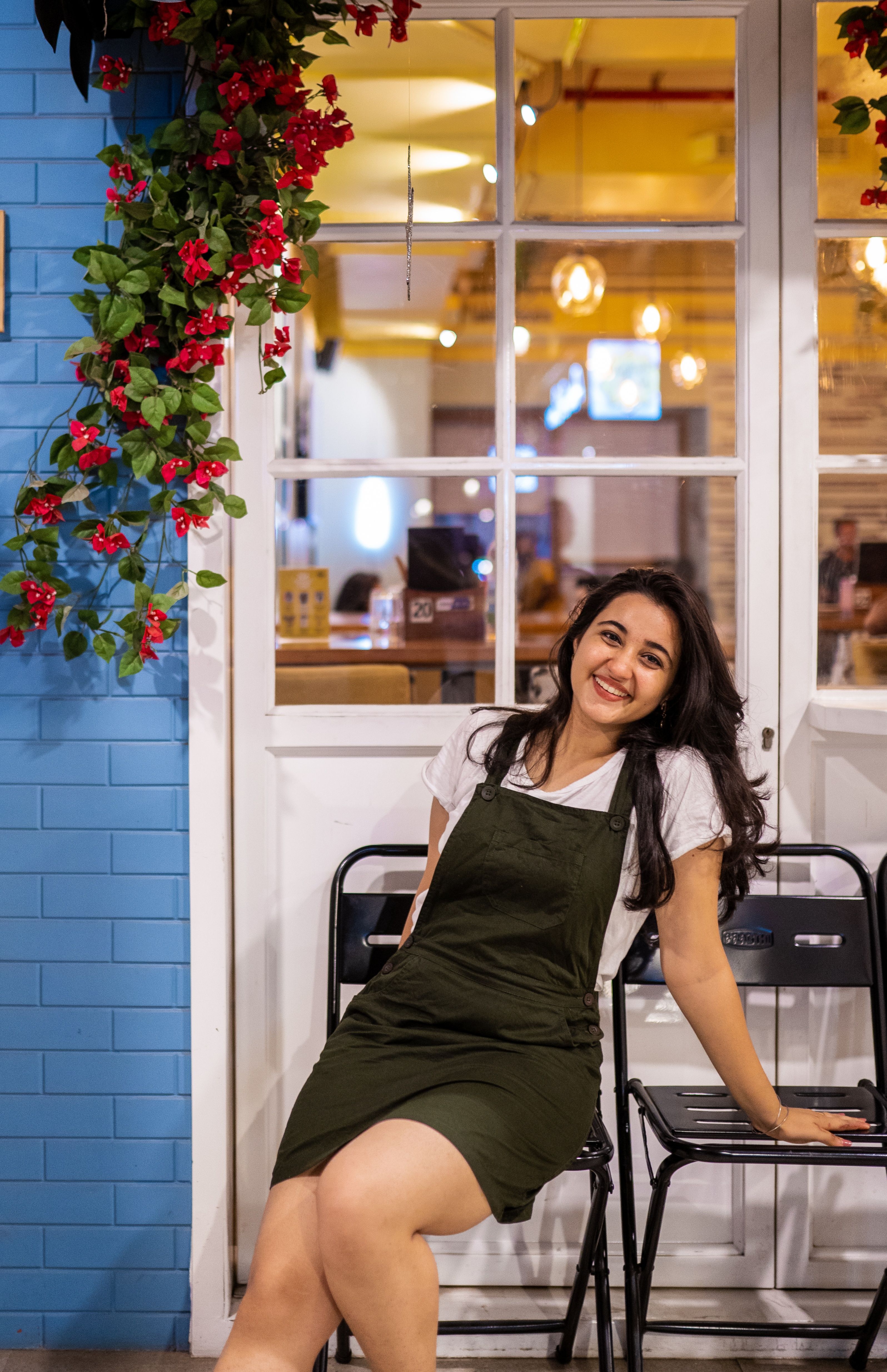 But, Revathi Pillai, the actress behind both the roles never planned to become an actress. She always wanted to be an automobile engineer. It was his brother who always wanted to see her on-screen and he used to take out her on auditions.
"It was only when I went on the sets, had my first shoot, had a makeover, and saw the cameras on me that I realised this is what I want to do. That's when I realised this is what I want to see myself doing."
After working with TVF in 2018 for YE MERI FAMILY, KOTA FACTORY was only the second time she was working with TVF. Although Revathi did audition for the roles of both Vartika and Shivangi, she was more confident for bagging the role of Vartika.
"Vartika was a more relatable character for me, so I was more looking towards getting that role"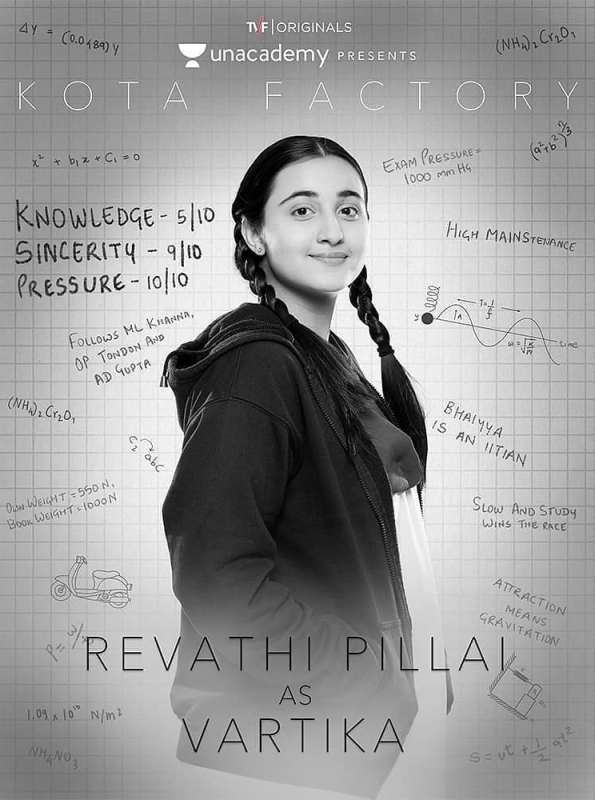 Revathi recalls meeting Jeetu Bhaiya the first day on the sets of Kota Factory and describes it as a big fan moment for her. About shooting her first scene with Vaibhav, Revathi admits spoiling all the practical copies in the lab.
"We played cricket in the lab. We drew in every possible practical books and spoilt all of them."
Speaking about how difficult it was to portray the role of Vartika, Revathi reveals that Vartika is similar to her to a significant extent.
"Both Revathi and Vartika are ambitious. However, if Revathi is at 100%, Vartika is 500%. Whereas, Vartika had a family pressure do well, I do not have any such pressure. Yes, it was difficult to get in that zone of a Kota student who's under immense pressure. I hope I have done justice to the role I was trusted with."
Revathi also shared a heart-warming moment while the team was shooting for Kota Factory. Soon after Vaibhav(Mayur) and Vartika (Revathi) finished the scene where they solved the test papers of Maheshwari, two very small kids aged 3-4 came to them for an autograph.
"Aap dono actor ho na? Please hume autograph de do," they said to me and Mayur. "Although I feel bad about this right now, but we decided to play a little prank on our DOP and sent those innocent souls to him. Our DOP got awkward at first and then sent them back to us," she continued.
"Please de do na apna autograph," those kids said again and handed us a tissue paper and a sketch pen.
That was the first time I was ever giving an autograph and to do that to these kids is something I would cherish my entire life.
Reflecting about her off-screen friendship with Mayur, Revathi cherishes the innumerable memories she had with him.
Mayur is someone whom I can rely upon. He has helped me a lot, on-screen and off-screen alike, and I have troubled him way too much. The best thing about him is he's really simple and is on his own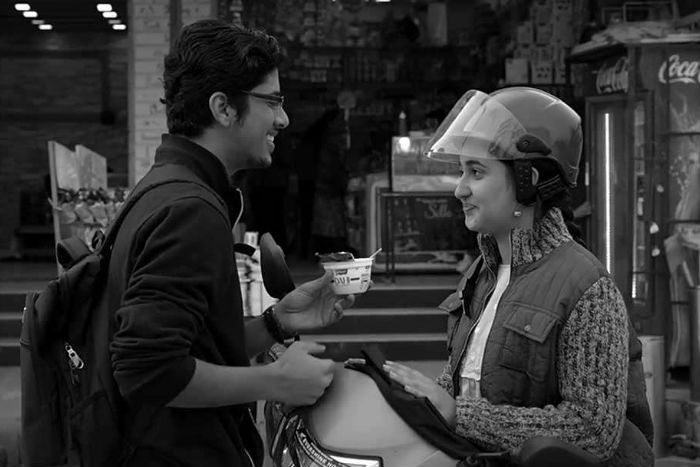 Mayur, Ahsaas, and Ranjan have already emphasized on Alam's love for food and Revathi too revealed that Alam was her golgappe partner near City Mall in Kota.
Talking about his appreciative nature, she says "Alam is a sweetheart. Even if you hadn't something that good, he would make you feel good about it. He puts his words so smartly that you would realise your mistake but would still not feel bad about it"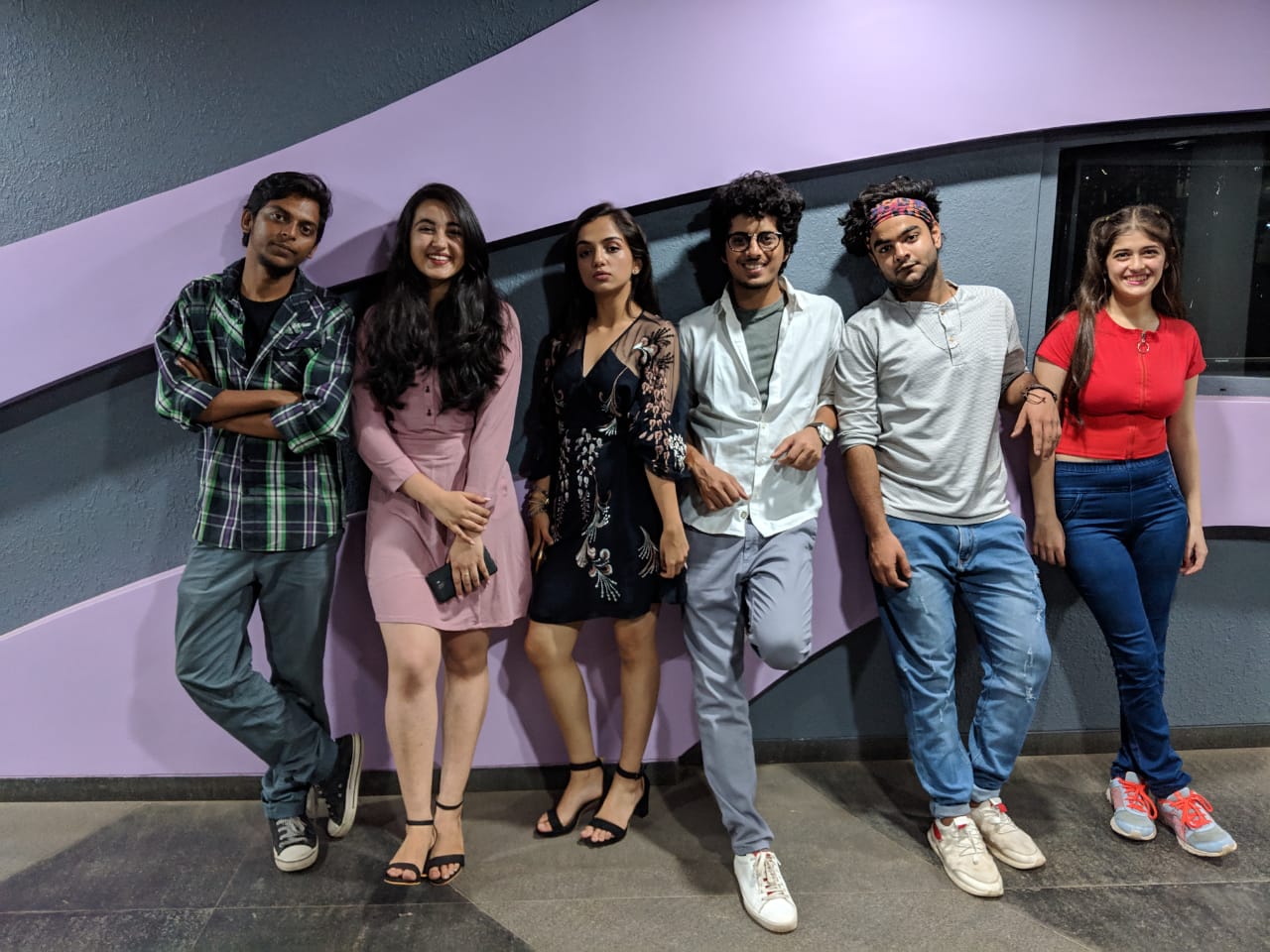 Revathi shares about how frequently she used to travel with Urvi and how she is blunt and straight about her views even at such a young age.
About Ahsaas, Revathi proudly admits that she's her favourite.
She's a powerhouse. She cannot see anybody alone when she's around. I remember once while we were sleeping together, I started talking in sleep, and she got freaked out. We still cherish that moment
Revathi didn't have any scenes with Jeetu Bhaiya and her first day at shoot happened to be his last. She although spent time with him during promotions in Bangalore and reveals that he's an amazing, amazing dancer.
"He's humble and puts his heart and soul in whatever he does. Anyone who spends time with him would ultimately get inspired by him."
Reflecting back at what she misses about the shooting days of Kota Factory, Revathi says "I miss that vibe Kota has. They have the best golgappe. The best part was the meals we used to have together when the entire cast and crew used to sit and & eat together. The reading sessions and the workshop were wonderful"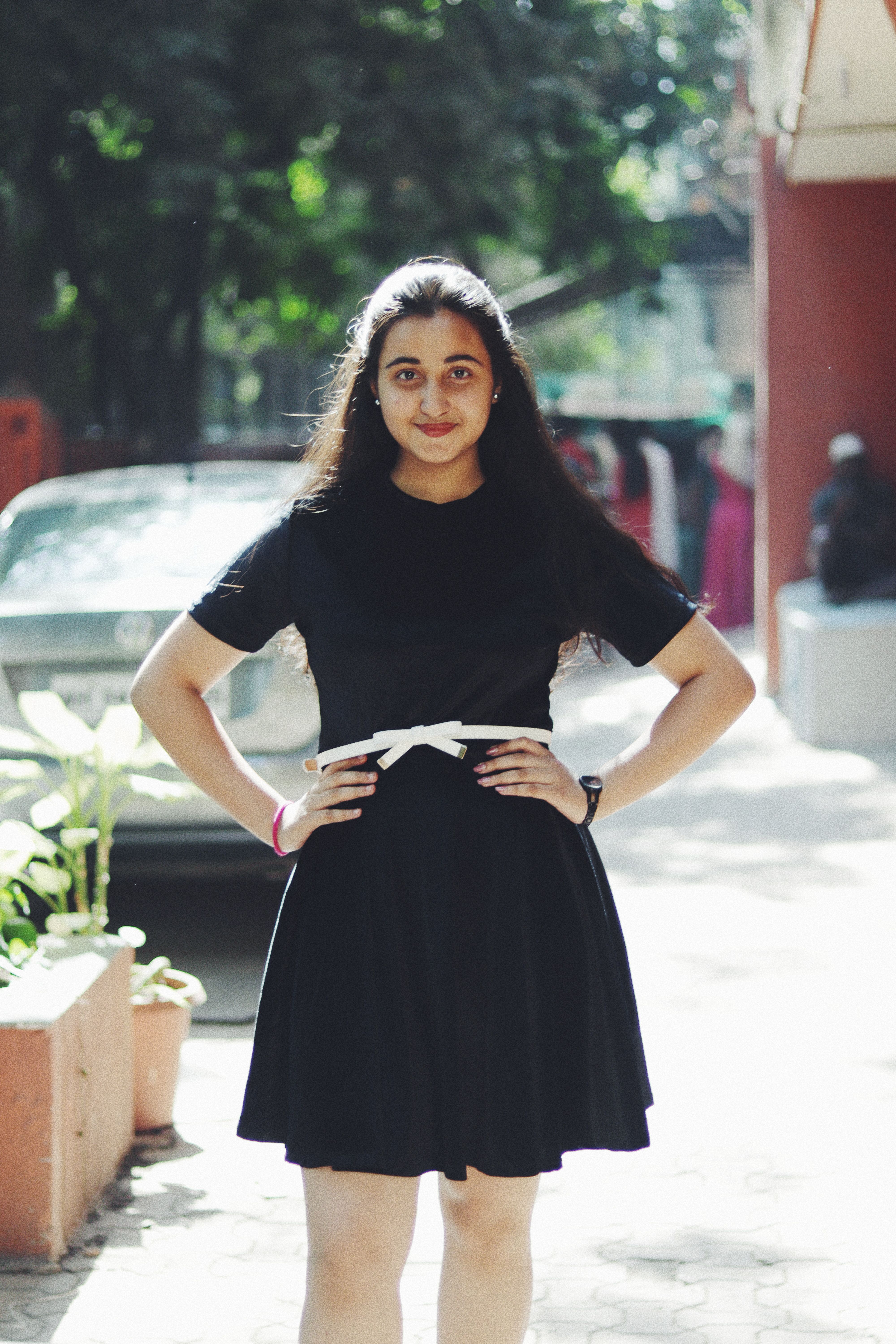 Episode 4 of Kota Factory was released on May 7, 2019 and Revathi's popularity skyrocketed after that day. Looking back at it, she admits that people have been noticing and admiring her work more than ever.
People have now started believing that I have a capability to do more challenging roles than I have done before.
You need to stay motivated no matter what you do and the love and care of the audience are what drives Revathi to keep performing better.
With great power comes great responsibilities, and Revathi perfectly understands that when she emphasizes on choosing roles with the utmost care and portraying them in a manner that you don't let your audience down.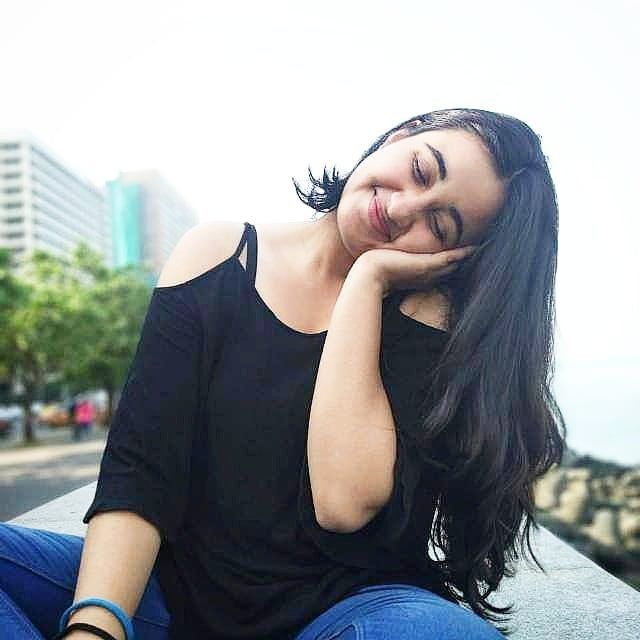 On striking a balance between acting and studies, Revathi shares having her final exams the day after she returned from Kota.
"I took my books to Kota and used to study whenever I got the time. The vibe in Kota helped me to focus on studies. Education is very important and I always try keeping a balance between acting and my studies"
After working with TVF in Ye Meri Family and Kota Factory, Revathi recently worked with Hotstar in Special OPS and has been receiving wonderful reviews for her performance.
Which has been your favorite Revathi moment in TVF?
Let us know in the comments section!
---
"Tough times never last, but tough people do." Road to Fame, a Publication by Tealfeed, gives a sneak-peek into the inspiring journeys and struggles of celebrities who made it big with their passion and determination.
--- ---
Related Articles