The "Right" Doors for Bumble
I know the first thing coming to your mind would be "How's it better than the much-hyped Tinder"?
---
Shivam Jainer
2 years ago
|
12 min read
---
Image source: Getty images
If you're part of the tiny population who claims to play dumb about what kind of solutions Bumble provides, then I'm going to assume you & my "baby boomer" parents have a lot in common OR you're just playing too safe in front of your partner.
Bumble, is an online platform that started as a Dating platform, eventually moving to a networking platform allowing humans to connect for different purposes including BFF (finding you a friend, but less dramatic than Jersey Shore) & Bizz (finding you a business BFF, better than Saul).
I know the first thing coming to your mind would be "How's it better than the much-hyped Tinder"?
Well, the vision Bumble is focusing on is providing a healthy & secure platform for connecting. The pain point comes from the Founder's vision of understanding the unmonitored space given to humans on social media dominated by abused experiences (especially in online dating like Tinder).
Also, the majority of the percentage of the victims being females; the platform supports empowerment by levelling the gender playing field, predominantly for women. This vision is translated into the app experience with solutions including "women texts first" (might hurt your traditional approach buddy, but you gotta wait for them to make a move).
Moreover, Tinder tends to provide people with tons of matches (less-restricted on-boarding) & traffic (First Mover Advantage) with the focus on quick dates with lesser digital satisfaction with a few known incidents of harassment and sexual misconduct.
Whereas, Bumble is geared towards quality over quantity of matches in which the safe environment provided by the platform has a big role to play.
Coming from millennial Indian dating surroundings (yes, we exist) & highly motivated by Rocky quotes
i.e. seeing myself & my peers getting hit harder than before from each failed date & keep moving forward in the past years on dating apps, I'll be conveying my thoughts, pain points & solutions for certain goals that could come out quite handy for the singles if the Bumble-Dating product(App) recognised them.
Online Experience
In the very first go, the entire online experience on the Bumble app can be seen similar to any other popular dating app out there.
This includes onboarding with a set of basic info, viewing other people basis filters in hand, matching them via swiping "left " or "right" basis the pictures & text (age, captions etc), and, if matched, given a personal chat space to connect.
However, the more engaged you get over a period of time, the more differences will start coming to your notice. You'll notice how the experience is in sync with the values Bumble represents.
From the verification feature(blue ticks are on the rise) acting as a safety net & their "women text first" after a match giving additional power in the hands of women that makes them feel more in control and less concerned about finding unsolicited offers in the old inbox.
"women text first" approach helping filter unsolicited offers, the product upholds everything Bumble stands for.
Moreover, there is also an AI trained to scan pictures sent in chats for signs of lewd imagery. The system blurs them out and sticks a warning on them if they're too rude.
One of the first things a user can notice (and appreciate), is that it is not a restricted environment but a controlled one.
User Funnel
The typical dating platform funnel seems to go from an onboarding stage up to the point where a woman has to send the first text i.e. has to engage with the platform.
For the app to provide a match with the safety nets in place, it shall take care of the user from the start to the end of the journey.

User Base
The user base comprises people of all genders, across continents having the maximum traffic from USA(>80%) with users being less than 35 years of age.
Since it's the dating part of the app that we are taking up, we'll be considering all the people with the intent to date, ignoring their situational expectations — quick meet, might not meet, get validations only, to just view profile impressions, not decided yet etc.
The target audience we'll be catering/solving problems for (lucky them) are the ones who are looking to connect with:
multiple people with the purpose of temporary engagement with each person (sequentially OR concurrently)
multiple people with the purpose of permanent engagement with only one person
These are selected with the scope of gathering the audience which already has a desired personal goal to fulfil post engaging. These segments may have common end goals although the occurrence rate is craved differently.
Goal
Before we dive into the goal, for the right words I searched the meaning of "dating" on wiki (hope my future date doesn't see this)
Dating is a stage of romantic relationships in humans whereby two people meet socially with the aim of each assessing the other's suitability as a prospective partner in an intimate relationship
Notice the no. of variables in this statement, the degree to which this meaning could differ for different individuals having various lifestyles, mind-sets on this, situations & stages of dating they are in. This suggests how varied goals can exist for each user.
For defining the end meaning of the above statement, we'll be going one step beyond the typical user funnel & introducing a new step i.e. doors.
Door :The definition of success in the mind of a user who intends to date via a dating platform.
Note:
Door is a varied set of assumed desired goals for which a user onboarded the platform.
It's the very next step for the user once they have reached their level of digital satisfaction.
A user can enter any one of the many doors after they have successfully engaged on the Bumble chat (post a match)
I'm terrible when it comes to defining lingos
The success rate of people reaching their desired doors is quite important for any dating platform because that's what people came for, in the first place.

Moreover, in this competitive market, the one whose users share the maximum success stories draws the most traffic & even urges them to go down the funnel as it creates a high probability in the minds of the new/repeat users, urging them to stick even after failed expectations on the platform.
A typical example could be, you jumping to a dating app because you heard a social proof somewhere or Alex from finance told you where they found their perfect date. Why? Because the platform made it happen.
Types of Doors
After being ambitious enough to add a whole new step in the funnel, we'll be defining the different types of doors that exist.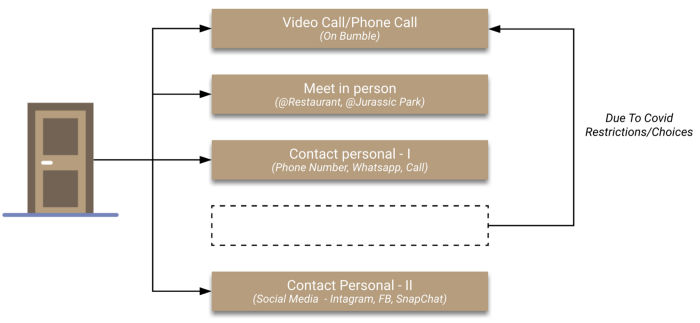 Video/Phone Call: You groomed your hair & made your room look good because you're finally video calling or just calling your match on the Bumble platform itself. Due to Covid, this has taken a higher priority over meeting in-person for users.
Meet In Person: Call it a fancy date or a walk in the park, you've at last met the person & know what their perfume smells like.
Contact Personal-I: You ran your head, you summoned all your might & finally were able to exchange numbers with them. You might choose to call them or simply take it slower via the text route.
Contact Personal-II: The digits aren't the ones you want to ask for yet but still want to try moving forward, mainly by having a different set of features to interact with (Insta, Fb) OR simply check their social identity with their taste in memes.
As the doors can be sequential as well i.e. a person looking to meet might want to video chat or call as a personal preference, for making this article no more than a 12min read, we'll be considering only one door, which "just" passes the line of success for a user.
The Best Door?
Alright, that's plenty of doors. If we'd want to pick the one which is worth solving the pain points for, that will be Video/Phone Call.
Considering the current scenario, in which most countries are toggling between opening & closing of restrictions on public places, gathering of people (USA traffic) with the pinch of people voluntarily choosing to stay at home, this seems like the most favoured door for the maximum population.
Commenting on the tracking part, it's a challenge in itself to track the behaviour when a user moves out of the platform. It would've been great if Bumble had a solution like Hinge has, yet an alternate solution can also be found.
Since video/phone call is an in-app activity, it is safe to assume there won't be a challenge tracking that.
User Behaviour & Pain Points
User behaviour & mindset is a complex puzzle, especially when it comes to engaging with strangers. For one to reach their respective doors, it's highly dominated by their digital satisfaction.
People need to know each other better (satisfied from a conversation, personality, and taste & preferences) before they jump to a real in-person meet or even a video call.
We also need to consider digital satisfaction & even the fact of doors being different for two people in the same chat. Ex: One person thinks it's time to ask for a video call or Meet-up (their door) but the other person doesn't think it's time or they're looking for a video call in the first place.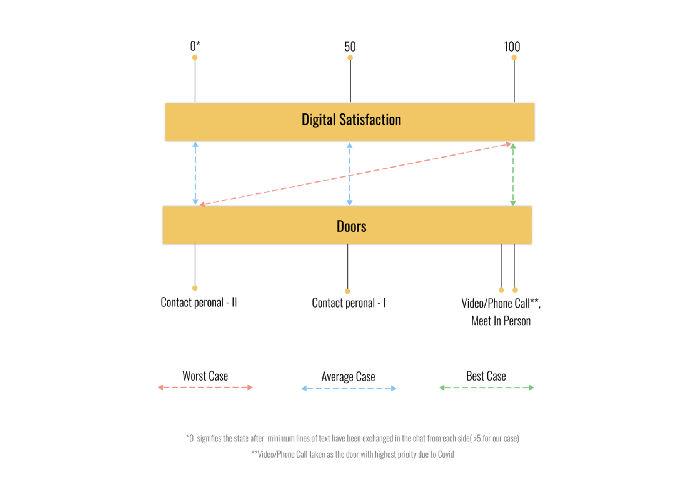 Digital Satisfaction(DS): For this exercise, we've divided the scale range from 0 to 100. 0 meaning a user has exchanged minimum lines of text on chat from each side( >5 for our case) & 100 is they have exchanged a larger number of texts than an average match usually takes before going for a video call.
Doors: The range taken as mentioned earlier, ordered based on digital satisfaction required to achieve it.
X & Y: The people at either end of the conversation. Taken irrespective of any gender & age in sync with the User Base defined before. Here, assuming Y expresses their opinion first.
Best Scenario: The best scenario for both the users & the app would be to reach at 100 on the DS scale & then go for the ultimate door.
Because of this 100, a match who hadn't planned to use any door, might even give in. Result: The perfect funnel is intact & Y flaunts her success to her peers.
Worst Scenario: When the difference between the DS is maximum. The conversation has just started, X hasn't historically met anyone without being completely satisfied with the talks but Y ends up asking for a meet-up? Result: Drop-offs & Y telling her friends Bumble ain't good.
The ONE Pain Point

All cases look kind of exciting to solve but if we were to pick one case to solve for, that would be the case when both X & Y have reached their levels of digital satisfaction by spending a decent amount of time knowing each other.
This is the situation where a person claims to have talked enough, have run their brains maximum, consulted their peers with the one question
"When & How to ask the other person to take the door?"
Any delay or downgrading the door will result in unmatched expectations, X thinking Y is just not interested or might wonder "why are they taking so much time?"
Solving this is probably the easiest as well, as both the individuals have spent enough time swiping away or texting & are considering this as the last step of the ideal funnel having a DS=100 on both sides, the impact of this will directly align to our Goal/Best Door.
Product Vision
To build a system which reads the situation of a user reaching 100% digital satisfaction & in-turn providing assistance to reach their respective doors
Here comes the "Guru"
As we could see that the assistance solution will open up a whole new pandora's box altogether, it feels apt to give this product a new personality altogether.
"Guru" is a ray of hope who comes to your rescue when you're in trouble, mostly when you are trying to find the answer to your complex questions in your mystical journey towards the "door".
The term seems to be pretty biased to the Indian culture I'm coming from but it still managed to sound cool enough.
Quick Solution
Picking the solution with the least effort first, once two users match, a designated page loads with supportive content.
This content contains answers to your pre-assumed questions revolving around the decided pain point. From pointers on "Do you know them yet?" to "How to ask them out?", Guru is there to share their knowledge with you.
Moreover, you can also make use of a new set of questions especially curated to aid you in conveying with the least friction, using the existing feature of Ask a question for you both to answer (a feature where a user chooses to a question on the chat & replies are revealed only when both people have answered it).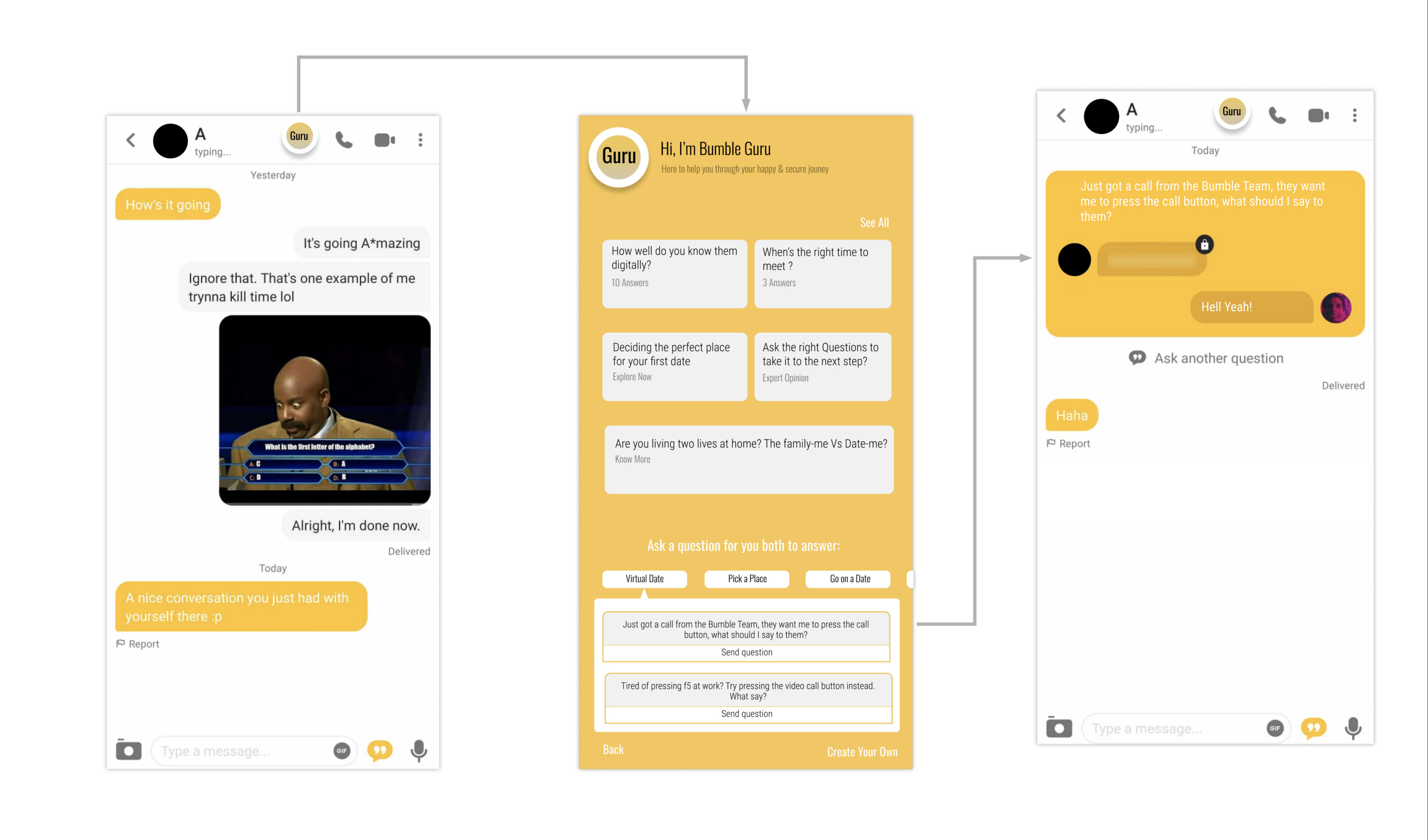 Discovery point is kept just beside the video calling option in the top bar.
A click redirects to our Guru, where a user can discover answers on when & how to ask their chat buddy for the call AND even choose from the questions according to different tags for further assistance, present at the bottom of the screen.
Advance Solution
We can go for an advanced solution if we see an increase in successful video/phone call users after they've visited Guru or used the pre-defined questions.
A more ambitious way could be to enhance our reading system i.e. to detect the DS=100 case instead of waiting for the user to manually inform the system in the first place.
Input: A basic system can be put in place which takes behavioural data-points of historical users who have previously done a video/phone call on the platform & use it as a benchmark (assume similar behaviour basis combination of demographics).
Assuming the high probability of the "ideal" user behaviour leading to our goal, the data shall include the frequency of chats (chat exchanges for a time duration from each side) & no. of chats initiated, both of these with different weight-ages assigned to them.
When the data benchmark is reached for a video/phone call chat, the system can conclude it to have reached the desired state & shall trigger an automated output basis that.
Output: Once it is deduced that both users are close to their complete digital satisfaction, nudges can be given to the user with redirections- — Direct entry points for the questionnaire & on-point communications — — highlighting "Guru" for assisting the users to make the first shot.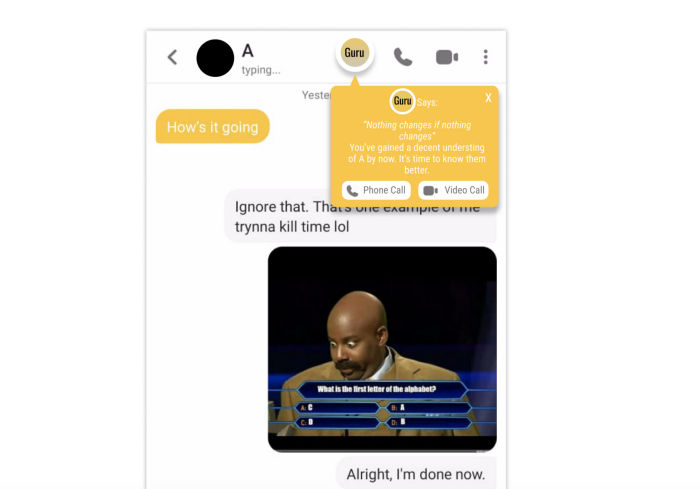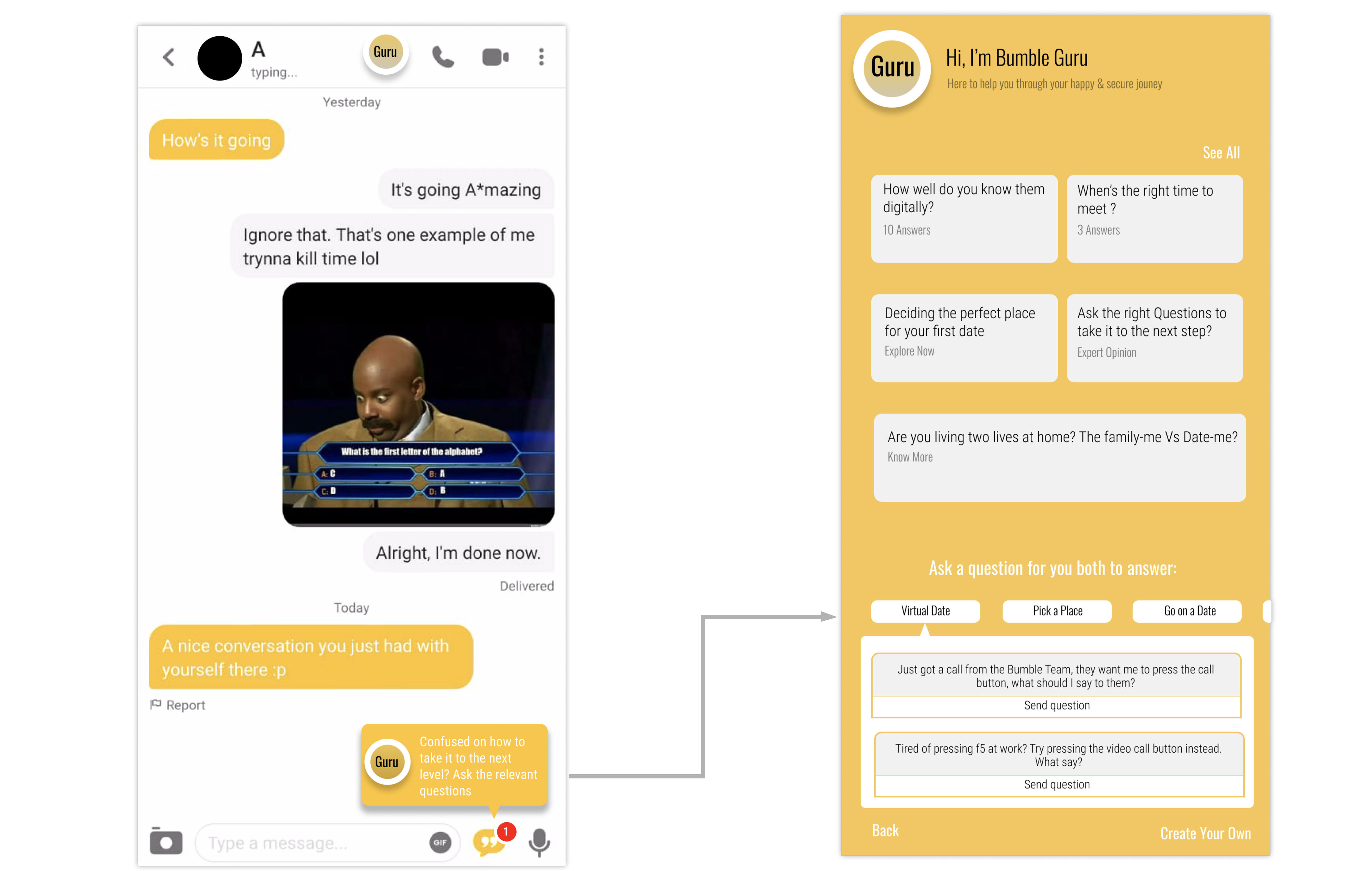 Conclusion
The wave of online dating has managed to change the habits of humans all across the globe, from geographical locations with core conventional ideologies to people who want to give themselves a second chance by hoping they still aren't the only ones who like pineapple pizza.
Many new platforms are opening providing this very solution with a strong focus towards a specific user segment — Eharmony(for Senior Singles), Grindr(for gay, bi, trans, and queer) OR to provide a unique solution for connecting — Hinge(Send a text without matching), Happn(match with people who you've crossed paths with).
With every solution comes a new problem, no doubt there is also a strong dislike for such products as anyone can be onboarded on them with complete freedom with no prerequisite to verify one's identity or even ask them to come out of the curtain, that too while looking for intimacy.
However, we needed one platform which could challenge itself with taking the responsibility of keeping it safe & healthy with a pinch of empowerment. Guess what? The demand for such an alternative was so big that it now sees millions of people preferring to get matched in this particular space.
Bumble took the bold step & seeing the user base, it is safe to say it was heavily needed.
As they say "man cannot live by bread alone", people will keep needing to connect & it's the responsibility of such platforms to make sure it's done in a mannered & respectful way.
So keep swiping with a big smile because there's always someone out there who will be equally curious to know you better :)
---
--- ---
Related Articles