Sailing Your Business Through the Crisis In 2021: Tips and Resources
Here are top tips and resources to get your small business out of the crisis!
Small business owners have been hit hard and are bearing the brunt during the uncharted pandemic times in 2020. Many companies have pivoted quickly and managed to stay afloat, though. Which shows it's possible to survive and sail your business through the crisis.
But in this article, I want to share tips, resources, and advice from entrepreneurs to thrive through the crisis in 2021. Let's begin!
Keep Offering Value Virtually
I know you're probably already fatigued by the idea of doing anything "virtual." Live events have been replaced with virtual events such as webinars, and companies are trying to get the same kind of participation.
However, the experience can't parallel live interaction because people are going to ultimately sit in front of their screens. Here's what Dave Gerhardt, CMO at Privy, has to say about virtual events: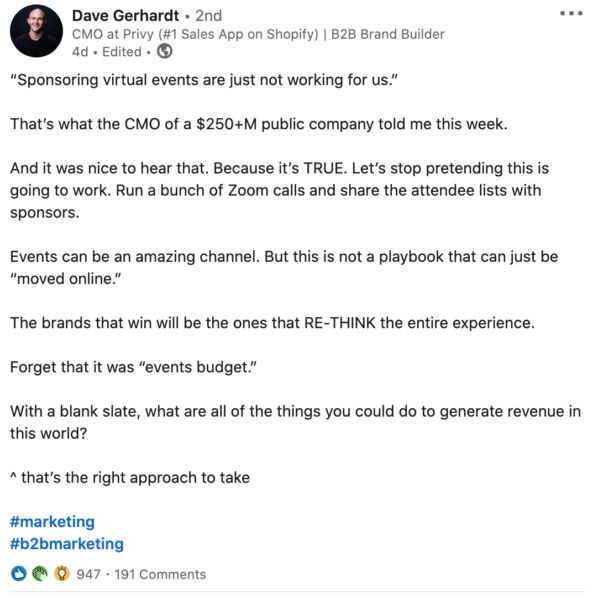 But for those brands that existed solely offline, this is an opportunity to explore the needs and demands of their customers in the new normal, virtually.
So where to start?
Debut your new podcast and launch it on your website, answering the top questions of your customers and prospects in the first few episodes.
Or launch an email newsletter where you send regular updates and engage with your subscribers. Then on top of such content programs, test paid virtual consultations and digital products — it could be a nice new income stream.
But what if you feel doubtful of how people will respond to such virtual services from your offline brand?
You can continue selling your existing physical products but consider free virtual add-ons. Shreya Dalela, the founder of The Creatives Hour, shared an example of how one of her clients, Indian beauty and Ecommerce brand, has started offering free virtual sessions with their Ayurvedic doctors.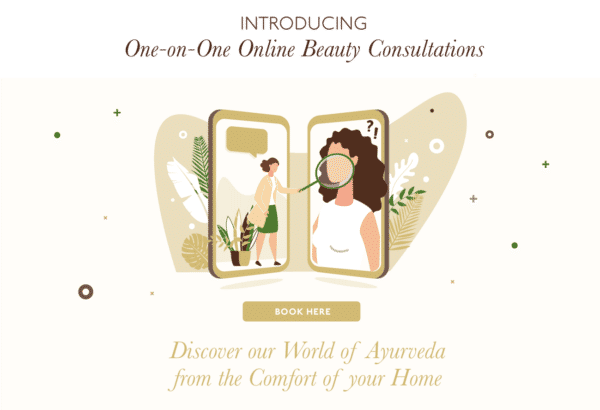 The virtual sessions end with recommendations of products people can buy from the brand — if they like.
Even for brands offering value virtually, filling commute time with some "infotainment" is a great branding ploy. You can entertain people while providing information related to your business. Branded shows are a great example of this kind of content.
For instance, Blinkist, a book-summarizing subscription service, launched a show called Simplify featuring six episodes from six authors discussing easy ways to change your life.
Communicate Proactively And Focus On Building Relationships
Consumers all over the world right now are going to be worried about their health and safety — even in 2021. So proactive communication is key, as Lasith Lansakara, the co-founder of Teakruthi, a garden-fresh tea delivery company, shares:
"Transparent and quick customer communication has been our mantra as we cope with COVID-19. On the positive side, we've seen demand increase by about 30% since the pandemic was declared back in March."
When you face a challenge, inform your customers — they will understand. For Teakruthi, the rise in demand was offset by supply-chain challenges in sourcing teas as well as delays with their delivery partners, FedEx and DHL.
Lansakara explains how they dealt with it, "During that period, we were proactive in notifying customers of potential delays before an order is placed and also sent constant updates until an order is delivered." The company also has a banner at the top of its website telling its customers to anticipate a delay in deliveries.
"We are available to our customers at any time via chat and email, responding within 12 hours to all inquiries. Further, to protect our customers, we offer a money-back guarantee with easy and hassle-free cancellation should customers change their mind and decide not to wait on an order," Lanskara concludes.
Take inspiration from Teakruthi to tackle uncertainty and remain focused on nurturing your relationships with your audience.
The COVID 19 Brand Trust Report found that 71% of surveyed consumers agree that brands and companies placing profits before people during this crisis will lose their trust forever. Besides communicating about your products, keeping the relationship afloat could involve staying in touch with them in a personalized manner.
Rohan Chaubey, the founder of the Hold On App, recommends putting together a keep-in-touch list of your prospects, existing customers, ex-clients, or anyone who has sent business your way and setting reminders. He elaborates:
"Reach out to them by:
Making them feel special: By wishing them on holidays, birthdays, anniversaries, work anniversaries, and the like,
Send them handwritten notes: To show how much you appreciate the opportunity to work with them,
Engage with them on social media: On their personal updates or the articles they share,
Get on a personal call: When you need to give that personal touch."
Remember, though, that your customers will see through fake shows of concern. Do the above aspects only if it gels well with your brand's personality.
Grab One Of These Special By The Tech Giants
Let's look at a few special discounts and deals assembled by Google, Microsoft, and Amazon that they have especially started offering to online business owners.
Deals Assembled By Google
The search giant committed over $800M to help small businesses (SMB) through the COVID-19 crisis. While the majority of it is in the form of Google Ads credits that were made available to SMBs with active accounts in the past year, Google also collated offers by various companies that you can check out here.
These tools are especially useful for offline businesses that want to transition online. Reduced prices or even free offers are available, from the likes of HubSpot, Godaddy, Lightspeed, BigCommerce, and others.
Among the company's own products, Google Meet, a premium and secure video conferencing software, has offered unlimited Meet calls (for up to 24 hours) until March 2021.
Microsoft's Resources And Partner Offers
As a part of the Microsoft ecosystem, its professional social network, LinkedIn, has promised to bring digital skills to more than 25 million people online. It's offering ten role-based learning paths for free till March next year for the same. These include the specializations of software developers, digital marketers, data analysts, graphic designers, and more, that you can view here.
LinkedIn Learning Courses, curated for small businesses, are also available to walk you through the nitty-gritty of creating your website, marketing your business, lead generation, management, and finance. Self-care courses on managing stress, building resilience, and the like, are a great addition to these. These are no longer free, but you can get free, one-month LinkedIn learning access for exploring these skillsets.
Additionally, Microsoft is also helping businesses transition to remote work with their affordable tools including videoconferencing, group chat, cloud file storage, Office apps, and advanced security, bundled under Microsoft 365.
The company is also offering a slew of resources from its partners, including a free 2-month Adobe Spark trial, new Yelp Page Features, a 50 percent discount for 12 months on Xero online, and others — explore these offers at the Small and Medium Business COVID-19 Resource Center.
Besides creating a $5M neighborhood relief fund for Seattle's small businesses, the Ecommerce giant is offering help through special offers on its products.
First up, you can leverage Alfa, a product of Nirveda Cognition — a startup powered by Amazon Web Services — to seek loan forgiveness from the United States Small Business Administration's Paycheck Protection Program. And increase your chances of converting the loan to a grant.
It's also offering free usage of its business applications including Chime, Amazon WorkDocs, and WorkSpaces. You can also use its renowned Amazon Web Services for 12 months, for free. Explore these tools and the company's educational resources for small businesses here.
Additionally, you can explore the Facebook resources hub for small businesses, which has some free tools and resources. But I strongly recommend the Stand For Small coalition for its special list of offers, tools, and insights by over 100 companies.
Final Thoughts
Nobody today has all the answers for business owners — but you need to keep taking corrective action going in 2021. The advice and tools offered in this article will hopefully equip you to deal with the crisis better and come out stronger.
Remember that how your brand responds to the crisis will have a huge impact on whether consumers will continue buying from you in the future.
How is your business adapting and pivoting through these challenging times? Are there any other tools and resources that could help small business owners to thrive in 2021? I would love to hear from you in the comments below.
---
--- ---
Related Articles