Samsung SDS's VP of Artificial Intelligence Discusses User Data Collection and AI Ethics in Healthcare
A computer-human hybrid interaction is much needed going forward
---
Wow AI
9 months ago
|
4 min read
---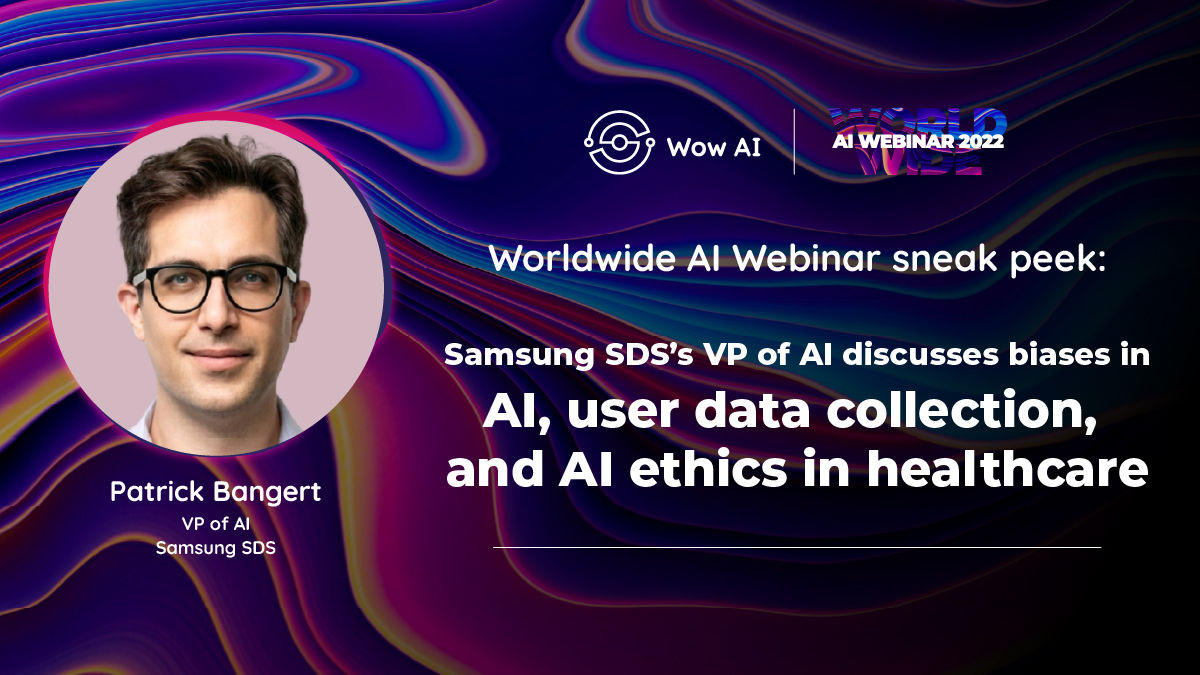 Samsung, one of the world's largest and most widely-known electronics corporations, does more than just produce electronic devices.
The company is also a pioneer in new technologies as its subsidiary, Samsung SDS, was established only to run its information- and communications-technology operations.
With a mission to develop solutions for various industries, from manufacturing and logistics to finance and retail, not only within but also beyond Samsung Group, Samsung SDS is not an AI newcomer.
In an insightful interview with Mr. Patrick Bangert, the Vice President of AI at Samsung SDS, we got the chance to receive his insights into multiple topics, including AI ethics in healthcare, AI training data, and user data collection.
About the speaker
If you're not familiar with Patrick Bangert, physics, technology and essentially AI have been his interest since his early days. After obtaining a Bachelor's degree in Physics, he became a theorist. At one point, Patrick Bangert questioned if the emerging newfangled computer technology could help develop mathematical language models. That's how he got into the field and eventually made it to the position of Vice President of AI at Samsung SDS.
According to Mr. Bangert, his team is responsible for artificial intelligence where they have two major streams. One is AI engineering where they create software for other people to make models with. And the other is a consulting organization that actually makes the models if the customers don't have the team or the expertise ready. The AI team at Samsung SDS has developed incredible products. One of which is the Brightics AI Accelerator which helps accelerate one's modeling efforts.
The values of AI to Samsung
Talking about the training of a model with a data set, Patrick stated that Samsung trains all sorts of models and their most valuable model is in the semiconductor industry.
From his experience, making semiconductor wafers that eventually turn out to be chips is a very expensive effort. Therefore, isolating the wafers that got scratched or somehow damaged as early on as possible is hundreds of millions of dollars in cost savings. The team also builds consumer-facing natural language processing AI models, ranging from computer vision over natural languages to time series.
To Samsung, the primary benefit of these AI models is in the manufacturing logistics area. As a global manufacturing company, everything Samsung does is in bulk: designing, engineering, and building physical devices at scale. Employing AI to assist with the manufacturing and logistics effort is certainly valuable to them.
User data collection
On the much-debated topic of user data collection, Patrick Bangert shared honestly that as long as you are using social media platforms, using your phone, or driving your car, you are being recorded in one form or another. To use those data to better a product is up to the manufacturer, who often looks in the direction of monetization.
Conflict of interests arises.
There are various groups that will deviate from the normal majority, by skin color or ethnicity or heritage or age, health conditions, disabilities, geography, or the language they speak. There are all sorts of groups that will become or have already become marginalized in one way or another.
This is when regulators and governments come in to protect user data privacy.
However, the fear-mongering coming from the mainstream media, different regulations in different parts of the world, and the lack of accurate sources continue to fuel people's anxiety and misinform them about the true nature of AI.
He stated:
"

There are systems where bias is not the problem, but the entire use case could be construed to be a problem. So personally, I think, for example, having an autonomous drone outfitted with weapon systems and an AI that with the permission to fire whenever the AI thinks it's identified a target is morally objectionable and has nothing to do with bias against people, against groups of people. This is biased against humanity in general."
From Patrick Bangert's viewpoint, this is a complex and important debate. And that the best way to cope with it on a sort of global corporate side is to default to the strictest system.
AI applications in healthcare
Mr. Bangert believed that AI is only complementary to human healthcare practitioners. Their diagnosis accuracy can go up to 98–99% but they cannot explain why a patient comes down with this disease and what the next steps are.
"So it necessarily needs to be a computer-human hybrid interaction that actually gets the problem solved. And I think this is where the real secret lies. Doctors and patients need to become familiar and comfortable with the fact that AI systems are now a helpful tool around the doctor's office. In just the same way that a stethoscope and a scalpel or a microscope are useful tools around the doctor's office. They do not substitute the doctor. They help the doctor in getting the job done." — Patrick Bangert, VP of AI at Samsung SDS
While there is still much to debate over the diverse aspects of Artificial Intelligence, one simply can't ignore how powerful and impactful it has been to our work and life.
Keeping an open and critical mind, staying up-to-date with the industry as well as learning from experts like Mr. Patrick Bangert is some sure ways to get you on top of the game.
---
Wow AI is a trusted partner that provides high-quality data for AI training in different languages at a large scale. We are experienced professionals with a track record of success in numerous types of data collection. With a crowd of over 100,000 project contributors all over the world, we can provide massive, scalable, high-quality data across data types. We also provide off-the-shelf data and tailor-made data for your AI/ML projects.
--- ---
Related Articles