SEO Tells You Best Ways to Attract People From Search Engines
SEO is the art and science of attracting visitors from search engines. Search rankings are a consistent source of traffic for social media websites.
Small businesses can benefit from the skills of an SEO expert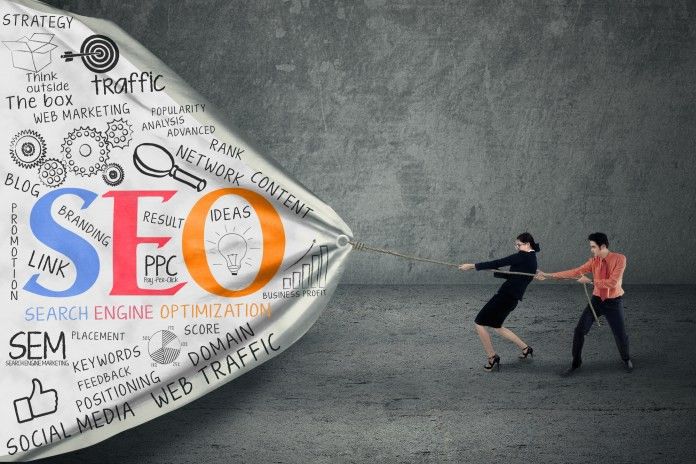 Search engine optimization can be intimidating to the untrained. From the outset, it helps to get the acronym right.
"That's the first step," Andy Crestodina said. "You'll never be good at SEO if you can't spell it."
If nothing else, Crestodina is good at SEO. He is a speaker, content marketer, co-founder of Orbit Media and author of "Content Chemistry: The Illustrated Handbook for Content Marketing."
Crestodina has been in the web design and interactive marketing space since January 2000. An evangelist for content marketing and ethical digital marketing, he has helped thousands of people do a better job getting results online.
Marketer, social media expert and podcast host Madalyn Sklar joined with Crestodina for an SEO primer.
Surge to the top with a healthy dose of SEO
Social media hacks help brands stand out from the crowdmedium.com
Kate Frappell of the social media application ManageFlitter also discussed how her company takes advantage of SEO.
"We put the most SEO effort into our marketing site," she said. "Since 2010, the site has ranked highly for many keywords such as 'Unfollow.'
"During mid-2018, we launched a new version of the website with a completely new design and user interface," Frappell said. "This meant we needed to monitor SEO to ensure we did not lose too many rankings during migration."
Reach outside
The ManageFlitter team also was smart enough to know they needed help.
"We engaged an SEO consultant to work closely with the engineers," Frappell said. "Initially our rankings did drop a little, but this was to be expected. Now we rank higher than we were prior to migration.
"SEO can be very technical and complex," she said. "If you are a small business, it can be beneficial to engage a recommended SEO expert."
In that regard, Crestodina cited two main search ranking factors:
Off-site SEO is about authority and trust — links from other sites.

On-page SEO is about relevance and content — key phrases on the page.
His video explains the three main factors involved in search and the art and science of attracting qualified visitors from search engines.
Easy-to-make video lets people see you, hear you and know you
Have fingertip control of your messagesmedium.com
SEO should not be that complicated. If you state topics up front and follow through with them in your content, SEO should take care of itself in the natural flow of the article.
"SEO is the art and science of attracting visitors from search engines," Crestodina said. "Search rankings are a consistent source of traffic. And the visitors often have stronger 'intent' than visitors from social."
He detailed fundamental SEO steps:
Ask yourself, "People looking for me are searching for what?"

Make sure you have sufficient authority to rank for that phrase.

If you do, make a page focused on that topic.

If not, choose a longer, more specific phrase.
Crestodina suggested looking up domain authority on Moz through its Link Explorer.
"It's mostly Google but there are other types of SEO," he said. "They include Amazon, YouTube, iTunes, Google Play Store, local SEO, image SEO, eBay, Instagram, Bing and others."
Local SEO is the art and science of appearing in Google Maps and in the "Local 3-Pack" at the top of some search results pages.
"It's a completely different game," Crestodina said. "If organic SEO is about links, local SEO is about 'citations,' which are places where your name, address and phone number appear together.
"In unison, all the citations give Google reason to believe your business is in that place," he said.
Fully complete listings
Darren Shaw, founder of Whitespark — which builds software and provides services for local SEO — explains the U.S. Local Search Ecosystem.
Crestodina added that Moz Local lets people check to see if all of their local listings are consistent and complete.
'Strategic Social Listening is Real Life'
Gain insights to act on opportunitiesmedium.com
One way businesses can improve the relevancy of their content for optimal search rankings is through social listening. They can make their content relevant to their audience's wants, needs and pain points. Whatever they create related to that will give them search results and connections to those who need the brands most.
"Start with the branded key phrases," Crestodina said. "What do people search for when they search for your brand? Type your company name into Keyword Tool. Then search for those phrases. Like what you see?
"Next, check to see what you rank for now," he said. "What's working already? Follow the step-by-step process to find your current rankings."
Crestodina added that not all content is search friendly.
"There are lots of topics that no one is searching for," he said. "For those topics, promote them on social."
Keywords matter
Entrepreneurs might be concerned about their Google ranking. That makes it imperative for businesses to find the right keywords to better rank their web pages.
"Target key phrases that meet both criteria," Crestodina said. "Yes, people are searching for it. Yes, you have a chance of ranking for it."
Every key phrase indicates the visitor's intent, he explained, giving three kinds of key phrase intent:
Commercial

Informational

Navigational
"If your site has a search tool, you have a fun way to find search-friendly topics," Crestodina said. "Check to see what people are searching for on your own site. Then create content on those topics."
Orbit Media explains how to set up site search in Google analytics and find insights fast.
Business owners need to know their audience and their wants and desires. The more entrepreneurs know potential customers and their language, the better the owners can speak in words and phrases their audience readily understands.
Crestodina said marketers should start by using the target phrase on the page in the usual ways:
Once in the title

Once in the header

A few times in the body text
"Remember, your title tag and meta description often become the 'snippet' in Google search results," he said. "Next, incorporate the 'semantically related' phrases into your content."
A Crestodina video explains where to find these phrases.
Ranking factors
To distinguish between off-site and on-page SEO, Crestodina gave the key search-ranking factors:
Off-site SEO is about authority and trust — links from other sites.

On-page SEO is about relevance and content — key phrases on the page.
His YouTube video explains these differences.
For tools that can assist with SEO, Crestodina is "a big fan" of SEMrush.
"It has great tools, great content and great community," he said. Other tool favorites include Moz, Keyword Tool and Ahrefs.
Crestodina and Sklar went into greater detail about SEO during a Facebook Live chat.
About The Author
Jim Katzaman is a manager at Largo Financial Services and worked in public affairs for the Air Force and federal government. You can connect with him on Twitter, Facebook and LinkedIn.
---
Created by
James L Katzaman
Jim Katzaman is a charter member of the Tealfeed Creators' program, focusing on marketing and its benefits for companies and consumers. Connect with him on Twitter, Facebook and LinkedIn as well as subscribing here on Tealfeed.
--- ---
Related Articles