How Small Acts of Kindness Make You Become Better
The accurate measure of a person is how they treat someone who can do them absolutely no good.
The world needs more kindness and more empathy!
Sounds good, right? Probably would make a wonderful campaign slogan or would have been on a bumper sticker on a hippie's car from the sixties.
The act of kindness and empathy is an effort so simple to make that you think everyone would practice it.
Unfortunately, it sounds better in thought than in reality.
For example;
It's a shame that we can throw away so much food, yet so many are starving.
There are so many homeless people, while the housing markets are booming.
We utilize social media to troll or break down instead of uplift and inspire one another.
There are so many examples to list.
Let me emphasize this — there are many people doing good out there already, and the world is not as fully myopic as it seemed a few sentences ago.
However, there is tremendous room for improvement, and it can all start with us.
We could do a lot better with one another.
I remember a wonderful movie I saw called "Pay it Forward."
(In a nutshell) A social studies teacher gives his junior high school class an assignment to develop an idea to change the world for the better and put it into action.
When one student creates a plan for "paying forward" favors, he not only affects the life of his struggling single mother, but he sets in motion a viral effect that has blossomed into a national phenomenon.
This movie impacted me because its success popularized the term "pay it forward." It was cool to give back. It was easy to say to my friends, "pay it forward," and they would understand and want to do the same.
So you would think my giving back habit would be ingrained, but it can easily be pushed aside because of inconvenience.
I was recently inspired by my kids on giving back.
I was driving home from the mall with my older son and daughter a few weeks back. While driving, my kids spotted a noticeably pregnant woman with a sign asking for money to buy food.
My kids said, "Daddy, look, she's pregnant and homeless."
I said, "That's a shame," and casually went about focusing on traffic.
My daughter said, "She needs help; we should do something."
My son said, "Yeah, why is it she out there? I never see pregnant homeless women outside; something must be wrong?"
I said, "I dont know," and proceeded to drive — literally, seconds later, I thought to myself "I should do something, no, I will do something."
There was an opportunity to help someone in need, and I could do it, yet I was ready to shrug it off and grip about how unfair the world is.
I decided to make a U-turn and drove back towards the area the lady was in. She was walking up a sidewalk near the cars with her sign hoping for anything she could get. I pulled up and reached into my wallet and gave her a twenty-dollar bill. (The first bill I got my hand on as traffic was ready to keep moving).
I said to her, "Have a nice day, and please be safe."
The lady was happy, and l was glad that I helped in a little way.
Granted, a better way to help would be to find out exactly why she is in that circumstance and go from there, but I think it was the best I could have done in the little time I had.
My kids said surprisingly, "Wow, you gave her $20?"
I replied, "The money is not a concern. We spent more than that at the mall, and to this lady, $20 will tremendously impact her day."
I told my kids, "Dont hesitate to pay it forward if you can. If you are blessed, give back."
It was pleasant to give back to the lady, but I was more grateful that my kids inspired me to act kindly. They clearly have the sensibility to want to help others out in the world.
I am grateful that my wife and I raised such kind kids. And witnessing their daddy perform an act of kindness showed them it could be done.
"Remember, there's no such thing as a small act of kindness. Every act creates a ripple with no logical end."
— Scott Adams.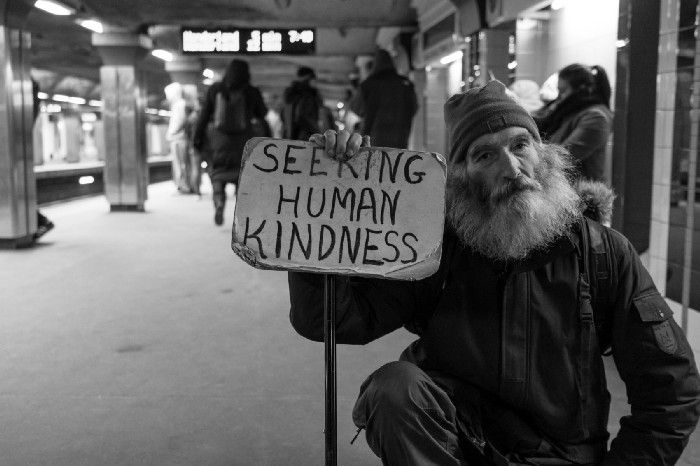 Just imagine if everyone did this, how different would our world be?
Not sure how to give back?
Here are some ways you can;
Donate. Sometimes giving back to the community is as simple as giving.
Philanthropy. Sometimes it's easier to give cash donations instead of in-kind gifts.
Fundraising.
Volunteer.
Recognize Those Who Serve.
Disaster Relief.
Tutoring, mentoring, or coaching.
Donate your skillset.
Create awareness.
Community drives for specific causes.
Information.
Step Up and Ask.
There are plenty of ways.
Thank you for reading
---
Created by
Teronie Donaldson
Writer | Motivator | Reading Habits Coach | Content Creator. Around Me, Everyone Wins!
--- ---
Related Articles