Exclusive
SMS #10: 4 Easy Steps to Choose - Old v/s New Tax Regime?
Follow the 4 Steps and Simplify your Decision
---
Ritesh Sabharwal
in
Ritesh's Newsletter
5 months ago
|
4 min read
---
If you are someone who earns money, you probably pay taxes.
As they say, "Nothing is certain but death and taxes"
You can't get rid of taxes but why not understand how you can reduce the impact of taxes?
You probably know that there are 2 regimes that you can follow while filing your taxes. The new regime was announced in the financial year 2020-21.
Which one should you follow is the big question.
But, first, let's quickly understand each regime.
Old Regime
(or existing regime)
:
Tax slabs are different from New Regime (see table below)

Exemptions can be claimed such as LTA, HRA, Food Coupons, Education Allowance, Standard Deduction, etc (see table below)

You can claim deductions from income for certain expenses or investments done by you, such as PPF, ELSS mutual fund, Life Insurance Premium, NPS investment, etc.
This means that from your Gross Income, you can claim various exemptions, and deductions and your Taxable Income will probably be much lower than your Gross Income.
New Regime:
Tax slabs are different from Old Regime (see table below)

You

cannot

claim any deductions.

No

exemptions can be claimed (except some like

Employer's contribution to Provident Fund

or your

Employer's contribution to NPS

, which are treated as exemptions)
You can assume that in all likelihood, your full Gross Income is taxable.
So there you have it, you can choose the Old Regime since the Taxable Income is lower? Not at all!
But wait there's more!
The tax slabs are very different for both regimes. See the table below:

Now, do you see the difference? The

tax rates

for various slabs in the New Regime are

much lower

than in the Old Regime.
Now, let's see some common exemptions and deductions that we avail of in the Old Regime: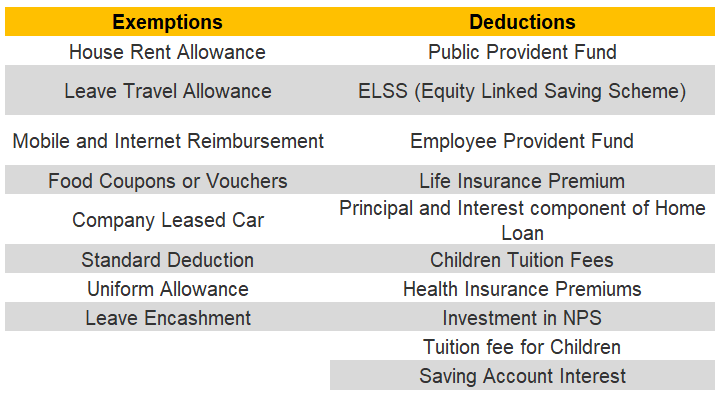 Now that you know the various differences, let's go ahead and try and answer the golden question - Which regime should you pick?
Let's look at 3 examples that may help you to understand more.
Later, I will reveal the 4 steps that will help you to determine which regime to opt for. Don't miss the ending.
The content below this will be accessible to your subscribers ONLY
Subscribe to my Newsletter
A weekly, ad-free newsletter that helps designers stay in the know, be productive, and think more critically about their work.
---
Created by
Ritesh Sabharwal
in
Ritesh's Newsletter
--- ---
Related Articles