This social keyboard app by a Forbes Asia 30U30 entrepreneur will leave you awestruck
BOBBLE AI is an all-in-one Camera, Content and Keyboard app that not only helps you personalize the way you communicate over social media platforms
Do you keep looking for apps that help you in customizing and personalizing the way you text on social media platforms? What if someone comes up with an app that predicts the emojis, memes, stickers, and GIFs on your favourite chat app? What if an app is using Artificial Intelligence to predict your input methods? BOBBLE AI will now help you socialise more freely on various chatting apps.

BOBBLE AI is an all-in-one Camera, Content and Keyboard app that not only helps you personalize the way you communicate over social media platforms but also predicts and learns from the way you use a chatting app.
A Forbes Asia 30U30 fellow Ankit Prasad, who dropped out from IIT Delhi in his 4th year, incorporated Touchtalent in 2012. Later in 2015, it was pivoted to Bobble content. In 2016, they launched Bobble Indic Keyboard. BOBBLE AI, which is one of the most engaging, most retained, highest rated, all in one Camera, Content and Keyboard app:
is the world's first social keyboard
Empowers the people by making their communication process smarter through the cutting edge Artificial Intelligence
Create and let people create cheerful personal Stickers & Comic Stories in the blink of an eye
Has quirky stories and comic stories which are made by their creative young team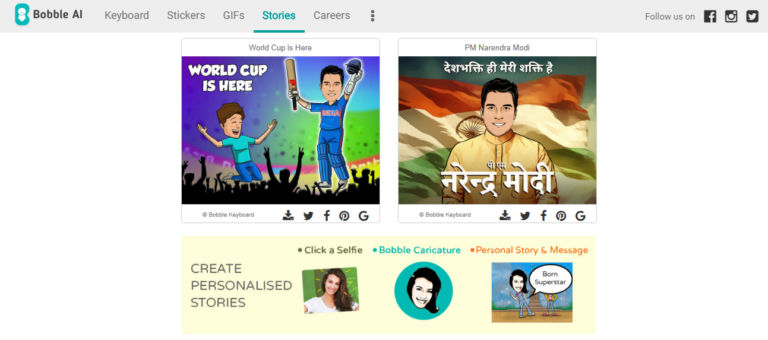 STARTED A COMPANY AT THE AGE OF 16
Ankit had always wanted to be an entrepreneur right from his childhood days. He started his first company at the age of 16. It was a web designing company at his hometown in Jamshedpur. Even though he ended up selling that company later, he gained valuable experience. He also worked with various start-ups as an intern and part-time freelancer during his college days. He acquired immense work-experience from there. It is not a surprise that Ankit Prasad is one of the notable Indian honorees on Forbes 30 Under 30 Asia List.I
"INDIA DESERVES TO CREATE MORE OF TECHNOLOGY-BASED FIRST GENERATION ENTREPRENEURS TO THE LIKES OF LARRY PAGE, MARK ZUCKERBURG AND JEFF BEZOS. EARLIER THE ECONOMY WAS DOMINATED BY TRADITIONAL FAMILY BUSINESSES, BUT FORTUNATELY, THINGS ARE CHANGING NOW"

NAMING IT BOBBLE: THE STORY
It was an enriching experience to speak with Ankit Prasad regarding this wonderful startup. To our curiosity, he had an interesting logic behind his company name 'Bobble AI'. In fact, their first product was Bobble headed content. He told us that he has played a lot with Bobble headed toys. The name came from that toy itself.They created personalized status and gifts which have users' own face, where the face is little larger. Therefore they called it Bobble. Now there are so many other products associated with it, there is bobble-camera, Bobble-smart reply, bobble-voice over text reply.

CREATIVITY AND TECHNOLOGY MAKES A HOLISTIC PRODUCT
Creativity is something which is very broad; it can be anywhere and everywhere. Bobble AI is a mix of technology and creativity and Ankit says that his mathematics & computing background has helped him a lot. The emerging technologies are creative, presenting a holistic product to the masses.
FOR AN ARTIST, IT'S VERY DIFFICULT TO CREATE A TECHNOLOGICAL PRODUCT, FOR A HARDCORE TECHNICAL GUY IT'S DIFFICULT TO CREATE AN ARTISTIC PRODUCT, A MIX OF BOTH IS REQUIRED TO CREATE A PRODUCT WHICH IS HOLISTIC IN ITSELF.
If you look at Bobble AI, you will see that how efficiently they have mixed technology & creativity with their products.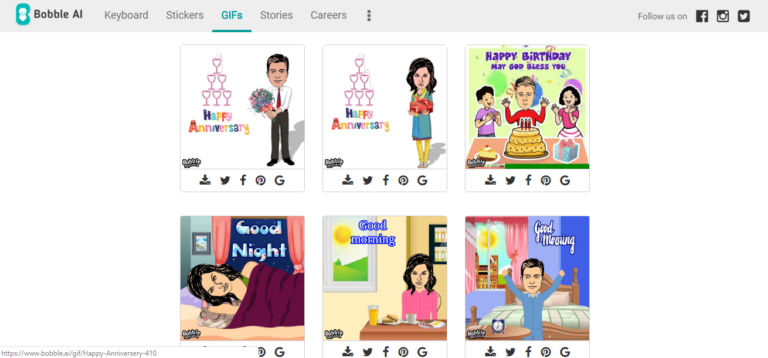 Read More: LawWagon: A startup which has intelligently revolutionized the legal sector through Artificial Intelligence
COMPETITION EXISTS FOR GOOD
Every industry faces some amount of competition from all sides. Bobble AI too faces tough competition in the industry. Ankit says that the number of competing companies in this space is not much but the ones who are there have depth in their technologies, which is also an entry barrier for others.
"I BELIEVE THAT HAVING COMPETITION IS GOOD WHICH SHOWS THAT WHAT YOU ARE WORKING FOR IS GOOD."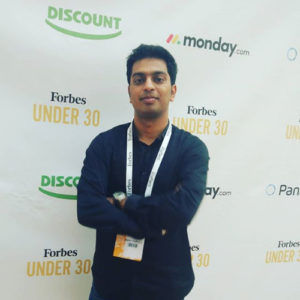 TARGET MARKET AND EXPANSION PLANS
The web platform of Bobble AI embodies the spirit of the innovativeness the company products maintain. The products which they have developed so far are quite unique and that is their USP. Most of their users come from Tier–II & Tier-III cities. 90% of them are less than 29, so the young population of India is their target market. In terms of reach out, they are present in Gurgaon, and Bangalore. They have already launched their products in Indonesia after India. Now, they are planning to expand in the regions of South East Asian countries like Singapore, Malaysia, and Thailand.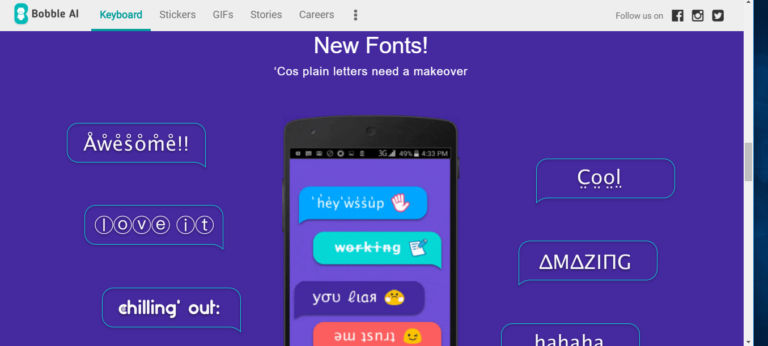 PEOPLE ORGANICALLY SEARCH FOR BOBBLE AI
The most important strategy which is working significantly for Bobble AI is that theircontent carries their watermark. This is one of the ways they strengthen the branding strategy. Anyone who uses their content gets to know about Bobble AI via the watermark. After that, the person generally goes to the play store to download their app. This is the most efficient marketing strategy which is working for Bobble AI and they call it content branding.
Every time their content gets shared, their brand also gets shared. This is how people organically search for them and subsequently, help their brand grow.
Read More: Uncanny Vision: An AI-based startup that's giving vision to the obsolete and blind surveillance system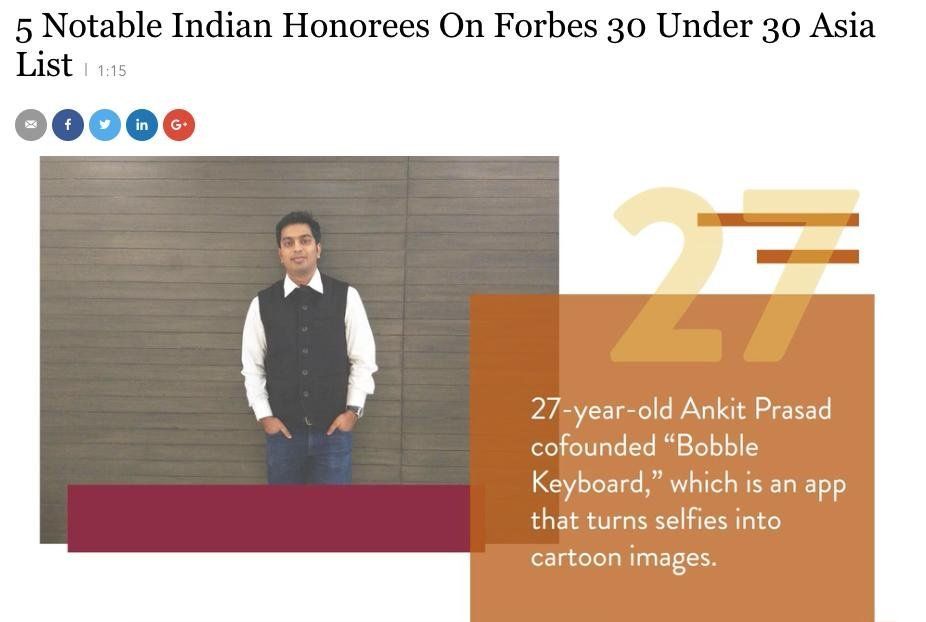 PASSION IS THE KEY: MESSAGE TO YOUNG ENTREPRENEURS
Ankit has a message for budding entrepreneurs.
JUST DO IT. THAT'S THE WAY ENTREPRENEURS WORKS. IT THE PASSION WHICH DRIVES YOU. YOU DO NOT NEED TO HAVE PRIOR EXPERIENCE TO BECOME AN ENTREPRENEUR.
---
Ideas are easy, Implementation is Hard, learn from the ones who knows how to start. A Publication by Tealfeed.
--- ---
Related Articles