Special benefits are the decider for workers' happiness
Organizations struggle to provide the right benefits for their workers. Many leaders and managers don't understand the basic wants and needs of employees.
Organizations struggle to provide the right benefits for their workers. Many leaders and managers don't understand the basic wants and needs of rank-and-file employees, which is likely different from that of the top echelon.
Coming from different professional and personal backgrounds, companies large or small can't rely on managers or executives to know what everyone in the organization desires.
"Your organization probably invests a lot of time, energy and money to retain top employees," said Meghan M. Biro, analyst, brand strategist, podcaster and TalentCulture chief executive officer. "Yet, at least occasionally, you still wind up losing them to competitors."
She wondered about how to put an end to that unproductive cycle.
"What can you offer your employees that means enough for them to stay?" Biro said. "As an employer, what's your real value proposition? A beautiful office? No, not when we're working remotely. Free gym memberships or great retreats? Soon, hopefully, but not now."
She contends that to retain top talent in today's work environment, it's not about perks.
"Retention is about what employees really need," Biro said, turning to Chris Wakely, executive vice president of global sales at Benify, which specializes in employee benefits around the world.
His company compiled The Benefits and Engagement Report: A European Employer's Guide to Employee Experience for the 2020s. The survey was conducted early in 2020, near the beginning of the global pandemic.
"Despite all the craziness, about 5,000 people took the survey," Wakely said. "We asked them what they think about their employer. What benefits, other than salary, do they want?
"It was a really interesting time to be asking these questions as people dug into their new reality," he said. "We really got an understanding of how employees think and act in the middle of change."
Benefits rule
One takeaway, according to Wakely: Nine out of 10 employees aged under 30 say they would consider changing employers to receive better employee benefits.
The revolving door of worker turnover is real.
"A huge reason organizations struggle with providing the right benefits is that there's a misconception," Biro said. "What benefits employees is far beyond simply providing health and dental insurance. There's so much more that goes into it."
Wakely breaks the problem down to two main reasons.
"Benefits aren't a one-size-fits-all model," he said. "Each generation has its own needs and preferences. A company's employee benefits offering needs to be personalized. One way is through offering a flexible benefits plan.
"Human resources professionals might not have access to insights about their employees' needs and wants," Wakely said. "The guesswork can be removed through a global dashboard where administrators get an overview of benefits in use along with spending and supplier costs."
Employers must adapt as circumstances change.
"When it comes to building a benefits strategy, perhaps the most important thing of all is flexibility — allowing employees to customize and personalize their benefits based on their needs," Wakely said. "There are several ways to offer flexibility.
"You can remove assumptions and find out what employees really want," he said, citing one of his company's related posts.
Employees need to understand what's in it for them when it comes to benefits. That means engaging education on their level of understanding. The common person is not a licensed insurance agent well versed in arcane legal language. Workers need translators who care.
Well-chosen words matter
"Evaluate your benefits," Wakely said. "Find out what your employees think about your offer and which benefits are working. Align your benefits to other organizational goals. For example, if your goal includes promoting more remote working, offer more digital benefits.
"The greatest benefits in the world aren't worth anything if they aren't communicated properly," he said. "Thinking outside the box is important along with giving employees the flexibility to choose."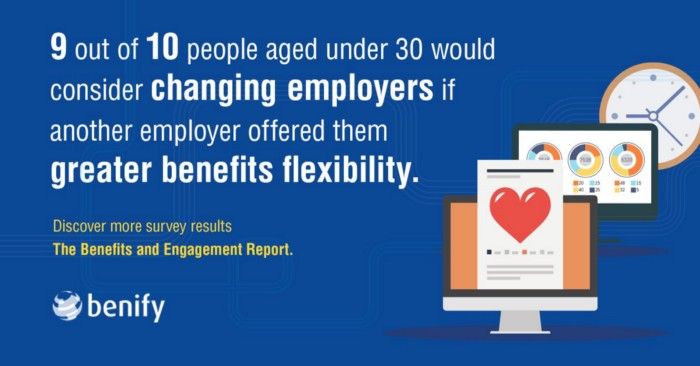 Conventional approaches will stymie creativity.
"Benefits can include everything beyond compensation," Biro said. "There are so many ways to provide them that meet employees' real-life and working needs.
"Small to medium-sized organizations should consider working with an outside service provider to improve the benefits experience," she said. "It's not just the what, it's the how, the where, the when, too."
Biro questions how well employers perceive their workers' benefits experience.
"I often say this: Before you embark on changes, find out," she said. "Take the pulse of your workforce."
A total rewards experience is a valuable hiring and retention tool.
Management should not make employees cherry pick happiness. One benefit that addresses a particular need will not satisfy those with lingering wants in other areas. A bad overall experience will send people out the door to greener pastures.
"So much influences an employee's decision to share an experience — which affects the employer brand for prospective hires," Biro said. "How they're treated is clearly a major factor.
"Consider the isolation, the disruptions, the noise, the pressures of working from home — even for those who love it," she said. "Now balance a moment of happiness, a gesture of recognition against that. It's a big deal."
Full view brings clarity
Employees' satisfaction rests with having the big picture about their benefits.
"When employees only see part of their compensation, other important benefits such as insurance, pension and add-ons are overlooked," Wakely said. "This undervalues the employee's total reward package and wastes money on unused benefits from the employer's perspective.
"In today's competitive job market where companies compete to attract and retain talent, this can make the difference of a candidate choosing one employer over the other," he said. "Knowing what your employees want is essential. Give them the flexibility to choose their compensation package."
He referred to Benify's benefit and engagement report from a survey of 5,000 employees to back up his recommendations.
---
Created by
James L Katzaman
Jim Katzaman is a charter member of the Tealfeed Creators' program, focusing on marketing and its benefits for companies and consumers. Connect with him on Twitter, Facebook and LinkedIn as well as subscribing here on Tealfeed.
--- ---
Related Articles