The State of Technology and Design in the Post-Covid World
People will go back to socialise but online experiences are here to stay
Firstly, let's define Product Design as a discipline and learning environment that cultivates exploration and creativity. It covers a wide area, from digital product development to innovative device design and user experience design.
Always with a defined human-centred perspective on every problem to be solved and product to be built.
Secondly, let's make a quick recap of what happened in 2020 (like if you need it). The Covid-19 pandemic disrupted our lives, infecting millions of people (including myself) and killing millions.
Tough decisions were made by governments around the world while waiting for the vaccines to be developed and distributed.
Multiple enforced lockdowns together with the shutdown of entire commercial sectors and the increasing uncertainty have been taking a toll on both, our health and our economies.
Millions of businesses around the world had to close their doors from one day to another and many others (those who could) had to move their entire system to the digital arena in order to survive.
Interestingly enough, in the middle of the chaos and uncertainty triggered by this pandemic, we can see how some sectors have been blooming by this crisis, such as remote working tools and software, e-learning, logistics or contactless technology to name a few.
Others, like the entertainment industry, have been partially affected by being able to adapt and change fast enough to survive. There is a common factor in all this mix: The digitalisation of our economies.
While it is true that this trend was already here long before the Covid-19 crisis, there is no doubt that the situation generated by this pandemic has sped up the social and economic transition into a more digital world.
Based on the above, I have analysed some existing data that could provide us with a sense of what will be the state of design and technology in the upcoming post-Covid world.
People will go back to socialise but online experiences are here to stay
I have no doubts we will be back to socialise as always, there is a strong push back to be expected as our desire to connect with other people will survive the pandemic.
In social terms, history showed us how the Black Plague triggered some important social, cultural and economic changes, that directly and indirectly, led to the emergence of the Renaissance.
Something similar happened after the WWI and the last century pandemic, which led to the "Roaring Twenties", a time marked by Swing, Jazz and Blues, followed by new vibrant art styles like Surrealism and Art Deco.
However, it will be naive to think that because it happened in the past, it will happen again without a more in-depth analysis of the world as it is today, these times are different in many ways and while many of us can't wait to go out and live the best of our lives again, we also have -thanks to technology- gained a new sense of independence from physical spaces.
We will be willing to go to new places to explore, socialise and have fun, but we will be more demanding in regards to our working environments, our life-work balance and the use of our time.
How does this translate into the digital experiences of tomorrow?
Remote working solutions will lead the way with new Cloud integrations allowing us to store and share a variety of files while on a call. Simpler interfaces and a reduced number of steps to set up a video call is to be expected.
This could happen thanks to cross-platforms integrations, where the focus will be on establishing and maintaining communication rather than on what tool or system we are using for this.

Image: Skype
We can expect to have more digital assistants that will help us work more efficiently. This can represent an important leap forward on the Voice User Interface experiences. Making them more friendly, intuitive and with a reduced learning curve.
Specifically designed to keep us away from wasting time when performing repetitive tasks.
Get used to A la Carte Content and the subscription model. I also like to call this the "Netflix model". From international conferences and film festivals to art museums, booking your gym classes, some doctor appointments and even groceries shopping.
While we will still go to many physical spaces to do things as we used to before, the numbers won't be the same and the virtual options will remain to fill the gap. This will translate into increased use of the subscription model and the 'Netflix format' to consume content and carry on with our lives.

Music festivals, tech conferences, movies premiere and concerts will return to the physical format but many will maintain the online version as a "Lite" version and a more affordable option to enjoy these events.
Leisure Tourism will have a strong come back together with more digital experiences than ever. This will translate into an online booking growth, driven by a highly competitive digital landscape, increase in internet penetration and more user-friendly apps that will serve you as a travel companion rather than as a one-time purchase service.

According to a new report published by Allied Market Research, the deployment of travel bots is expected to continue to gain high traction among the leading players operating in the leisure travel market.

This landscape is quite different for the business travel sector. According to Bruno Despujo, Oliver Wyman's global hospitality and services sector leader: "We expect a long-term contraction of as much as 10% in business travel overall as employers and employees become increasingly comfortable with doing business over video-conferencing apps."
Education will be transformed forever. The line between online and offline education has become blurry. This is leading towards a more hybrid system where the e-learning alternative will become part of any conventional educative plan. In some cases, we can see this becoming the primary and preferred method.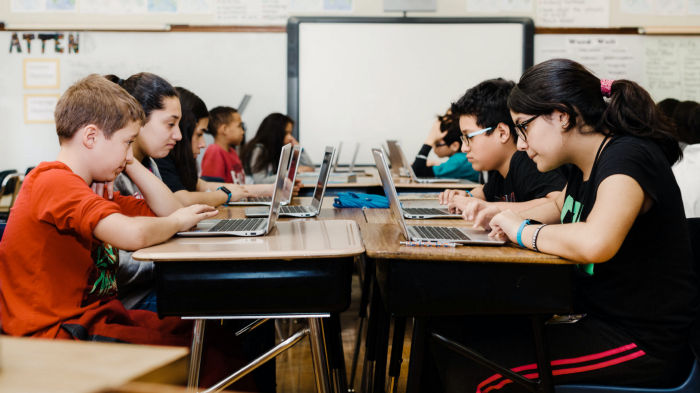 Whitten Sabbatini for The New York Times
This will represent both a challenge and an opportunity for educators and students around the world. From a user experience perspective, we can expect to see new tools arising on the e-learning interfaces, incorporating new digital control mechanisms when taking exams, and a transition into digital timelines and calendars to keep track of the deadlines. Video-calls and chat interfaces will be embedded as part of any new learning experience.
Data management options will seek more transparency and security. As stated in my previous article The End of the Engagement Era in Tech:
"While we see how problems arise triggered by the use of social media and digital products, we are also starting to see different initiatives that could build the path to possible solutions and mitigate the effects of an engagement focus world."
The change of the public perception about the use of our time, together with the rise of mental health awareness could push digital platforms towards a different model. A subscription model could be a preferred method by many in exchange for more transparency and to avoid giving away their data.
More focus on Ethical Design will take place, together with new and innovative ways to fight misinformation, 'fake news' and 'dark patterns' in design. Credibility and transparency will be important values pursued by many online companies, and this will be reflected in the way we design future interfaces.
A healthy disclaimer
The acceleration of the digital transformation taking place nowadays as a result of this crisis leaves no doubts about an even more favourable scenario for digital products in the close future. The User Experience as a starting point will play a primary role in the post-Covid world.
I believe that this, together with a wider public awareness on health issues and our shift towards more sustainable and healthy habits will shape the products we design from now on. Of course, everything mentioned here could be disregarded if some of the challenges awaiting us in the future delay considerably the economy recovery or if an economic or social 'Black Swan' event takes place. In that case, the state of tech and design will be the least of our problems.
More than a list of predictions, the points above are observations made based on pre-existing data. I don't aim to be some sort of tech Nostradamus, neither do I expect all of these points to become a reality. I am conscious that every perception is subject to the stand-point of the observer, so this article -like any other- comes with a clear bias and an enjoyable dose of naive optimism. Please use at your discretion.
Thank you for reading! 😊
This article was written with Writty.
---
--- ---
Related Articles