Stop Studying Your Hustle and Start Hustling
All your ideas may be solid. But you have to EXECUTE on them for them to matter.
"I just need to learn ___________, in order to for me to ___________, then things will really take off."
Does that phrase sound familiar?
Whatever you fill in the blanks, the outcome is still the same.
If you delay on your business/side business, skill development, or hustle, you will find yourself in perpetual learning mode only.
All your ideas may be solid. But you have to EXECUTE on them for them to matter.
I have gone through several analysis paralysis phases my whole life.
When I was an apprentice steamfitter, I thought I needed to know a piping system's entire breakdown to take it apart. It wasn't until I was a journeyman I realized l don't need to know everything to act; just the basics, safety aspects, and for the most part, working within a team structure.
With those components, I would achieve success. I learned so much in the act of taking apart the piping system in 2 hours than I did reading months of trade modules.
Or when I was in the process of buying my first property, I thought I needed to know everything about real estate. However, I learned so much more by viewing properties and talking to several realtors than I did from learning alone. The result was purchasing a place I wouldn't find on my own.
Or when writing articles and trying to figure out different literary styles and aspects, instead of creating content and learning and adapting along the way.
The list goes on.
"A man of decision cannot be stopped, but a man of indecision cannot get started!"
It wasn't until the last few years I thoroughly understood this lesson. I always thought I needed to know more before I acted.
I learned from reading General Colin Powell's Autobiography "My American Journey," where he stated:
"Generally, you should act somewhere between 40% and 70%, as I call it. Sometimes after you have obtained 40% of all the information you are liable to get, start thinking about making a decision. When you have about 70% of all the information, you probably ought to decide because you may lose an opportunity in losing time."
Yes, there are times when you need to bide your time; However, most times, action cures all or at least bring you closer to a solution, where you go from theory to practice.
One of the most insidious procrastination habits is setting the stage to work and getting caught in endless preparation.
Nothing wrong with being prepared, but if you spend too much time watching instructional videos on techniques, endlessly engaging in "how-to" articles, you might get overwhelmed and become afraid to act (analysis paralysis) and run out of time to actually work, which in itself becomes a problem.
Simply put, there comes a time when you have to stop studying and start doing.
Yes, podcasts, Youtube videos, and the myriad of free and paid resources are beneficial. Still, the one caveat is it might become easier to spend more time learning about others' successes than actually working towards your own.
It won't be easy. It will be a significant challenge, but if you genuinely want it, then it is worth your while.
Take action.
Learn on the go.
Experiment
Test and analyze.
Keep on repeating.
If you take anything from this article, study the pic below from Arnold Schwarzenegger.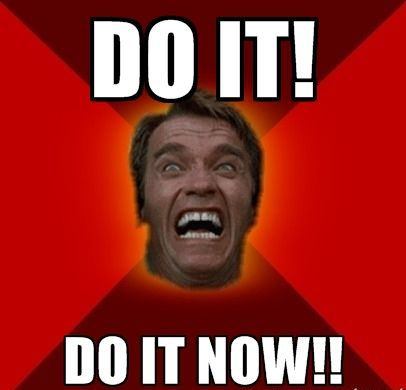 Thank you for reading.
Take Care
---
Created by
Teronie Donaldson
Writer | Motivator | Reading Habits Coach | Content Creator. Around Me, Everyone Wins!
--- ---
Related Articles