Make sure your local news isn't a propaganda factory in disguise
Here's why that matters.
"Pink slime" publishers masquerading as local news are expanding their footprint. Here's why that matters.
Remember when local newspapers ruled the world? You trusted them because they didn't just serve your community. In a sense, they were your community.
But things have changed. Now, you better double-check who's behind your news. Because your local news might not be so local.
America's local newspaper is (still) dying, and plagued by all of the same issues as a decade ago, only the denial has since been replaced by a begrudging resignation.
Hedge funds are buying local papers like pandemic America buys toilet paper, squeezing them for revenue, and essentially "strip-mining" them for resources, as Margaret Sullivan calls it in her new book, "Ghosting the News."
Since 2004, over 2,000 American newspapers have closed up shop, ushering in the creation of the term "news deserts," or entire counties with no local news outlets at all.
The demise of the local newspaper has accelerated the shift in how we consume media. Now, it's increasingly online, with social media networks playing a major role in which stories actually show up in our feeds. And with that shift has come an unprecedented rise in misinformation and a collective media literacy that has not kept pace.
While most local news establishments seek to earn revenue by earning the trust of the residents they serve, many digital publishers earn revenue via clicks and page views, which, depending on the integrity of the publisher, can incentivize them to crank out as many spurious headlines as possible.
But that's where it gets really ugly.
It's not just that America's local newspaper is dying. It's about what it's leaving behind.
When it comes to trust, local newspapers continue to outperform their national counterparts — even now. It's no wonder when you consider that local newspapers produce more original stories than TV, radio, and digital combined.
And that very trust — built by local news institutions over the course of decades — is now being harvested and transplanted into known peddlers of misinformation.
I'm talking about "pink slime" publishers, the hyper-partisan outlets masquerading as local news organizations. An investigation by the Tow Center for Digital Journalism at Columbia Journalism School has discovered at least 450 websites in a network of local and business news organizations, each distributing thousands of algorithmically generated articles and a smaller number of original reports.
So not only did local newspapers leave a gaping void. But that void's being filled by the very institutions whose methods and objectives directly undermine those who built that trust.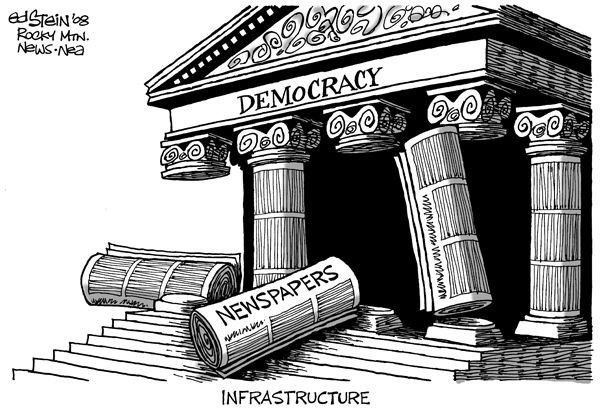 This cartoon by Ed Stein of Rocky Mountain News depicts the consequences of a crumbling news industry. Ironically, Rocky Mountain News was one of the casualties, ceasing publication in 2009. (Photo courtesy of Pinimg)
There are still local news publishers — real ones — out there. But their numbers are in steep decline. And the funds for their bombshell investigative reports on which our democracy depends, are drying up.
With known purveyors of misinformation now capitalizing on the vacant trust left behind by the countless deceased local dailies, the issue suddenly becomes ten times more serious, and the potential consequences at least that much more damning.
So what can we do about it?
For one, support real local news. They're the ones sitting through city council meetings, tracking down minutes, pressing government officials, and incessantly pestering those with the information the public deserves to know.
And two, make sure that local news you're reading is actually local. Not sure? Download the Our.News app or browser extension to see who's really behind your news.
The Our.News platform has more than 1,250 "problematic publishers" — including the aforementioned 450-plus — flagged with a special label, to help you more consciously consume the news.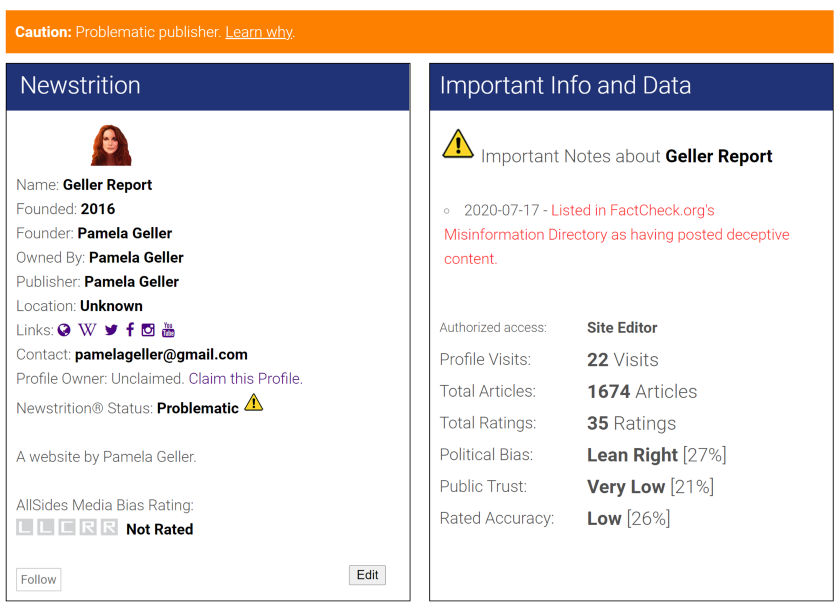 "Newstrition" labels provide everything you need to know about a news website, including publisher info, when it started, whether it has a history of publishing false information and even public ratings.
Lastly, if you see fake news or misinformation, say something. You can use Our.News to label content as "clickbait," "junk," or "misleading," to name a few.
That way, other news consumers who browse that same content may be more inclined to think twice about what it is they're reading.
If we can do that, then we can collectively weaken the fake news industry and give more power to ourselves and those in the unheralded business of truth-telling.
---
Created by
Jared McKiernan
--- ---
Related Articles