Telemedicine App Development: How to Build a Doctor On Demand App
Learn how to build a telemedicine app by looking at the market, development process, examples, challenges, and costs.
Today, you can order anything on demand, from food to taxis to personal trainers and even doctors. While the first three on-demand services have been popular for some time, on-demand consultations with doctors became a thing not so long ago. Telemedicine has attracted lots of interest from clinics, doctors, and patients. In 2020, the global telemedicine market saw revenue of $55.9 billion according to Grand View Research.
We're going to talk about how remote care can address problems of access, quality, and cost in delivering healthcare services. We'll also give an overview of the telemedicine market and share the ins and outs of doctor on demand app development.
What is a telehealth app and what problems does it solve?
A telemedicine app lets patients consult with doctors remotely. Take MDLIVE as an example. This telehealth mobile app works 24/7, letting patients choose doctors and talk to them by phone or video. Another great example is Amwell, a healthcare app that allows users to choose a doctor and have a video visit with them. Doctors can then send prescriptions right to the patient's pharmacy.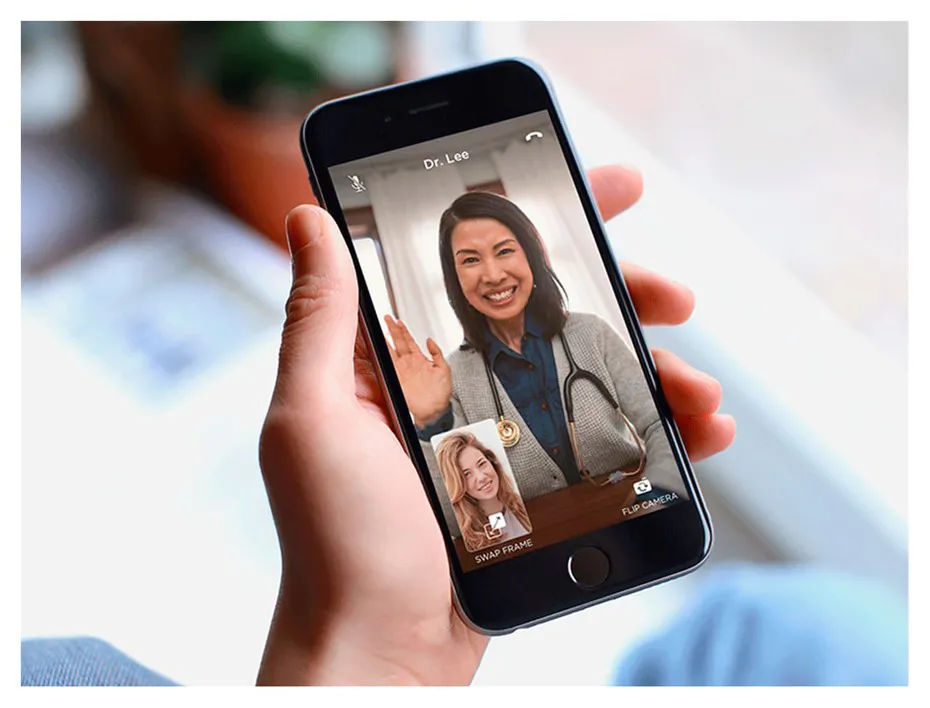 Why is telemedicine so important? Because it fills the gaps in healthcare.
1. Barriers to health services in rural and remote areas
People living in rural and remote areas experience poor access to a variety of medical services. According to a report on healthcare in Australia by the Australian Institute of Health and Welfare, a major barrier to seeing a specialist is not having one nearby. With telemedicine, rural patients don't need to travel long distances to access health care, instead having virtual visits with doctors.
2. Limited access to healthcare for elderly and disabled patients
Elderly patients and those with disabilities may have difficulties accessing hospitals. With telemedicine, anyone can access care from the comfort of their home. All patients need to do is choose a healthcare provider and book an appointment for a suitable time.
3. Problems with patient monitoring
If integrated with an EMR (electronic medical records) system, a telemedicine app offers healthcare providers real-time access to patients' health data. Thanks to this, doctors can monitor patients on the go and provide advice when health indicators worsen. This is particularly important for patients with chronic diseases.
4. Long waits for appointments and long travel times
Patients no longer have to travel long distances to access medical care and wait at a doctor's office. With telehealth technologies, patients can meet with a doctor right away or schedule an appointment for a precise time.
A snapshot of telemedicine in 2019–2021
Before we go into detail about must-have features of a doctor on demand app, let's look at the telemedicine market to understand what attracts patients and doctors to telehealth technologies and see the current state of virtual care.
Physicians who have used telehealth say they have seen:
better patient access to healthcare (93%)
increased productivity (77%)
cost reductions (71%)
better patient-doctor communication (71%)
improved relationships with patients (60%)
According to American Well's Telehealth Index: 2019 Physician Survey, the willingness of physicians in the US to have a video visit increased from 57% in 2015 to 69% in 2019, and the number of physicians feeling unsure about telehealth decreased from 31% to 20%.
Among the major reasons why physicians are willing to use direct-to-consumer (DTC) telemedicine are to:
improve patient access to healthcare services
have a better work-life balance
attract and retain patients
improve patient outcomes
be at the forefront of medicine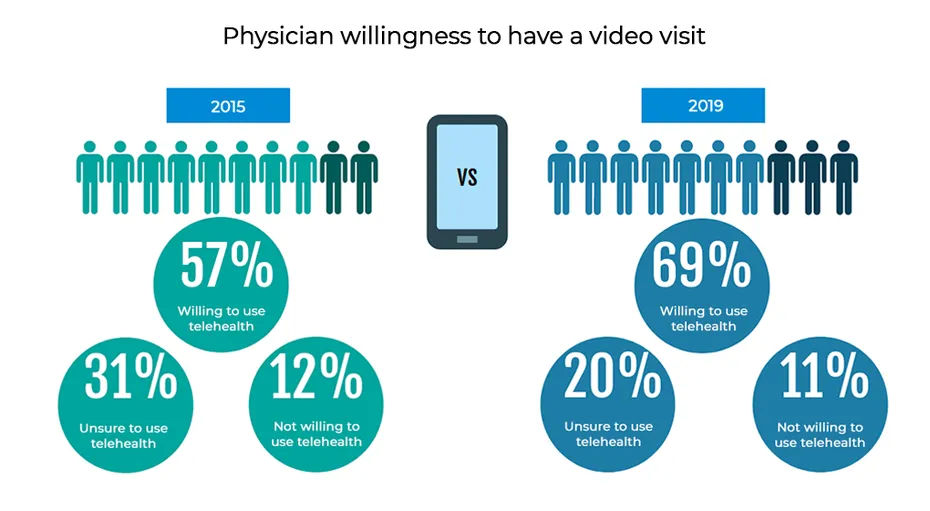 Yet there's a big gap between willingness to use and actual use. As statistics show, only 22% of physicians used virtual visits to connect with their patients in 2019.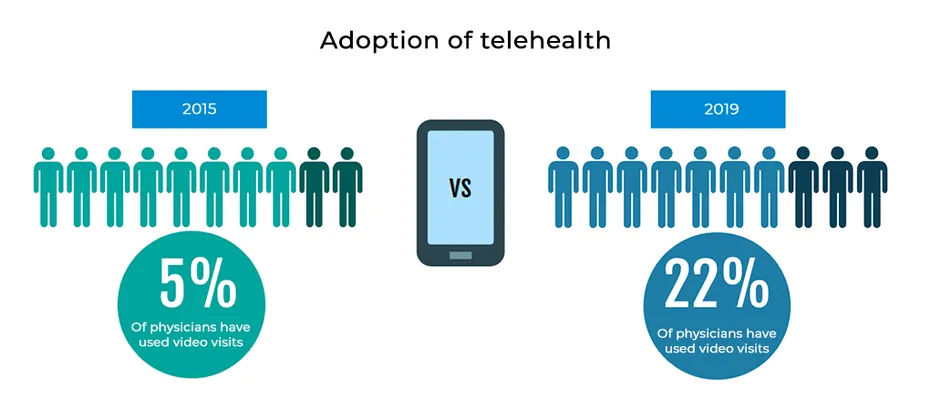 Among the top barriers to telehealth are:
Uncertainty about reimbursement. To address this concern, the US Centers for Medicare and Medicaid Services (CMS) have suggested that Medicare Advantage plans cover telemedicine services. Additionally, 48 states provide doctors with reimbursement for telemedicine services via the Medicaid fee-for-service model. Lots of states also require insurers to provide telehealth.
Clinical appropriateness. Some doctors are worried that clinics aren't equipped for telemedicine. Therefore, some medical establishments take actions to ensure clinical quality is upheld during telehealth visits. Take the Cleveland Clinic as an example. They reviewed the quality of virtual visits, developed templates so physicians can fully document their virtual visits, and established guidelines on antibiotic appropriateness to ensure that quality standards are maintained when providing remote care.
Concerns about quality of care. Medical practices need to ensure that healthcare quality is maintained throughout telehealth visits.
Poor buy-in. Some doctors believe telemedicine visits will replace face-to-face visits and will provide poor quality of health services. Avera Health, a regional health system in South Dakota, deals with doctors' resistance to adopting telemedicine through informative write-ups and in-person meetings.
Lack of support from hospital leadership. Leaders can contribute to successful telehealth adoption by physicians. When leaders show support, physicians are motivated and are quicker to adopt telemedicine visits. American Well saw this problem and started working with clinical leadership to develop strong support for telemedicine services.
The COVID-19 situation led to a larger spike in telemedicine adoption. Below are some interesting statistics to prove this:
Features to include in your telemedicine app
To better understand what features to include in your virtual visit app, let's take a look at a typical user journey in a telemedicine app.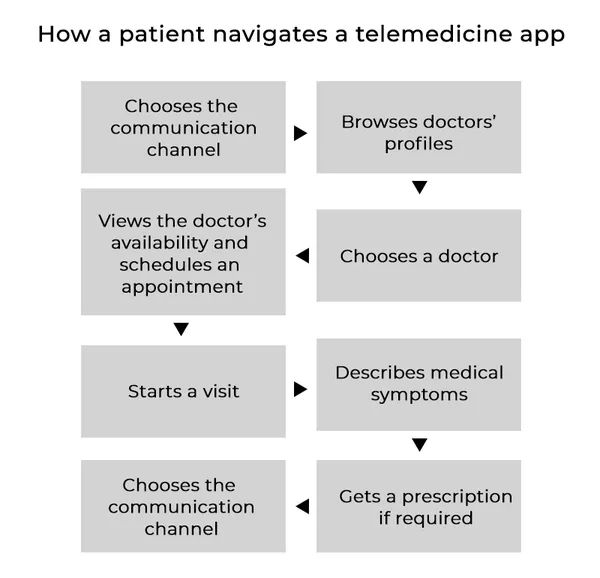 Apps differ, and so do their user journeys. For example, the user journey in the Doctor On Demand app is a bit different from the one we've just described. Here's how a user interacts with Doctor On Demand:
Lists symptoms
Shares their medical history
Starts a visit
Shows symptoms to the doctor using their phone's or iPad's camera
Gets a prescription
Now that we know how a patient navigates a telemedicine app, we can outline the main features of an app for patients.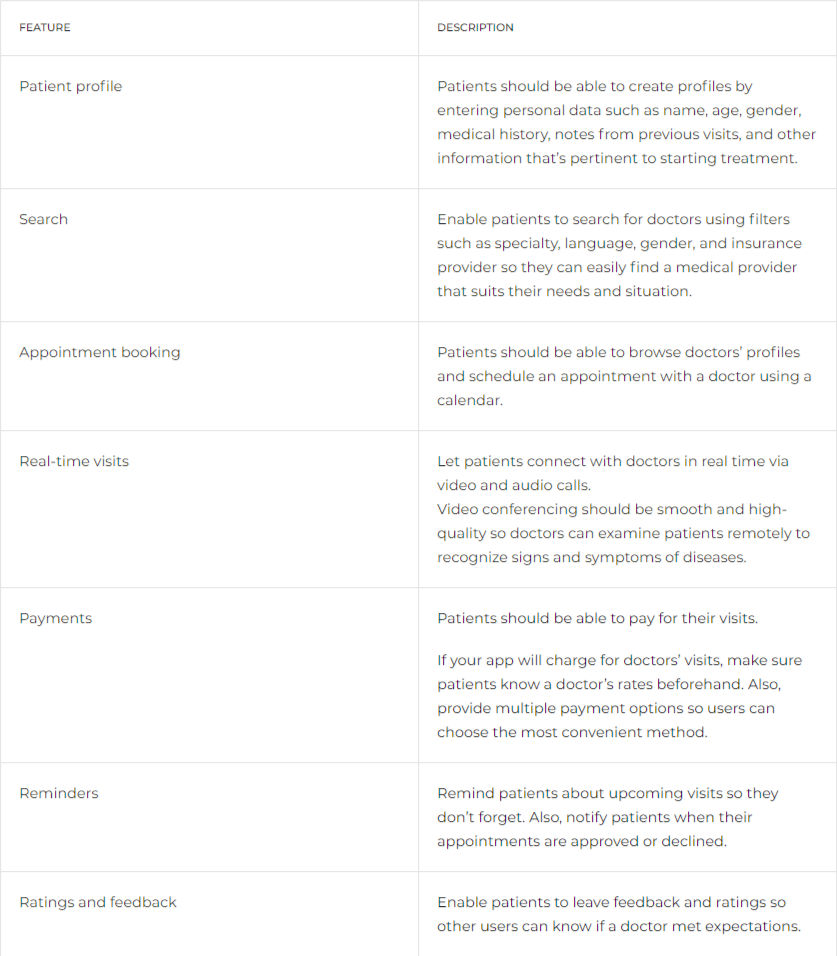 What about an app for doctors?
As for the doctor app, the user journey looks like this: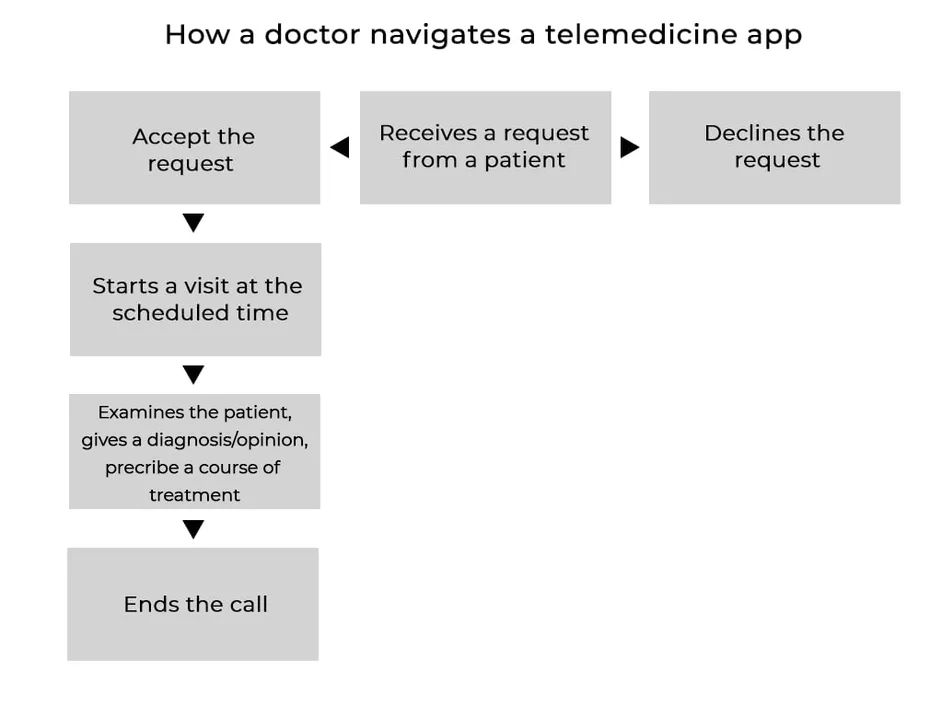 Based on the user journey we've just outlined, let's highlight the main features of a telemedicine app for doctors.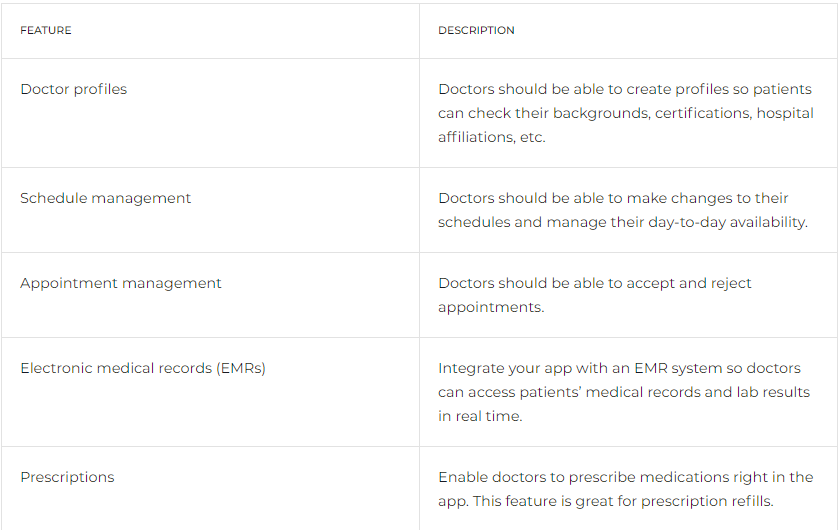 Top telehealth mobile apps
Where can you get ideas and inspiration for your doctor on demand app? From the top telehealth apps, of course. We browsed the top telemedicine apps and singled out the three most interesting.
Doctor On Demand
Doctor On Demand is a telemedicine app that's available in the App Store and on Google Play. This app offers services such as urgent care, behavioral health, preventive care, and chronic care. With Doctor On Demand, patients can connect with board-certified doctors via video, list symptoms, share medical histories, get prescriptions, and share Apple HealthKit data with care providers (using the iOS app).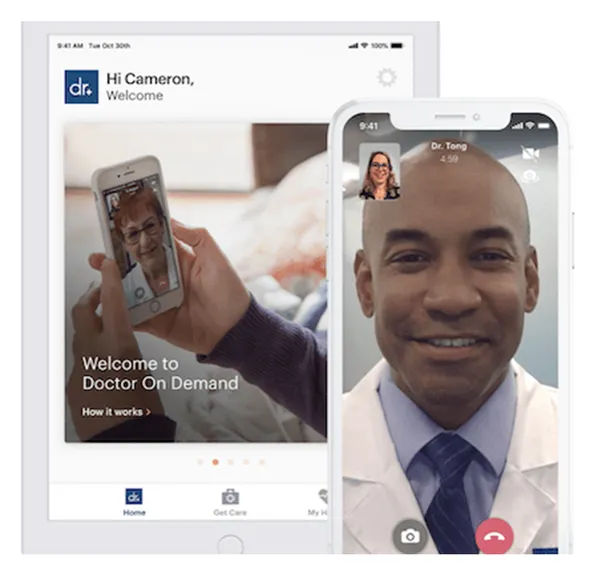 Medici
iOS for patients | iOS for doctors | Android for patients | Android for doctors
Medici is a HIPAA-compliant app that enables doctors and patients to connect. With Medici, patients can have virtual visits with doctors, veterinarians, and therapists through audio, video, or text chats, receive lab results, referrals, and prescriptions, invite doctors to the app, share HealthKit records with providers, and participate in group chats with doctors. Doctors can prescribe medicine, set rates and get paid, manage schedules, chat with peers, create group chats, and keep track of earnings.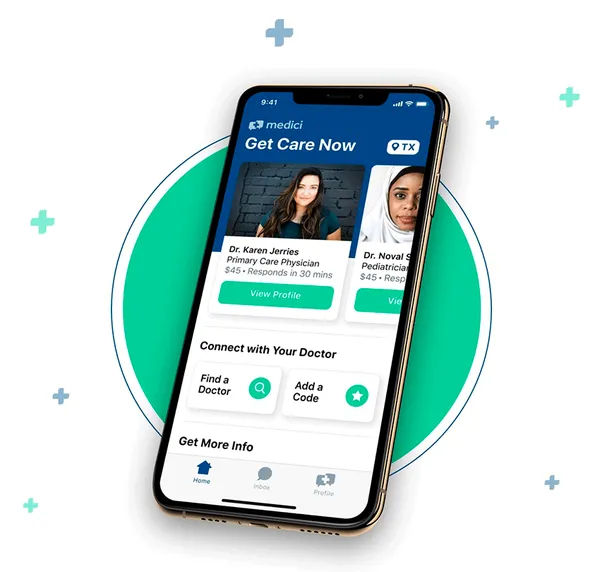 MDLIVE
MDLIVE is a US-based telemedicine company founded in 2006. The MDLIVE app connects patients with doctors through phone, tablet, and PC and offers help with over 50 routine conditions including allergies, colds, fever, cough, and respiratory problems. MDLIVE also provides virtual consultations with psychiatrists and dermatologists. When clinically appropriate, MDLIVE sends a prescription to the nearest pharmacy.
The app charges patients for every consultation:
$75 for urgent care visits (can be less depending on the insurance plan)
$99 for counseling
$259 for a psychiatry appointment for new patients and $99 for a follow-up visit
$69 for a dermatology appointment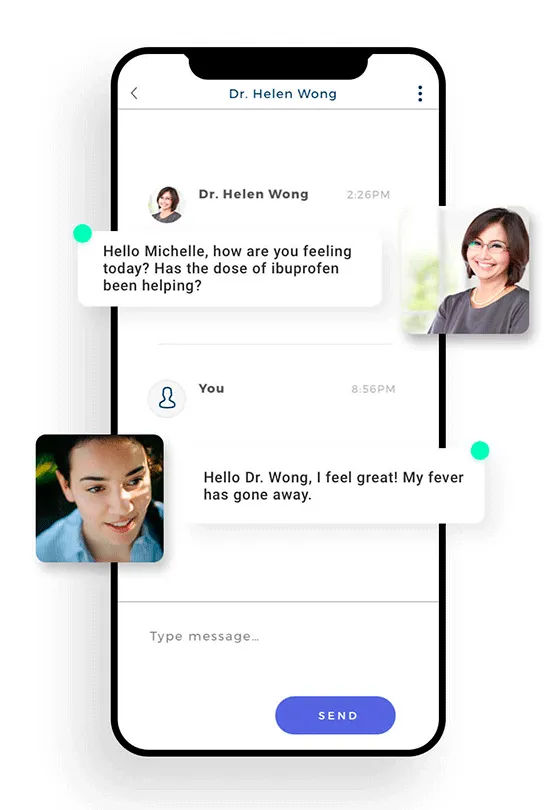 How to monetize a doctor on demand app?
There are different ways to make money from health apps. In late 2019, the five most popular monetization strategies included video ads (89%), in-app purchases (68%), display ads (35%), paid installs (17%), and native ads (13%) according to Statista. Another statistics show that subscriptions, freemium, and in-app advertising generated the most revenue in 2019 according to UK and US developers.
Speaking specifically about how healthcare apps are monetized, Research2Guidance outlines the following monetization strategies:
Licensing (35%)
Sales of services such as remote consulting (26%)
App development for third parties (25%)
Sponsorship (24%)
Premium content (18%)
Pay per download (16%)
Device sales (16%)
In-app advertising (10%)
Transactions (8%)
There are several popular monetization models among established apps:
Membership ― Users pay a monthly or yearly fee to use the app. Myca Nutrition uses this model.
Transaction fee ― The app charges patients a service fee for every visit or charges on a per-minute basis. This is what Pakistan-based TeleDoctor by Telenor Group does. The platform charges patients $0.08 for each minute. Doctor On Demand, on the other hand, charges patients a 25% fee for every consultation.
Software as a service ― License the app to private practices. The best examples of this model are American Well and Doctor On Demand. The latter charges hospitals nearly $1 a month for each employee.
If you're interested in more information on how to make money with a medical app, read our article on 7 effective monetization strategies for medical mobile apps.
How much does it cost to develop a telemedicine app?
How much does a doctor on demand app cost? This is a difficult question to answer. There are multiple factors that influence the cost of app development, from features to design to agency rates. But we aren't here to leave you in the dark, so we'll give you an example of a telemedicine project we built and show you how long it took us to develop.
One of our recent telemedicine projects for the Malaysian market enables doctor–patient communication using mobile devices. Before starting development, we researched target users and found that Malaysian physicians prefer tablets to smartphones, as tablets allow doctors to better see patients during video calls, view scans, and type. Therefore, we created two native iOS apps: one for doctors, who use iPads, and another for patients, who use iPhones.
The app for patients features:
Symptoms list
The ability to follow doctors
Virtual visits through messages, audio, and video
The ability to upload clinical information such as medical reports, CT and MRI scans, X-rays, and immunization records
Payment functionality
E-prescriptions and medication ordering
Blog
The doctor app, on the other hand, allows doctors to store patient health records, manage schedules, and get paid for appointments.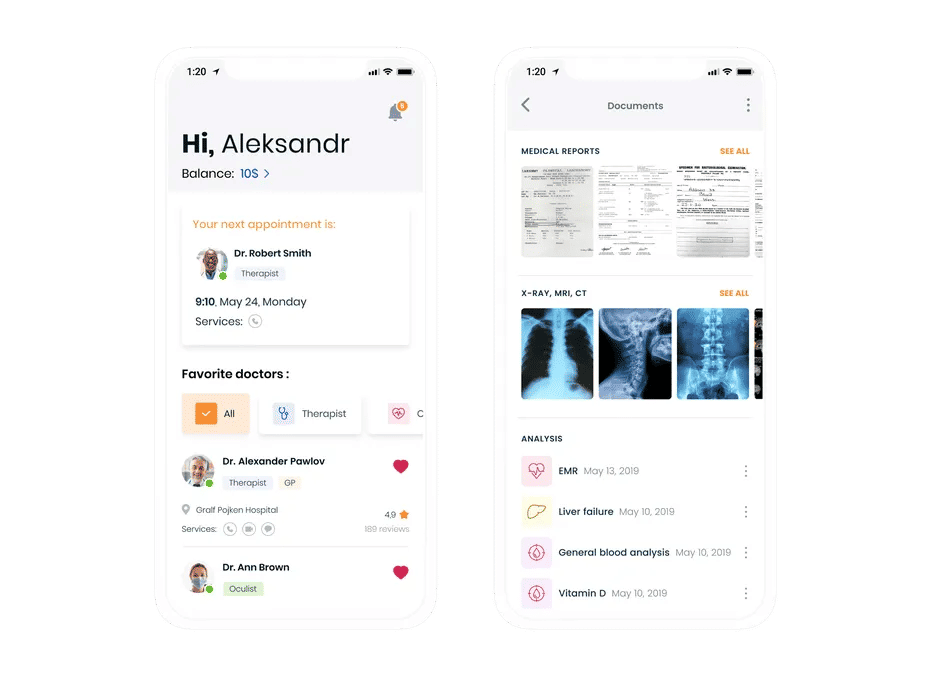 In total, this project took us 2,246 hours to build:
UX: 170 hours
UI: 207 hours
Backend: 810 hours
iOS: 895 hours
Quality assurance: 98 hours
DevOps: 66 hours
If you're interested in more information about this project, read the full case study. We also suggest you read our guide to how much it costs to make an app for a better understanding of factors affecting development costs and find out the approximate time required for developing individual features.
Interested in doctor on demand app development?
If you have an idea for a healthcare mobile app startup and are looking for a development partner, we'd be happy to help. Feel free to contact our sales team for a consultation. Meanwhile, we suggest you read the following articles to make sure you know how to build a secure medical app and keep it legal:
---
A strong team of software engineers, designers, quality assurance specialists, and project managers
--- ---
Related Articles