Textbooks required for classes should be available to students for free through libraries or the internet
The last month in my school is required textbooks be available to all students for free either through libraries either on internet. I totally agree with the above suggestion as I am a student that prefer to read any kind of books either in libraries either as textbooks on internet. I believe that students should have the opportunity to read textbooks for free because most of them don't have the money to buy school books because are so many and cost a lot. I am a person that I believe in free ed
---
Anthi Mastrogiannaki
9 months ago
|
2 min read
---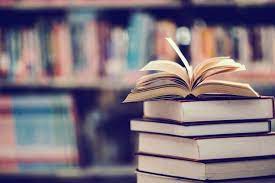 The last month in my school is requiredtextbooks be available to all students for free either through libraries eitheron internet. I totally agree with the above suggestion as I am a student thatprefer to read any kind of books either in libraries either as textbooks oninternet. I believe that students should have the opportunity to read textbooksfor free because most of them don't have the money to buy school books becauseare so many and cost a lot. I am a person that I believe in free education and Ithink schools have to give books to schoolmates without a pay. I also believethat search a textbook on a library or on internet is a good option for theschoolmates to find academicals information. This option may increase thecreativity of a schoolmate.
Some teachers believe that the available freetextbooks to students may create a lot of problems in school system. They alsothink that buy a student his/her textbook is made more easy from school tofight its everyday problems as difficult economic situations. My opinion isthat the above suggestion is totally wrong. If a school system requires from its students to buythe textbooks, increase the separation between them. I also believe that thestudents of each school have to be friendly on each other if the school wantsto follow the right rules.
As a universitystudent myself, I enjoy to research new academic or literature books becausethis situation increase my creativity and to sharpen my mind. Two years ago I finishedmy BSc project and between this two years I complete the exercises of the lasttwo lessons and now I wait the ceremony to get my BSc degree. As you think I amvery exciting about this. But this not the subject we are talking about.
Free textbooksalso help students with bad economic situation to take part in educationalsystem and more students may have the opportunity to finish school and reach inan academia University. The above may decrease unemployment and increase thecommunity situation of adults. When someone finish an academia Universitybecome more recognize and earn more opportunities in his/her life.
As can we readfrom the above free textbooks through the libraries or the internet have moreadvantages to students than disadvantages. If the educational system want tohave more opportunities to its students has to prefer free textbooks. With thisthe student earn more education and become useful in society he/she belongs.
---
Created by
Anthi Mastrogiannaki
Student of Agriculture. Hellenic Mediterranean University of Crete
--- ---
Related Articles