Think, feel and live it
Albert Einstein's quote is a perfect ending to this article today, "There are only two ways to live your life. One is as though nothing is a miracle. The other is as though everything is a miracle."
---
FRANCO CIANFLONE
5 months ago
|
4 min read
---
"Life is full of beauty. Notice it. Notice the bumble bee, the small child, and the smiling faces. Smell the rain, and feel the wind. Live your life to the fullest potential, and fight for your dreams." - Ashley Smith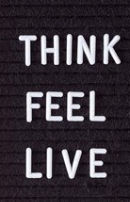 "I feel that there is nothing more truly artistic than to love people. " - Vincent Van Gogh

"Feeling gratitude and not expressing it is like wrapping a present and not giving it." - William Arthur Ward
A grateful, expressive attitude creates positive energy that attracts abundance and wealth regardless of what has happened in the past.
If you want to be, do, or have more of everything, the key to the lock is gratitude. Surround yourself with more people that have this key.
Gratitude opens the funnel of life and unleashes the creative process in each one of us.
For some, it has been dormant for many years.
At times, we fail to appreciate all the gifts that have been given to us unconditionally.
Essentially, we take them for granted. When this happens many of the present moment gifts go by the boards unnoticed.
However, gifts of gratitude are all around us.
From time to time, we might have uneventful days that are filled with the what if questions.
Suddenly as if from left field someone pops up with a lung machine or other handicap that causes us to wake up and appreciate what we already have in our lives.
The physical eye always triggers perception.
However, perception without acute awareness and based solely on conjecture is not sound.
Conversely, the God Power of Gratitude consciousness allows us to receive even more blessings in our lives.
These blessings do appear in the form of disappointments, failures or unfortunate events.
They are in disguise.
Utilizing this spirit of gratitude will create the true blessings without the disguise as the inner eye of understanding supersedes our physical eyes.
It is this God Power of Gratitude consciousness that allows us to receive even more blessings in our lives
A glass filled with dirt and water will remain intact until more clean water is poured into the glass and ultimately the water becomes clearer and clearer.
Gratitude works in the same way.
A more grateful attitude increases the flow of more blessings and the funnel becomes open and flowing with abundance and wealth.
The trick is to live in a spirit of expectation and gratitude most of our 86,400 seconds of each glorious day.
I wrote the song Gratitude in 2018 and the music is a reflection of the words above.
Enjoy, as the best is yet to come.
Gratitude
https://www.youtube.com/watch?v=Cuu1t2YPwoo
Think gratitude.
Feel gratitude.
Live gratitude.
Albert Einstein's quote is a perfect ending to this article today, "There are only two ways to live your life. One is as though nothing is a miracle. The other is as though everything is a miracle."
Carpe Momentum.
Yours in success,
Franco Cianflone
1 ON 1 COACHING
Copyright Disclosure
All rights reserved
Copyright 2007
FRANCO CIANFLONE B.Sc. Ed. M. Ed. LSC CS MENTAL TOUGHNESS FOR LIFE Certified Corporate Trainer, Educator, Business Consultant, Author & Entrepreneur. Franco Cianflone is a graduate of the internationally acclaimed Bill Gove Speech Workshop with a Corporate Speaker designation.
His extensive corporate training includes Bob Proctor, Paul Martinelli, and training seminars/sessions with Steve Siebold, John Maxwell, Les Brown, Tony Robbins, Mark Victor Hansen, and many others. He is the author of sixteen books to date and co-founder of Mini Bytes For The Brain.
Fifty years of Education and Business leadership compliments his mission to transform and catapult the results of individuals everywhere on the globe as far as Australia. His life mantra is, "Others will be looking at the fire while you are walking through the fire towards your victory and success."
Easy Listening Music YouTube
https://www.youtube.com/playlist?list=PLWFVnzhyBHbxS7XoC-PUiGSqQZkjyf6ZG
FRANCO CIANFLONE BOOKS
https://www.amazon.com/FRANCO-CIANFLONE/e/B00BJTCK0E%3Fref=dbs_a_mng_rwt_scns_share
FRANCO CIANFLONE LIVE LIFE PODCAST
https://shows.acast.com/franco-cianflone-live-li
COPYRIGHT DISCLOSURE
"All rights reserved. No part of this publication may be reproduced, stored in a retrieval system or transmitted in any form, or by any means, electronic, mechanical, photocopying, recorded, scanning, displaying, modifying, republication, republishing, posting on any website, platform, social media, RSS feeds or otherwise without the prior written permission of the publisher or author." —Copyright 2007, Franco Cianflone Mental Toughness For Life Publication
DISCLAIMER
While the designers, contributors, and author have used their best efforts in preparing this publication, they make no warranty or representation with respect to accuracy or completeness of the contents of this material and specifically disclaim any implied warranties of merchantability, finances, personal or medical remedy for a particular purpose. It is further acknowledged that no warranty, of any kind, may be created or extended by any written sales materials or sales representatives.
The advice and strategies contained herein might not be suitable for your situation and do contain risk including the risk of loss.You should always consult with a financial, medical, or legal professional where appropriate before undertaking any action and users of this material assume all risk. Neither the designers, editors, contributors nor the author shall be liable for any loss of profit or any other commercial damages, including but not limited to financial, special, incidental, consequential or other damages.
---
Created by
FRANCO CIANFLONE
The purpose of this publication is to help as many people as possible all over the planet by providing them with tools that create greater emotional intelligence and thus navigate and live their life more fully. As an educator, author, learning and development specialist, corporate executive, management coach, and professional corporate trainer, I have had the opportunity of working with many professionals, CEO executives, Sales Professionals, and management in varied industries all over the globe. I have also had the privilege of working with many small businesses that are the backbone of any economy, all over the globe with my Peak Performance Training program. These industries have been incredibly diverse such as construction, hospitality, national media, auto, real estate, education, retail, fashion, insurance, communications, government, corporate and more. The best is yet to come for you.
--- ---
Related Articles