Three Most Recent Substack Entries on Twitter Trends Bot
From $1375 to $1479 in < 3 days on our livenet tests, that's 700%+ APY :)
Twitter Sentiment Trends Crypto Trading Bot v2.0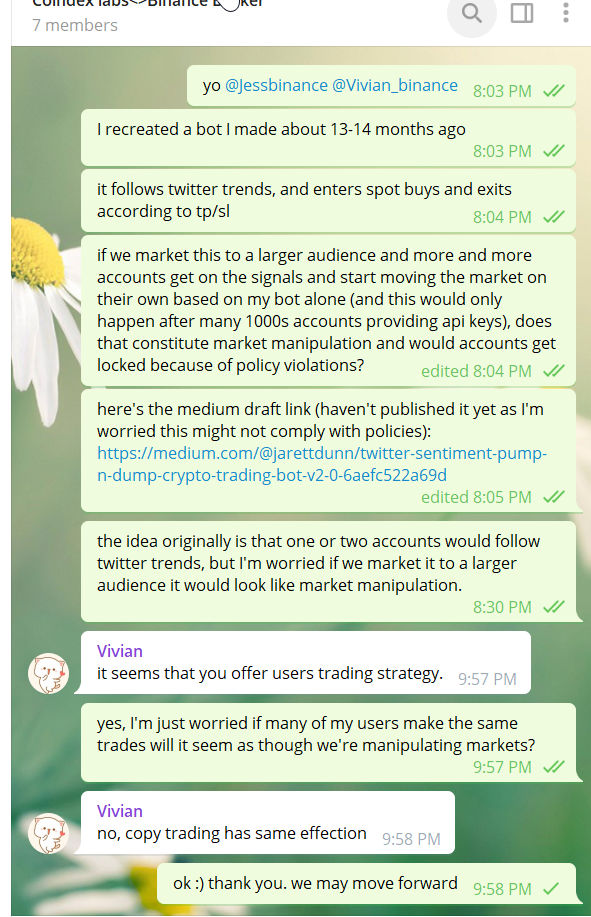 Binance gave us the go-ahead… woo-hoo!
Remember that none of this constitutes financial advice, I'm not qualified :)
After my previous articles — more than a year ago — started trending in Google search results:
https://jarettdunn.medium.com/automated-crypto-trading-bot-to-buy-pump-and-dump-sentiment-signals-from-twitter-430807fe3209
https://medium.com/analytics-vidhya/automated-crypto-trading-bot-to-buy-pump-and-dump-sentiment-signals-from-twitter-f05ebc0549fd
I was approached by my now-partner in this venture (cordially allowing me to retain some IP here) to recreate this bot (and had actually hoped that I'd saved the original one somewhere — no such luck!)
I did so, and changed some of the parameters to be less complex, while introducing newer and fancier features like using Tensorflow to detect whether a potential signal may have indeed just been sarcastic.
Here's some sample tweets, up to n-100th ATOW, that it might have found sarcastic from 2 of our top crypto tweeters:
officialmcafee being sarcastic: Prison cells become sacred spaces. Even when all the doors are open (twice a day for an half hour), no one enters another's cell without invitation (the guards of course may do as they wish).
It's a polite society.
officialmcafee being sarcastic: 266 children under 18 died from CV in the US since it began. 12,000 died from accidents. 95% of all CV deaths were people over 50.
We closed schools and disrupted the most vital element of our children's lives — education.
To protect them?
Really? https://t.co/airPotf1mN
officialmcafee being sarcastic: Prison here is: doing what you're told, keeping to schedules and routines, dissatisfaction and grumbling, and dealing with dangerous, annoying, or meaningless relationships.
Not much different from the average job holder with a family.
officialmcafee being sarcastic: In the chaos of prison — frustration, anger and resentment — there are many who retain what humanity they can.
In passing some smiling stranger may pat my back or gently squeeze my arm in a friendly manner and I do the same.
Compassion can't be taken from those who possess it.
vitalikbuterin being sarcastic: Another is to try some cool ideas at combining anonymity with persistent reputations, eg. see here: https://t.co/CoHRAFFdh6
Basically get the benefits of privacy while still keeping a way to hold people accountable, in zero knowledge.
vitalikbuterin being sarcastic: But back to this situation, the fact that so many people who would normally never support such corporate power are now cheering tech CEOs running roughshod over democratically elected officials deserves some introspection.
I'm not saying they're wrong… just some introspection.
vitalikbuterin being sarcastic: @GrennHouseGas @dirkcryptodiggy @CyborgHumanism I don't even think the vaccines are boring! There's amazing new tech going into them (eg. see https://t.co/ssZyN0N0jj), and much of it is exactly the same tech that I'm hoping in thirty years' time will be doing much more powerful stuff like reversing aging.
Without giving away too too much of the magic, what does this mean?
In terms of backtesting, we used hourly candles to see what prices we (more or less) might have entered and exited a signal, using some risk management settings like maximum % to allocate and TP/SL, over the period of 24 Jan — 21 Feb 2021:

Proving the returns from some good trades (like $ICX! Twice!) as well as current market value for the coins we're in ($ADA) should have been ~11.52%.
Note
Risk only what you can afford to lose and DYOR.
Now
Now we're forward-testing with live balance :)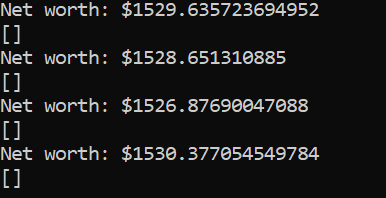 We Need YOU For the Beta Army!
Beta testers will enjoy quicker executions (relatively — based on bid) for the bot's signals indefinitely, as well as access to an instance in the cloud running the bleeding-edge versions of the software.
Considering, when hiring me directly to resurrect this bot from the ground-up, my partner had paid $3000 USD (and most of it upfront) for me to get the algorithms to the point they're at now — signing up as a beta tester
We need people with different aversions to risk to choose their own balance allocation in % or $ per new signal, their own TPs and SLs, minimum thresholds for sentiment scores, and even add/subtract from the list of crypto influencers to listen to signals from.
Express Interest in Beta Testing
While we're still building the bot and testing it in forward markets to verify our theories and backtesting results, we're collecting expressions of interest into the first beta launch here:
https://forms.gle/PiUYxGN8nyAoaei97
NOTE
This is not a proposition for a 'pump n dump' group in the crypto sense. This algorithm trades signals from some of the top crypto Twitter stars — even if we had millions in aggregate equity, we'd only be trading a tiny fraction of the volume that these signals trigger across exchanges. We're simply following the trend — not making it.
Twitter Trends Bot Weekly Update
Tl;dr:
Sporting Sharpe ratios of 9x+, yielding returns of ~70% over 2-month optimized backtests, the strategy seems to be taking shape!
Express interest in taking part in a closed paid beta program once we're ready by following the directions here:
https://forms.gle/PiUYxGN8nyAoaei97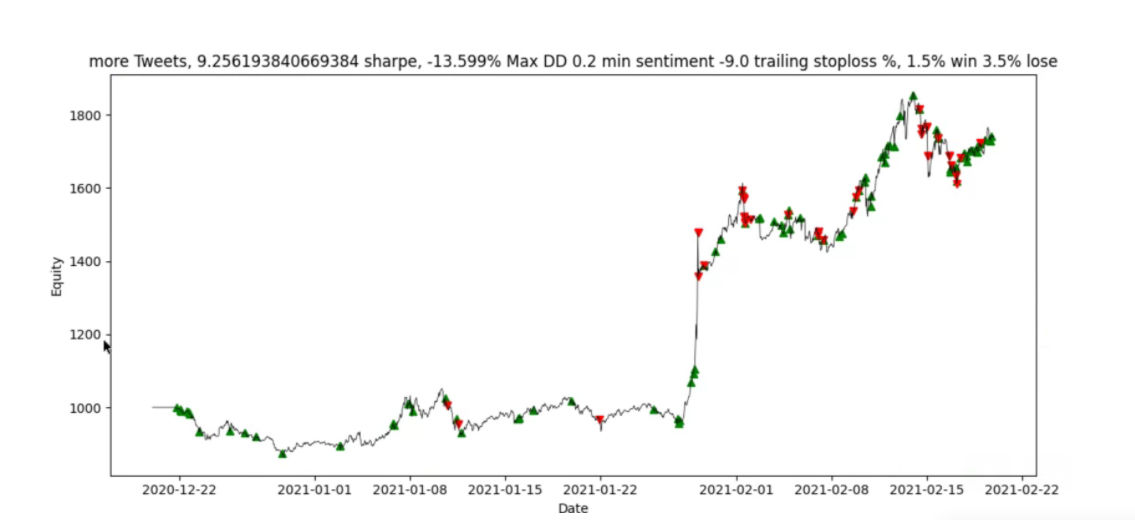 Twitter only allows us to pull the most recent 3200 tweets of individual users from the user timeline endpoint, which limits our abilities to backtest effectively. As you can see in the above backtest, there are far more signals recently than there were a longer time ago.
Have no fear! We're using these settings to forward-test, with a live Binance spot balance, and you can actually watch the balance, projected PnL per day/month and yield in projected % APY for day/month right here:
(give it awhile to load as it's loading historically a few days)

For those of you that have read this far, below the fold - why not share this post :)?
NEW Freemium Tier for Trends Bot
From $1375 to $1479 in < 3 days on our livenet tests, that's 700%+ APY :)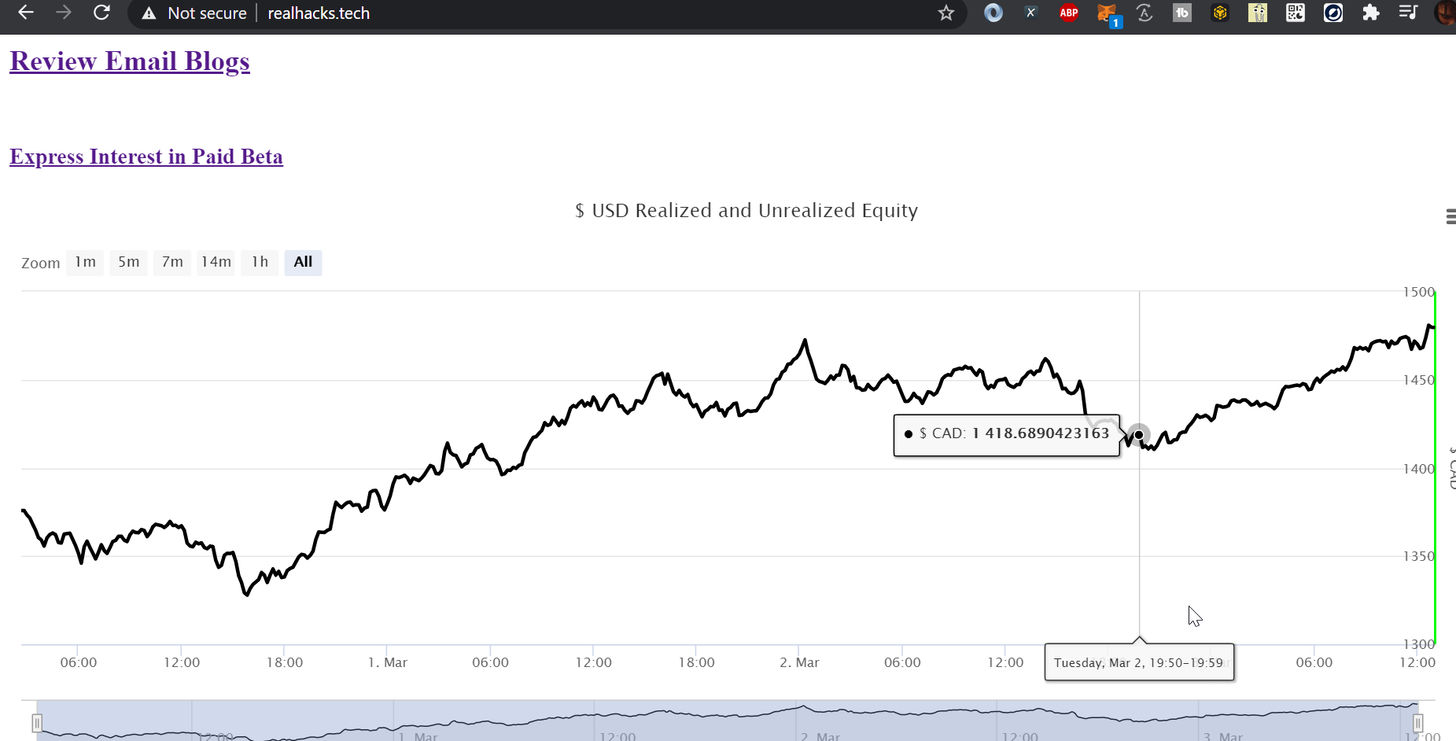 Enter a bid of $0 and MAKE SURE to create a brand new Binance account without a referral link and we'll be able to earn a bit of fees as Binance Broker.
These freemium users will all execute after the paying users, and will enter orders in the sequence in which they were received.
Any bid less than $20/month will be assumed to be a freemium user.
https://forms.gle/XY5rmedf7q6L8MD39
NOTE
DYOR and none of this constitutes financial advice, I'm not qualified.
---
--- ---
Related Articles