Tips for freelancing: how to land great jobs at Upwork
Sales take time
So you've decided to become a freelancer. You've set up a nice profile with a professional-looking picture, sent a couple of proposals, and… Nothing! Nada! Silent hill!
Why isn't anyone writing you back? Have you written enough proposals? Are your proposals good enough to convert? Does it make sense to continue or should you throw a white flag already?
I'll share freelancing tips that helped our agency earn over 1 million in sales at Upwork. And, before you say anything, these tips are also applicable for individual freelancers with no background in sales, and no Upwork history.
Sales take time
First I have to warn you - sales do take time. If you want to succeed in freelancing, you have to accept that you also need to be your own salesperson. I know all you want to do is code, but no clients will magically appear, just because you've created a profile at Upwork.
Be prepared to spend the first few weeks, even up to a month, just searching for jobs and writing proposals. At our agency, if we are lucky, we get 1 contract out of 50 proposals, if less lucky, 1 contract in 100 proposals. The good thing is that this contract can feed you for the following months (maybe even years) and you won't have to sell again for a long time.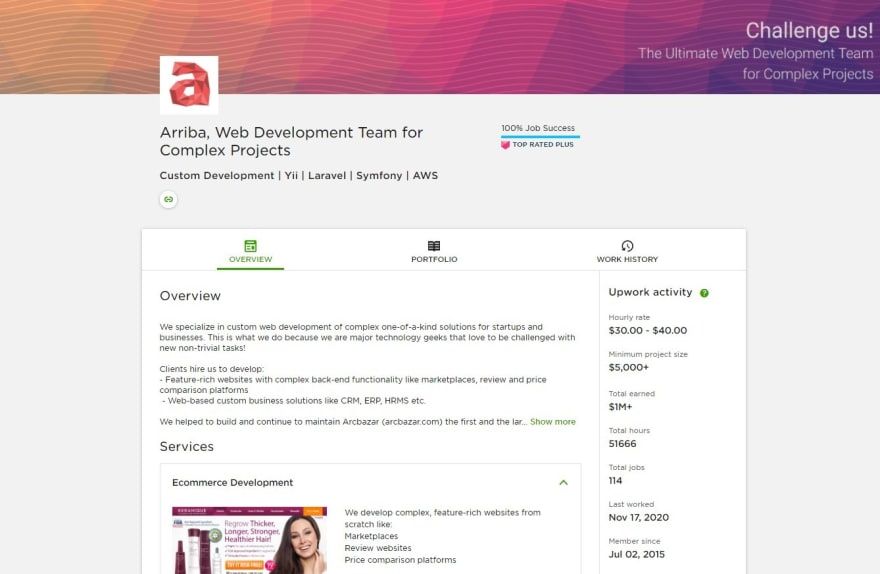 Tips for landing your first big job at Upwork
Although sales is a numbers game, it still requires quality over quantity. You cannot apply to a hundred random jobs and expect to get a 6-7 figure contract. To get the results, you'll have to carefully choose jobs and craft great proposals. This is what the following list of tips is about.
Pick them wisely
Remember - if you are a good fit for the job, it will be easier to get the contract and nicer to actually work on the project. Sorry for stating the obvious.
So don't waste your time and the time of potential clients by applying to any job you see. Be sure to make your own list of criteria for a good job.
Here is our list of criteria for a good job at Upwork:
Technologies: What technologies are required for the job and do they match our stack?
Pay: Has the client specified an hourly rate or fixed price? We prefer an hourly rate with a few exceptions and it shouldn't be lower than $35 (you should set your own limit). If the client has indicated neither an hourly rate nor a fixed price, he/she will still have to choose the expertise level of a freelancer - 'Entry', 'Intermediate' or 'Expert'. Although, it is very subjective and some will pay $3 an hour for an 'Expert', while others - $150, it is clear that nobody will pay much to an 'Entry-level' freelancer, so we don't apply to such jobs.
Experience: Have we done a similar project? If the answer is 'yes', then the chances of getting the job will be ten times higher.
Country: Are we comfortable working with people from this country?
Client reviews: Does the client have more than one negative review? If so, it's likely that there might be a bad pattern and it will be a pain to work with him/her.
Competition: At Upwork, you can see how many freelancers have already bid on the job and how many of them the client is already interviewing. So if the client has received 50 proposals and is interviewing over 10 people, we won't bother to apply.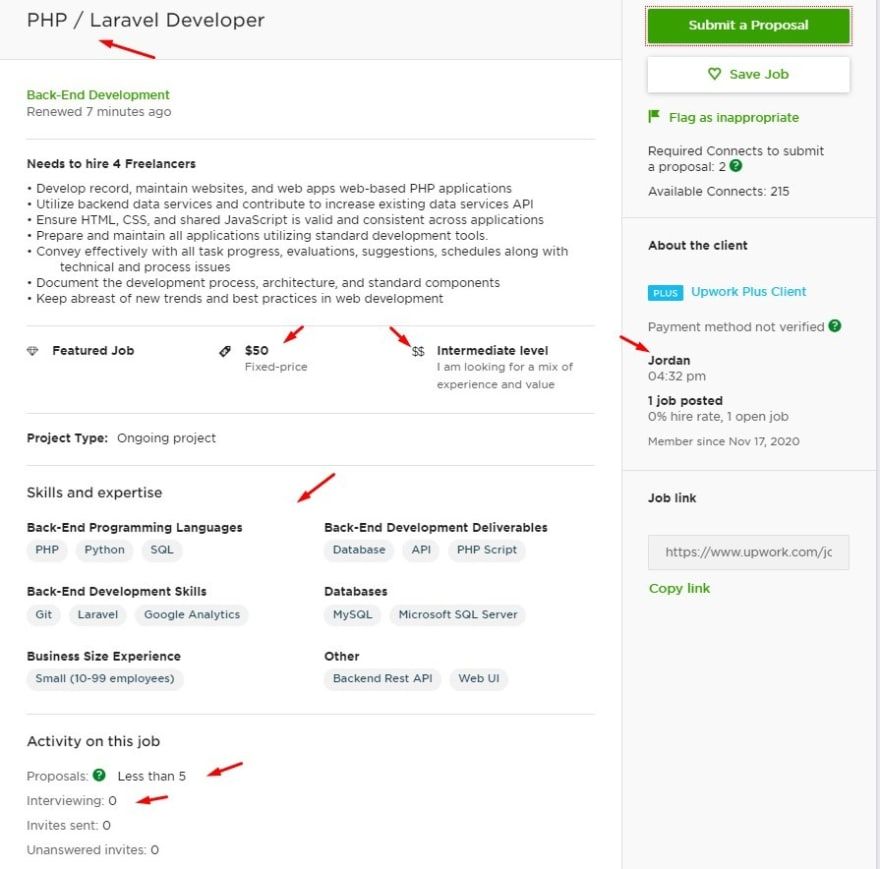 Figure out what the clients want
If a job is written decently, it will contain a problem the client is trying to solve or describe a project he/she is working on.
Does he want to develop a SaaS product? Or does he need to fix a WordPress issue? Or, perhaps, she wants to speed up the development by adding a new member to the team?
Usually, the clue will be in the job title, but you will still have to read carefully through the entire job. Upwork clients hate inattentive copy-paste bidders. They even intentionally put 'special' words within the job post that they ask freelancers to include in their proposals (e.g. 'Type "banana" at the beginning of your proposal'). This shows that you've carefully read the job.
Give it to them
Now that you know what the client is looking for, start your cover letter with the meat! Show the client you are the right person for the job right from the first sentence. And then use the rest of the letter to show them why.
Let's say you are applying for a SaaS job... Your first sentence should say something like this:
"Hi, I've worked on a number of complex SaaS projects like XYZ. Here is why I am a good match for your project…"
After this, you can list everything that makes you a great candidate:
Matching skills
Similar projects: give relevant examples and mention why they are relevant
Give code examples
Certificates, awards And anything else you think is applicable.
The key here is that everything should be super relevant! Don't go for quantity, only list things that are directly related to the job. With 30-50 proposals on average, clients don't have time and patience to read long unspecific letters.
Another tip here is to support your statements with examples, screenshots, links, or any other evidence.
Don't forget the call to action
Don't just leave your potential client at 'Sincerely yours'. The best sales letters finish with a strong call to action (CTA), i.e. by suggesting to the potential client the best next step.
Here are examples of good CTA's:
Let's schedule a call (it is universal, most of the clients prefer to have a call before hiring)
Please, give access to your code, I'll review it and get back to you asap
Send over your NDA, I'll sign it and we'll schedule a call to discuss your project in detail
Ask questions about the project.
Choose whatever is relevant to the project. The most important thing is to guide the potential client forward, closer to the contract with you.
Give prompt and helpful replies
If you received a reply to your proposal, you can consider it a small victory. The reply rate is a great metric at Upwork (aim for 10%) because if a potential client replies, he/she usually is interested in your offer. So make sure you reply quickly and provide all the additional information that the potential client requires.
This may sound obvious, but sometimes we concentrate so much on writing proposals that we forget to monitor messages and reply to them.
Final thoughts
In freelancing, the bad news is that you have to sell and the good news is that it isn't that hard (especially after a while).
Once you accept this harsh reality, you can plan your work accordingly. Remember that although you may have to write 50 to 100 proposals to get your first contract, you still have to concentrate on quality. Copy-paste proposals don't work anymore (doubt that they ever did).
Hope these freelancing tips will help you land your first awesome contract!
---
Created by
Kateryna Reshetilo
Kateryna Reshetilo is a Head of Digital Marketing at Greenice web development agency. She is responsible for uncovering new market opportunities in the spheres of marketplace development and startup services. Kateryna also crafts and oversees the execution of marketing strategy at Greenice.
--- ---
Related Articles