The tools of a successful product manager
If you're in the role of product manager, then you need tools to help you succeed
If you're in the role of product manager, then you need to keep track of lots of different things from day-to-day. From ideas and feedback on how to improve your product, to plans and releases for getting those improvements out of the door.
It's a key trait of a product manager to be organised and to do this we need to utilise a few tools to help keep us on track and be the knowledgable person that others expect us to be.
In reality, to get things done in my role, I only use a handful of tools, but use them in very specific ways, for very specific purposes.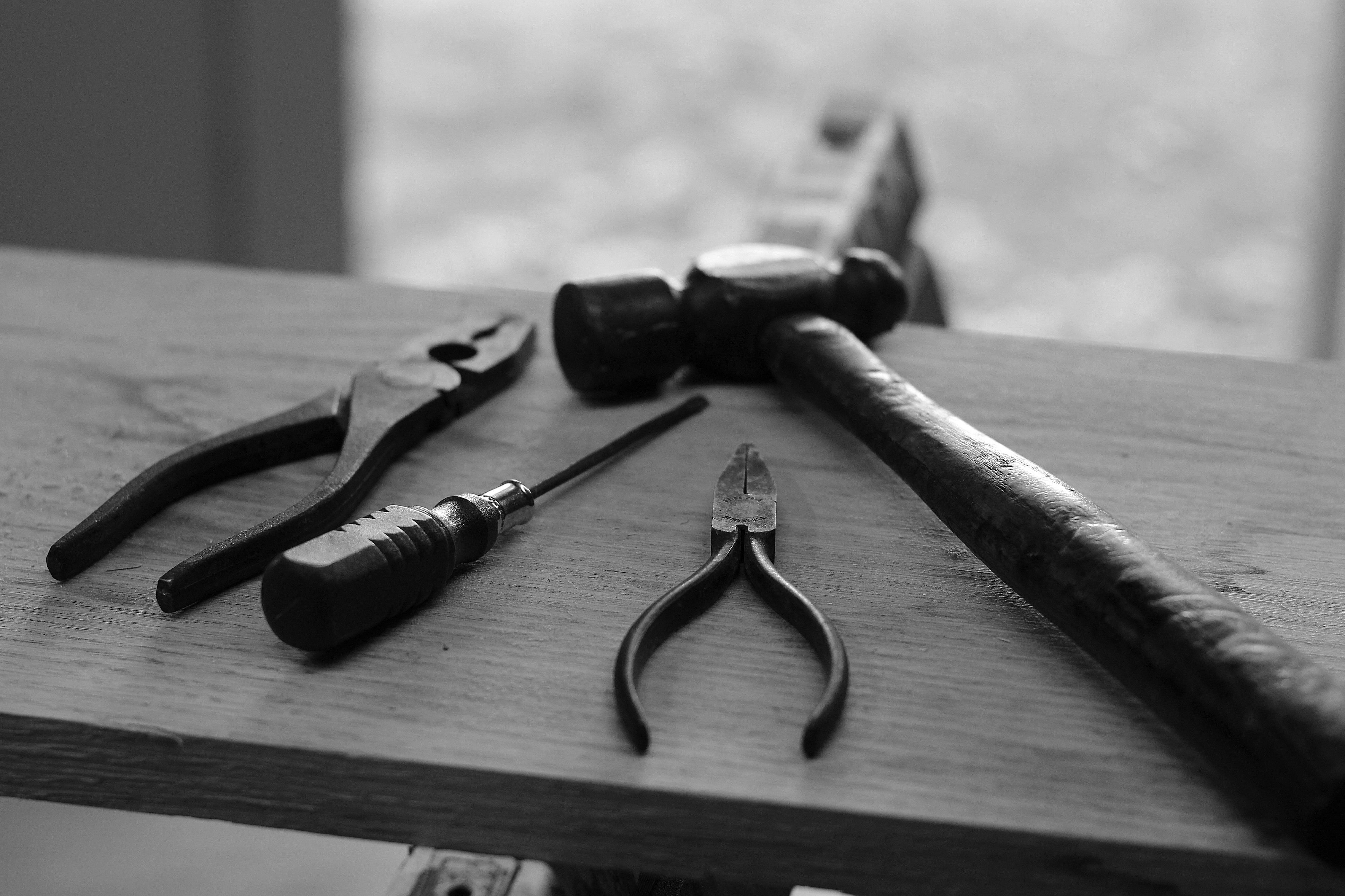 Confluence -The information library
The wiki tool Confluence (from Atlassian) provides me great opportunity to share with the wider business key information on how our business works.
In it we have a host of pages that cover "how" we go about our product development process, covering things such as how features make their way into our backlog, how a feature is defined, and how the different stages of development operate for us, all key for any new starter to the business who wants to know more about what goes on in our office.

There are pages that explain where to find the roadmap, or how to import information into the roadmap (more on that later), as well as having pages that explain the larger features that are due for development. These 'feature pages' look at the goals of the feature, how the feature delivers on our organisational goals, the use cases for the feature, as well as breaking down the feature into phases and individual deliverables (which all ultimately will find their way into Jira tickets (see below).
These feature pages are a greater opportunity to share with a wider community where we're looking to develop, and the inbuilt comments function gives opportunity for feedback.
You can do the same in project management tools such as Asana, or even in Google Docs if you need to. The important thing is making information available to others so they know what's going on and can self-serve the information instead of asking you questions every five minutes.
Action: Find a tool that allows you to explain what's going on, how it works, and why, and that is accessible by others who need to know.
Product Plan -The roadmap
Our current roadmap tool of choice is Product Plan, which is simple to use and provides a nice graphical view of the larger features that we're planning to develop over the next twelve months.
Where it goes beyond something that you could knock up in an Excel spreadsheet is that we can link it to our Jira application (see below), and so each feature on the roadmap can give an indication as to how far through development it is, based on the Jira stories that are marked as completed. We also link back to our Confluence feature pages, to tie things back to the general overview of the feature.

It also has planning tools in-built that allow you to prioritise your features based on costs and benefits, although at this stage we're not utilising this, instead running this outside of the tool in a leadership team meeting.
We've used Confluence and Google Sheets before to show our roadmap, and tools such as Aha or Roadmunk do similar jobs, with the key being that you can share with the wider team the direction you're all heading in and roughly what we can expected to be delivering in the future.
Action: Find a tool that allows you to plan the high level future and share it with others.
Jira -The day-to-day tracker
All the work that flows through our development team makes its way through Jira and it's the central hub for others to feed things into the process.
We've got projects for support issues that come from clients and need to be swiftly pushed through the teams, projects for feature requests which allow us to record and categorise all the improvements that are suggested so that we've got them when we want to make things a little bit better, and of course, we've got projects for new features and technical improvements.

Making consistent workflows across projects allows us to report on progress across the business, and keep an eye on things like team velocity, resolution times for support issues, and completion rates for features, providing valuable insights into how we're performing and areas for improvement.
As I mentioned, it also connects to our roadmap, so the day-to-day management of activities can reflect progress up in the roadmap for those who want to see it.
Jira, again from Atlassian, is just one of a range of tools of this type, such as Azure DevOps or Trello, and many of them fit into the full development workflow, but ultimately it's the tracking and reporting of work that's key to the success of your team's progress.
Action: Find a tool that allows you to gather incoming work requests and follow these through the process to delivery.
Things -The To Do List
As a PM you have a huge host of activities to do, and unlike development teams, they aren't always tracked within a system such as Jira. Activities such as having a conversation with the Customer Success Manager about feedback coming in through support tickets, checking Typeform responses for the latest feedback on a survey you ran, or writing a feature overview slide for the sales team to use. You need to keep a track on these, as well as track all the tasks you've given to someone else to do and may need to chase up at some point, and Things is great for me to do this.
I can give the tasks dates, tag them with names of people, or drop them in different projects, all to help remind me and organise everything I need to do on a daily basis. I even use it for my personal life.

Things, from CultureCode, is only available on iOS, but Todoist or Omnifocus do similar jobs, with the important thing being that you keep on top of all the multitude of activities that you have on the go.
Action: Find a tool that ensures you don't forget to undertake an important task or chase up someone else.
Evernote -The note taker
The role of Product Manager means that in many situations you are looked to for the answers, or at least to know what the questions are that need to be asked. As such, you need to think ahead to what's going to be happening, and for that I use Evernote.
In here there are notes created for all the meetings I have coming up, and in my notes are all the things I want to bring up, background information or links that I might need in order to make a decision, and then once the meeting comes around it will be populated with any notes I make during the meeting.
The notes are all titled with the date in the format YYYY-MM-DD and then the subject of the meeting, so that they all line up neatly in order within the folder, and you can always find the latest meeting notes.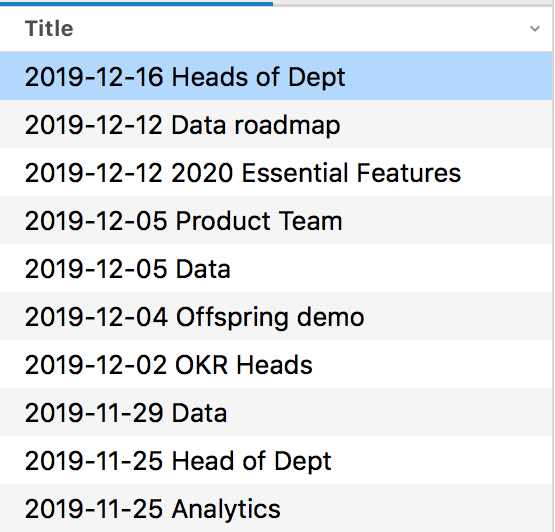 Apple Notes or Microsoft OneNote do a similar job, and the important thing is keeping all the information to hand so that you are the person in the know.
Action: Find a tool that allows you to be prepared in meetings with all the information you need to both ask and answer questions, as well as record all the things others tell you.
Note
There are a range of data tools I use as well (such as Google Analytics and Periscope), as well as tools integrated with the product (such as Intercom) but these are driven by the product and so I've excluded them from this list, which focuses on tools that you as product manager can typically drive usage of.
There are lots of personal preferences when it comes to tools of this nature, which is why I've included the purpose of the tool in my description. It doesn't really matter whether you use Evernote, OneNote or Notes, it matters that you've thought through what's needed in a meeting and what the outcomes of the meeting are.
Other product management posts by Rob
What flavour Product Manager do you need?
How to manage all your product ideas
The benefits of a Product Advisory Board
About Rob
Rob was a professional soccer player, and cinema manager, before moving into software development 20+ years ago. He was a founding team member at startup Ormsby Street, heads up the product team at Qudini, and writes regularly at www.medium.com/@rjd203
---
--- ---
Related Articles