Top 10 Free Website Template Resources
Top 10 Free Website Template Resources
Users' first interaction with any website is with the front end. Most developers don't want to spend days or weeks writing HTML and CSS code from scratch, especially when a client wants a website made on an urgent basis.
Your biggest strength in development is smartness when you have resources to download a template or theme and then customize it with your creativity to make it unique, beautiful, modern, and attractive for the user.
If you are a good backend developer (developer who codes) then using a template or theme is also a very good idea. You can also use these templates for your project.
There are a lot of places where you can get free templates but not all the templates and themes on offer are completely free of charge. An alternative is to develop a template from scratch but this does take some time and requires skills in web design.
If you're looking to save some money and want to customize some of the details further down the line, one option worth exploring is trying out free templates that have been created by other designers.
We will discuss why it's sometimes best to consider going for at least semi-free theme options and share a few resources where you can get both paid and free themes or templates online!
1.UIHUT– 12000 Exclusive Design Resources
Explore 12,000+ Exclusive Design Resources Download thousands of templates, illustrations, icons, and graphic assets for web and mobile app design without paying designer prices.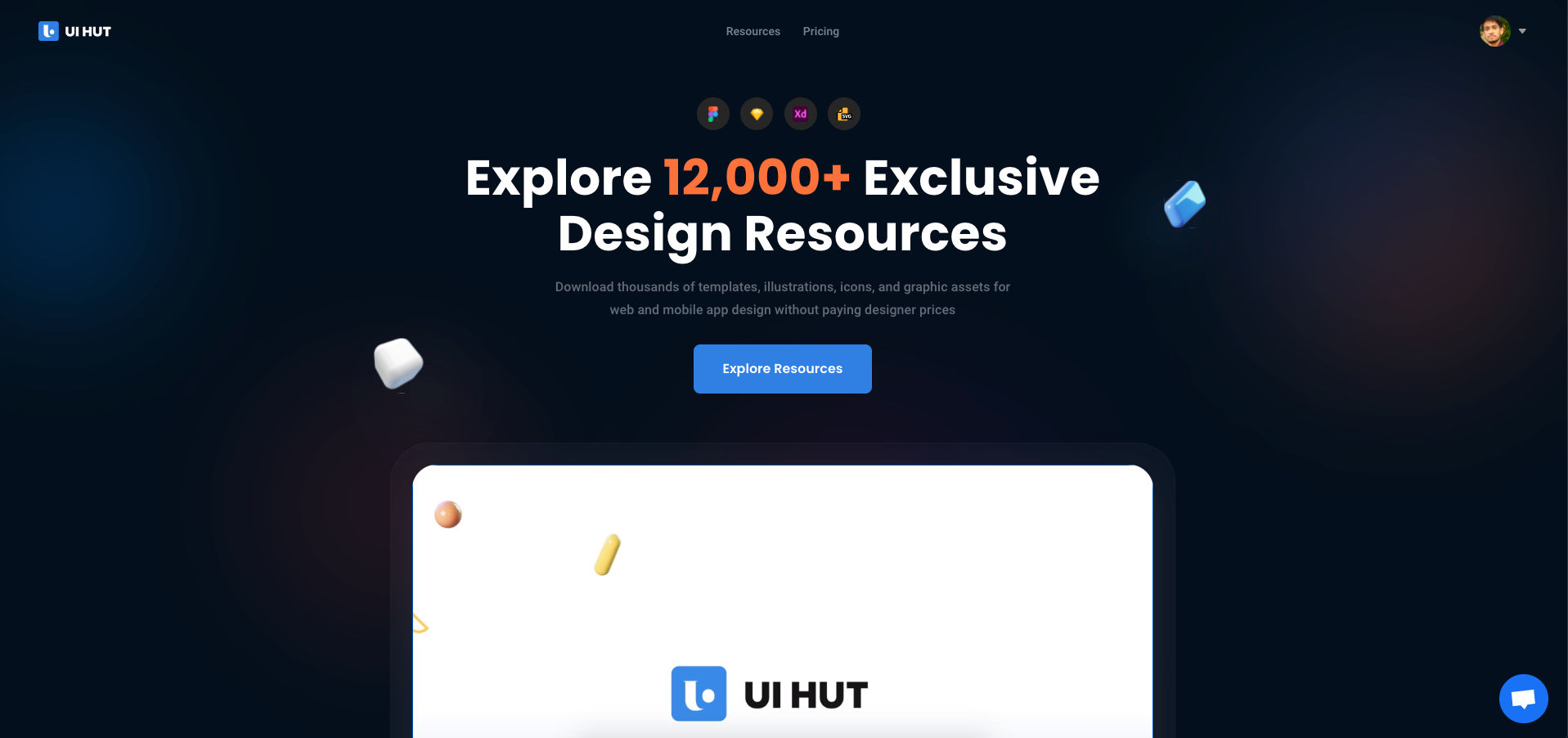 Significant advantages of UIHUT:
2. HTML5 Up- makes spiffy HTML5 site templates

One of the most popular design platforms is called HTML5 where you can find plenty of beautiful and elegant themes which are fully responsive (you can view the site as it would appear on all screen modes) that has been built on HTML5 and CSS3.
Most of the features you will find here could be used for general-purpose means for any kind of application. You may also check out the live demo on multiple devices to help visualize how your theme might look on them, while download links are found in a column on the right hand side.
All themes come available 100% free to download however you can always upgrade to get further access to features with some premium points if needed – simply click on 'get premium points' to see more details about what more features you have access to once they've been purchased!
3. Colorlib- 1500+ Best Website Template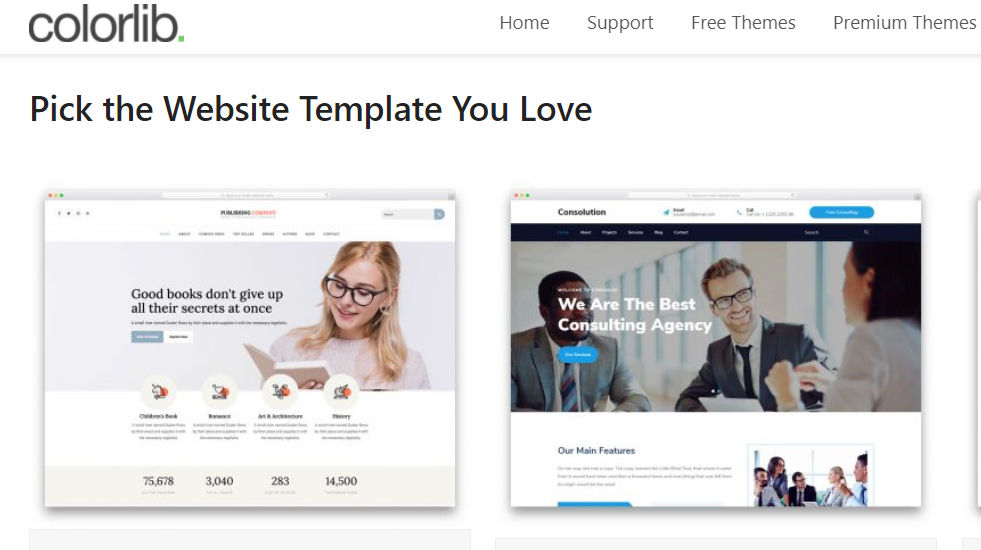 One of the most often used and popular places for website templates is Colorlib. Not only can they give you a wide selection of website templates to choose from, but they also have a good collection that can be utilized on all kinds of trades including real estate, hotels, photography, travel etc.
Any multiple pages of website templates that you need you will more than likely find in one single place.
It's easy to get lost in the large amount of choices at your disposal so make sure before you settle on any specific template that you check its viability across different devices as well as browsers!
4. Bootstrap Themes -Free Bootstrap Templates and Themes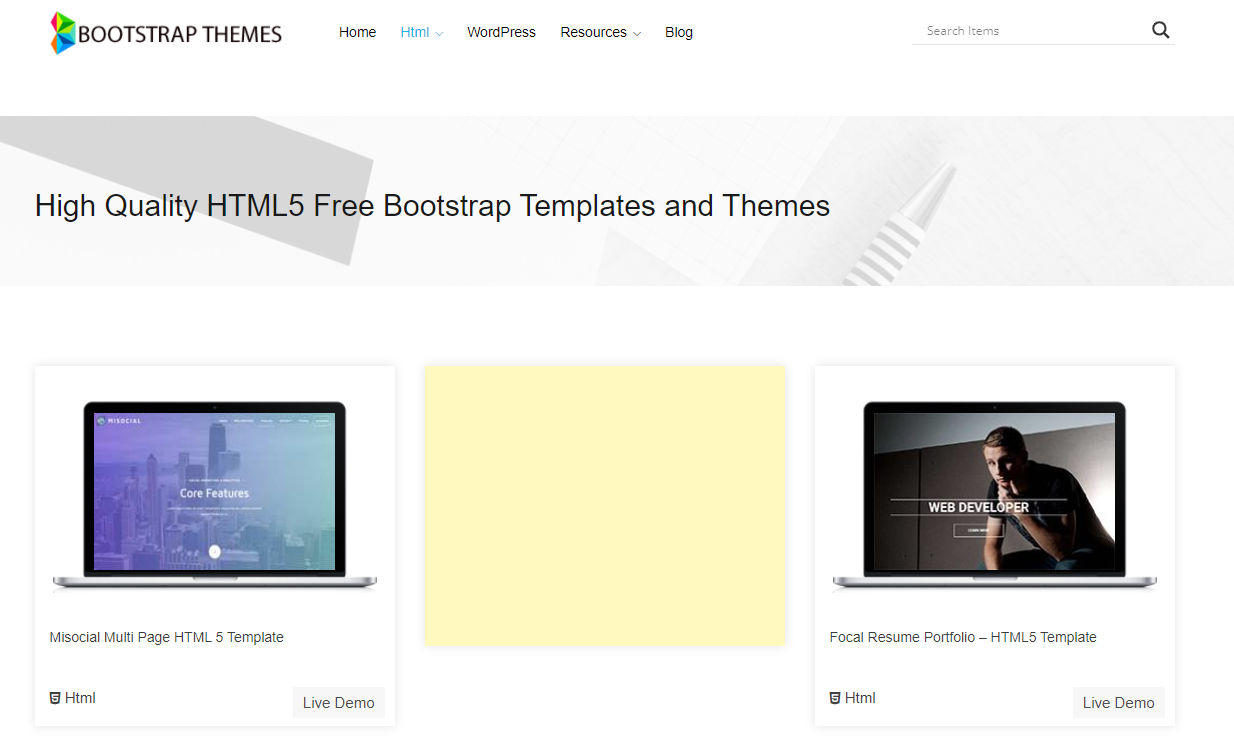 This is also a very good site at which you can find a great quantity of free beautiful templates for web development projects that are specific to the travel, restaurant, agency, retail, or business industry.
Most of these templates are fully responsive so you will be able to ascertain the live preview for different screen models before downloading them. Within this website there is also a section for resources that presents customers with the option of downloading navigation menus, buttons, pricing tables and much more to meet their needs.
5. AS Templates-FREE WEBSITE TEMPLATES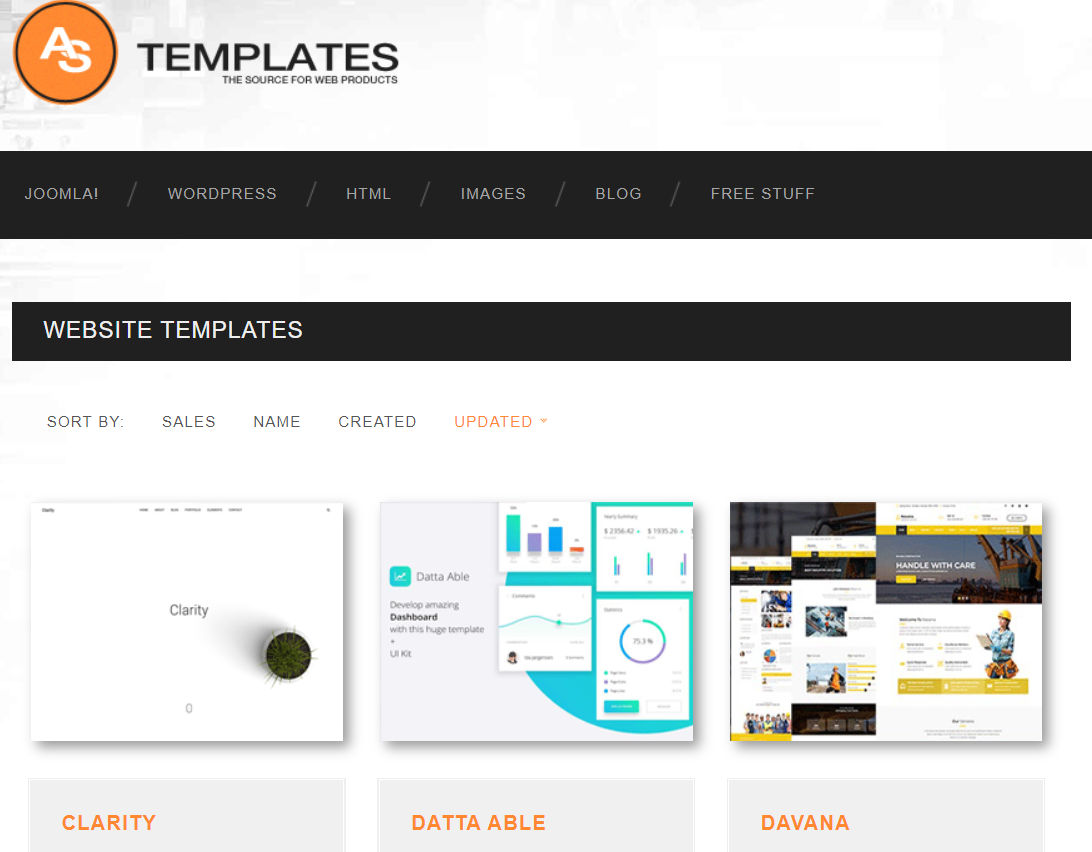 The website has both free and paid templates. For the free template, you need to visit the 'free stuff' tab where you can find a lot of free templates built on Joomla, WordPress, HTML on the site.
These are web applications which can be installed in any device - tablet or mobile. You just need to download the app from play store or apple ios store. Then you can install them and customize your own websites!
It has a lot of categories to design such as art & culture, business, education, photography , medical etc. One can also check out some of the demo previews before installing it in a real world app .
6. ZeroTheme-Free Html5 and Css3 Website Templates
This website also gives you the option to choose free or paid templates. You can download the free responsive theme for your website from here and customize that according to your needs. Some of the templates are regular responsive HTML5 and some of them are bootstrap .
They have more than 120+ free themes, out of which 87 are HTML-based and 37 are bootstrap 4. You can also check a live preview of it on different smartphones like iPhone 4/4s, iPhone 5/5s, iPhone 6/6s, Samsung Galaxy S3, Galaxy S4, Galaxy S5, or newer devices like LG G3/G2 , HTC M7 , Nexus 5x , Nexus 6p , Nokia Lumia 1020 .
7. Free HTML5- Free & Premium HTML5 Bootstrap Templates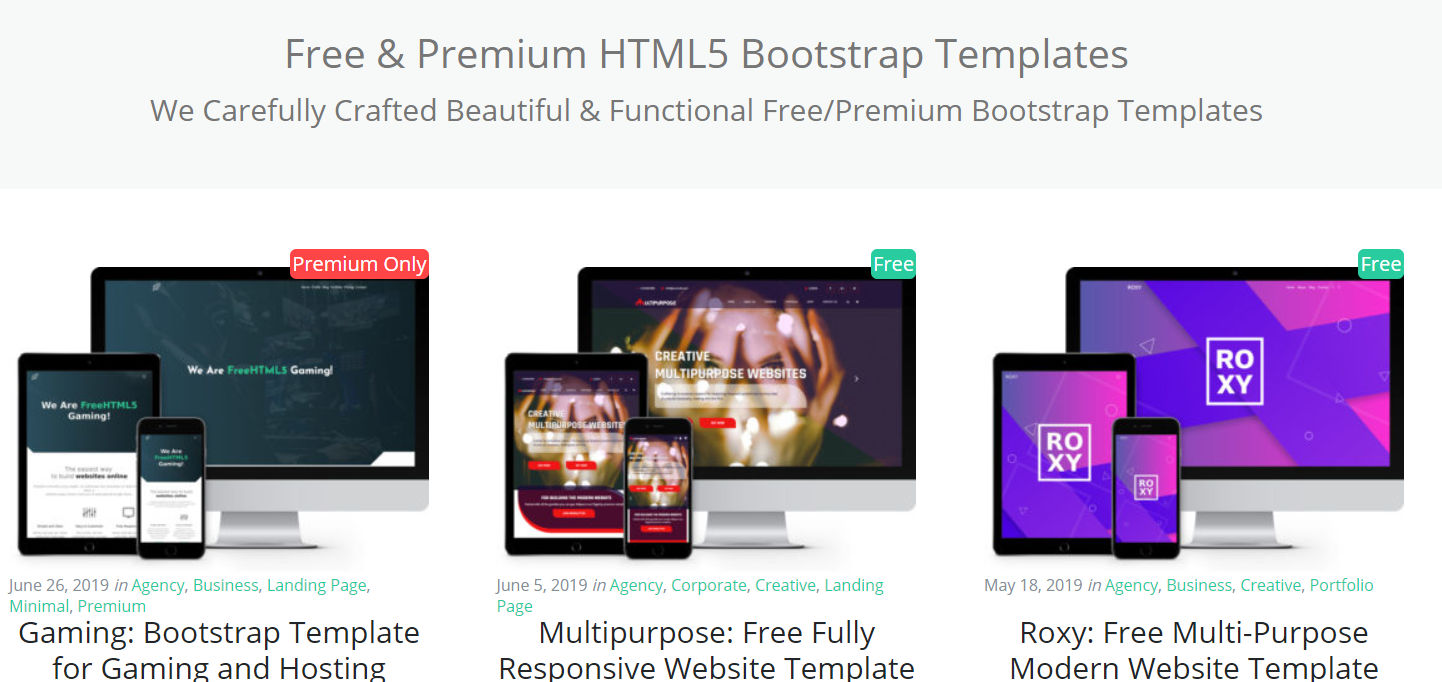 This website also gives you the option to download free mobile application themes and templates. You can find a lot of options on offer including ones for business, education, health/fitness, travel and hotels.
There are also subscription based templates available. If there is an application which you're building but don't yet have a specific template, it's always possible to order one bespoke from this talented professional!
The themes themselves are built with Bootstrap and HTML5 (though this too could vary as site engineers may specialise in different coding languages).
8. Start Bootstrap-Bootstrap themes, templates, and UI tools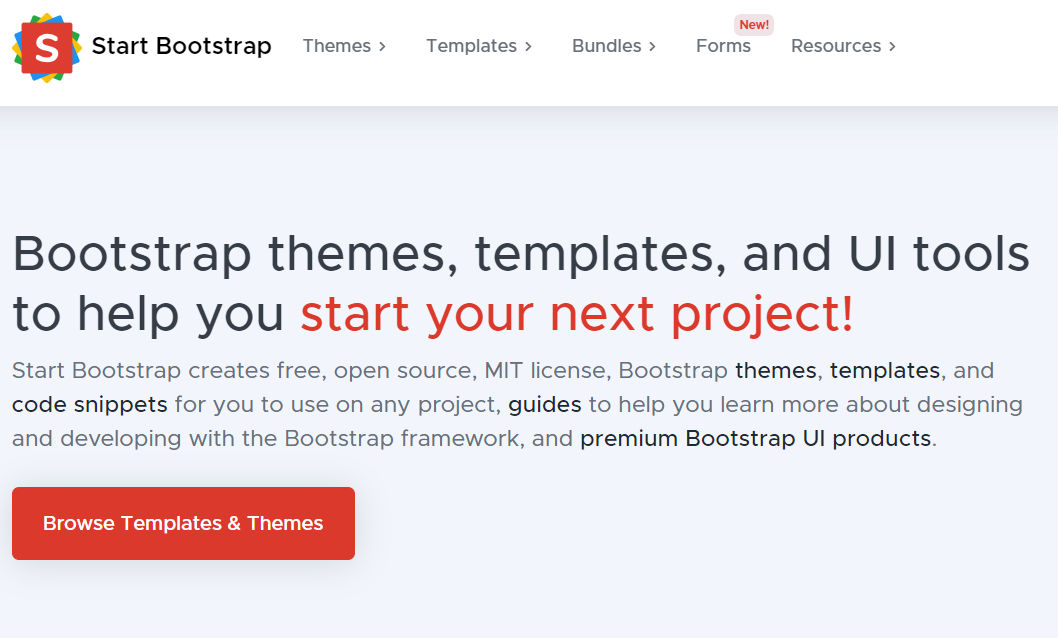 Let's look into the template store below and choose our first theme! There are multiple good themes available. And more importantly, we can preview and test them on multiple devices before downloading which is very cool because we can use a smartphone, tablet, laptop, or desktop to see how it'll look like - that's awesome! Someone told me you could even test your website on robots such as those used by Google if they are responsive.
I'm going to try that next time…
But let's just not get ahead of ourselves for now or the point of why we're here will fly over our heads and then what? The point is: this site has great templates from which you should be able to choose one and add features and CSS or whatever else in order to make it yours.
9. Themewagon-Better UX. Documented Code. Effortless Customization.

This website offers many free templates built on HTML and Bootstrap. They also provide different styles for any kind of application, so be sure to check them out. If you are looking for a particular e-commerce template, then this site will give you some great options.
These templates are responsive, meaning that they will change their style depending on what device they're being viewed on. Make sure to click the links below to view sites with responsive templates available!
10. Styleshout-Brilliantly Crafted Free Website Templates.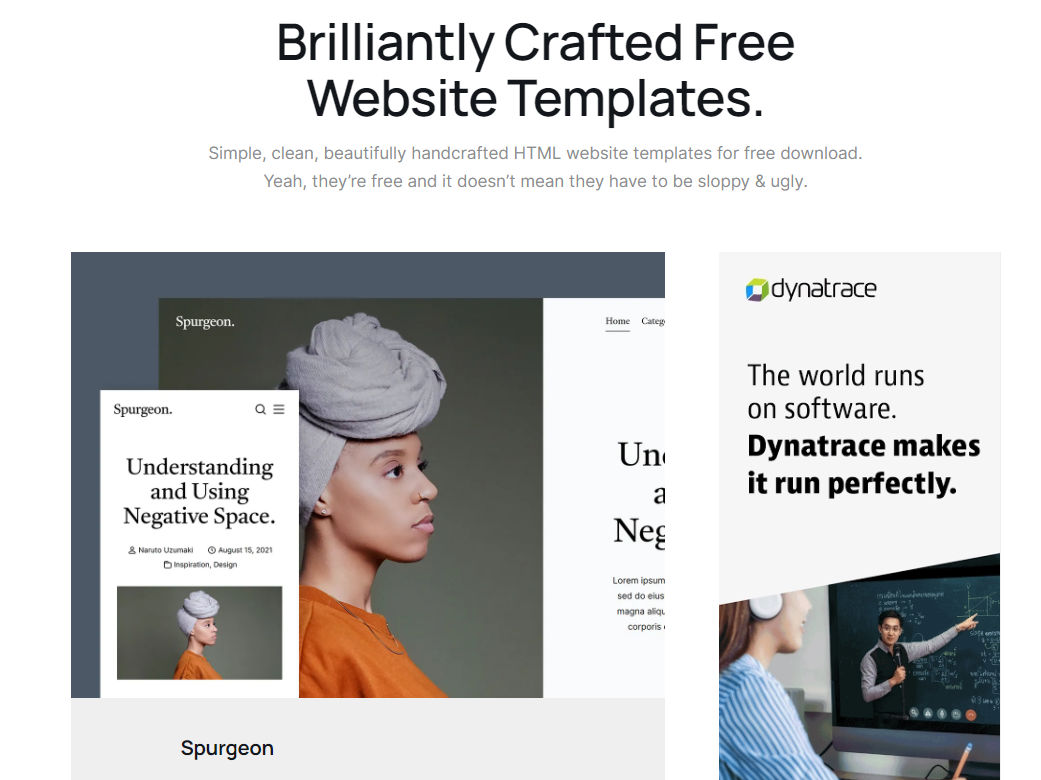 Like HTML5 Up, this website offers some unique and simple templates which you can customize as per your need. All these templates are responsive so you can easily check views for different devices. You can also find pages like Coming Soon or 404 errors.
If you explore the website you will find most of the templates have added dynamic JavaScript features like countdowns and sliders. For non-developers, they provide a service to customize their website. So if it's too much hassle for you to do it yourself, then no worries: just pay a fee and get one of their customized websites!
Conclusion:
In this article, we have provided you with a list of the best resources available on the internet for web template design. We hope you find these resources useful and that they help you to develop an amazing website ! If you have any other questions or concerns about designing UIs, please contact us anytime at UIHUT.
Thank you for reading, we are always excited when one of our posts is able to provide useful information on a topic like this!
---
Download 12,000+ Exclusive Design Resources Download thousands of templates, illustrations, icons, and graphic assets for web and mobile app design without paying designer prices.
--- ---
Related Articles