Top 4 Digital Transformation Challenges & Ways to Overcome Them
Key Challenges of Digital Transformation
Digital Transformation refers to a complete overhaul of a company's organizational and business processes. Increased digitalization allows enterprises to leverage emerging technologies like robotic process automation (RPA), Artificial Intelligence, and the Internet of Things for continuous growth.
Although it's marketers and the C-Suite who use the Digital Transformation term most often, the phenomenon literally impacts every establishment out there, including governance structures and non-profit organizations.
Until 2020, Digital Transformation had been an option. Once COVID-19 emerged, businesses finally acknowledged the importance of developing a cloud strategy, being able to work from home, and automating manufacturing, analytical, and document management tasks that had been previously performed by humans.
According to Microsoft CEO, we saw two years' worth of Digital Transformation during the first two months of the pandemic. But it doesn't mean we're there yet. This article will zoom in on four critical Digital Transformation challenges and explore their possible solutions.
Key Challenges of Digital Transformation
Resistance to change. Recent psychological studies suggest that only 38% of people like to leave their comfort zone. When it comes to enterprises that have been using monolith apps and managing customer data through Excel sheets for decades, the percentage is even smaller. As a result, innovative IT projects (for example, the installation of a sensor-powered building management system or the decision to leverage data collected through wearables for medical underwriting) get little support from a company's financial, marketing, or business department. There's also a persistent fear that new technologies — especially AI-driven robots, virtual assistants, and data analytics platforms — will eventually replace human workers. As Steve Jobs once said, every technology has its spring, summer, fall, and winter (think artificial intelligence that's been around since the mid-50s). Companies that want to secure their place in a competitive market should be able to identify promising technology tools, conduct market analysis, and present research findings to CEOs. It is also essential to educate employees about technology: while the growing adoption of artificial intelligence may result in workforce reductions across several industries, AI has so far created 3% more jobs than it killed. Unless you possess the resources and experience to identify your growth opportunities, you can always trust the business analysis part to an experienced Digital Transformation consultant.
Failure to capitalize on operational data. Whether we talk about feeding CRM data to AI algorithms or monitoring inventory levels in real time, data visibility lies at the heart of every Digital Transformation initiative. Let's take farming, one of the most traditional and tech-resistant industries out there. Several prominent OEMs, including Caterpillar, General Electric, and John Deere, now produce agricultural equipment enhanced with sensors and cloud-based data analytics platforms. Labeled as the agricultural Internet of Things, such equipment helps farmers optimize fuel consumption, prevent overwatering, streamline maintenance operations, and reduce operational expenses. Yet up to 73% of enterprise data goes unused for analytics — simply because businesses misunderstand its value or lack the resources and tools to glean insights from it.
Inadequate digital customer journey mapping efforts. Increased efficiency and revenue growth aside, why do tech-savvy companies embark on Digital Transformation projects? Obviously, they want to meet the needs of their customers, who now expect a seamless digital experience across multiple channels. According to Gartner, a digital customer is a user who consumes content, interacts with brands, and makes transactions via social media, a mobile app, or a website. While most businesses do realize the perks of digitalization, 36% of small businesses still operate without a website; of those who use one, only 17% say they're investing in SEO to reach more customers online. The same goes for mobile applications. Amid the first lockdown, many HoReCa businesses, for example, had to collaborate with 3rd-party delivery apps to fulfill takeaway orders — and ended up losing 30% of their revenue in service fees. Even social media — one of the most effective and inexpensive business development tools — remains ignored by certain enterprises. All of this (combined with the fact that 99% of companies cannot describe their buyer personas beyond a few generalities) marks an alarming trend in customer services: a lot of companies have only a vague idea of who their potential clients are and what communication channels they prefer. To overcome the customer-related challenges of Digital Transformation, brands should continuously study their target markets, identify buyer needs, keep an eye on new technologies, and create portfolios for future customer journey mapping.
Heavy dependence on legacy business models. For most enterprises, Digital Transformation means being able to sell exactly the same products and services through a digital pipe. Perhaps they can take a few lessons from mobile application developers, who implement a wide range of monetization strategies to win users, boost revenues, and adjust pricing models based on the OS peculiarities, user region, and current app metrics. Some of the products and services you used to charge for (like shipping, estimates, and consultations) are now provided for free. With the emerging equipment as a service (EaaS), subscription, and Uber-like business models, forward-thinking companies adopt new software and machinery without significant upfront investments and start making a profit immediately. Flexibility is key to surviving in the digital age — and it's up to you to embrace it.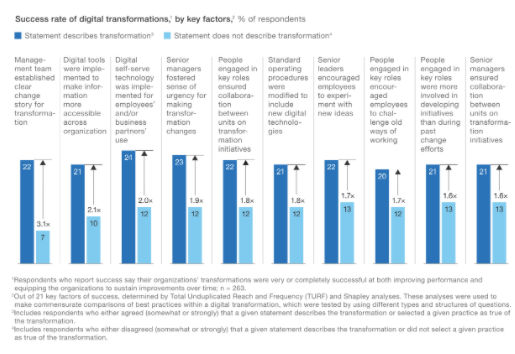 Image source: Unlocking success in digital transformations, McKinsey
Digital Transformation promotes the development of a data-centric, highly efficient, and customer-friendly business environment where smaller companies can successfully compete with corporations by timely responding to new challenges and exploring new revenue models. Provided you overcome the Digital Transformation challenges that hold back your IT initiatives today, you won't fear what tomorrow brings.
Originally published on Business 2 Community in August 2017
Updated in February
---
Created by
Andrei Klubnikin
Andrei Klubnikin is a Content Management Team Lead at ITRex. He's published articles on multiple technology portals, including IoT for All, DZone, and Business.com.
--- ---
Related Articles