Top Storytellers Master the Secrets of Connecting With People
Should writers spend time honing their craft and producing work of the highest quality or focus on building their audience and working on their careers?
Those who tell tales know how to create a magical world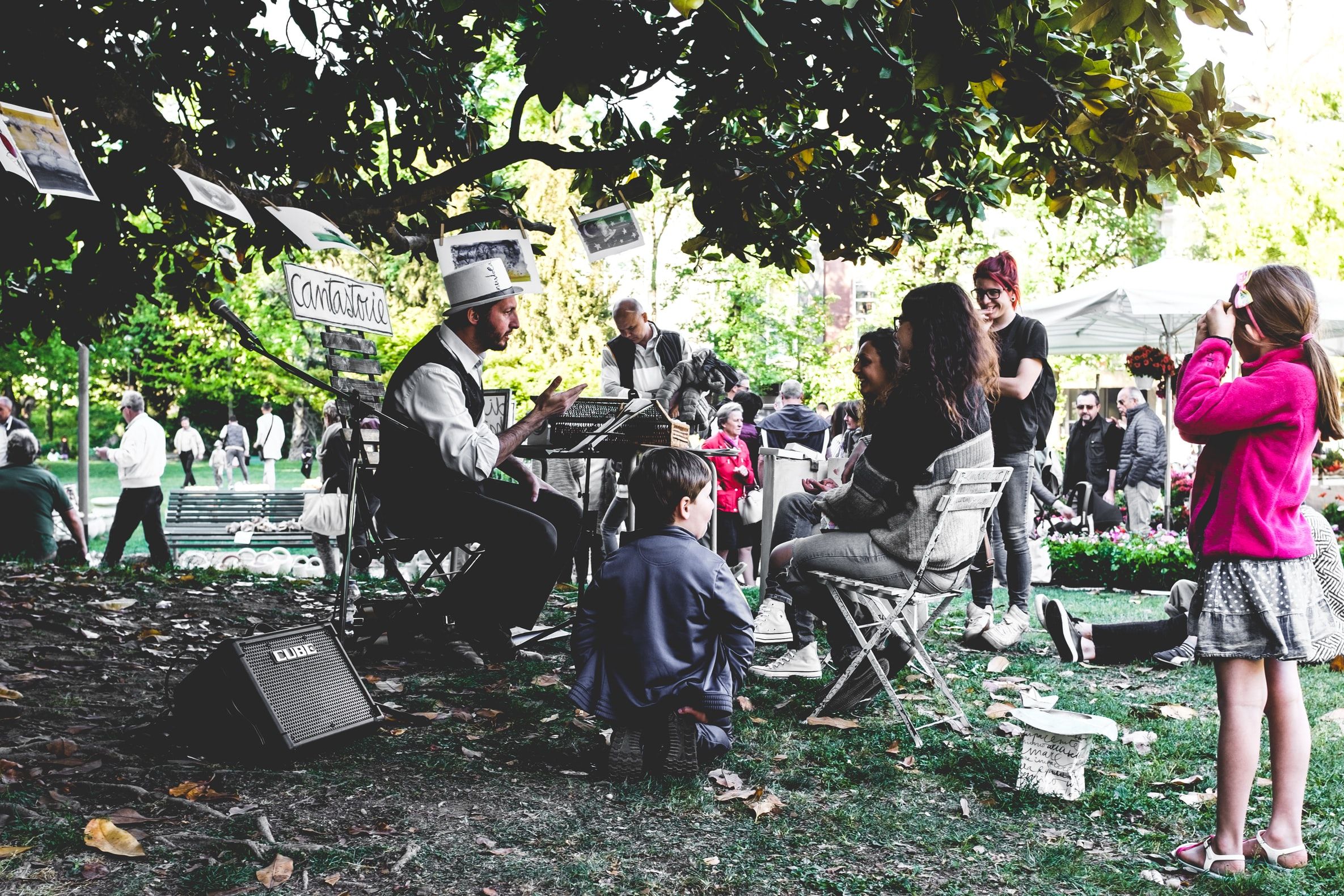 Writers weigh this question all the time: Should they spend their time honing their craft and producing work of the highest quality or focus on building their audience, connecting and working on their storytelling career?
The answer ought not be exclusively one or the other.
With a little of this and a little of that, the solution helps a creator grow in many dimensions.
We tell our own best stories
Storytelling builds your brand with an attractive personalitymedium.datadriveninvestor.com
Marketers might begin with assorted "P's" to help develop their storytelling skills and ultimately create business for themselves:
People

Place

Plot

Purpose

Perspective

Purchase
Yegon Emmanuel relishes talking about telling tales based on these points and looking at how to grow as a storyteller, which he discussed during an Africa Tweet Chat. He is a co-founder and communications director at Mobile Journalism Africa.
"I am a trained communicator and passionate storyteller with a bias toward smartphone storytelling," he said. "At Mobile Journalism Africa, we train the next generation of storytellers. We believe our stories are best told by us.
"We train our people on how to create video stories using their smartphones for digital platforms," Emmanuel said. "The future is essentially mobile."
Inserting the human element sells stories. Dull bulletin board posts are nothing compared to the human drama that makes policies necessary or tell how underdogs win the day.
"People connect to people," Emmanuel said. "People relate to people. We tend to relate with the different situations others are going through in the stories we engage with. The best stories are those that have people at the center.
"The more humanized stories get to more people," he said. "Authenticity also sells stories effortlessly. So, be as natural, real and authentic as you can be."
Peering Into Stories
Proximity — the perspective — draws readers in.
"The closer you get to people, the closer you get to the story," Emmanuel said. "Talk to people, also. This tip works: Emotion is at the heart of storytelling. You should be able to appeal to people's emotions — emotions not necessarily negative."
Good stories are based on key messages that you want to convey. Relate them to people through common experiences. Speak in the clear language of your audience.
What is the greatest tale you can tell?
Brands shine when they share their stories amid stressmedium.datadriveninvestor.com
"We are all storytellers by nature," Emmanuel said. "Stories make the world we live in. What people need to do is settle on a structure or decide on how they are going to package the stories. Are you writing them, doing podcasts, drawing, painting or doing videos?
"Start with what you have to package these stories," he said. "Choose a method of dissemination as you work your way upward. You will not be perfect from Day 1. You will not reach millions on Day 1, but start."
When you think you grasp storytelling, do not ease up.
"Every day is an opportunity to learn a new thing," Emmanuel said. "Take your time to learn a new skill, a new technique to improve your storytelling. Learn how to use a new tool. Technology keeps changing. We have to be able to up-skill all the time.
"Learning never stops," he said. "While we use the smartphone as our primary storytelling tool, there are wearables now — 360 cameras. Augmented and virtual reality tools are all being incorporated in storytelling. Keep learning and experimenting."
Saying It Visually
Pictures — as often said — are more important than words.
"When training storytellers, I ask them to let their visuals speak for them," Emmanuel said. "People should be able to relate to the story and see the visuals or text — whatever your format is — long before you start speaking."
You can tell stories based on trends, but don't twist yourself into a pretzel to make what you want to say fit into a narrative that is out of your expertise. Use trends as opportunities that match best with who you are.
"Responding to trends may mean altering our schedules or informing new story ideas," Emmanuel said. "We have seen many big stories unfold from trends. It is a good thing — while we go about telling our different types of stories — to keep an eye on the trends."
Trending superstar tells all
Going viral on social media is a welcome matter of chancemedium.datadriveninvestor.com
A good storyteller talks naturally and believes in the narrative. The best comedians are good storytellers.
"The best storyteller is the one who is able to connect to people in the most creative way," Emmanuel said. "That person can capture the attention of people so that the audience moves along from start to end of the story piece.
"Storytellers have to be able to communicate with the audience in the simplest way possible," he said. "To grow in this craft, you have to be really consistent in what you do. There are many people doing a whole lot of different things out there."
A Person to Remember
Most well-known storytellers make a memorable impression.
"What will make you stand out is to focus on an area that you are good at and do like no one else does," Emmanuel said. "Be consistent. George Tafaria of Tafaria Castle says, 'Pursue your dream with brutal consistency.' Apply that in everything you do, especially in storytelling."
An audience must stay engaged throughout the story.
"That's especially true now that there's a lot of content on these different digital distribution platforms," Emmanuel said. "You have to grab the attention of the audience. Move along with them to the end of your story. Prompt them to take action."
Live Streamers Score Highest With Clear Calls to Action
Find your audience and connect with them where they are activemedium.datadriveninvestor.com
Free editing apps help create smartphone videos.
"For video editing there are several applications freely available on the Android Play Store and IOS App Store," Emmanuel said. "Others are subscription-based while you have to pay for the rest."
He included a list of the different photo and audio editing apps.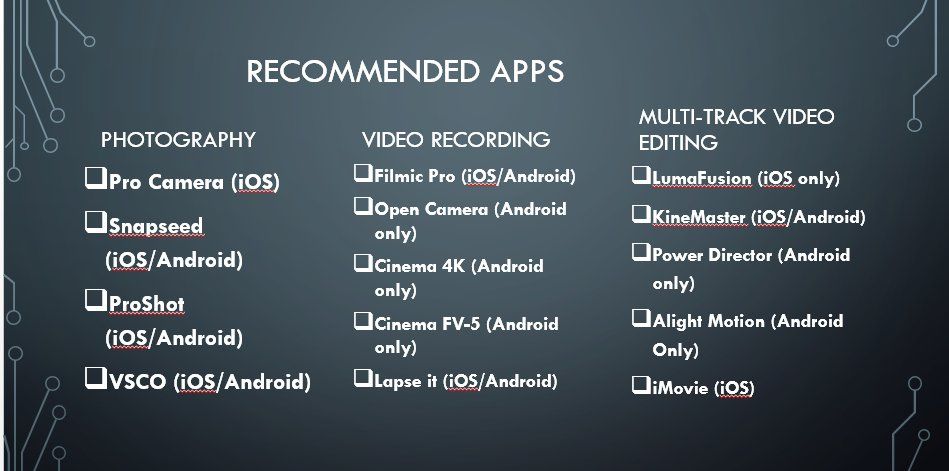 Emmanuel recommend several types of equipment to create videos for social media to be as efficient as possible:
Go for something light but durable such as your tripods, gimbals and grips.

Quality matters. Get good quality sound equipment such as lavalier mics.

Less bulky equals efficiency.

Your smartphone is a complete studio. So, go mobile with Mobile Journalism Africa.
"Long gone are the days when we used to complain that there's no camera to use," Emmanuel said. "Your 'pocket studio' is your best bet. Use what you have in your hand today. Start, then grow."
Born or Made?
Everyone is born a storyteller. Of course, that's how most kids get into trouble. Not everyone does it well.
"Dr. Kamand Kojouri, author of 'God, Does Humanity Exist?' says, 'We are all born as storytellers. Our inner voice tells the first story we ever hear,'" Emmanuel said. "Like I said before, we all have a story to tell.
"Our life's pages are full of stories," he said. "Whether we choose to tell them or not is another question, but we are all storytellers. To be good at it, though, we must keep learning from the ones who are ahead of us. Learn from peers. It's a continuous process."
Easy-to-make video lets people see you, hear you and know you
Have fingertip control of your messages for high-quality contentmedium.datadriveninvestor.com
For simplicity's sake, today's storytelling comes back to people's hands.
"We should be able to tell our stories ourselves using our smartphones," Emmanuel said. "Together we can retell Africa's narrative one story at a time. This is our goal at Mobile Journalism Africa: Until the lion learns how to write, the story will always glorify the hunter."
About The Author
Jim Katzaman is a manager at Largo Financial Services and worked in public affairs for the Air Force and federal government. You can connect with him on Twitter, Facebook and LinkedIn.
---
Created by
James L Katzaman
Jim Katzaman is a charter member of the Tealfeed Creators' program, focusing on marketing and its benefits for companies and consumers. Connect with him on Twitter, Facebook and LinkedIn as well as subscribing here on Tealfeed.
--- ---
Related Articles