Top Trends that would rule Digital Transformation in 2020
It's time to take a look into the key trends of 2020 that are going to redefine how the business world is going to take a turn.
Digital Transformation has revolutionized the way we do business in the modern world and as the existing innovations in technology have already improved the standards of providing services at a super-fast pace, now it's time to tap into the world of bigger and better transformations.
It's time to take a look into the key trends of 2020 that are going to redefine how the business world is going to take a turn.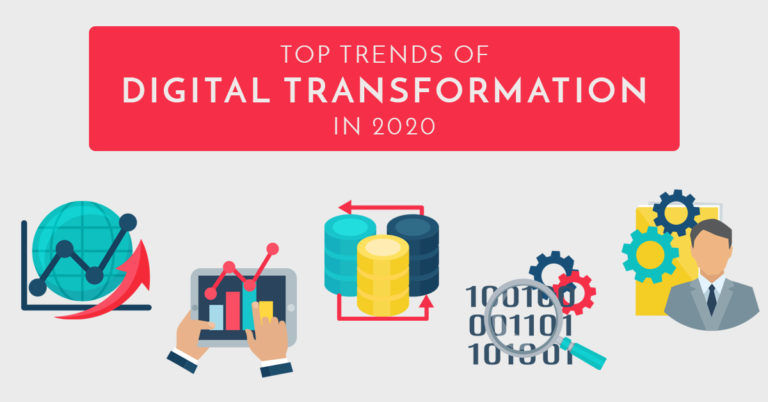 1. IMPROVED CONNECTIVITY:
The year 2020 will be all about better and faster connectivity. In no time, we are going to see the boost in processing quality and data consumption due to the introduction of 5G and Wifi6.
Prominent telecommunication companies like Qualcomm, Ericsson, Huawei, Samsung, and Intel are working hard to bring 5G into effective action.
Global deployment of 5G and Wifi will lead to smooth connectivity, faster speed, more reliable networks, and better processing which in turn will add to the advancement of customer services in various industries.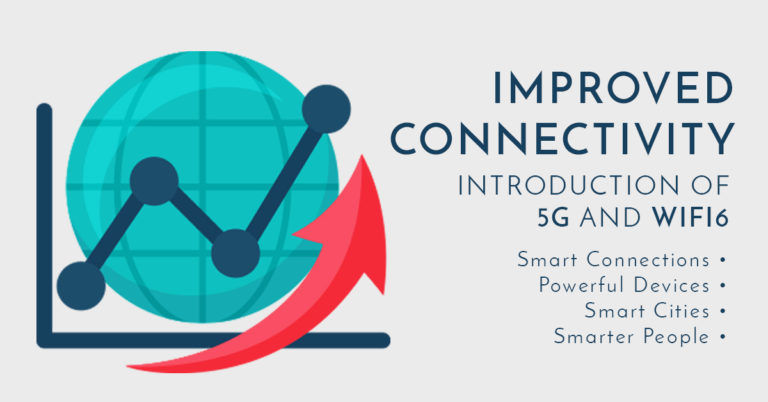 This major evolution is leading us into a generation of high-tech gadgets with advancements in technology, processing power, data utilization, and smart connections by introducing us to a variety of innovative and futuristic service products.
World's best industries have already gotten themselves into the manufacturing of 5G enabled handsets, Wifi devices providing better connectivity and downloading speed, Super PCs with higher processing speed and long-lasting power back up, autonomous vehicles and drones for smart cities and smarter people.
2. EFFECTIVE DATA ANALYSIS AND STORAGE:
Today every organization is known to have a lot of data at their disposal. But it's one thing to have data and the other thing to convert this information into actions to get constructive results in real-time.
To overcome this barrier, it becomes a necessary exercise to initiate sophisticated analytics tools to make beneficial data-driven decisions. This is done by discovering problems, interpreting insights and finding solutions.
It's one of the most crucial and efficient ways to generate value for your business by improving your understanding and interaction with your consumers.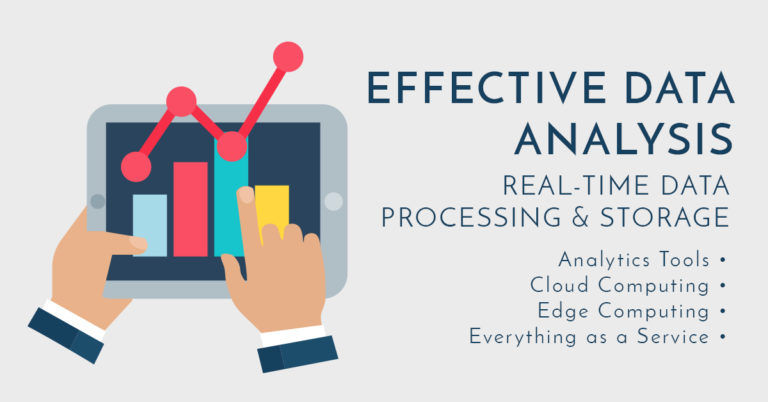 As the Internet of Things devices is becoming powerful day by day, there comes a need to store and manage this data for further use.
Cloud computing and edge computing together are providing seamless and secure assistance in a cloud storage facility at public, private and hybrid level, networking, security, app deployment to form the smarter experience.
The year 2020 is going to be the year of Everything as a service (XaaS) where the cloud still plays a vital role in providing services like platform, infrastructure, and Software as a service.
DO VISIT: http://en.wikipedia.org/wiki/Digital_transformation
3. BLOCKCHAIN:
With a lot of ups and downs in blockchain technology in the previous year, it will continue to advance in the year 2020. Several big shot companies have invested billions on blockchain technology and there are signs of real use cases beyond payments and cryptocurrency.
Blockchain as a service is emerging in the market and global leaders like Amazon, Samsung, Ali Baba, Microsoft, and IBM are already in queue to expand in this technology.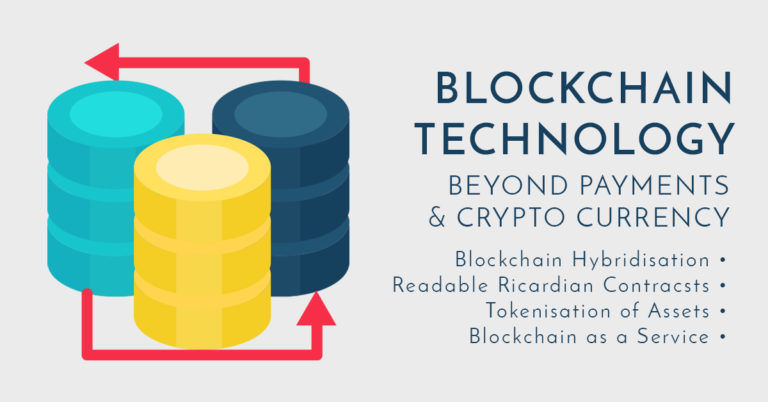 We will be experiencing multiple trends in blockchain technology regarding hybridization enabling cheaper and faster options, growth of BaaS, the rise of Ricardian contracts readable by both humans and machines and tokenization of assets.
New business models are anticipated for the utilization of blockchain technology in industries like food safety, intellectual property and real estate and asset management.
4. AI FOUNDATIONS:
At present, Artificial Intelligence and Machine Learning is the foundation
component for all of the services and applications in the world.
It's hard to imagine any modern day industry operating without AI. It has become a core element for providing highly personalized customer experiences based on the vast ocean of data collected through various analytics tools.
The future of AI aims at highly efficient, fast and convenient data processing and formulation. The advancement in AI algorithms has proven to be more reliable and accurate, working as an aid for gathering better insights.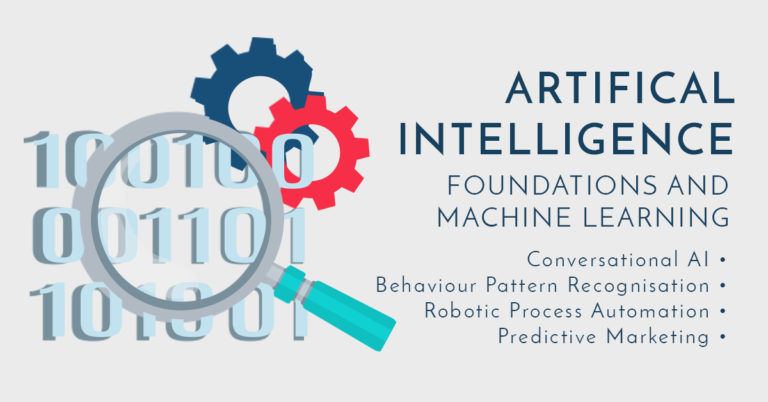 We will be experiencing a rocket speed increase in the use of AI in form of personalised user experiences, conversational AI in form of chatbots and NLP, behaviour pattern recognition, marketing and customer service automation, robotic process automation, predictive marketing and content management.
All of these different types of AI are going to alter how businesses are going to interact with their customers making it easier and more reliable.
5. USER EXPERIENCE:
User experience provides the base for the success of Digital Transformation. For these companies will have to continuously work towards improving their
internal organisation strategies and build a skilful workforce to result in better executions for greater customer satisfaction, increased sales rate at a reduced cost of ownership.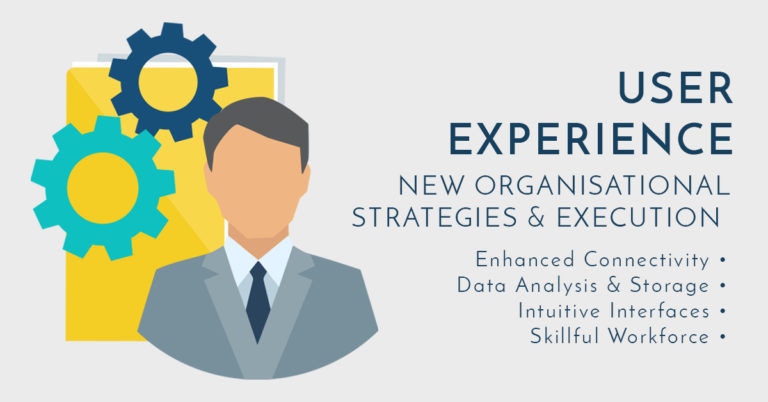 Customer experience is predicted to grow in multitude due to enhancement in connectivity, cloud computing, data analysis, intuitive interfaces, automation and democratised cryptocurrency.
By following the necessary steps in the direction of Digital Transformation, it is ensured to achieve higher performance and profitable results in various mainstream industries like hospitality, healthcare, transportation and retail.
Value Scale combines these upcoming trends with our global expertise to utilise them in the best interest for our partners. Let's work together to create a unique experience for your organisation to ensure a quick, steady and sustainable growth.
---
Created by
Tealfeed Guest Blog
--- ---
Related Articles