How to Travel the World and (Accidentally) Start a Startup
How would get this startup off the ground?
Since I was little, I've always had:
a fascination with entrepreneurship;
a desire to travel the world; and
pretty much no money in my bank account.
These ideas swirled around my head on the plane ride from NYC to Delhi in Summer 2018. I had no job, and not a lot of money, either. I had been saving up credit card travel points (you can find a list here), so my flight out cost net $0. I didn't have a ticket home.
When I arrived to Delhi, I was blown away by India's vibrant culture. Street vendors peddled pani puri and lopped the tops off of fresh young coconuts.
People pushed their way to the front of an ice cream line, gleefully ignoring those who patiently waited. A man rode his bike down the street, hollering in Hindi to market his knife-sharpening services.
It was the beginning of my love affair with India. I trekked in Kashmir, meditated in silence for ten days in Tamil Nadu, and met unforgettable people from Kerala to Bombay and everywhere in-between.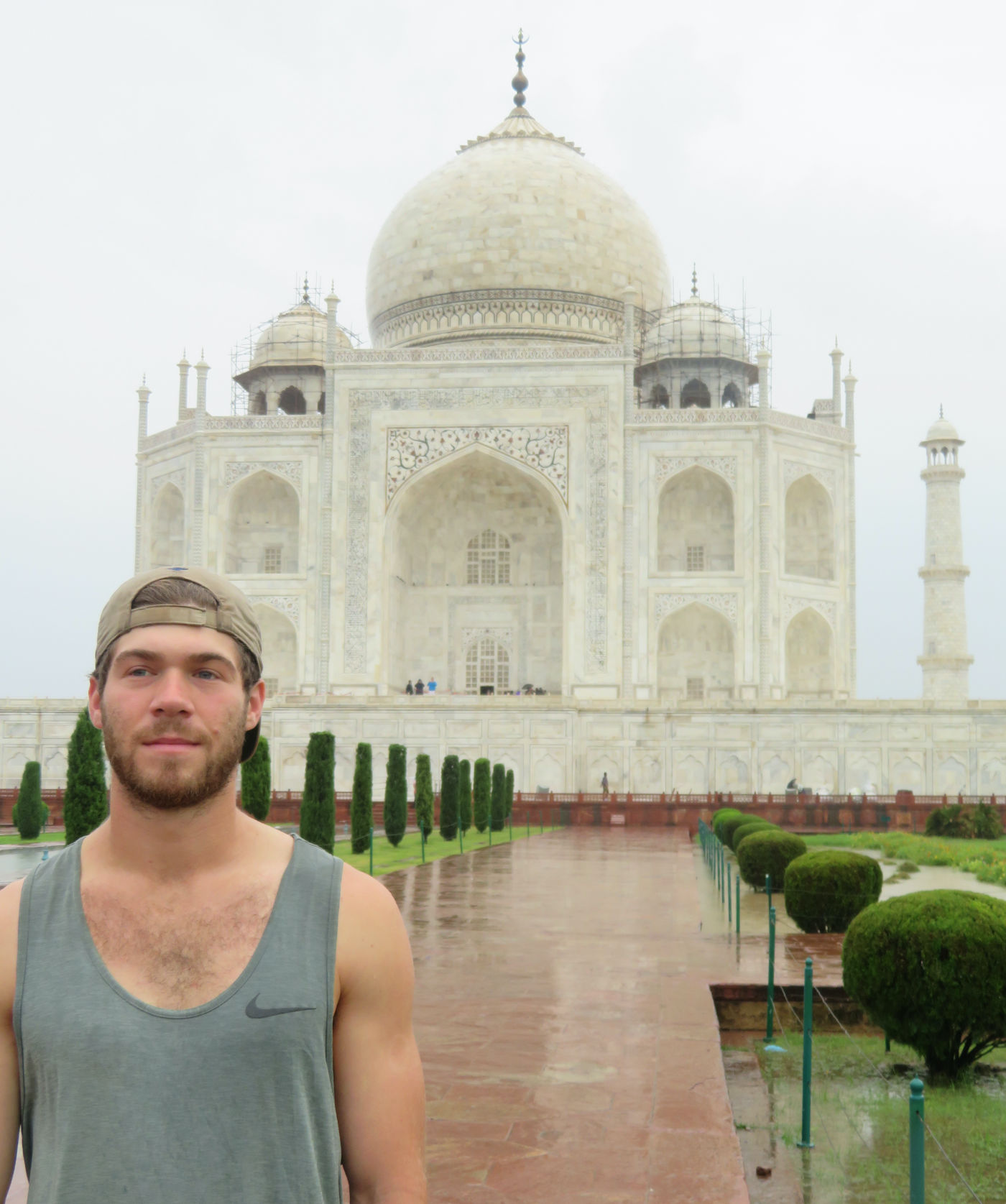 taj mahal
After a few weeks of traveling India, a tech hostel in Bangalore took me in as one of their own. Now called Draper Startup House (formerly Construkt), these guys treated me like family. The more I spoke with my friends at the hostel, the more excited I became about a fundamental existential question — what will I do next?
My original plan was to go back to San Francisco, get a job at a big tech company, and go to grad school after a while. Solid plan, right? My parents thought so.
Being in Bangalore, I could not shake the feeling that India was a magical place to start a startup. The engineering talent was better than Silicon Valley, and at a sharply better value. People worked harder (most of my friends in the hostel worked also on weekends by choice) and the energy within the tech community was palpable.
I said to myself, "This Must Be the Place".
Shortly thereafter, I met Aravind.
Aravind is a skinny spectacled dude from Tamil Nadu with piercing dark eyes. He always wears two thin gold chains, white leather shoes, and has one of those haircuts that are short on the side with a mess of curly hair on top.
We spoke about how cutting-edge technologies surrounding data and machine learning could be leveraged to create value — for businesses and individuals alike.
Time flowed by effortlessly as we whiteboarded in the empty co-working space well past midnight. I remember walking home every night with my brain still whirring, munching on an egg dosa that I'd buy from the only guy who stayed open past 2 AM.
We developed a strong belief that a highly scalable business existed over a matter of about two weeks. Just one problem:
We had no money.
No one knew who we were.
We hadn't graduated from Stanford, or worked at Google.
How would get this startup off the ground?
Miraculously, we were granted the ability to submit a late application to an accelerator in Europe. Ultimately, we were not accepted, but we weren't rejected either — they told us we could come and crash the program, with no promises of receiving any financial support.
We booked our flights to Estonia the next day.
We landed in Estonia a week later, knowing virtually nothing about this tiny country situated next to Russia and under Helsinki. I was surprised to learn about Estonia's reputation as a breeding ground for world-class startups.
Aravind had never seen snow before — as a matter of fact, he had never been in any non-tropical climate before. I laughed as he slipped around on the ice in his white leather shoes.
We traipsed into the first day of our accelerator program — called Startup Wise Guys — and for the next three months, Tallinn became our home and Startup Wise Guys became our family. For the second time since I originally left the USA for India, I was immersed in an entirely new culture.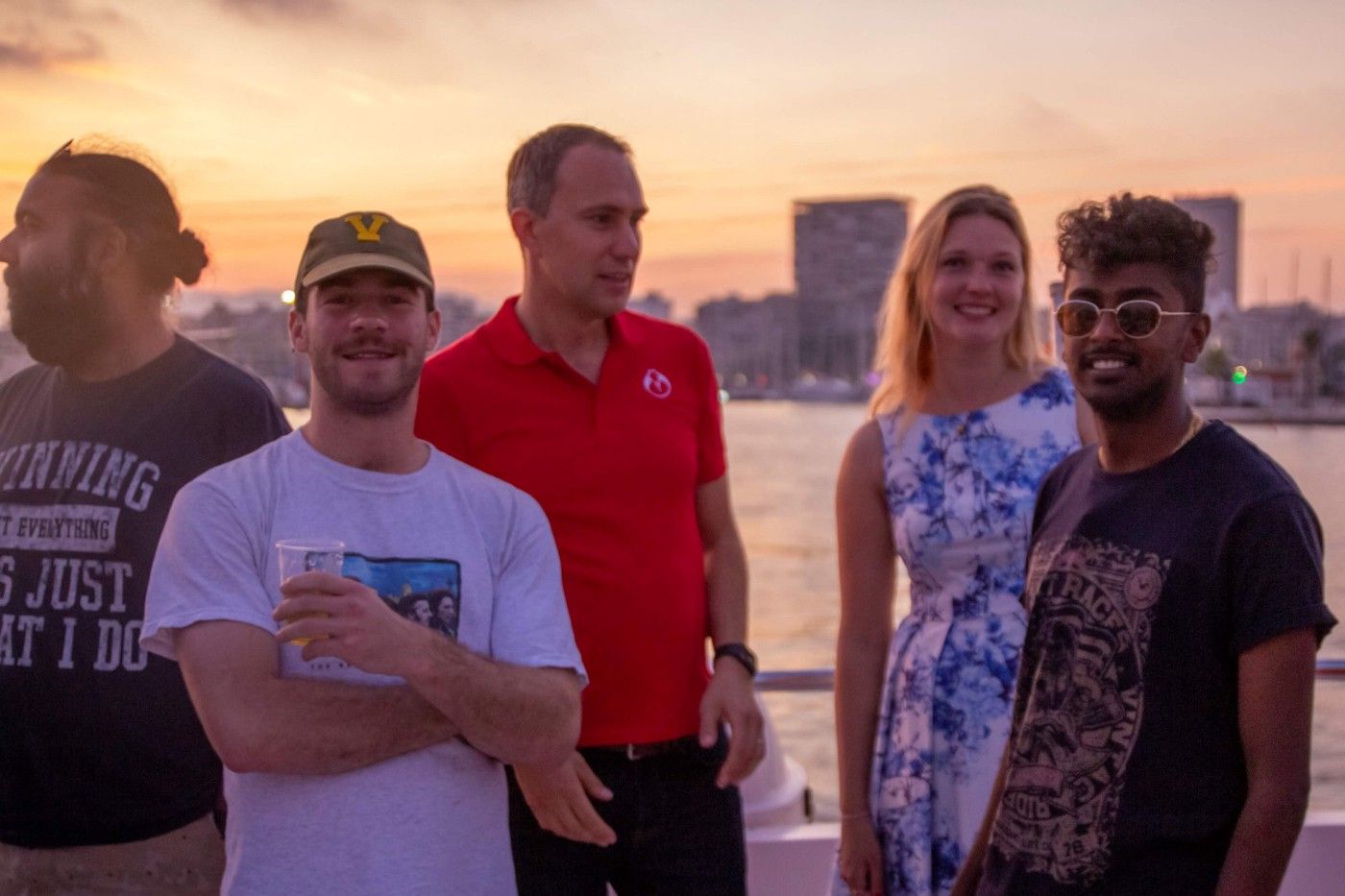 Startup Wiseguys Family. Spain, Summer 2019
Life in the accelerator was hard. We logged 12 and 14 hour days, coming home entirely stressed and exhausted. It always felt like we were failing and had endless work to do. But, we still believed deeply in our vision, and had a big, brilliant and passionate startup family supporting us and one another.
On Sundays I used to take a little break by going down to the Balti Jaam market to buy addictively sweet persimmons (called "hurma" in Estonian), tart humongous pomelos, and sour homemade pickles. There was a little old Russian lady who'd frown at me and sell me the persimmons every weekend, but I think she liked me.
After the gym one day, I met a guy who had a sauna in the back of a big tour bus. We used to park it in up against the coastline, sit in the raving hot sauna until our ears singed, and run into the frigid-cold Baltic sea, plunging ourselves for as many minutes (or seconds) as we could muster. We'd repeat this about five or six times until we reached a nirvana-like state of bliss.
On Saturdays we would blow off steam by going out partying and dancing all night. On the frigid cold walk back home, we'd bang the back door of a bakery that baked bread all throughout the night for the restaurants to serve the next day.
We'd hand the man five euros and he'd give us as much hot, freshly baked bread as we could carry home. I've never tasted such gooey delicious bread in my life.
At the end of the three months we pitched at a few events and gained the attention of a few investors in the Baltics. We began to win hackathons, pitch competitions, and get our first big-name clients.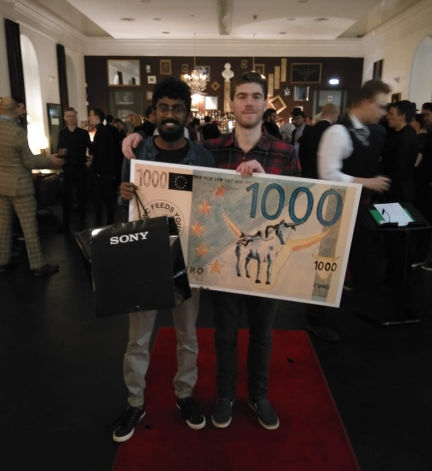 first pitch competition win
I had managed to use all my savings up. Just in the nick of time, I watched my bank account gracefully reach $0 as we accepted an offer for our first round of investment. We began paying ourselves tiny salaries, and moved out of Estonia to grow the team out of our first HQ in Bangalore.
It's been a little over six months since we received our funding and started building our HQ in Bangalore. Since then, our first product (Instaclean) has reached more than 1,000,000 installs, we've gone viral due to our unique approach to staying happy and productive during the COVID-19 epidemic, and I even learned a bit of Tamil (warning: explicit). We are serving clients in India, Africa, Southeast Asia, and Europe, and I have visited over eight countries in total in the last 18 months for work.
Life has not been easy these last two years. I got my tooth knocked out in a fight, went through a difficult break-up and had my car totaled by an out-of-control driver. I have made countless mistakes growing the startup. I am often abroad and never in the same place for more than three months at a time.
Life is also more rewarding than ever. My experiences with travel and entrepreneurship have given me perspective. I am happy I didn't go back to San Francisco and take the job at Google or Facebook (I'd probably still have my tooth, though).
If you are like me, and you are passionate about travel AND entrepreneurship, it might seem like you have to choose between them. They may seem mutually exclusive. Listen to me: they are not.
Travel does not have to be a costly thing, or something that does not accelerate your career. You can have the best of both worlds if you adopt a curious attitude and dive in.
Nearly two years after leaving for India for the first time, I can honestly say those same three things are still true about me:
I'm still fascinated with entrepreneurship, I still love traveling, and I still have pretty much no money in my bank account.
I look forward to continuing to build awesome products with awesome people and experiencing new cultures through travel. Do not listen to anyone who tells you that travel is incompatible with building a rewarding, valuable career.
This article was originally published on medium.
---
Created by
Gabriel Appleton
--- ---
Related Articles