How to Turn the Back of Your Phone Into a Touchpad
Meet the app that brings the power back to tap
I recently found the Tap, Tap app and I'm addicted to this new feature. Now, I can open applications just by tapping on the back of my phone.
I no longer have to go through shortcuts; I double-tap the back of my phone, and voila! It instantly launches my favorite application.
At this moment, please note I'm not connected to the app developers. Thus, I will merely share my experience and personal opinion about Tap, Tap.
What is Tap, Tap?
Tap, Tap is a powerful accessibility app that can become helpful for all Android users. This feature grants access to Android 11s Double Tap Gesture on the back of any device running Android 7.0 or above.
Tap, Tap is a port of the double tap on back of device gesture from Android 11 to any Android 7.0+ device. It allows you to use the gesture to launch apps, control the device (including pressing the home, back and recents buttons), take a screenshot, toggle the flashlight, open your assistant and more.

Using "gates", you're able to block the gesture from working in scenarios such as when the screen is off, when you're on a call, when an app is open and more. It uses an accessibility service to run these tasks and stay running in the background.
The app uses the same machine learning code and TensorFlow models from the Android 11 builds with the gesture, with code directly lifted from SystemUIGoogle where needed.
Tap, Tap is currently in beta and was released by the developers due to the public interest in the feature. Hence, for now, you cannot download it from the Google Play Store. However, you can download the app and install it on your device.
How to sideload Tap, Tap
While on your Android device, please follow this link to the XDA forum thread.
Afterward, download the most recent APK file. In case you haven't allowed installation from unknown sources, you'll get a pop-up taking you to the browser setting: slide to Allow From This Source. Then, you can go back and proceed with the installation.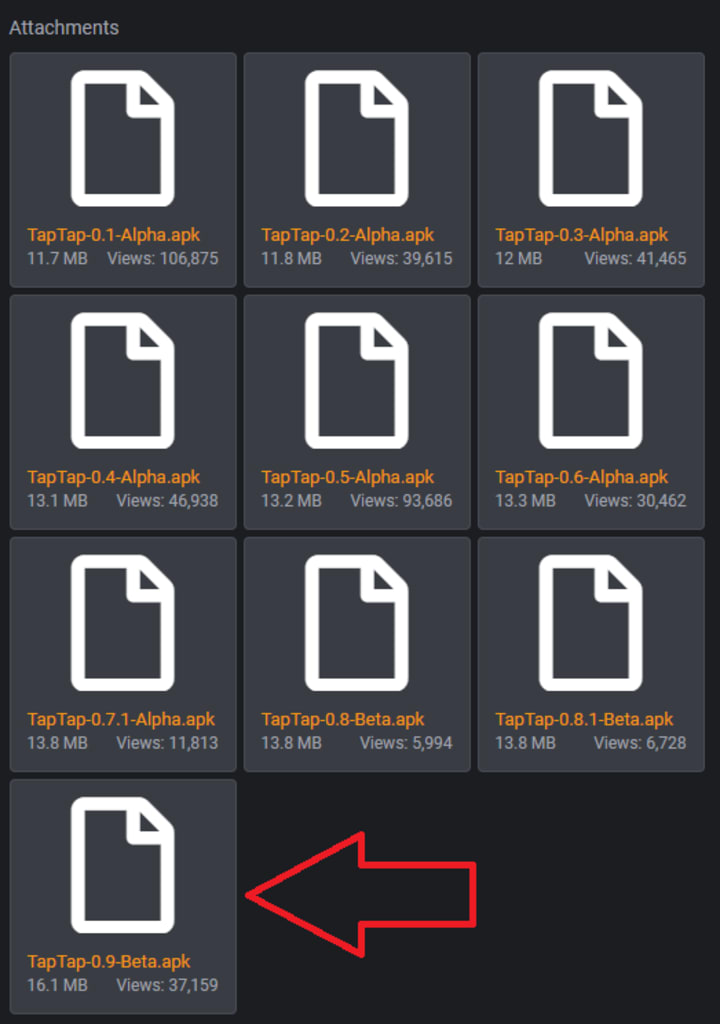 How to launch any app with Tap, Tap
Now that you installed Tap, Tap, the real fun begins. First, enable the Accessibility Service. This allows the app to perform actions based on your taps.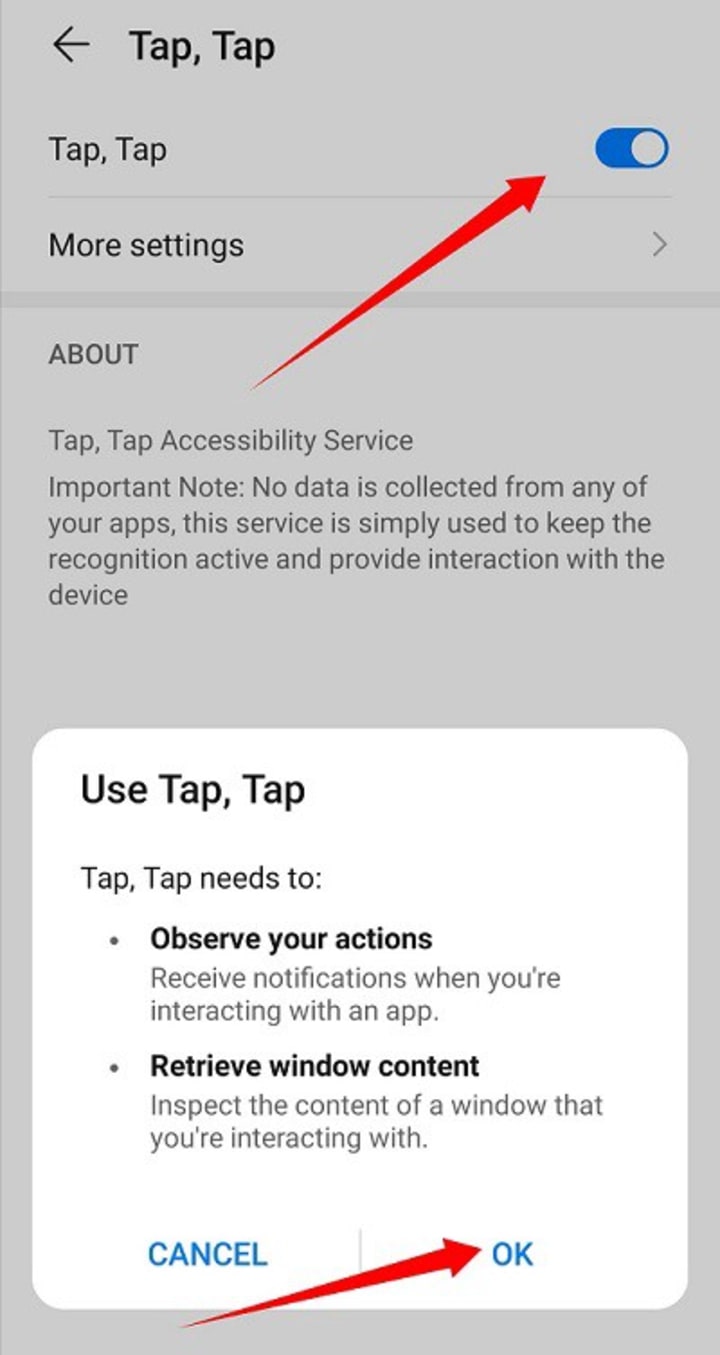 Then under Accessibility, enable Tap, Tap by sliding right as shown on the image above. As noted: no data is collected from the app "this service is simply used to keep the recognition active and provide interaction with the device."
You will also need to allow the app to:
Observe your actions

Retrieve window content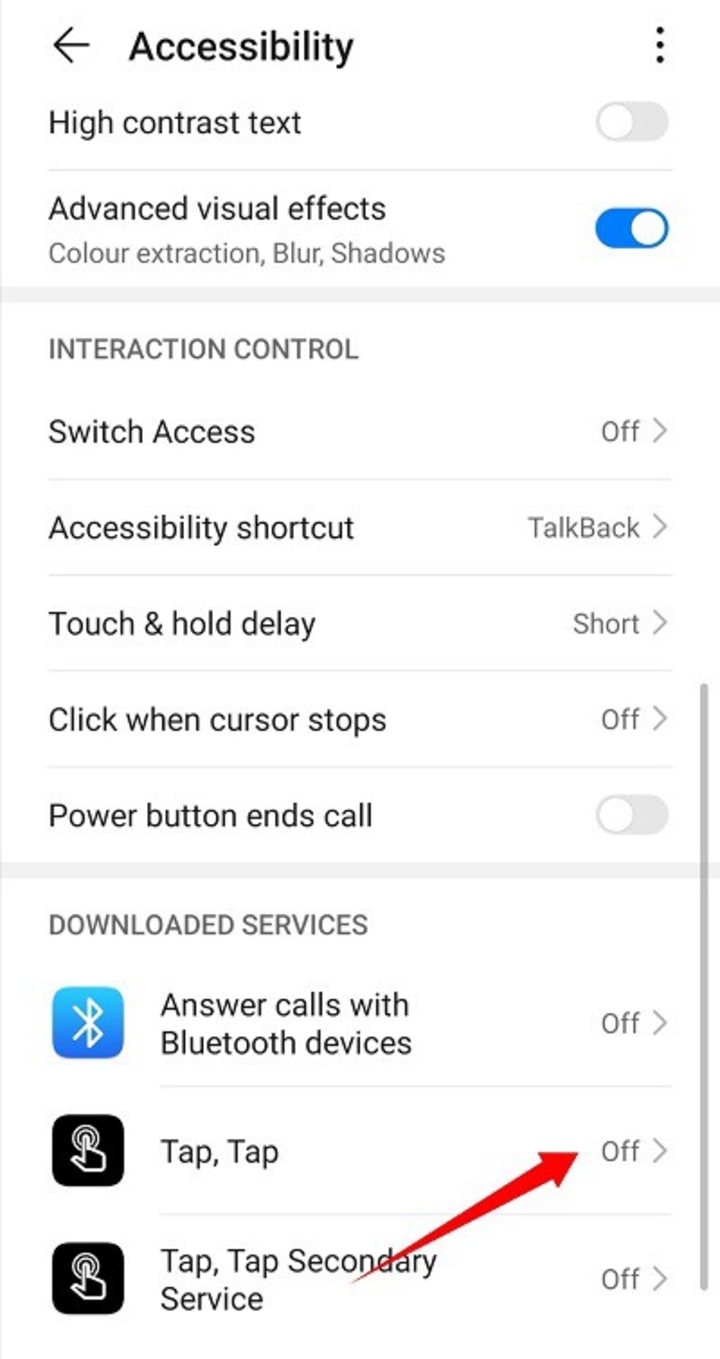 Afterward, let's enable and configure the Gesture settings. You have to first allow Gesture; then, you can either select Double Tap Actions or Triple Tap Actions.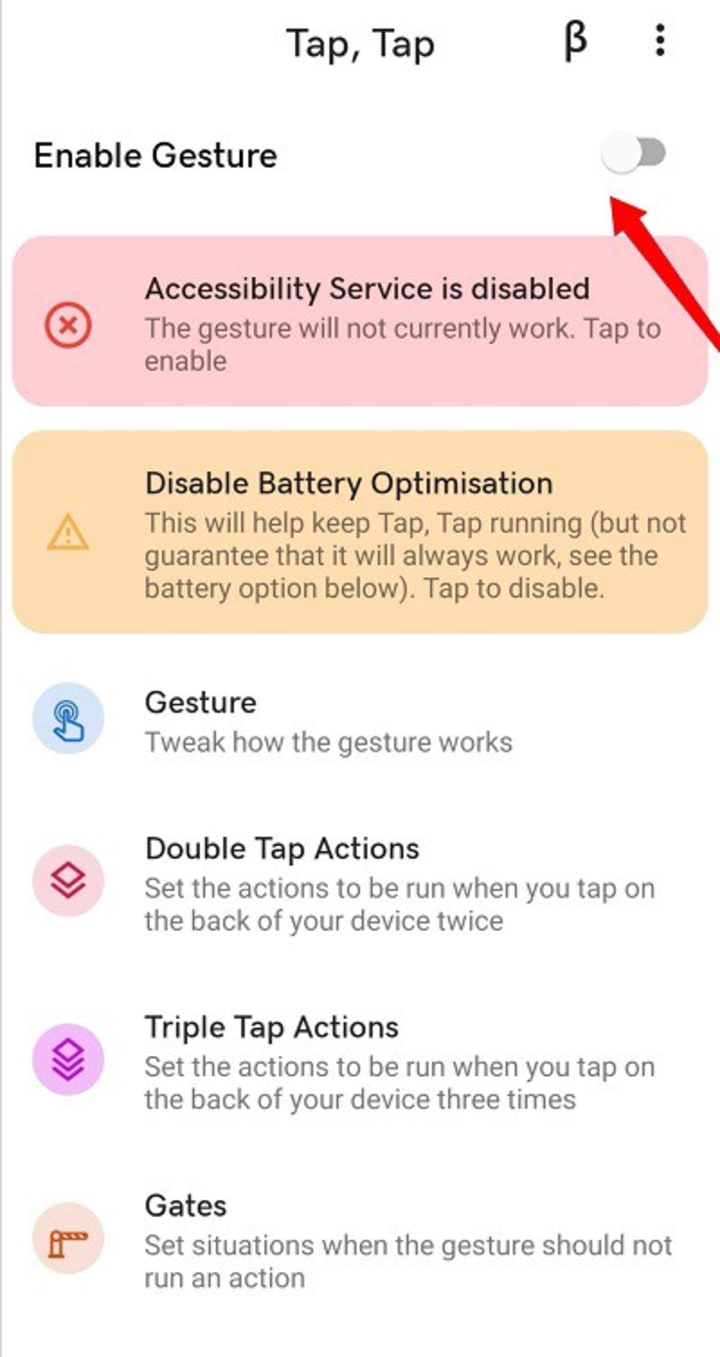 Click on Double Tap Actions; then Add Action; Launch; Launch App; press the + sign; and select the app you would like to launch by back-tapping.
I haven't explored the full capabilities of this app, as it also features Triple Tap Actions. —These actions run by tapping the device three times. I will write another tutorial on this topic.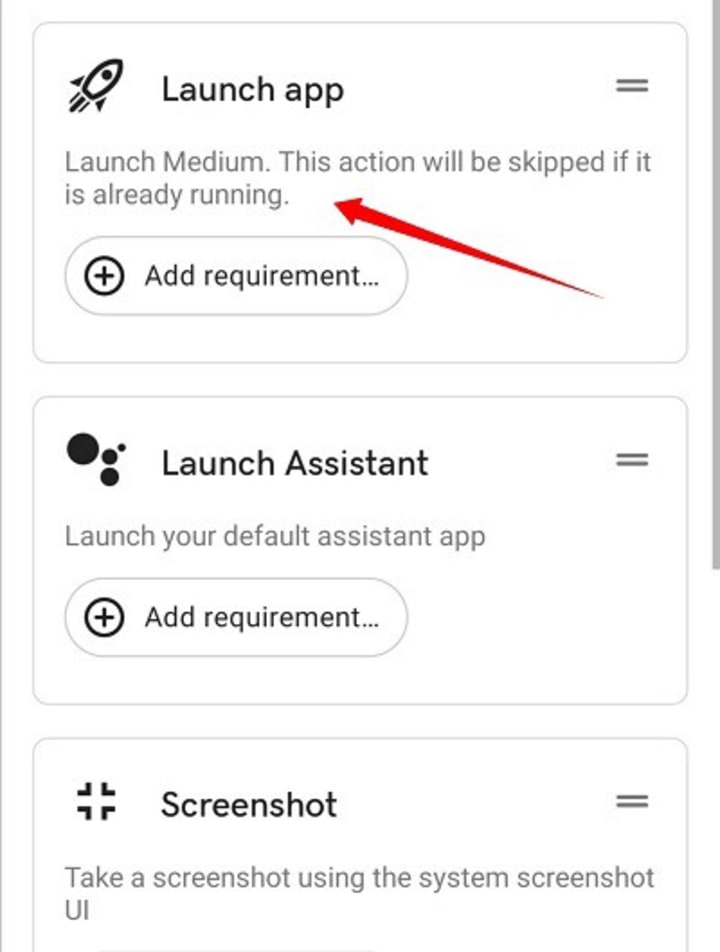 The latest version of Tap, Tap will also allow you to launch Google Assistant, take screenshots, or use utilities like, for instance, the flashlight just by tapping the back of your phone.
There's a lot more, but I will let you further explore all the cool actions available.
However, in this case, we want to launch our favorite app quickly. Thus, you have to drag the launch app feature to the top of the menu (click and hold to drag).
Voilá, you are all set to start tapping! I hope you enjoy Tap, Tap, and this friendly way to interact with apps and gain precious time.
Final Thoughts
This simple back-tapping gesture has revolutionized the way I interact with my smartphone, and I'm excited about all the possibilities this feature may offer us in the short run.
---
P.S.
Thanks for reading this article and supporting our community of creators here on Tealfeed. Please consider joining my journey across the blogosphere by picking up a thread from my insightful content on Medium or Vocal. Your support is highly appreciated. Till next time, cheers. - Rui
---
Teacher, Mindset-Coach & Digital Disruptor. Founder of Beloved and Chief Editor for Rock n'Heavy: Exploring ideas that leapfrog ahead.
--- ---
Related Articles