Understanding content strategy — the basics
Content strategy helps organizations provide the right content to the right people,at the right time
Tens of high-quality pictures, dozens of marvelous writings, and a bundle of unique content, but the results are not favorable. There are not enough people viewing and interacting with your content. It is there, right there, in front of everyone, but the level of attention it garners is below average, to say the least.
That is probably because you're missing one significant practice: strategy. You will never get the returns you want if you do not strategize your content before, and while, putting it out there.
Meghan Casey's definition, perhaps, describes the concept in the best way.
"Content strategy helps organizations provide the right content to the right people, at the right times, for the right reasons."
How content is organized and how people interact with it is, in other words, the core idea. Content Strategy, as the name indicates, has two major components: the content part and the strategy or governance part. It is often difficult to understand these two aspects and to break them down into smaller categories. This is where Brain Traffic's Quad comes in handy.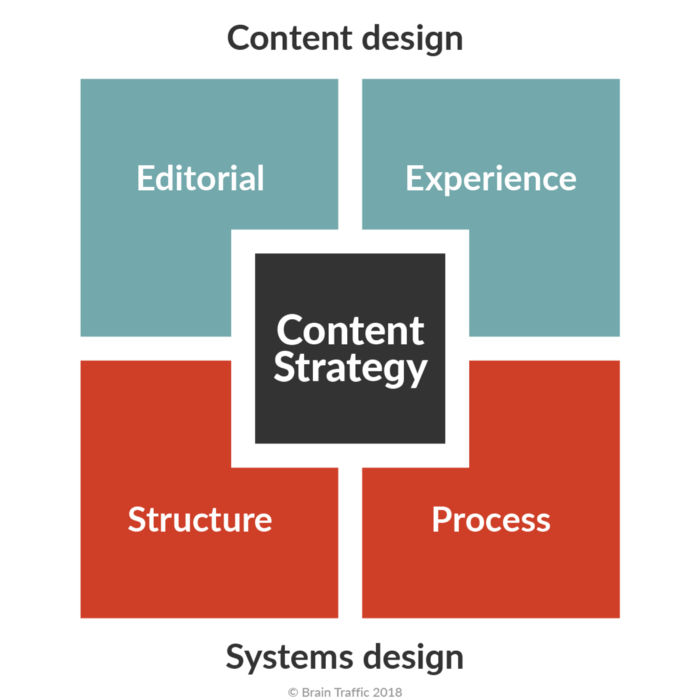 Photo Credits: Brain Traffic
Half of this strategy deals with 'content design' and the other half with 'system designs'. The former deals with the content itself and the latter on the governance and management of the content.
Content Design
Content design is the part of your strategy where you let the content do the talking. Your strength, in this phase, relies on effective writing, understandable presentation, and meeting the needs of your users both by the quality and the quantity of your content.
Editorial
All the practices of good content creation fall under the editorial component. It is important, therefore, to know what you are writing about and to have a clear idea of your goals and expectations. If you are a content strategist, some of the necessary questions that you need to ask, include:
What type of content do you need to write to meet the needs of your audience?
How are you going to write the content? What tone or voice will be both appropriate and effective?
What are your goals? What do you want to achieve with this content?
To improve the editorial practices and to ensure uniformity in the content, creating a style guide can be extremely helpful.
Experience
Once you know what you have to write about and how you are going to write it, the next step is to focus on the presentation. If your users find it hard to interact with your content or if they do not get a good experience, you're going to lose them very quickly. This is where user experience comes into play. You want to make things easier, usable, and useful for your audience so they not only get a better experience but keep coming back for more. The questions you might want to ask yourself while working on the experience of content include:
How do the users interact with your content? How can you make this interaction effective?
How can you make your content attractive and useful at the same time?
How can you help the audience to find what they are looking for, with little time and effort on their end?
Peter Morville's Honeycomb sets up excellent criteria for user experience.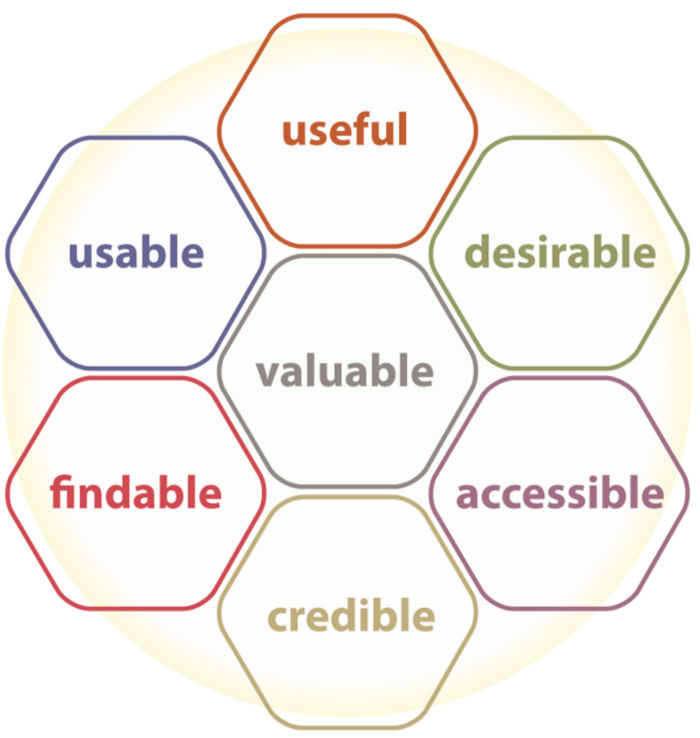 Photo Credits: Peter Morville on Flickr
Systems Design
Systems design is the other, equally important, half of the content strategy. It is the part that deals with the governance and strategy of your already available, and future, content.
This particular aspect involves more decision-making and a little more focus on people inside your organization than the audience.
Structure
You have your content, you have worked hard to improve the user experience, but unless you have a plan to put everything in order, your content will still remain ineffective.
Giving structure to the content is also important as it can provide you with a roadmap to the future, answering (and sometimes raising) important questions about the nature of content to be produced. To improve this aspect, you can start off by asking some of the following questions:
Which channels can you use to create, share, and distribute the content? Will you create a blog, a digital book, a paperback, or any other medium?
How can you organize your content in a better way? Do you need to break it into chapters, sections, series, or individual articles?
What are the connections between different parts of your content? How do some sections link to the others?
To create a better structure, creating an information architecture is always helpful.
Content strategy is not just a marketing strategy. You will need a lot more than advertisements and promotions.
Process
The process of content creation, distribution, promotion, and management is, in my opinion, one of the most complicated aspects of content strategy. This is where you have to deal with people, people involved in the creation of content (and people are unpredictable).
It is, therefore, extremely important to have a clear idea about all the tasks, responsibilities, and authorities of every single person to ensure proper governance of the content. The questions that you might want to ask, in this part, are numerous. Some important ones include:
Who will create what type of content and who will review it?
Who makes decisions about the publication and distribution of content?
Is there any collaboration needed between people and teams within the organization or with some other organization? If yes, how will that be managed?
Who will conduct the audit of the content and how frequently will that be done?
It is important to revise the policies as situations change. It is also necessary to conduct a content audit on a regular basis. This will not only ensure that the practices are being followed but also give a good idea about things that need to be changed.
Some Last Words
Content strategy is essential if you're involved in anything related to the production of content, may it be writing, editing, creating illustrations and videos, designing instructions, or any other thing.
Effective communication and a focus on the needs of your audience is the key to the success of your content. Some things that you need to take care of while developing a content strategy, are summarized below.
Have a clear idea of the nature and goals of your content
Understand and prioritize the needs of your audience
Know your limits and devise a strategy considering those limits
Remember, content strategy is not just a marketing strategy. You will need a lot more than advertisements and promotions.
---
Created by
Khawar Latif Khan
An engineer turned communications specialist with a passion to create helpful and understandable content.
--- ---
Related Articles