Student accommodation startups in 2020s- in conversation with Saurabh Arora
Saurabh Arora, the co-founder & CEO of University Living, talks about the future of co-living sector
India has over 50,000 colleges and more than 31 million students. College hostels accommodate around 3.4 million students, whereas the requirement is for over 8.9 million beds.
With the ever-widening gap between the supply and demand, the need for co-living spaces is bound to increase in the coming times and would be hugely driven by startups which would accommodate students.
A RedSeer report states that the market for co-living startups in India is expected to touch $2 billion by 2022. The overall segment, including paying guest accommodation, will be worth a whopping $93 billion over the next 10 years, according to a PropTiger report.
So, what does the future hold for this industry?
In this exclusive interview, Saurabh Arora, the co-founder & CEO of University Living, talks about the growth, the challenges, and the future of the co-living sector!
Q. How much has the co-living sector evolved in India in the last decade?
The Indian co-living market has grown in leaps and bounds in the last decade and is estimated to double in size by 2025 thanks to international investments.
Operators are starting to focus on purpose-built living units in response to the large-scale demand for fully-furnished, read-to-move in accommodations that meet the unique requirements of millennial professionals and students across the country.
In fact, millennials currently account for 47% of India's working-age population, and largely make-up the workforce for startups and tech companies in metros. Similarly, over 30% of students in higher education are part of the migrant population.
These factors have led to the development of co-living models as a response to the rising issues with the traditional model - high brokerage, interfering landlords and inconsistent rent.
Q. With all the predictions and the hype around them, what were the major reasons behind this rapid growth in the last few years?
Overarching demand for shared living spaces that accommodate a rising migrant population, increased investments for supply acceleration, and the network effect from targeting a millennial community that views living spaces very differently from earlier generations have contributed to this rapid growth.
Q. What are the major trends that would determine the success of such startups in the 2020s?
Co-living start-ups must focus on community interaction as the driving force of their growth strategy to promote inclusivity and minimise social isolation. This can be implemented by investing in onsite communal spaces, leveraging AI to profile incoming residents for effective roommate matching, and increased personalisation to modify existing amenities to deliver a home-away-from-home living experience.
A strong community is the best incentive for customers to stay on, and maintain brand loyalty even when they relocate to a different city. This is only possible if start-ups focus on selling a wholesome living experience rather than pushing student housing as a product.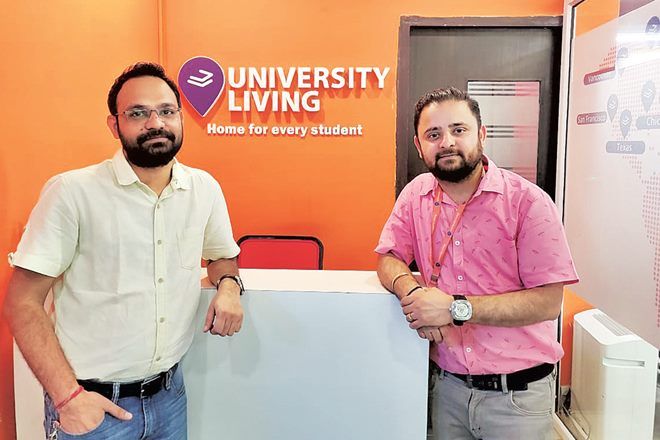 Q. University Living started with assisting students in an international setup. However, very recently, your organization started to assist students in India too. What were the major reasons behind this decision?
The motivation behind introducing our services to the Indian market was to provide domestic students with a superior living experience at university.
As Indian students who also studied overseas, my co-founder & I have witnessed first-hand the stark contrast between accommodation facilities available here and overseas.
In fact, the process of securing accommodation itself is disorganised, stressful and financially draining. Having established University Living as a global marketplace, we wanted to introduce the same ease of booking and superior living experience with state-of-the-art amenities to Indian students.
Q. For the next 5 years, how much focus would be on the local (within India) expansion?
There are plans to develop an independent vertical for Indian operations with seasoned professionals who have a firm grasp of the domestic student experience. We are currently working to build our supply portfolio in T1 Indian cities, and will subsequently expand to T2 and T3 cities in due course of time.
Q. Speaking about students, why do you believe students might be interested in taking up this option and opting out of their hostels and PGs?

There are several reasons, actually.
Primarily, there are no set parameters for quality checks on hostels and PGs across the country. So more often than not, students end up shelling out extra money for substandard accommodation because they have nothing to compare them to. In sharp contrast, all accommodation recommended by us has passed a series of stringent tests conducted by our internal team of student housing experts to ensure they meet our superior standards. They are all fully-furnished with modern appliances and onsite facilities designed to deliver value for money and enhanced living experience.
Secondly, hostels and PGs in India tend to have a diverse mix of occupants, where young students share living space with non-student groups, be it working professionals or otherwise. This can be isolating for students, especially those who have left their family and friends behind to pursue studies in a new city for the first time. In sharp contrast, the accommodation we offer are purpose-built for students. Every resident has a ready community of fellow students to turn to, which helps foster a sense of community, bolster academic spirit and minimise homesickness.
Third, safety is a major concern for Indian parents when their children move out to live on their own. Unfortunately, many PGs and hostels turn out to be less than advertised, raising serious concerns about the fate of students who choose to live there. In contrast, all accommodation recommended by us are pre-verified by our team and feature security measures like CCTV, secure door entry and onsite safety personnel to ensure residents are well taken care of.

Finally, a majority of students in India are free-thinking with aspirations to a more independent way of living. The restrictions imposed by hostels and PGs are often archaic and get in the way of their preferred lifestyle. In sharp contrast, our accommodation options are designed to fit the needs of modern students and help them maximise their university experience without compromising academic goals or personal safety
Q. Getting into this unorganized sector, what are the biggest challenges any organization has to face?
Some of the key challenges include the supply deficit, maintaining affordability for end users without compromising on the quality of services offered, and inadequate policy support to regulate the sector.
Q. Talking about marketplaces, how could evolution and integration of technology transform this sector in this decade?
There is tremendous scope of technological innovation to transform the domestic student housing landscape and marketplaces in general. Platforms powered by machine learning will help automate the entire user journey to reduce the turnaround time for conversions and scale up operations.
Tools like predictive search engines, personalised filters based on historical data, AI chatbots, integrated payment systems and conversational commerce will minimise manual intervention for transformative customer experience.
Q. In a country like India, the relevance of college life is very closely linked with living in hostels. How University Living envisions to retain that aspect for a college student and still assuring the core values it thrives upon?
At University Living, our goal is to enhance the college living experience, not replace it. Unfortunately, the limited availability of campus hostels makes it difficult to accommodate all students on campus, forcing many to turn to private alternatives.
We want to streamline the process of finding suitable accommodation that replicates the experience of living on campus by providing accommodation designed exclusively for students.
It is also important to remember that the core competency of colleges is to deliver a high quality of education, so the focus on living quarters is understandably lacking.
Our global experience in assisting students gives us a unique edge in finding them not just a place to stay but extend other value-added services, like doorstep delivery of room essentials, assisted check-ins, meal distribution, and more.
Q. For any aspiring entrepreneur this decade, what's the most important thing to keep in mind?
While there is no magic formula for entrepreneurial success, what has personally worked for me thus far is mindful execution and financial discipline. It is very important to constantly seek out customer feedback to develop a sustainable product that solves a real problem.
---
Ideas are easy, Implementation is Hard, learn from the ones who knows how to start. A Publication by Tealfeed.
--- ---
Related Articles