How To Use Instagram Reels For Business
Instagram is determined to fill our plates with advanced updates.
Got an aesthetic feed? – Check.
IGTV content? – Next in line.
Posted stories? – Umm, adding that too!
And Instagram reels? – Jeez, what's that now?
I know it is overwhelming.
Instagram is determined to fill our plates with advanced updates. The latest Instagram launch of August 2020 is dazing us all.
Yes, you guessed it right. We are talking today about TikTok's twin, Instagram reels.
Since the launch, it has become a hot topic of discussion in social media downtown.
Before you add another column to your Instagram marketing strategy, let's first understand why reels on Instagram are getting this hype.
Table of Content
Why were Instagram Reels an instant hit?
What are Instagram Reels?
How is Instagram Reels different from TikTok?
How to create Reels on Instagram?
7 content ideas for Instagram Reels
Challenge
Tutorials
Behind the scenes
Tips
Teasers
Brand announcements
DIY
Why were Instagram reels an instant hit?
The popular lip-syncing, teen dancing video app needs no introduction. TikTok is among the fastest-growing apps of the decade.
It got a whopping 315 million downloads in the first quarter of 2020 itself. It made the big-time players bite their nails.
Facebook jumped right at the moment to snatch the limelight. It had already launched Lasso, a similar platform that didn't perform well and got discontinued later.
After the TikTok controversy on data breach and threatened privacy, multiple countries banned the Chinese owned app. Many accused the app of circulating false information as well. It all happened amidst a severe pandemic when everyone was under house arrest.
The Gen z and millennial clans were desperately in search of an alternative to kill time and boredom. And that's how Instagram reels wore the superhero cape and dived right in.
It had its trial launch under the name of Cenas in Brazil by November 2019. It showed promising results, increasing the engagement rates. Without any further ado, Instagram reels geared up for its global launch in 50 countries during the first week of August 2020.
Let's have a look at "What are Instagram reels" for real.
What are Instagram reels?
Instagram reels allow creators to record mini-video clips with AR effects and music for recreational or branding purposes.
While the IGTV and story feature fulfilled a similar purpose, reels have doubled the intensity by cutting down the duration.
The Explore tab suggests reels to the Instagrammers on recent searches and likings. The reach is made global and is not just limited to any geographic location.
IG reels are easy to discover too. The recent update ensured that you stumble across the video reels feature without any painful search. The clever placing of the video reels icon in the Search button has done the magic trick.
The best part is you, as a business owner, provide your audience with better exposure. They get to see more of you in not just reels but also in feeds, stories, and IGTV.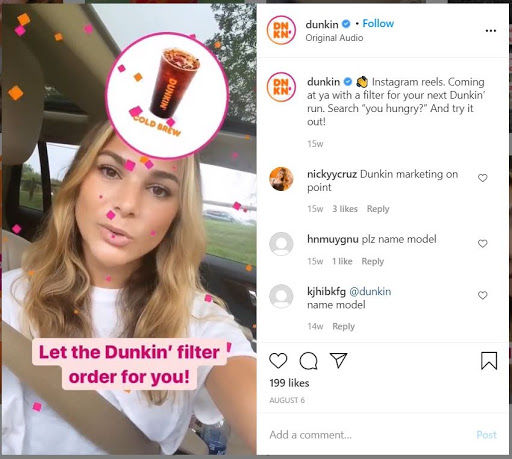 Have a look at Dunkin's Instagram reels. They have used a custom "You Hungry?" filter for suggesting orders at Dunkin. It is a remarkable marketing strategy to display Dunkin offerings in sort of a challenge.
Tips: Make sure your Instagram business account is public for your IG reels to appear in the Explore tab.
Now TikTok and Reels might appear visually similar, yet there are quite a few differences between the two. Let's explore that next.
How is Instagram Reels different from TikTok?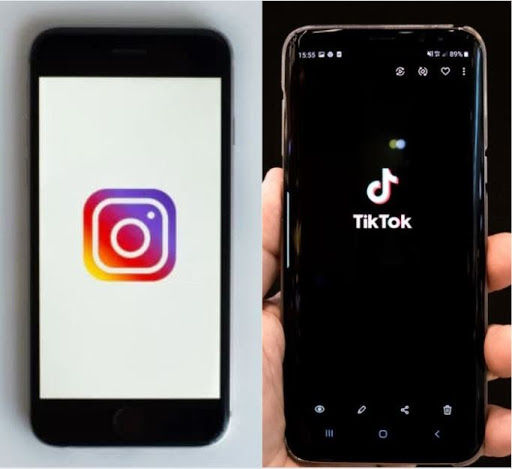 The short video content is the trademark feature of these Gen Z apps. Both are excellent marketing tools for businesses of all sizes.
TikTok and Instagram reels have a similar set of exciting features. However, there are evident differences between the mirroring pair.
1. Ownership
The latest rolled-out feature, Instagram reels, falls under the umbrella of Facebook. While TikTok by ByteDance is the first-ever China-owned app to gain worldwide fame and love.
2. Demographics
Though the pair is equally famous among teens and young adults, Instagram reels possess a mature base compared to TikTok. That's why brands are already flinging doors open to Instagram reels, leading them to better business opportunities.
3. Duration
While TikTok had a limit of a minute, reels on Instagram have truncated that to 15 and 30 seconds slots. In case you want to push even an hour-long video, you can opt for IGTV.
4. Feed
Reels on Instagram are exclusively available on the "Explore" page. They are also available in the IG reels tab on the profile page and the home page. TikTok, on the contrary, has just one feed solely dedicated to their video content.
However, fresh content loads with every swipe up in both the apps.
5. Miscellaneous
The famous TikTok duet is not a feature of Instagram reels as of now. TikTok videos also beamed with their logo, which is thankfully missing in Instagram reels.
Influencers using both platforms have felt the heat of the apps. The play rate of IG reels is 40.1%, whereas TikTok has a mere 9.4%, as suggested by Billion Dollar Boy.
If you have a strong presence on Instagram already, IG reels are your go-to option. If you already have vested time in TikTok, upload the same in reels too.
Instagram is rolling out more of their reels update to tackle the other differences to win over the TikTok audience. While they work on their updates, let's have a quick walkthrough of whatever is available now.
How to create Reels on Instagram?
Instagram reels are quite an easy way to create exciting videos.
Jump over the hurdles of editing or scripted content with reels. Upload a video from your gallery, club your favorite clicks in a reel, or simply record one from scratch.
Here's how you can create reels in quick 10 steps.
Step 1: Toggle to the Reels screen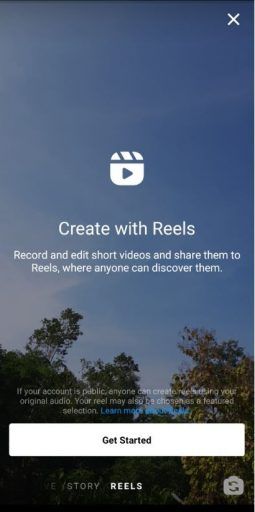 Tap onto the camera icon on the left to land on the story screen. Select the "Reels" option from the right to open the reels screen.
Step 2: Add the length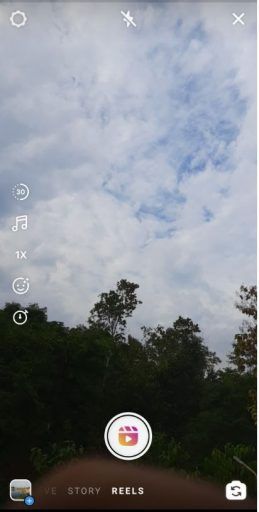 Set the duration of the video reels by clicking on the length widget. You can set it to either 15 or 30 seconds.
Step 3: Get in some audio tune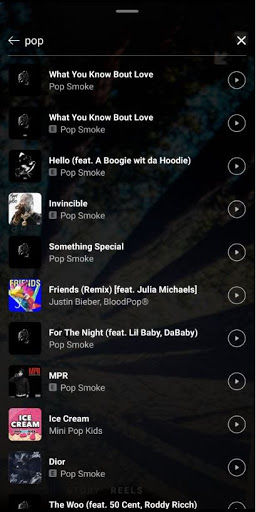 Select a song from the video reels music library. You can use the trending song suggestion or search for a particular genre to match your video reels.
If you want to use your original audio, then you can skip this step. You can record your reels like a story.
You get to keep the credit for your original audio and can save it for later use.
Tips: Come up with a catchy reels music so others can use your original audio too.
Step 4: Glam up with AR filters
You can use your favorite AR filters from the effects gallery. Tap on the effect widget and select an appropriate filter for lively IG reels.
Tips: Use your brand intensive custom Instagram filters in the reels, demonstrating its usage.
Step 5: Timer and countdown
Set the timer to record your video reels hands-free. To set the timer with a countdown, use the stopwatch-like widget.
You can set the countdown for 3 seconds or 10 seconds. It starts before the timer takes off for you to be reel ready.
You can also use the timer to trim the video duration to 5-10 seconds.
Step 6: Align the perfect way
Once done with recording a clip, align it with the next one. It will make sure that all the clips have a smooth transitioning effect throughout the reel.
Use the align widget for this. Repeat the same for all the clips to get a cohesive outcome.
Step 7: Speedy edits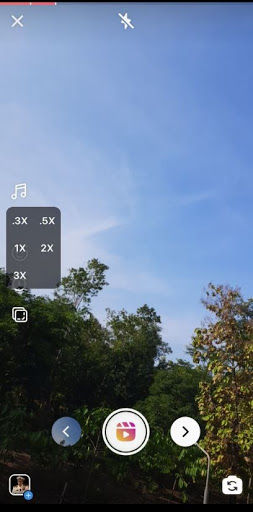 You can fix the pace of your reels before it goes live. The tune can match with the action taking place in the reels.
Select the speed widget to get options from 1x to 5x. Choose what fits the best for you.
Step 8: Last-minute additions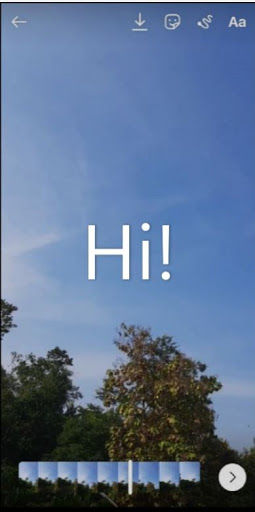 You can also add exciting gifs or textual content from the widgets on the top. Check the video once before hitting the arrow for publishing.
Step 9: Share the reels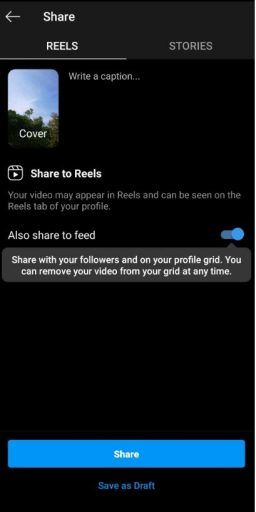 Once done, add captions and relevant hashtags to your reels and tap on the Share button. Congratulations! You have successfully created your first ever reel.
Step 10: Explore it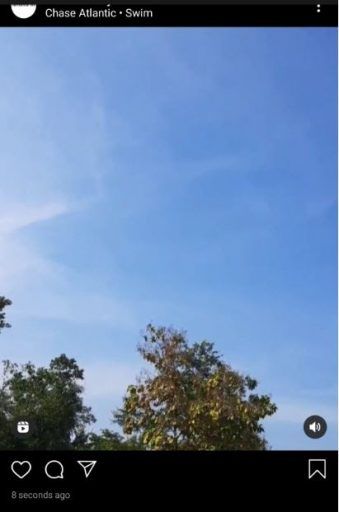 Check out if it appears in your Reels tab. If you have a public account, your reels will pop up in the Explore tab too, and under the used hashtags.
Tips: If you want to temporarily hide an IG reel, use the Archive feature from the three-dot icon in the feed's grid view. You can delete the Instagram reels the same way.
7 content ideas for Instagram Reels
There is still one mind-exploding question -What should we post in reels?
Wipe your brow, ladies and gentlemen!
Check out this list for 7 fun content ideas to bring for your next reel posts. They will surely bring in stellar business values. Let's proceed then.
1. Challenge
Who doesn't like challenges and competitions?
We all do, and so does your audience. TikTok proved that short challenges like #gesturechallenge and #savagechallenge perform incredibly.
Come up with your sweet brand-related challenge, or hop in with your partners in crime to accomplish a trending one.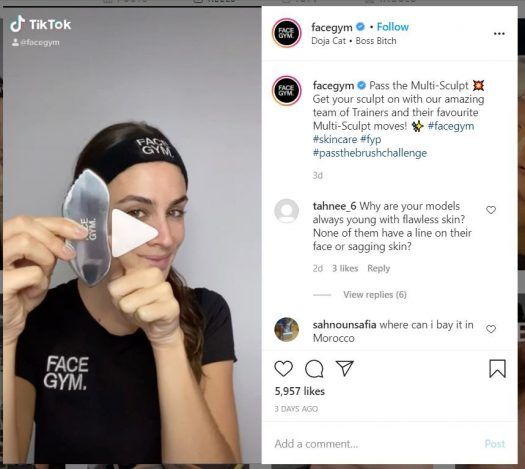 Let's have a look at Facegym IG reels. The #passthebrushchallenge has over 204K+ posts on Instagram alone. So the trainers too hopped in, taking the famous challenge with their latest product, multi-sculpt, adding a new touch.
2. Tutorials
Everybody loves learning something new, especially when it just takes 15 seconds.
Give your audience a quick tutorial on how to use your product with IG reels. Makeup and quick recipe tutorials are trending the most so far.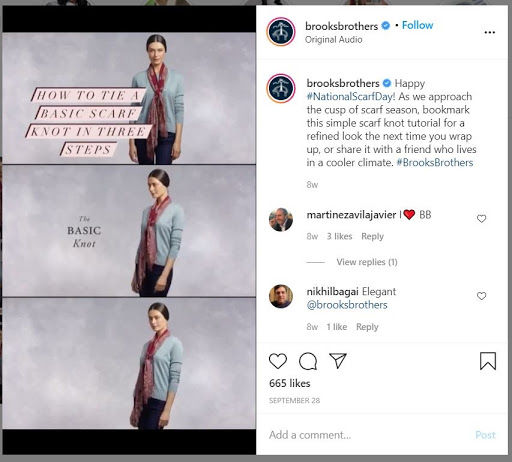 Look at this creative tutorial by Brookbrothers on tying a scarf with a basic knot. On the eve of #NationalScarfDay, they posted this formal look tutorial and prompted their followers to bookmark it as well.
3. Behind the scenes
Behind the scenes are great for pulling in your audience, making them brand inclusive.
You can showcase your team behind business success, introducing them in the reels. Give a sneak peek of your daily life at work and your everyday schedule.
If you are hosting a big event, capture a glimpse of last-minute madness for your reel content too.
Here's a fantastic example of Twix reels. They take their followers into the Twix factory world to show every process from scratch. Such behind the scenes reels result in firmer trust between the brands and their audience.
4. Tips
Share some unusual tricks and tips with your followers.
Build a series on it and reserve any weekday just for that. It can revolve around any festive season theme too.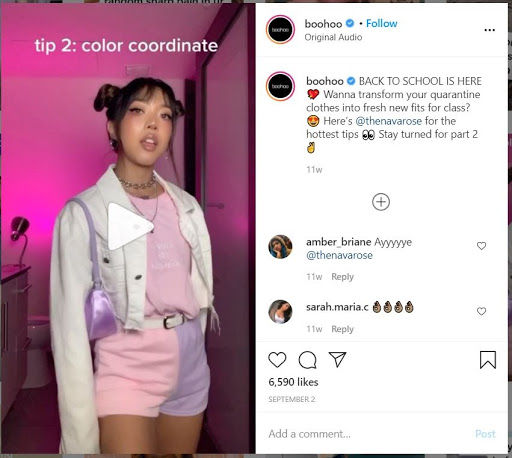 Draw some inspiration from Boohoo as they share vibrant tips for quarantine fashion. The reel caption ends perfectly with part 2 revelation.
5. Teasers
Teasers are great reels content that arouses curiosity amongst your followers.
Teasers build anticipation and tend your followers to make a come back to witness the real deal.
BMW drops a jaw-dropping teaser of their 8 Series Golden Thunder Edition. They have highlighted the dope metrics of speed, power, and acceleration to excite their fans. The trending video reel has got 147K+ likes already.
6. Brand announcement
Instagram reels are best for brand announcements, be it collaboration or launching new updates.
You can also use them to announce giveaway alerts and sales commencement too.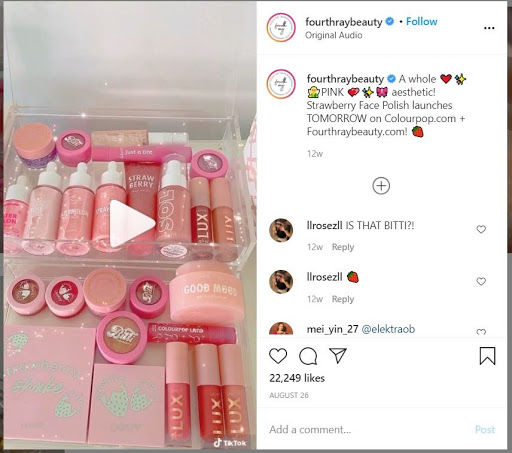 Here's an example of Fourthray Beauty flaunting their product launch. The aesthetic display of these exclusive Strawberry Face Polish is too hard to ignore.
7. DIY
The Do-It-Yourself mindset is the finest example of personalization. And as we all know, personalization is key to stellar branding.
Use Instagram reels for easy DIY content. You can also repost if any other creative Instagrammer uses your products for DIY.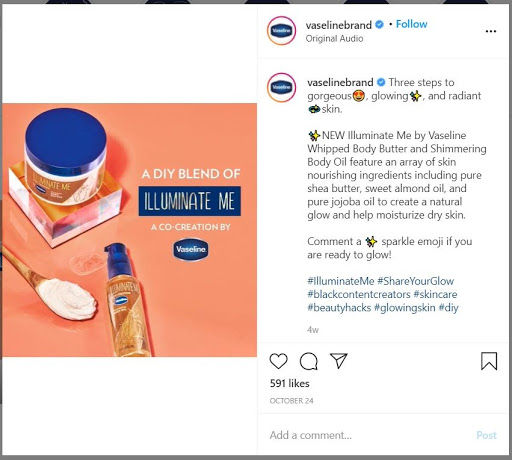 Look at this DIY blend tutorial by Vaseline. It sums up three easy to do steps for glowing skincare. The post asks the followers to leave a sparkling emoji for the necessary vibe check.
Conclusion
It seems like a lot of fun, right!
And I bet it is just the beginning. Instagram reels are still in their infancy stage. It will be incredible to see what unfolds next.
Lots of brands are creating reels because why not? A 15-second video is engaging, superbly easy to make, and hey, your reel can also get Featured by Instagram.
Featured reels are handpicked sets of reels by Instagram to promote unique, inspiring content to encourage creativity. They are perfect for groundbreaking reach.
So be ready to rent a permanent space in your audience's mind with Instagram reels for real.
Happy reeling!
---
Created by
Sweta Panigrahi
A content writer by profession, my strongest pursuit is to capture social media happenings in well-researched blogs. From geeky codes to hilarious meme posts, my search history is a confounding mess. When not typing out blogs, you can find me basking under sun, scribbling poems.
--- ---
Related Articles