Using Data to build your Customer Relationships
Identify where you lose your customers
It's been nearly four years since my old roommate and I rented a summer sublet during our undergrad years, but we still remember the sweet old man who owned the local convenience store, and made a point to specially order the specific Ben & Jerry's ice cream flavour we had asked for on a previous visit.
That mom and pop corner shop where they remember your name or your favourite candy bar will always give you a sense of comfort that a box chain grocery store just can't beat.
Customer relationships can be built through human connection, but that doesn't mean that genuine relationships are restricted to "IRL interactions". Especially now, in the age of increased e-commerce and digital sales in response to the current covid-19 pandemic.
With the rise of data collection in nearly all aspects of our lives, we as customers have come to almost expect a certain level of personalization when it comes to our interactions of brands.
Imagine being able to add items to your online "cart" but once you closed your tab, it all went away! Cookies and online store accounts allow for customers to save favourites, keep items in their virtual basket, and otherwise maintain an ongoing relationship with the company. In doing so, we're offering companies a plethora of data on what we like, and how to best appeal to us.
When making use of an online selling platform, or otherwise even just promoting your own skills and services, its advantageous to make use of the growing trend of collecting customer data to enhance your customer relationships.
Data science is the answer, and specifically, making use of customer-provided data to provide timely, relevant, and personalized information. With automated marketing, this is easier than ever!
Here are some recommendations on how to integrate data science into your customer relationship management plan, including actionable steps that you can get started on right away.
1) Identify where you lose your customers
When do potential customers leave your page? By identifying when customers abandon cart, unsubscribe from email lists, or delete their accounts, you can backtrack to identify which company actions may have lead to this. As your customers move through the purchase funnel, it is important to make use of previously collected data to keep them on track!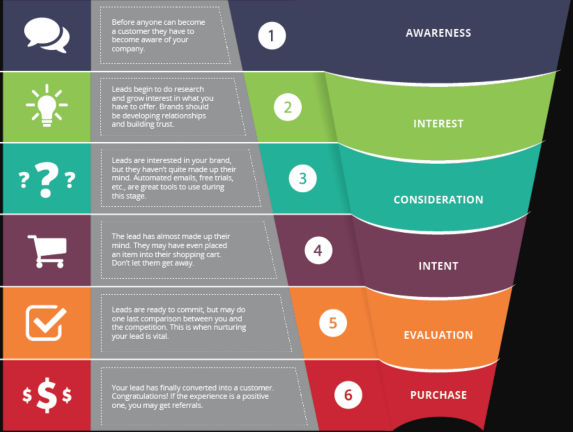 via zoomgravitymarketing.com
Using Google Analytics, you can measure the bounce rate from different pages within your website. Accordingly, plan to make the websites more user-friendly. Are the load times too slow for that page? Try reviewing existing UX design, optimizing site speed and call to action placements, and using targeted advertising towards return users who are already further along the marketing funnel and likely to get closer to completing a transaction.
Send personalized reminder emails, showing customers the items they last looked at, the items they left in their basket, or provide recommendations for other products they might like as based on what they were last looking at.
2) Use Customer Purchase Data & Interactions
Data collection from multiple visitor sessions, across different devices, and from different sources, can be leveraged to build a singular consumer profile that is continuously updated over time. This is what allows for the building of a continuously evolving dataset that can be tapped into when delivering hyper-personalized advertisements and promotions.
Rather than a singular or generic buyer persona that all advertisements are expected to appeal to, consumers can receive more personalized offers based on customer data. Strive to identify your consumer's pain points and present a solution. Clearly illustrate how YOUR product or YOUR service is exactly what the consumer is looking for. With the rise of tiered loyalty programs that can provide customized promotion, customers are willingly providing extra information in exchange for personalized content.
3) Efficiency is key
There are 2 main ways to look at this; on behalf of the customer, and on behalf of your business.
For customers, ensure that communication and registration is as simple to follow as possible. Avoid having multi-step registration or sign-up processes, or repeatedly asking for the same information. While a click-to-the-next-question approach might not seem like an inconvenience when using a desktop, mobile users might get put off by repeatedly having to select buttons and type in fields on a smaller screen.
For businesses, a customer data platform can remove internal barriers. Cloud-based CRM helps keep data accessible and easy for multiple team members to access or input into. Integrated CRM systems can be used to keep track of every piece of customer information and record customer interactions.
Follow-ups become targeted and relevant, position within a purchase funnel is clearer, and the subsequent targeting is then specifically relevant to who the customer is and where they are on their path to a purchase decision.
Data science is what turns collecting customer data into developing actionable insights and building the foundation for quality customer relationships. Making use of a strong CRM software would help to build complete customer profiles that can then be used to best meet their needs.
---
--- ---
Related Articles