Using Decode & Conquer for your Product Manager interviews
What are they going to ask me? How do the interview phases work? And most importantly, how are you going to evaluate my skills as a rookie PM?
---
Jorge H
2 years ago
|
10 min read
---
Hello to all the aspiring Product Manager, once again I come to talk to you about something that, to a greater or lesser extent, has made us all sleep uneasily the night before, the interviews.
As an aspiring PM, background you are, it will have been hard for whatever you to learn everything about the role. Developing your core in Product Sense, Analytical Skills and Execution abilities and probably now you feel ready to start analyzing the labor market, review your profile on Linkedin, adapt your CV / Resume, etc. So, you get your first interview as a Product Manager Associate and it comes to mind:
What are they going to ask me? How do the interview phases work? And most importantly, how are you going to evaluate my skills as a rookie PM?
This is when the book that I will discuss in this post comes into play.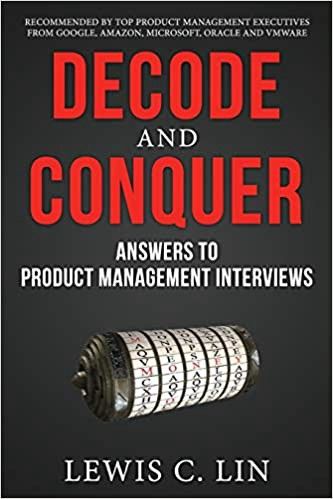 Titulo: Decode and Conquer, Answers to Product Management Interviews.
Autor: Lewis C.Lin
Language : English, for now if you have found another version, you can write to me.
Link in case you want to buy it
Beyond a simple interview book
Important! For those of you who want to buy the book. As it says above, it is only in English. Hence I am writing this post in Spanish.
For those of you who do not know the work of Mr. Lewis, this book is one of the most recommended for aspiring product managers. Because it sheds light on how interviews work and establishes a methodology to overcome them.
Surely you wonder if this book is really going to help you get a job. Although it is true that to get a job you need a little more than reading a book. What this book is going to do is furnish your head in the right way, so that when they ask you the classic question, how and what would you improve on our famous app / software / webApp? Don't start shooting in the air waiting for one to hit one.
Sounds good right? Responding well to something like this, it can be the difference between "we count on you or not." Which also translates to: "it seems that this person thinks like a Product Manager"
It should be remembered that Mr. Lewis has written this book based on his experience in the US market. However, although each country or company may conduct the interview in a different way. I think it reflects on some very important points of PM thinking.
What mattered most to me about the book
The book consists of different parts such as: methodologies to find solutions, how to criticize a product correctly, cost estimation, etc. But what I'm going to talk about in the next 4 posts is:
How to criticize a design
CIRCLES Method
AARM Method
DIGS Method
The book develops many other things, but above all the points of design criticism and CIRCLES method, are something that will help you a lot during the interview process. Do not be scared of the anglicisms and technical parts, I will adapt them all.
I am not going to focus on doing a mere translation, as I believe that this is not going to help anyone. If not, I am going to review the important points by giving my opinion and contrasting what is recommended in the Spanish interview panorama, which is where I am.
With that said, we started.
How to criticize a design according to Mr. Lewis.
Each company is different and they all have a different way of doing the interview process. Still, the design criticism questions should fall. At least if I were the one who is interviewing, I would do it, because it is one of the most direct and live ways of knowing if the interviewee has an way of thinking organized .
I will talk about my experience with these questions in Spain in the conclusions and opinion of the processes in Spain.
Design critique questions can be asked at two different times in the interview process.
Before the first interview is arranged , specifically, at the moment when you are uploading your CV where you will surely have to fill in some mandatory open questions.
During one of the phases of the interview process. It can be the first phase that is usually the design test. Come on, when they give you a case study of Develop X.
Whatever the moment, knowing how to critique something correctly is very important. It helps both us and the interviewer to understand our thought process and Product Mindset.
Understood when they can ask us questions, let's see what style of questions they could ask us:
What do you think about function X of our app Y?
Could you tell us about your favorite product and why?
Tell me about a product that you think has been designed in the wrong way.
These are the three most common questions when interviewing. For the sake of the length of the post, I will not go into practice in each one. But if I will give an example of the one that I have encountered the most.
Criteria for a design critique
The book emphasizes three things when criticizing something:
Define clear criteria for criticism and do not separate yourself from them. Select only 3.
Explain if the product meets the requirements of the criteria you have set.
Be specific, using real examples and contrasting your ideas with similar products.
Before you start looking for a video on YouTube on how to do this (Lewis himself has one here ), I want to clarify that it is an exercise that requires practice. So don't be overwhelmed if it doesn't come out the first time. Once you've got the hang of it, all your friends will be impressed when you want to comment on the latest album by your favorite singer.
Focusing my criteria correctly
Once the three key points have been discovered, I am going to go into a little more detail about the first point and start doing a little practice so that everything is clearer.
First point, Criteria : In my own words and not to fall for the obvious in the dictionary. We define criteria as the points or norms that we use when judging something.
Decode & Conquer offers us 10 criteria points of what is a good product design, that the same book rescues from Dieter Rams. A great professional and industrial designer who has influenced people like Jony Ive, Apple's former chief designer.
The 10 points are: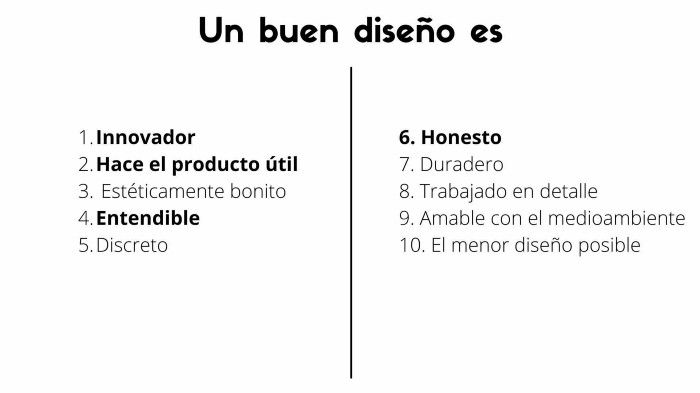 Surely you have noticed that there are some points in bold. This is because in the words of the author of these ten he would highlight: innovation, utility, ease of use and sense of honesty.
I am going to assume that the first three we understand that the most abstract is the last, honesty. When we refer to whether a product is honest in Lewis's words, we mean that the product in question meets the results we wanted to obtain, with the least degree of "potential misuse" present. With the example surely everything will be clearer.
The example: Or how I blew my first opportunity as a Product Manager Associate.
Before inventing an example, I prefer to tell you about my own. How can I not go beyond the first phase of interviews months ago because, as I have said before, I do not have an organized head when answering the questions.
Context : The company Ritual contacted me to do the first phase of interviews to apply for the position of Product Manager Associate in Los Angeles (during that time I was living there). Ritual is a company that is focused on creating vitamin supplements and they were looking for an APM to promote and develop and enhance eCommerce retention.
It was my first APM interview and I didn't know where they were going to go. So you can imagine more or less what happened.
One of the questions was:
What do you think about our range of vitamins for men +18? ( These )
I'm not going to develop what I wrote, but if I can tell you that after a while and after having read much more literature related to the role, I can tell you that they were not good answers.
What I should have answered
We start with the introduction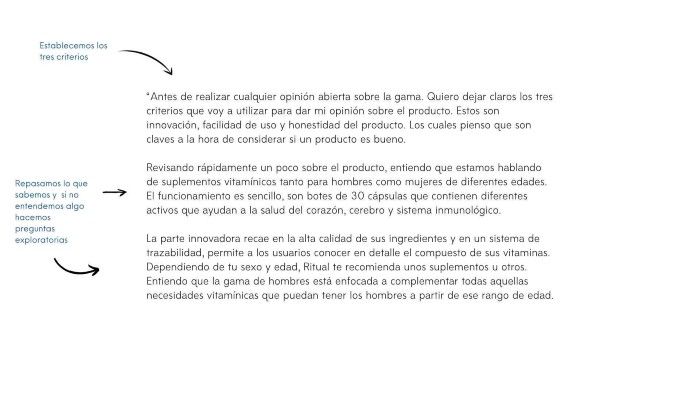 Intro
So far good? As you can see, the most important thing when criticizing something is to establish the criteria and clarify that we know the product we are talking about. If we don't know him, ask questions of the interviewer. It is not a crime nor does it denote a lack of preparation.
Although it is true, you have to study the company a bit before starting the interview phase, but there will be things that escape us. With that said, let's continue to the point of innovation.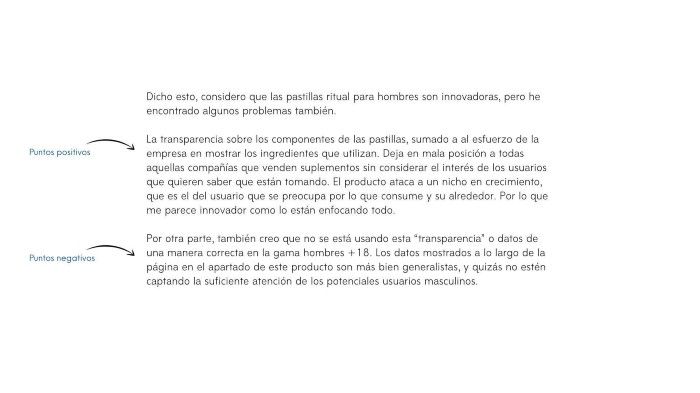 The structure of this point and the following will always be the same. We analyze the positive points and contrast them with the negative points. Nothing in this world is perfect, but learning to see weak points can help you improve things little by little.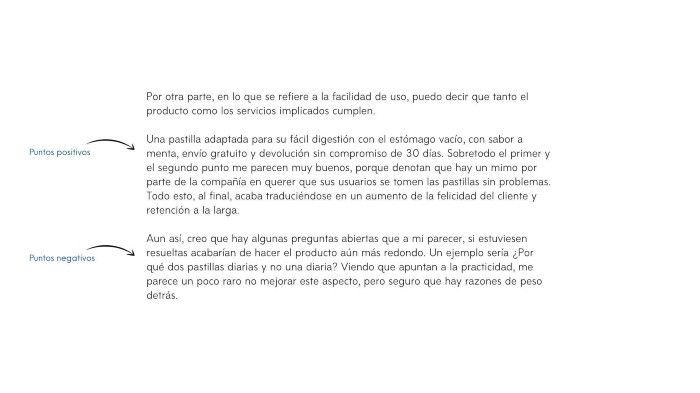 As you can see, I have chosen usability for utility at this point. As I have said, the key is to choose the points that you think will highlight your answer the most. Finally, we talk about honesty.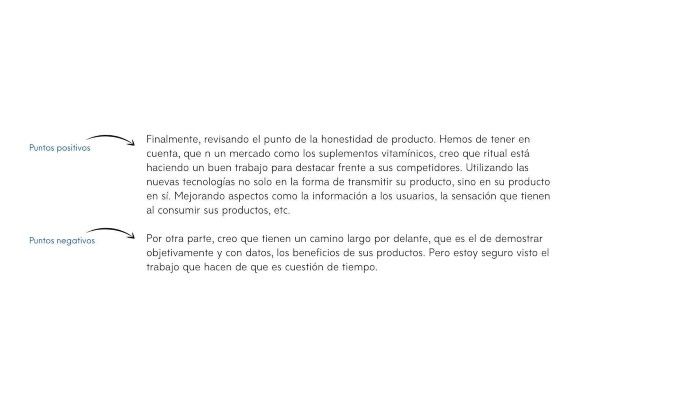 You may be thinking: Jorge, you are writing this, you have taken time, and it is normal that you have been able to arrive at an orderly answer. Yes and no, as I told you at the beginning of the post, one of the keys to being a good Product Manager consists of being a good communicator and above all having an organized head. It is simply a matter of practice.
Responding in an orderly manner, we will make the interviewer see that we are confident when talking about a product and that our opinion has valid points.
In this case, I had to answer the questions by email. Even so, by not having an orderly and judicious way of answering. I was catapulted into a pretty quick refusal from the recruiter.
And is this the same in the Spanish market?
In a certain part yes. I have come across everything doing interviews in entry level PM positions. Some companies give more detail to some more technological details and others more to the product vision.
But I think it all depends on whether they have hired other Product Managers before or not. If the company has experience carrying out interview processes hiring Product Managers, they will know how to look at the core and the specific part that interests them about you.
On the contrary, if they do not have experience or they take it in a more general way. They may fall into the cliché of seeing how old you are in the role in the early stages and letting the CPO or Product Lead make the final decision.
I want to remind you that Decode & Conquer is a book that is written from an American perspective. I have conducted interviews there and if it is true that from X magnitude the company almost always does the same. Design test, technical interview and personal interview. But of course, as I said, it all depends.
In Spain, it is more or less the same based on my experience but at a small level. There are companies that ask design questions before submitting the CV. As is the case with Glovo, which I think is one of the only ones that made me do it at the beginning, although later its phase of pseudo-psychotechnical test threatens any PM interview practice. But hey, that's up to them.
Conclusions
As you may have already seen if you have read the entire post. My intention is that the book be viewed as an exercise in learning to think rather than learning to repeat things like a parrot.
The world of Product Management loves frameworks (Methodologies) for everything. To prioritize, to decide metrics, to design and although it is true that they flatten the work process a lot, it is very important to learn to think.
A Product Manager has to know how to think beyond frameworks and although nowadays in small and medium-sized companies, execution skills are highly rewarded. If we want to progress and become Product Leads one day, we have to develop this capacity.
In the next post, we will review the CIRCLES framework that will help us learn to also answer in a logical and orderly way, the famous question of:
How would you improve X feature?
---
--- ---
Related Articles