My Venture to Bring Philosophy Back to the Marketplace: Bridging the Gap Between Academia and Industry
My journey giving online course has only just begun, more exciting stuff is yet to come!
This article originally appeared here.
A year ago (July 20, 2019) I published an article titled 'The Free Fall of Academia: Reflections of a Disillusioned professor'. The title is self-explanatory, but the gist is this: academia transformed over the past couple of decades into an institution that cared about a variety of issues, none of which was concerned with proper teaching, whatever this might mean.
Teaching was what got me into philosophy in the first place, but I soon found out that it would be difficult to keep doing that without maintaining a high publishing rate, as more weight is given to publishing than teaching. Long story short, I started seriously contemplating quitting my job as an academic. In light of that, I ended my article with the following words:
"Rent-seeking, ranking-obsessed academia is in free fall. And just like all the quit-lit out there, I think I will soon follow suit."
When I wrote those words I never actually thought I would have the guts to do it. Because what the hell would a philosophy graduate without a 'real-world experience' be able to do? I had sent over 150 resumes to start-ups and companies across a variety of industries including marketing, consulting, and banking. To no avail. Friends of mine with industry experience always repeated that I would always be either overqualified or too costly to be trained in a new area — I simply had spent a lot of time behind academic bars.
Despite that, I decided to quit my university job end of spring 2020. Many factors accelerated this decision, though, including the corona lockdown, and a crumbling Lebanese economy that saw a local currency devaluation of more than 60% to the USD. My last salary was basically peanuts. But I don't complain, many have seen worse days.
Anyway, one reason I decided to finally quit was that if I let my comfortable situation drag for longer, I would be forever stuck in a vicious circle of dependency. I had to snap out of that cycle and to take a leap of faith.
The decision, I had hoped, would be a wake-up call. I would be forced to come up with a plan because otherwise, I would soon find myself homeless — I thought to myself. I had no plan whatsoever, and it was the stupidest thing I had done, but there was no way around it. Sooner or later I was going to lose my job, because of the severity of the economic crisis Lebanon is going through.
After I had sent the chairperson the notice email, shit became serious. I couldn't just sit idly and do nothing. But that was exactly what I did. There were four weeks until the end of the semester, I was giving my online lectures as usual, but as soon as I finished the classes, I sat down and had to confront what might have been the rashest decision I had taken until then.
I'll write a book! I thought to myself. But what the fuck would I write about? Food and philosophy! Stand-up comedy! Socratic irony! Yes! Great ideas, but I could barely write a paper, let alone finish it. Who the hell would buy a book about food, stand-up comedy, and Socratic irony? I asked myself and my wife. 'No one!'
'I can't make a living only as a 'full-time' writer, I need to build a portfolio of small bets.' Was always my answer.
Keeping that in mind, I knew I had to start somewhere, but I did not really know how to do it, or from where exactly to start. Until for no reason, I tried my luck and posted a tweet asking people if they would be interested in registering for a 9-weeks online live philosophy course for a registration fee of $100.
Within minutes I was getting replies and DMs from people expressing their interest and inquiring about the course. It caught me by surprise.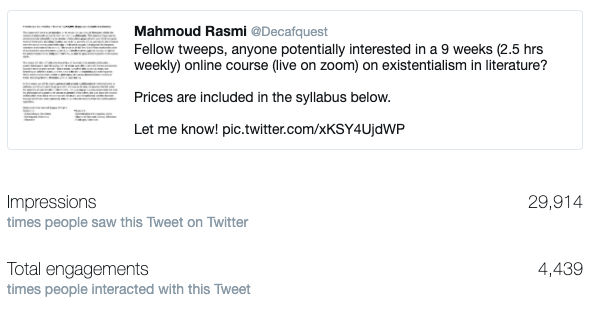 I had nothing planned, except for the course syllabus, which, incidentally, I had taught in the summer of 2018. I genuinely never thought people would be interested in taking a philosophy course, much less if it were online. But the feedback I got proved otherwise, and I'll explain why shortly.
In the meantime, I needed to figure out how to proceed. A couple of months back I had made a website which I called DecafQuest just in case. I was toying with the idea of becoming a freelance philosophy consultant, but never really knew what that even meant. One thing I did know, though, was that I wanted to venture into something that bridged the gap between academia and industry.
To respond to those who contacted me, I decided to create a mailing list to keep them updated regarding the course. Eighty people subscribed. Everything was happening so quickly, and I had to keep up. I familiarized myself with e-commerce platforms, payment gateways, and other matters to ensure a smooth implementation. What I'm saying might sound naive for someone who has been in the business for a long time, but as a rusty academic, a new world was opening up before me.
In one month I learned a lot about digital marketing, e-commerce, and much more. I set up an online shop, designed course posters, created some online content, and shared it with my mailing list and on social media.
Shop
Philosophy decafquest.com
To my surprise a total of 35 people registered for the course, which exceeded all my expectations. I wrote a thread reflecting on my initial impression here:
We are now seven weeks into the course. It has been a fascinating experience for me personally. I got to meet people from diverse professional backgrounds and age-groups; something you don't often get when you are teaching only undergraduates. I have been learning a lot from the participants. They were all interested in the course for various reasons, and every one of them was looking for something in particular. This brought a distinct flavor to the discussions we have been having during the recorded sessions and during the post-class discussions. The latter has been extending for almost three hours after the end of each class!
The reason why I think many expressed interest in this online course, in particular, is because it was to be given live. I received several comments from people who thought this was a good initiative because the class is highly interactive and discussion-oriented. This is something you don't usually get in pre-recorded sessions where the teacher is reciting a monologue.
It is true that such a format is important for some subjects like math and computer science, and might be of appeal to a wide base, but it is true that there's also a niche of people who are seeking just that: an interactive, lively class.
While I still don't know where I am heading with this, I am taking this one step at a time, because I am also tinkering with other projects on the side. For example, I have been running a podcast for several months now, and I am writing a book titled 'Sardonically Speaking: What Socrates, Amy Schumer, and Eminem Have in Common'.
In the back of my mind, I found inspiration in the works of Nassim Taleb and Mark Baker (GuruAnaerobic), and Daniel Vasallo. They are living examples of people who have been creating online opportunities for themselves online and sharing their experience on Twitter and elsewhere.
My journey giving online course has only just begun, more exciting stuff is yet to come! In August, for example, I will be giving two, 4-weeks Introduction to Philosophy and Ethics courses.
If you're interested in my courses, and online content, you can drop your email at the below link to stay up-to-date!
Thank you.
---
--- ---
Related Articles