Virtual Babysitting in the Age of Coronavirus
The Shift to Virtual
The Shift to Virtual
Since so much of our social interactions have migrated to the virtual space as a result of shelter-in-place restrictions, it is not a stretch that child care, babysitting, classes, and tutoring have made the shift, as well. Group classes that our children once participated in-dance, gymnastics, yoga-are now online.
My daughter tried a hip hop class online recently and it was a hit with her. For kids that are shy and otherwise slow to warm up in group settings, virtual classes are a convenient option to introduce them to new activities.
The hip hop class was an hour long and it gave me the time to wrap up chores, respond to a few work emails, and spend a little bit of quality time with my younger daughter.
Of course, there are downsides to the virtual model. The virtual hip hop class worked well for my 6-year-old daughter, but the virtual ballet class did not work as well for my 4-year-old. Virtual classes are not ideal for younger children as they are more apt to get distracted and lose focus more quickly than older children.
However, if expectations of what virtual babysitting can deliver are realistic, it can be a convenient and viable option for working parents looking for short stints of uninterrupted work time.
Virtual Tutoring
Virtual tutoring is worth exploring, especially if you want to incorporate some academic learning while your kids are home all day. My 6-year-old's math enrichment program transitioned to virtual classes quickly and seamlessly when shelter-in-place was ordered. One advantage of the virtual math sessions is that it reduced the student-teacher ratio from 4:1 to 1:1.
My daughter appreciated that her tutor focused 100% on her math practice and that they tackled the problems together.
This is in contrast to the teacher moving from student to student, providing less focused attention and instruction, in the physical classroom. I have noticed that my daughter gets much more learning out of the virtual 1:1 tutoring than in the physical center, and I plan to continue in this format even after shelter-in-place is lifted.
Virtual Music Lessons
Music lessons have also moved to the virtual space. My daughter started piano lessons right before shelter-in-place. She did not like taking lessons at a music studio so we transitioned to a piano teacher who gave lessons in our home. About two lessons in, quarantine hit. I was doubtful that piano lessons would be as effective online since much of it requires the teacher to demonstrate finger placement, note location, and read sheet music.
But to my surprise, the virtual lessons have worked out phenomenally. They have their lessons over FaceTime and the piano teacher sets up her camera so that my daughter can see her piano and hand positions. I order the lesson books online, which are delivered to our home for free.
Plus, we save money on the piano teacher's traveling costs since she doesn't have to travel to our home twice a week. It has been eye-opening to learn that virtual music lessons are possible, and we may continue in this format, as well, when shelter-in-place is lifted.
Virtual Babysitting Does Not Have to be Expensive
Parents do not have to pay teachers and tutors to take advantage of virtual babysitting.
Though not ideal, parents in a pinch could turn on Kids YouTube and there are tons of great content for kids that could occupy them while parents work or get stuff done around the house. Art for Kids Hub is a great YouTube channel that gives fantastic, easy-to-follow art tutorials. StoryBots and The Who Was? Show on Netflix are two of my favorite learning-based shows.
Both offer high-quality educational content on science, history, and the arts. Numberblocks is also a favorite of mine on YouTube, which is a math cartoon that helps kids with basic counting and arithmetic.
What I like about all of these shows is that I can plop my kids down on the couch, turn these shows on, and I don't have to feel guilty or concerned that they are consuming mind-numbing or inappropriate material. It buys me an hour to get work done and I can be fairly confident they are learning a thing or two.
The Coronavirus stripped away all boundaries that once separated work and home. People are working from home more than ever. With school, daycare, and summer camp closures, kids are also home more than ever. Not every family can afford a full-time nanny. Not every family has grandparents or older children that can babysit. Perhaps some parents don't feel comfortable letting people outside of the immediate family into their home because they have a high-risk family member that they want to protect from the virus. The reality is, however, parents still need to work.
Virtual babysitting may be the only option some working parents have to successfully balance work and home life.
Is Virtual Babysitting a Viable Replacement?
Unfortunately, virtual babysitting is not a viable replacement for in-person babysitting and physical daycare. The effectiveness of virtual babysitting depends on a couple of factors: the age of your child, and how much child care you need. Virtual babysitting works best for older children, ideally older than age 5.
Older children are better at staying focused and carrying conversations. Virtual babysitting is essentially having an online conversation. Of course, your child could do crafts, sing songs, dance, or do other activities with the virtual babysitter, but there are limitations. Virtual interactions of this type pale in comparison to the physical kind.
The most effective forms of engagement, especially for children, activate all five senses. With virtual babysitting, the babysitter can only effectively activate two of your child's senses — sight and sound. This will cause your child to lose interest more quickly as she will be less engaged. With physical babysitting and daycare, all five senses are activated.
The physical and social aspects of daycare and in-person babysitting are also difficult to replace and are the areas in which virtual babysitting falls woefully short.
If a parent just needs an hour or two here and there to work or get stuff done around the house, virtual babysitting is a great option. Virtual babysitting can be one of several tools in a working parents' arsenal of quarantine kid activities. And working parents know that an hour of uninterrupted work time is a gift!
Safety Considerations for Virtual Babysitting
The safety virtual babysitting is dependent on the child's age and the parents' level of supervision. I would not recommend virtual babysitting as a way to free yourself up to run errands outside the house. Nor would I even recommend virtual babysitting as a free pass to work in another room, in the garage, in the yard, or to take a nap or shower.
Traditional, in-person babysitting gives the caretaker the ability to physically intervene if a child is doing something unsafe or gets hurt. This type of safety supervision and intervention is not possible with virtual babysitting. Virtual babysitting is best for keeping your children occupied for a short time while you work close by within earshot and sightline.
Never leave your child alone with a virtual babysitter. You would never leave your child alone with the TV or iPad, and the same rules apply for virtual babysitting. Be close enough so that you could supervise and physically intervene if your child gets hurt or does something unsafe.
Tips for Finding a Virtual Babysitter
Virtual babysitting does not have to be cost-prohibitive. While online classes, music lessons, and tutoring might be on the more expensive side, utilizing a virtual babysitter can be very cost-friendly. Reach out on NextDoor or your parent friends who have older, teenage children looking to make some extra money this summer.
High schoolers and college students are ideal virtual babysitters because they likely will cost you less than a nanny and tend to relate easily to kids. Plus their schedules are probably pretty flexible so you can schedule them several times a week for an hour at a time without breaking the bank.
Virtual babysitting is best for kids older than 5 and for one or two hour sessions at a time. You could schedule a virtual babysitter multiple times a week, which could help parents greatly as they do work that can be accomplished within earshot and sightline. It is a great option for parents who can't otherwise afford, financially or health-wise, an in-person nanny, babysitter, or daycare.
Welcome to the new frontier!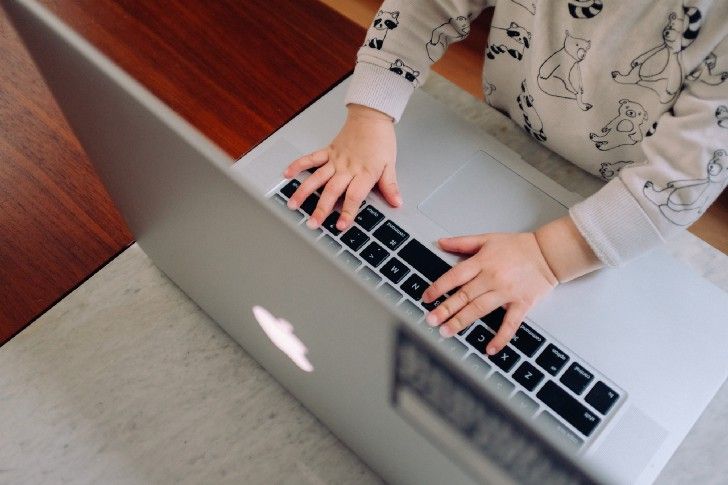 Photo by Charles Deluvio on Unsplash
Originally published at https://www.coolheadparenting.com on June 25, 2020.
---
--- ---
Related Articles