Virus-Proof Marketing For Small Businesses
Abuse them, so your business survives in 2020, and thrives during 2021.
The key to business success in a volatile world:
Position Instead of Predict
Your small business needs unplanned adapting abilities to position itself for safety. To achieve this, you must:
Work flexibly: Becoming fully or partially remote.
Receive consistent income: Testing and refining funnels.
Reduce expenses: Being efficient and leveraging free tools.
This structures your business to innovate and avoid dog-eat-dog competition. More importantly, you'll be immune to sudden changes in your industry caused by unexpected events.
Next, You Position Yourself Higher Than Competitors
It's easy — copy what works for them while being different. Once you fit in, you disappear. You need a front-row seat in the minds of your customers. Creating strong first-impressions is the elevator approach to get there.
Below is a list of proven ways to do this...
Leverage Virtual Offices
They've helped small businesses and side projects effortlessly appear like world-renowned brands…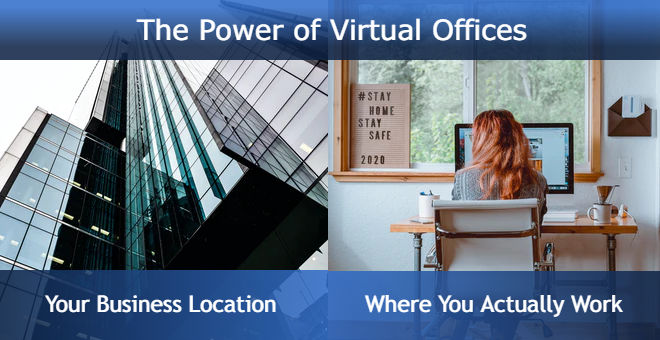 Virtual offices are the uber in the office industry — they provide office services in different locations for a non-committing monthly fee. This means you can operate and appear like big corporations while avoiding 99% of their costs.
Virtual office services include office spaces, meeting rooms, hot desking, virtual numbers, and virtual addresses.
If your business engages in high-ticket sales, expansions, partnerships, and investing, meeting rooms heighten the perception of your company's presence. More importantly, it makes clients take you seriously.
Most times, you only get one chance to impress new clients, so you need as many influencing factors as possible.
Leverage Virtual Addresses Too
What are they? Virtual address services let your business claim real street addresses.
It sounds like a PO box, but it's 10x better. You get to choose specific luxury addresses, and these play a hidden role in search engine ranking. Google favors businesses with virtual addresses while dismissing those with PO boxes.
A business that operates in another city and uses a virtual address near your location will be ranked higher than a closer business using their home address. They get the advantage when consumers search for something like "restaurants near me" or "gyms open around me."
Here are some other benefits when using virtual addresses:
Online mail viewing (perfect if you operate in a different country).
Mail signing — you can go to the location and collect your mail whenever.
Setup for mail to be delivered weekly or monthly.
Have The Speed Advantage
Speed beats quality when quality has no speed.
In the internet age, the 'on-demand' experience is becoming more expected — the value of Amazon Prime stems from their ability to do 1-day deliveries.
Here are some ways small businesses can get a speed advantage to increase sales:
Give Customers Fast Responses
Website chatboxes are very powerful for fast communication — 87% of customers prefer live chats over phone and email due to its immediacy.
Live chats can also be used to convert sales strategically.
Increase your accessibility too — tell your customers to message you on the social platforms you're both on. This is an advantage you can gain over larger companies as most of them don't do this.
No time to engage in live chats? Use virtual assistants. These are remote-based customer experience professionals.
Shorten The Goal Process
You want the consumer to make the least amount of navigational website clicks to achieve a goal — make a purchase, open an account, etc. It ensures they don't get lost, distracted, or lose interest.
This is the hidden force helping companies like Revolut achieve an average of 9,000 accounts opened daily: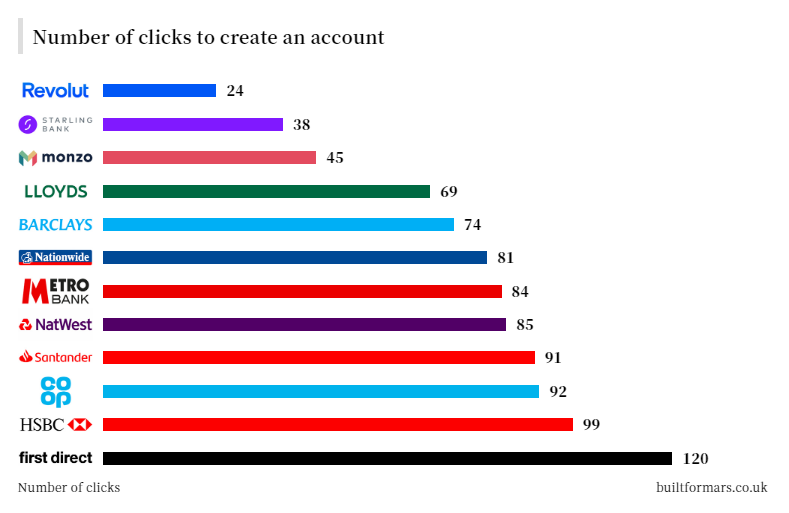 Pre-empt Your Customers
Strategically assume what customers want before they make website decisions.
"A lot of times, people don't know what they want until you show it to them." — Steve Jobs
You need to use data to understand your audience. For example, by knowing the most ordered product on your site last week, you can accelerate sales by advertising the product on the homepage — this is more effective than advertising random products.
Quizzes also help determine what customers want quickly.
Limited Time Offers
Remember, consumers can be indecisive, and this causes procrastination. Limited time offers increases decision-making and, therefore increases sales.
Create Media Consistently
The internet is getting noisier every day — potential customers must receive information about your solutions regularly. Consumers digest hours of content before they make purchasing decisions.
Content is the easiest way to go, and it's also the recommended way as 70% of customers prefer learning about a company through content rather than ads.
When creating content, the primary goal should be to create trust — adding value to potential customers does this. No trust, no sale.
Here's The Fast Way To Create Content Strategy
Don't originate…
Write down keywords and phrases related to your business. If you're unsure of them, look at the blog sections of similar businesses. Now, your plan should be to dedicate a blog post to each key phrase.
How To Get Content Views Quickly
The news is your friend — use it whenever trending news can be related to your business. Good posts centered around trending content receive a spike in views very quickly.
If the news trend has a long lifespan, leverage it — keep creating more content about it until it's no longer trending.
How To Get Traffic For Your Content
Writing Guest Posts — This is producing content for another site, and in exchange, you can include a link to content from your website. This will bring you traffic if their website has a following or ranks well on search engines.
You can find sites to write guest posts by searching on Google "[industry] write for us" such as "sports write for us".
Answering Questions on Quora — Find questions on Quora that are related to the content you've written about. Then, answer those questions with reasonable detail, and include links in-between or, add "for more information […link to your website content]" at the end of your answer.
Facebook Ads — If your business can afford to do paid marketing, use Facebook to pay cents/dollars for every website ad click you get. Small businesses should use bid caps to significantly reduce their ad spend.
Have Many 4/5 Star Reviews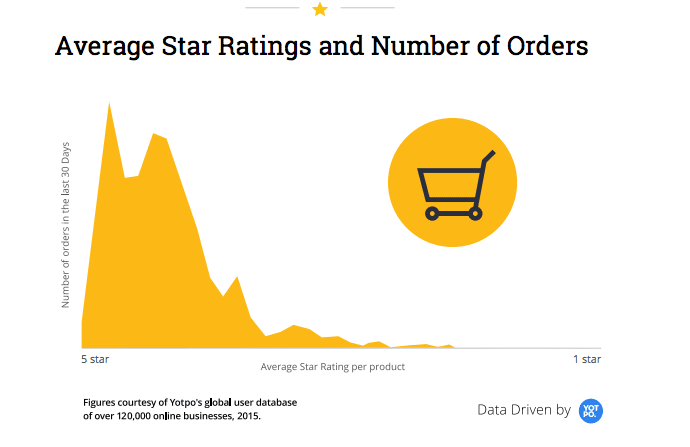 But the review descriptions are even more powerful — 82% of consumers say customer experience content convince them to make a purchase.
It's a good idea for reviews and testimonials to be seen on your website as customers trust what others say about your business.
How To Increase Your Chances of Getting 5-Star Reviews
Request for customers to write a review when they:
Make a discounted purchase
Receive something for free
The scenarios above influence a state of gratitude for customers.
Consumers Will Find The 1 to 3-Star Reviews
Here's what you do — reply to them. It provides understanding which convinces the potential customer you care about them. It's almost like effectively selling your weaknesses.
Practice Local Marketing
Also known as location-based marketing — tactics to target the audiences close to your business.
If you use virtual offices and virtual addresses, you've accomplished 40% of this. The remaining 60% is achieved by:
Narrowing Yourself
Be precise about where you're based, and who your audience is.
Good Example — "We are a London-based marketing team helping small UK businesses experience steady gains with little capital."
Bad Example — "We are a marketing agency that helps businesses grow."
So now, your keywords, phrases, social media bios, ads, SEO titles, and descriptions should reflect this.
Supporting Nearby Causes
Prove your commitment to your local communities by supporting a cause. Also, add your supporting contributions to your website and social media, so visitors immediately establish you as a helper of their community.
Collaborating With Local Brands
It's a fast way to increase your reach, and establish your community presence. This could be cross-promoting, interviews, podcasts, influencer marketing, or contests.
To summarize, your business should:
Use virtual offices to have a Google-like business presence for cheap
Use virtual addresses to claim luxury addresses, and rank higher
Produce media often so your consumers become educated
Have many 4/5 star reviews with customer experience
Engage in local marketing to receive inevitable brand awareness
Without Positioning Strategy
The odds of success for your business is a coin flip…
You may get lucky, and it lands on the side you picked. However, when the world or economy changes, the coin gets flipped again. Positioning yourself like a pro removes luck, and puts certainty on your side.
Positioning is an act of claiming future power.
This post was originally submitted here...
---
Created by
Matthew Enubuje
Crypto & Marketing Writer ~ Copywriting or ghostwriting enquiries: matt[at]mattshango.com
--- ---
Related Articles