I want to be a Managing Director before I turn 40. Be careful what you wish for!
To quote Simon Sinek (who's work I love!) "What's your Why?"
An ex-colleague resigned from the Investment Bank to join an Asset Manager
because the latter company offered her a role that came with a Managing Director corporate title. She is now working longer hours for LESS PAY. And because she's working longer hours, she turns down social events because her role is consuming her life.
I had a team member who was a top-notch salesperson. When he and I sat down together one year to discuss his career goals, he stated with no preamble "I want to be a Managing Director by the time I'm 40". (For the record, he was 36 at the time and his corporate level was Vice President. For our employer at that time, the next corporate title was Executive Director. When I queried "why by 40?", he replied "I read in a career management book that if I didn't make MD by 40 years old then I wasn't going to be a successful in my career"! Would someone please burn all those books…😼
How many times have we heard someone say 'less is more'? You may even have said it yourself. I certainly have. But do any of us really believe this when it comes to our careers? So many still chase the 'more' whether it be a role with more responsibilities, more people to manage, be paid more and very often, a more senior title. Societal norms indicate that this 'MORE' is intrinsically tied to the notion of 'SUCCESS'.
This is so warped on many fronts. For all the havoc that Covid-19 has wreaked on the world, the pandemic has shown us that what we need more of is Love, Compassion, Empathy, Gratefulness. More time with our loved ones, not less. Because..…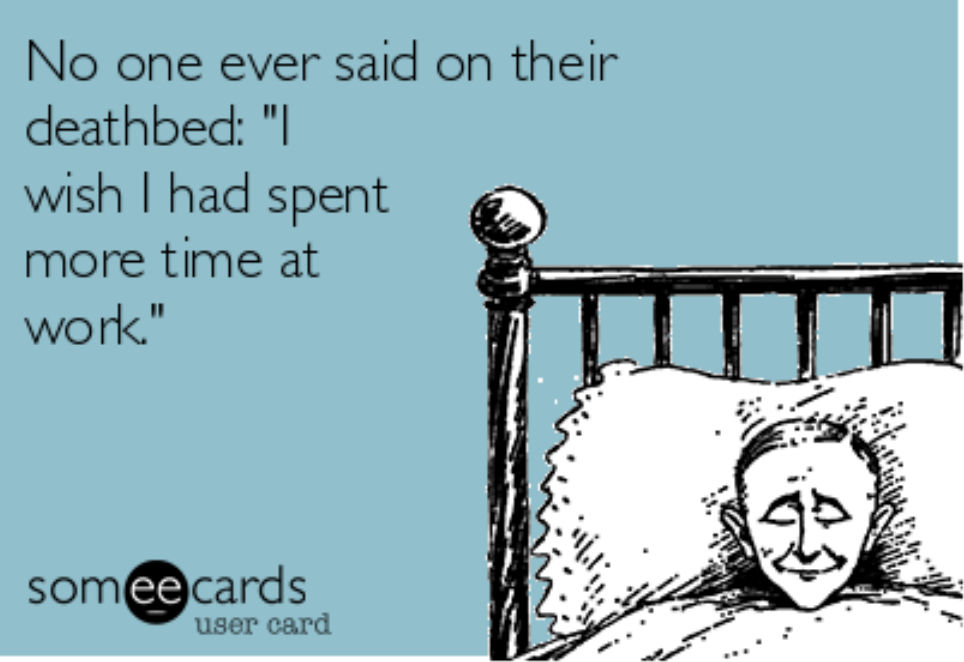 We all want to feel successful. I get it. But can this sense of achievement only come from chasing more material goods and senior titles? There isn't anything wrong with achieving success by making lateral moves across an organisation or remaining in a role that is stable and puts food on the table for your family. What are your true measurements of success? Or as Simon Sinek questions "What's your Why?"
I posted this on LinkedIn recently. These are real people whom I know. They don't have fancy, big name corporate titles. However, they, too are SUCCESSFUL.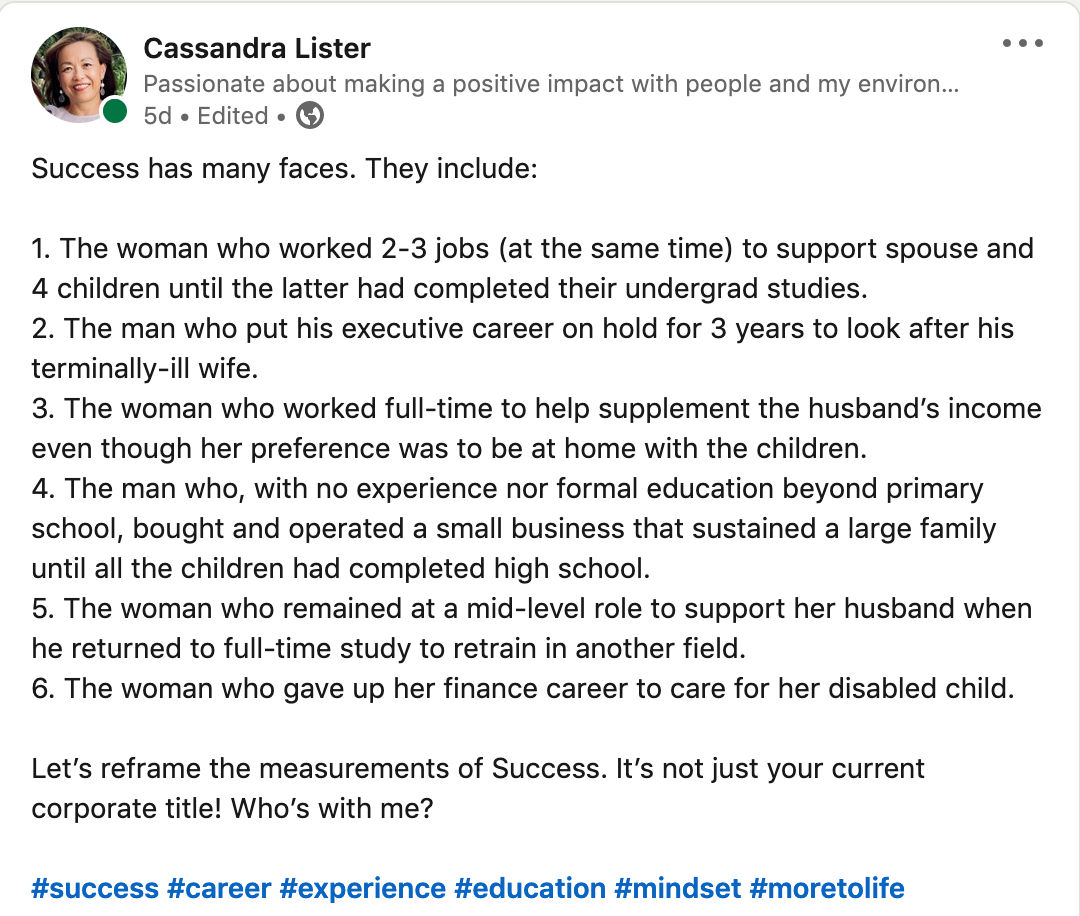 This pursuit of sprinting up the corporate ladder doesn't appear to foster the culture that most employers strive for either…..which is, collaboration amongst their employees. Those who are insecure and narcissistic will happily undermine or sabotage others to ensure they continue to have a role.
So, why this desire to sprint to the top? Ask yourself… Do you need a grander title to validate your importance? Will your loved ones respect you more? Will you attract more genuine friends? Is your health likely to suffer as a result of the additional stress? "What's your Why?"
---
Created by
Cassandra (Leong) Lister
Mother of twins. Commonwealth citizen. Former Global Banker. Aspiring book author. All stories and opinions published are my own.
--- ---
Related Articles