Weaving Together – Artisans and Customers of Handloom Industry – A Social Entrepreneurship Model.
The handloom sector has a vital role in India's economy. Handloom Industry alone was providing direct occupation to 70 lakhs plus persons engaged in weaving.
THE CONTRIBUTION OF HANDLOOM INDUSTRIES IN INDIA-
The handloom sector has a vital role in India's economy. Handloom Industry alone was providing direct occupation to 70 lakhs plus persons engaged in weaving. According to the Indian trade portal, only 4.3 lakhs weavers in the country today are directly connected to handlooms.
In the last two decades in the handloom industry, carpet weaving in India became the dying art. The art once fetched fame and money was dying. But afterward, weavers were switching to other jobs owing to less money, less work, and middleman. Domination of power looms and lack of government support and facilities acted as the bottleneck for the handloom industry in India. Hence, was seeing a miserable future.
Indian carpets have won a desirable space in the world's cultural heritage. However, the handloom industry was going through a painful phase. I realized over a while that most authentic lovers of Indian art and crafts were foreigners. They are genuinely keen on patronizing Indian art.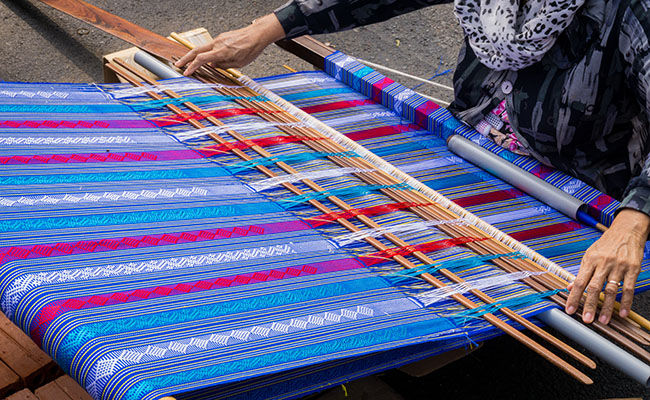 I learned the art being amongst the weavers. And so nurtured the same over the last 40 years.
ABOUT JAIPUR RUGS-
Today, Jaipur Rugs is one of the largest manufacturers of hand-knotted rugs in India. Their social enterprise's distribution network is over 40 countries. The operations span across 20+ branches, 6 states and 600 villages in India.
To visit: http://www.jaipurrugs.com
They empower more than 40,000 artisans in 7000 looms sitting in artisan's homes. At Jaipur Rugs, our mission has always been to connect the rural artisan with the global consumer. The artisans at the grassroots express their stories and lives with the world. The unique model of Jaipur Rugs ensures doorstep entrepreneurship to the artisans, especially women. Women artisans contribute to 80% of the total network of weavers.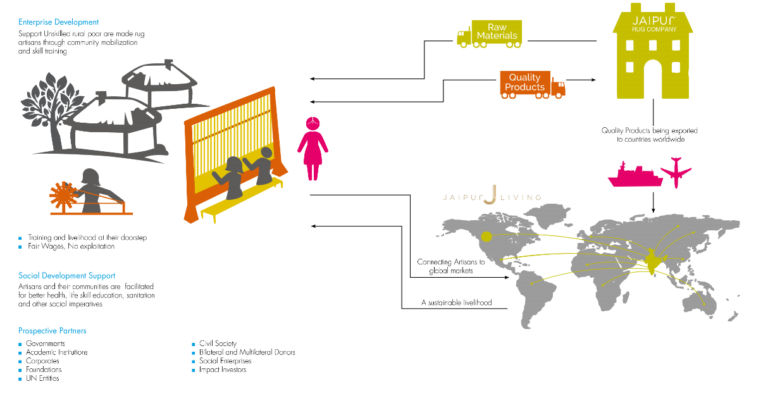 Three Key Components to Success –
Engage: It requires reaching out to the grassroots populace and initiate a dialogue about opportunities of becoming skilled artisans in the carpet value chain. And also get sustainable livelihoods as well as social development facilitation. At the same time, it is also required to engage with them in social development activities.
Develop: It is required for any social enterprise to concentrate on entrepreneurship development as well as social development. Providing training to women who do not possess livelihood and developing their skills helps in nurturing their creativity, employability and entrepreneurial skills. This would help to transform them into a skilled artisan.
Sustain: It is also essential to sustain the age-old craft and innovation. Self-sustenance is the goal of every enterprise. It is important for any business to come up with innovations, and sustainable practices for society.
Measurable social impact, sustainability, innovation is needed. The engagement and development of the artisans will lead to an effective social venture.
---
Ideas are easy, Implementation is Hard, learn from the ones who knows how to start. A Publication by Tealfeed.
--- ---
Related Articles