Website Footer: Best practices and what to avoid
The need for a footer
Whenever you stumble upon a webpage, it is not unusual to scroll all the way to the bottom and find some useful links or additional information. It is at the bottom of the webpage, when all the primary content has ended, that you may find the organization's privacy policy, contact information, and links to social media channels.
This narrow (or, in some cases, wide) strip at the bottom of a website is the footer. The footer, in almost all cases, is consistent on all the pages of a website, having the exact same information.
Similar to the footer of a book, this feature on websites marks the end of a page. For websites, however, there's a lot more freedom to design and populate footers. As in any other case, when there's more freedom, we tend to make more mistakes and often end up complicating things for our audience.
The need for a footer
It will not be wrong to say that a footer is a necessary part of any website. When anyone lands on your website and they're unable to locate a footer, this will be an unfamiliar experience, to say the least.
Now, if all the usual 'footer content' (job opportunities, legal documents, etc.) is easily findable (maybe in the main navigation) then the users might not even feel the need for a footer.
But then, do you want this information, which is not necessarily about your products and services, to be there at the top? Will it not clutter the menu and overshadow the content that you really want to draw attention to? The answers to these questions are reasons enough for having a footer on your website.
Designing a footer is not always easy. There are numerous examples of remarkable footers but there are also some which would make you never want to visit a website again.
Footers are also vital to user experience. We know that familiarity, consistency, and usability are essential for a good user experience.
Since almost all the websites have a footer and the users expect some standard information to be there, it only makes sense that you give them what they want to see and where they want it.
Another useful feature of footers is that they can really help in organizing a lot of information. The design of a footer and the presentation of content, if done well, can not only make your website aesthetically pleasing but also help you link dozens of webpages in a very small space.
It must, however, be noted that designing a footer is not always easy. There are numerous examples of remarkable footers but there are also some which would make you never want to visit a website again.
What to do
When working on the footer, it makes sense to think about the type of content that you want to put in there. You definitely do not want to keep extremely important links only in the footer.
For example, if your blog drives a lot of traffic, you wouldn't want to keep it hidden in the footer. Instead, you'd keep it somewhere in the main navigation. On the other hand, if your blog is something secondary for your organization, then you can include a link in the footer.
Some of the things that can go in your website footer include the following.
Name and/or Logo: It is common practice to include your organization's name and/or logo in the footer. Some websites have the logo slightly faded out in the footer. Keeping this information in the footer makes the webpage look consistent, aesthetic, and credible at the same time.
Contact information: Contact information (physical address, phone number, etc.) is another familiar and common thing in a footer. Some websites even have a compressed contact form at the bottom. This, however, depends on the way you plan to design and organize the information.
Social links: It is important to maintain a social media presence and to keep the audience engaged on all platforms. Having social media links in the footer not only serves this purpose but also adds credibility to your website.
Legal information: Legal documents are usually not fun to read but then, these are important to keep your users updated and also to fulfill your legal duties. It is, therefore, often the case that links such as privacy policy, copyright information, and terms of service are included in the footer.
Based on the nature of your business, some things can change. For instance, if you want people to sign up for your newsletter, it is a good idea to include a sign-up form or link in the footer.

Another consideration is the way the content is presented. This involves some design skills where usability and usefulness are to be kept in mind. Although the presentation of information can vary, there are some principles that should always be followed.
Make sure that the links provided in the footer are not empty or broken and are leading to accurate information.
Keep the footer consistent with the overall theme of the website.
Make sure that the words used in the footer are clear and unambiguous. The terms used should give an idea of what it is about before the users even click on it.
If you have a lot of information in the footer, try to group some items into categories.
Make the design simple, readable, and aesthetic so as to give your users an overall pleasing experience.
Footers are tricky to manage, particularly when you're dealing with a lot of information. If done right, footers can add a lot of value to the user experience. It is, however, common to stumble upon footers that are overwhelming and frustrating.
If you lose your users as they interact with your footer, then that's definitely not going to help your cause.
What not to do
If there are some best practices for designing and populating a footer, there certainly are some things that should never be done. Some of the things to note are as follows.
Replicating the main navigation: Keeping your entire menu in the footer (doormat navigation, as it is often called) is a decision that demands immense care. If your webpages are too long that the impact of your main navigation might get lost by the time users reach your footer, then keeping the whole menu at the bottom is, indeed, helpful. If, however, you have shorter webpages and/or a lot of items in the main menu, then this practice will only frustrate the users.
Broken links: Beware of the broken and empty links. You do not want the users to click on an item and then land on a 404. Similarly, you wouldn't want them to click on a link that doesn't do anything. Make sure all the links are accurate and updated.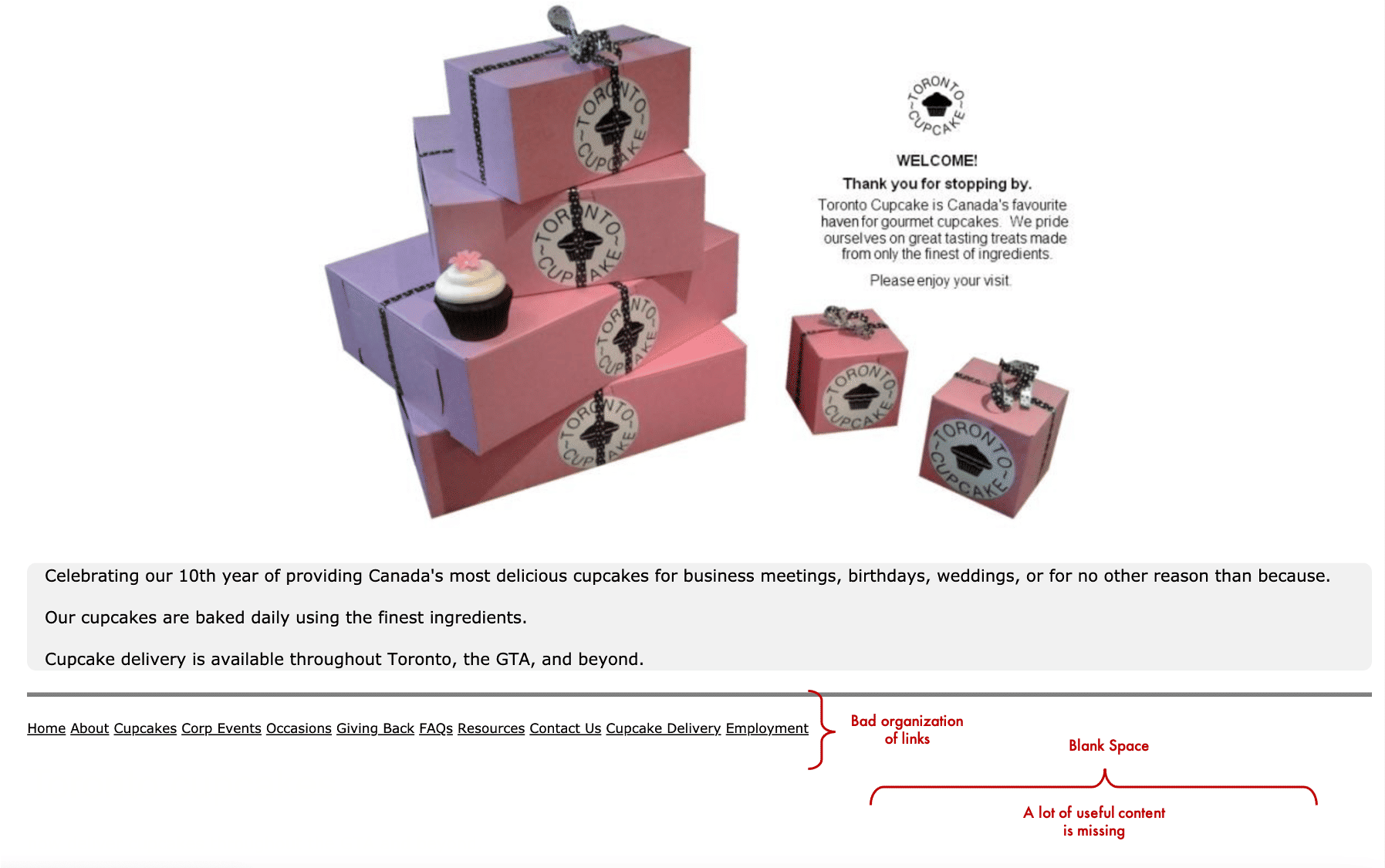 A very wide footer: Just like doormat navigation, the choice of a footer that takes up a lot of space is a crucial one. This gets even trickier when you're making the websites mobile responsive. You wouldn't want people to go on scrolling through the footer, praying for it to end. Make sure that the footer is optimized for mobile devices (you may have to remove a few links or present them in a more compact manner).
Leading the users away: If you lose your users as they interact with your footer, then that's definitely not going to help your cause. Make sure that all the external and internal links (not strictly related to your primary content) open up in a new tab. If a link does open in the same tab, then make sure to give the users a way out or back to your main webpage.
Indefinite scrolling: If you have a footer on the website, then infinite scrolling doesn't make sense. The point of the footer is for the users to find it and access the relevant information. If your footer is not even visible, then it shouldn't be there in the first place.
Irrespective of the nature of your website, the footer is an essential part of the overall look and feel, and the usefulness of the content. Smart footers can really add value to the experience of users visiting your website.
---
Created by
Khawar Latif Khan
An engineer turned communications specialist with a passion to create helpful and understandable content.
--- ---
Related Articles